On the eve of Saif Ali Khan's new release Eklavya, kid sister Soha Ali Khan spills the beans on her older brother and the naughty things he did as a child, his influence on her career and her struggle to win her parents' approval.
Over to Soha:
Saif, as a brother
Bhai is significantly older than me. There is almost a 10-year age difference between us. I don't remember living in the same house as him while growing up. When I was born, he was in a boarding school in England. When he came back, it was my turn to go to England to study. My sister Saba's memories of him are probably fresher.
He was very naughty with Saba -- he would tie her up and leave her in the bathroom, switch the off the lights and really torture her. He would never misbehave with me probably because I was younger. In fact, I was the naughty one -- I remember him getting into a lot of trouble because of me.
But he always got away with everything because he is incredibly charming. He is very open minded, wears his heart on his sleeve and one tends to forgive him most of the time because of his kindness.
I wish I spent more time with him while growing up. I got to know him better after moving to Mumbai and living with him for a year. Now, after three years, we have become closer than we have ever been before. That's the best part about moving to Mumbai.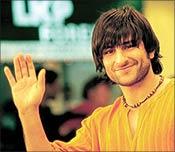 Watching Saif grow as an actor
It was very strange for us when he decided to get into acting.
He had just returned from England and had been much anglicised -- long red hair, heavy English accent... When he suddenly decided to join acting, it was very strange.
It was not easy for him in the beginning, though he enjoyed what he was doing. He always had an inimitable quality about him. He doesn't copy anybody's style and has such a great sense of comic timing.
He's very dedicated too. He worked on things like diction, his body and voice. He has become more focused in recent times in terms of choosing the right films and roles, and taking his career very seriously. He has put in a lot of hard work and gone through lots of ups and downs. He deserves the place he is in today.
My favourite Saif films
I liked the character he played in Mein Khiladi Tu Anari. I also liked the funny songs he did like O le Ole from Aashiq Awara.
Then there was Dil Chahta Hai, which was a turning point for him. I also enjoyed his character in Ek Hasina Thi. I think he has got an incredible range and can do anything from comedies to thrillers.
Moving in with Bhai
I had my career mapped out for me and it did not include films. I was never consciously exposed to Indian cinema. I was studying in an international school in Delhi grooming myself to go abroad, learning French and doing all the regular things. Then I went to England for four years. After that, I was supposed to stay there and work with an international company.
But I moved to Mumbai and worked in Citibank. The first time I stayed with my brother, I interacted with people from the film world and saw a glimpse of his life -- the glamour aspect all well as the hard work that goes into it. I saw the enjoyment he got from cinema despite all the long hours, travel and the insecurity of it all. That was when I started watching a lot of Indian films.
I have always loved acting. I have done lot of theatre and love the idea of playing characters, which at that time did not seem a realistic option.
I was keen to make my father happy and I knew this wasn't something he would be happy with so I never considered it before. But once I was here, it was very seductive and difficult to say no.
It's a different world and a different kind of job that has all its challenges. It has incredible joy. It's been three years and I haven't looked back since.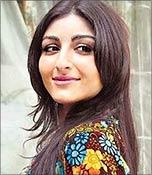 His influence on my career as an actor
He was the first person I told about my decision to take up acting. I was living with him and my then sister-in-law (Amrita Singh) at that time. I told bhabhi next. I was unsure how to tell my parents. I was getting some offers and I really wanted to give them a try.   
He (Saif) was very supportive but terrified at the same time because he knew our parents would blame him for influencing me. He told me that he would support me but that I had to be the one to inform our parents. I didn't.
Instead of telling them, I just quit my job. Then I signed my first film. I am very bad at that. I hate confrontations. I avoid issues. I bury my head in the sand and pretend they will go away. So I thought that I would tell them when things begin to happen. Looking back, I would advise everyone not to do that to their parents.
On her parents, Sharmila Tagore and Mansoor Ali Khan Pataudi
When they learnt about my decision to get into acting, they were not happy. They are very sensible and liberal parents but they told me acting was a mistake and preferred that I do something else.
They told me that I have been trained for different skills and that I don't know anything about acting. They warned me of the struggle ahead.
But I told them that I know what I was getting into. Though I don't have a plan, I just know that if the script really appeals to me, I would do it. I believed that in time, they would see my commitment.
After my first few releases in the last year, they accepted my decision. Though my mother adores the profession, she does not think it is right for me.
My brother advises me on what kind of films to do, which directors to work with and which scripts have potential.
On Rosa, Saif's girlfriend
I have met her on many occasions. She is lovely, soft spoken and very generous. She always makes an effort to be with the whole family. I don't really intrude in people's lives. I love my family for who they are. I don't get too involved in their relationships. If both are happy together then who am I to say anything?