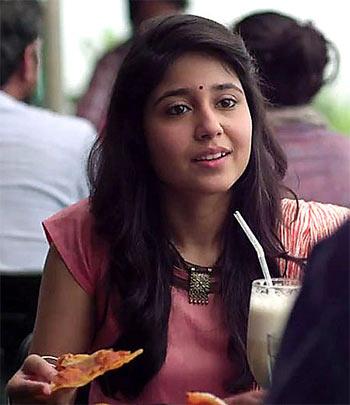 'Dibakar Banerjee, Anurag Kashyap, Vishal Bharadwaj, Maneesh Sharma and Abhishek Chaubey, they all want to tell stories of their towns'

'I could portray a part of North India without any gloss and yet with lots of heartwarming, endearing character'

Writer-lyricist-comedian Varun Grover, who co-wrote Masaan with director Neeraj Ghaywan, talks about the film.

Left: A scene from Masaan
Masaan, directed by Neeraj Ghaywan, has created quite a buzz since it won two awards at the 68th Cannes Film Festival: the FIPRESCI, International Jury of Film Critics prize and the Promising Future prize in the Un-certain Regard section.

The film has been scripted by Varun Grover who has also written two songs for it as well as its screenplay (in collaboration with Ghaywan).

He has earlier penned the songs for Gangs of Wasseypur and Dum Laga Ke Haisha.

Edited excerpts from his interview with Ankur Bhardwaj:
Masaan has earned a lot of appreciation in the festival circuit and is now releasing commercially in India, but it is not a conventional title for a Hindi film.

What does it mean and when did you become part of this film?

The title is a local slang for shamshaan (cremation ground), and in the film, it denotes the need for closure and redemption.
I became part of the film in 2012 when Neeraj Ghaywan came to me with the idea for a short film about a Dom caste boy falling in love with an upper caste girl.

We both thought the idea could be developed into a full-length feature film.
The city of Varanasi is also a character in the film. How did you weave it into the screenplay?

That was the easiest job. The cities I have lived in -- Dehradun, Lucknow, Varanasi and now Mumbai -- are easiest to portray as I walk a lot and observe a lot.
You have penned two of the three songs for the film. How was that experience?

This was the most difficult lyrics-writing assignment till now.

We experimented with lots of Hindi poetry (Nazir Akbarabadi, Uday Prakash and Dushyant Kumar) to come up with something new.

Though Akbarabadi's (most remembered poem) Banjaranama couldn't make the final cut, Dushyantsaab's Tu kisi rail si became the foundation for a love song.
What was the inspiration behind the Mann kasturi re song?

It was Kabir and the nirgun parampara that Varanasi is steeped in. The song is supposed to be the soul of the film.
Sanjay Mishra has become quite popular of late with Aankhon Dekhi and Dum Laga Ke Haisha. Tell us a bit about his character in the film.

He plays Vidyadhar Pathak, a former professor of Sanskrit who now runs a small pooja-samagri shop on the ghats.

He is a misfit liberal among his community, but a scandal involving his daughter tests his ideals.
Small-town India is today the flavour of Hindi cinema. What is the reason for this?

I think it's because directors from north India are becoming big in Mumbai.

Dibakar Banerjee, Anurag Kashyap, Vishal Bharadwaj, Maneesh Sharma and Abhishek Chaubey, they all want to tell stories of their towns.

It's like migrants from Uttar Pradesh and Bihar moving to the Caribbean and giving rise to "Chutney Music" while trying to keep their folk tunes alive.

"Small Town Cool" is the new genre in Mumbai.
The film has two important female characters. Did you ever feel any pressure to be politically correct about them in the film?

Never.

The characters should be true to their milieu and that can't be achieved with political correctness.

But our censor board removed some of the cuss words against them, so it all appears politically correct now.
What is the most satisfying part of Masaan for you?

That I could portray a part of North India without any gloss and yet with lots of heartwarming, endearing character.
Are you nervous about the reaction this film with invite in India?

Not really.

I am happy with the film and some people I trust in the matters of cinema and aesthetics have loved it and that's enough for me.

Rest is as much a function of marketing as it is of the film's actual worth.

So any artist/creator shouldn't have expectations.

Chal jaaye toh achha, na chale toh koi nahin (If it clicks, well and good. If it doesn't, then also it is okay).
You write songs, scripts and also do an incisive stand-up comedy act. How difficult is it to jump from one role to another?

Not difficult at all.

I can do all three on any given day as ultimately it all comes down to writing -- different flavours and techniques, but writing.