When Bollywood celebrated Karva Chauth
Last updated on: November 2, 2012 11:26 IST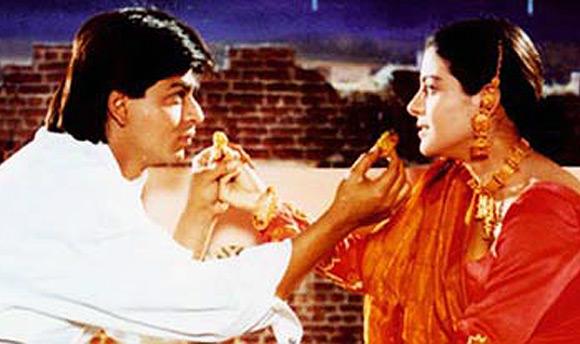 Bollywood loves celebration. And whether it's a wedding or a festival, filmmakers depict the colours and culture of India with pomp and opulence. 
No wonder quite a few filmmakers love to take advantage of the revelry in the Hindu festival, Karva Chauth. On this day, married ladies observe a day's fast for the long lives of their husbands. The ritual involves her dressing up in bridal fineries, offering her prayers after spotting the moon and eventually breaking her vrat with sweets and delicacies. 
Now isn't that a perfect setting for a song or romantic interlude in our movies?
Even as ladies, and lately tons of men too, across the country abstain from food and water for the well-being of their partners, here's a look at the some of the memorable Karva chauth moments in Hindi films.
Dilwale Dulhania Le Jayenge
'Haathon mein pooja ki thaali. Aayi raat suhagon wali. Chand ko dekhoon haath mein jodun. Karva chauth ka vrat mein todun.'
In Aditya Chopra's historic blockbuster, Kajol is engaged to Parmeet Sethi but in love with Shah Rukh Khan. Even as the latter slyly wins over her folks' heart, Kajol's Simran refuses to break her first karva chauth fast by anyone else except SRK. 
Yes Boss
Last updated on: November 2, 2012 11:26 IST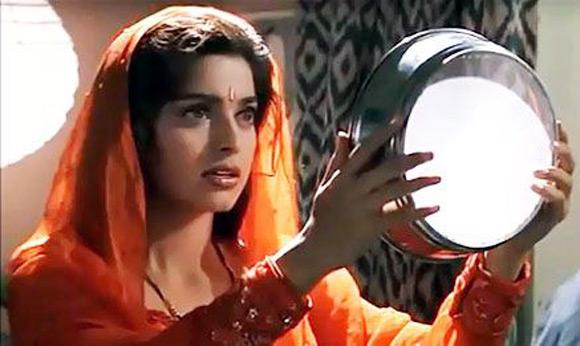 Even though they're pretending to play a married couple to protect SRK's mom from heartbreak, it's quite obvious he and Juhi Chawla have developed feelings for each other. While the latter is half-heartedly dating his boss (Aditya Panscholi), she respects the faith her make-believe mother-in-law shows in her and decides to celebrate Karva chauth.
Following a slight altercation between SRK and JC, the duo smile and make-up while conducting the rituals after our dimpled hero expresses regret with this winsome line, 'Kitni ajeeb baat hai humse meelon door rehnewale chand ki pooja toh hum kar lete hain. Lekin jo paas hai, kareeb hai usko pehchaante tak nahi.' 
Baghban
Last updated on: November 2, 2012 11:26 IST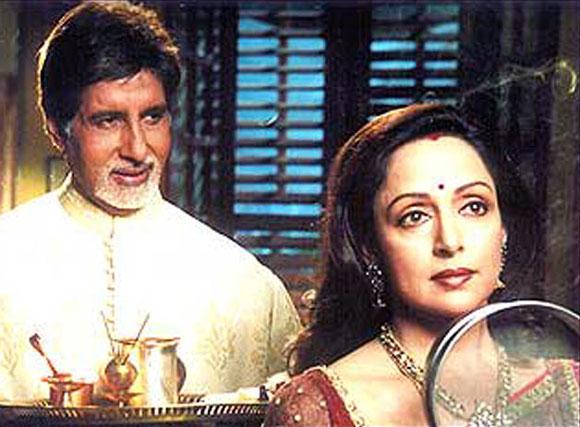 Karva chauth isn't about dolling up in bright zardozis and gold jewelry alone. Amitabh Bachchan and Hema Malini's touching portrayal of a 60 plus husband-wife in Baghban reaffirms just that. 
Kabhi Khushi Kabhie Gham
Last updated on: November 2, 2012 11:26 IST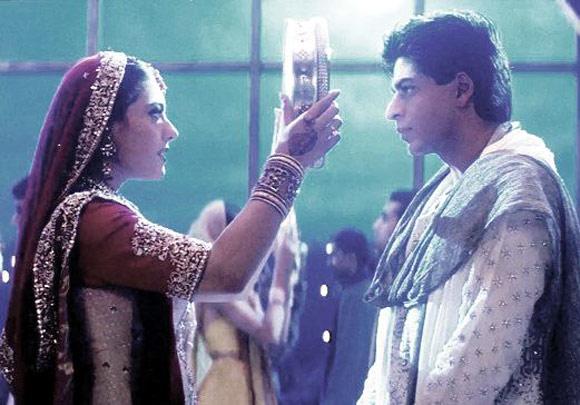 In Karan Johar's grand family drama about estranged relationships, Hrithik Roshan plays the role of Mr Fixit and arranges a emotional conversation between his sis-in-law Kajol and mother Jaya Bachchan, while they are clueless about their relation, on the phone to explain sargai (a mix of 'matthi, badam, suhaag ki nishaani'). 
This is followed by a resplendent song and dance sequence in Bole chudiyan featuring the entire cast to celebrate the occasion.
Hum Dil De Chuke Sanam
Last updated on: November 2, 2012 11:26 IST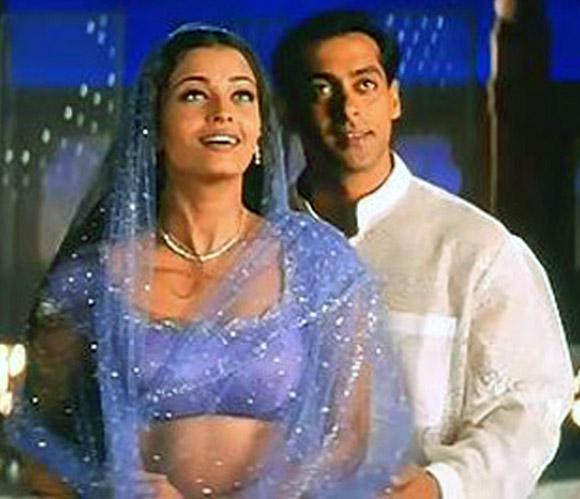 The difference in her situation is depicted through the two contrasting Karva chauth celebrations in Aishwarya Rai's life in Hum Dil De Chuke Sanam.
In one, she's an unmarried girl smitten by Salman Khan while he serenades her with Chand chhupa badal mein and a married woman unwilling to accept her husband (played by Ajay Devgn) during the second. 
Biwi No 1
Last updated on: November 2, 2012 11:26 IST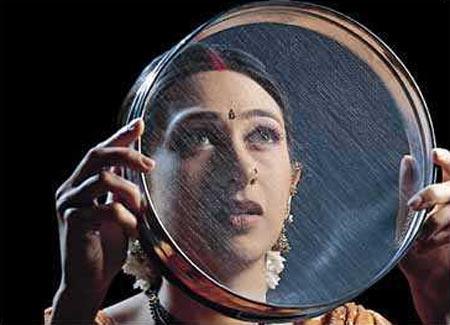 Though she's Biwi No 1, poor Karisma Kapoor doesn't enjoy a particularly happy Karva Chauth after she finds her philandering hubby (Salman Khan) celebrating the occasion with his model girlfriend (Sushmita Sen). This, understandably, leads to a bitter fall out.
Only this is a David Dhawan comedy and things end of a happy note for all three.


Judaai
Last updated on: November 2, 2012 11:26 IST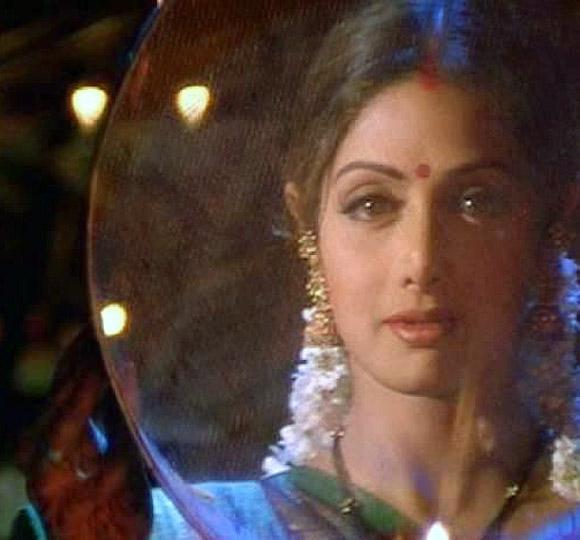 She sells off her husband for some million bucks to Urmila Matondkar. But before greed bites Sridevi, she's happy playing Bollywood's idea of a
Bhartiya Nari
and celebrating the festival to the hilt for her devoted husband, played by Anil Kapoor in this outrageous triangle.
Ishq Vishk
Last updated on: November 2, 2012 11:26 IST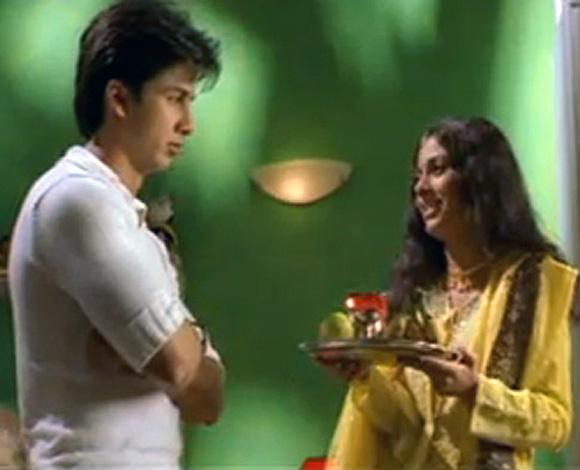 Though they're still in college, Amrita Rao portrays a traditional Indian girl dating desi Archie Andrews Shahid Kapoor in Ken Ghosh's directorial debut.
To express the intensity of her affections for Kapoor, Rao keeps a fast while Kapoor keeps it light-hearted to stop cute from looking corny.
Zeher
Last updated on: November 2, 2012 11:26 IST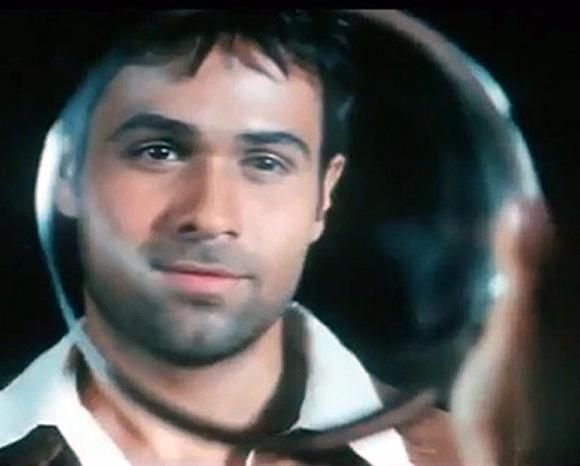 In Mohit Suri's remake of Hollywood's
Out of Time
,
Karva Chauth
scene acts as a reminder of the love once shared by Emraan Hashmi and his estranged wife Shamita Shetty before he spoiled things between them by indulging in an extra-marital affair with Udita Goswami.