Vivek Oberoi: Playing a negative character really affected my mind
November 01, 2013 10:41 IST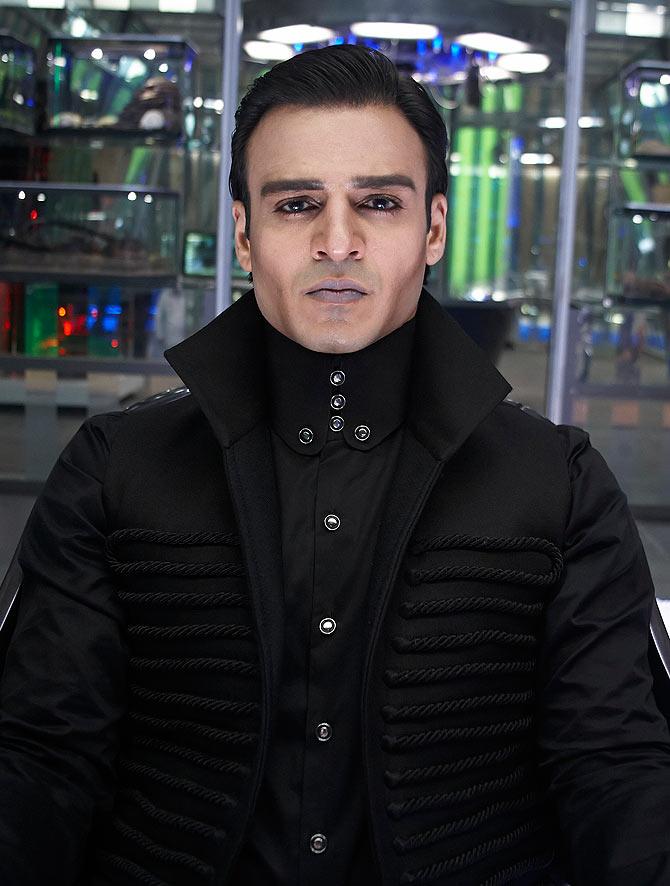 Fresh from the success of Grand Masti, Vivek Oberoi seems just as excited about his upcoming film Krrish 3, which releases today, November 1.
The 37-year-old-actor, who plays a super villain, says that the character Kaal was a dream-come-true to play.
Vivek talks to Sonil Dedhia about the success of Grand Masti, how he prepared for the character of Kaal on Krrish 3 and how playing a negative character affected him mentally.
Did you think Grand Masti would be so successful?
I am really happy and ecstatic that Grand Masti has been such a huge success. Kabhi sapne main bhi nahi socha tha ki is tarah ka response aayega (Never in my dreams had I thought that the film will get such a positive response)
When we were shooting for the movie, the only person who was very positive about it right from the beginning was our director Indra Kumar.
We would laugh, saying, 'Sir, kyun 100 crore ke peeche lage ho!' (why are you chasing Rs 100 crores)
Delhi Belly, which was a sex comedy, held the record of earning Rs 54 crore at the box office. We would tell him, 'Sir, you can say that your movie will make Rs 60 crore. If you are too greedy, say Rs 70 crore, but Rs 100 crore is a bit much!'
Now we know that he was right with his estimate.
Women audiences found Grand Masti demeaning.
The surprising part was that the maximum number of audience, who watched Grand Masti, were women. I saw so many women coming to the theatres with their groups, with their girl gangs, and enjoying the movie.
The USP of the movie is that it is a stress-free, stress-busting film. Plus, it is a sex comedy. So those who watched it once brought along their friends to watch it three or four times, which was shocking.
'It was like a dream come true to play Kaal'
November 01, 2013 10:41 IST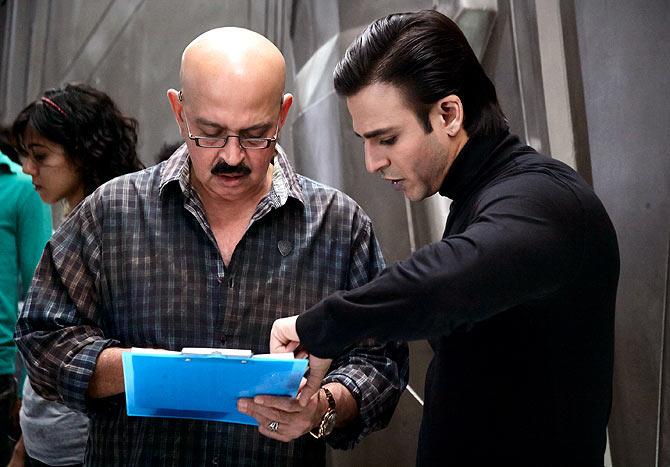 Tell us how you bagged the role of Kaal in Krrish 3.
Duggu (Hrithik Roshan) called me one day to say that his father, Guddu uncle (Rakesh Roshan) wanted to meet me. I went to meet Guddu uncle in his office. He gave me the Krrish 3 script and asked me to read it.
I was so curious and excited that I sat in his office and read the whole script, cover to cover. The script was mind-blowing and I wondered, how can we make this film in India?
Guddu uncle was like, 'Woh sab chod, and tell me if you would like to play the role of Kaal, the villain.'
My response was, 'Absolutely, yes!'
Guddu uncle said he was relieved because he thought I would have apprehensions about playing a negative character. He also said that he had written the role of Kaal keeping me in mind.
For me to do this film and for Guddu uncle to say such a sweet thing about me and have faith in me to do this role was a big honour. Kaal is like my dream role. It was like a dream come true.
'I was wearing a 28 kilo costume, made of metal'
November 01, 2013 10:41 IST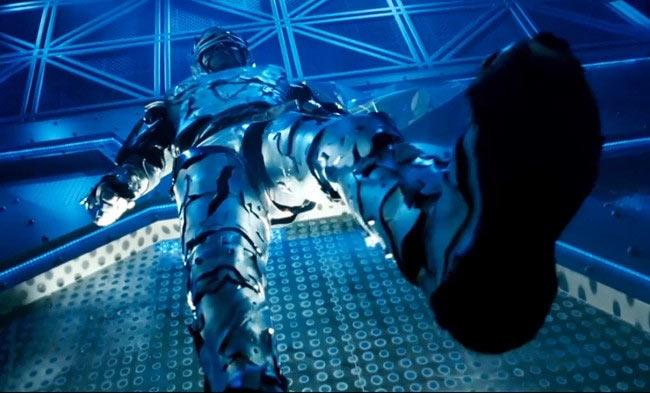 How did you prepare for the character?
It took me about three months of preparation to be Kaal. There are certain physical attributes of the character that needed to look real and absolutely flawless.
I had to train hard as hell. I was wearing a 28 kilo costume of metal and shooting in Hyderabad's Ramoji Rao studios, in 48 degrees heat. I felt like a pressure cooker.
This is the most and maddest action I have done in my life. Just imagine doing heavy duty stunts wearing such a heavy suit -- every kick and every punch would take so much energy because I was wrapped in heavy metal.
But Hrithik helped me a lot with the body language as he has worked a lot with cables.
'I had no reference points for my character'
November 01, 2013 10:41 IST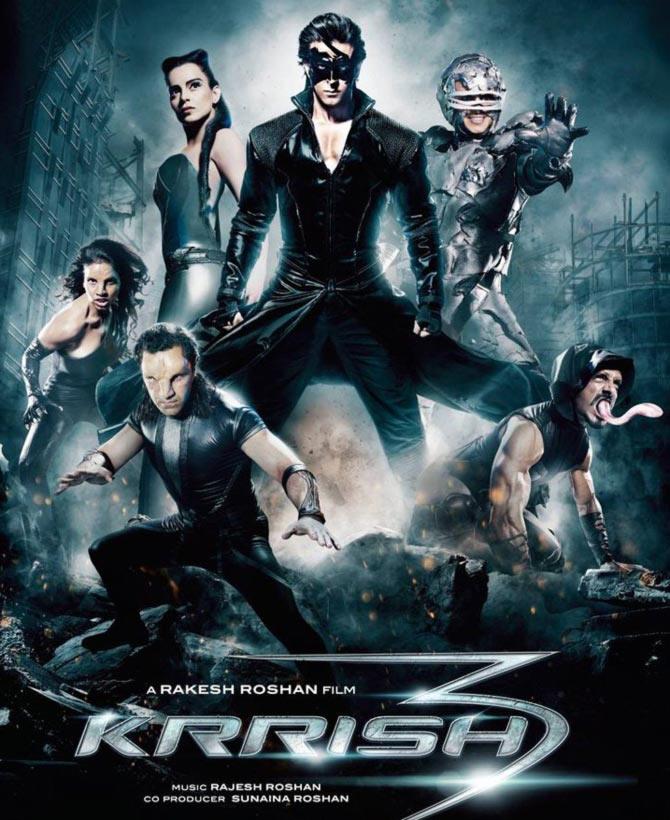 How did you perfect the Kaal look?
The role has a strong physical attribute that has to flow naturally. For getting the look right, I had no reference points.
This is a character that has no connect with the outside world. His lab is his world. So how would the skin of a person whose skin has been untouched by sun look? These were the questions in my mind.
I called up my makeup man who has been with me for 11 years. We worked on various options. Finally when we arrived on a look, I took a picture and sent it to Guddu uncle.
Then I went to his house. Hrithik said he was stunned with my look. He said it was completely unexpected. I explained the thought behind the look.
So he took some pictures and said, 'Boss this is the final look for the film.' To add to that, Guddu uncle said he would now use the same shade for all the other characters of Kaal's world.
'I am a happy-go-lucky guy in real life'
November 01, 2013 10:41 IST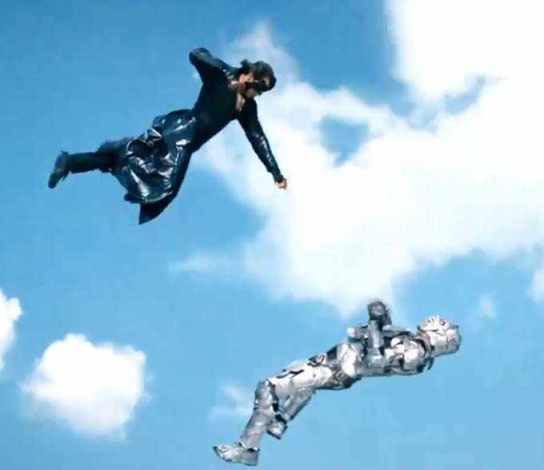 Was it challenging to play Kaal?
Yes.
I am a happy-go-lucky guy in real life. I like to chat a lot. On the sets I am usually positive, open and happy. I talk to co-stars, I interact with people on the sets and I chill.
But since my character Kaal required that unwavering focus and tremendous intensity, it was challenging.
Kaal hates the human race for what it has done to him. It is not a switch-on switch-off kind of role. So I had to focus hard to immerse myself in the character that's filled with vengeance and anger.
I used to lock myself up in the van and just stare at myself in the mirror just to get into the zone.
And from that moment to my shot, I would just not interact with anyone. Playing a negative character like Kaal really affected my mind.