'Thirumanam Ennum Nikkah is a simple love story'
July 23, 2014 17:27 IST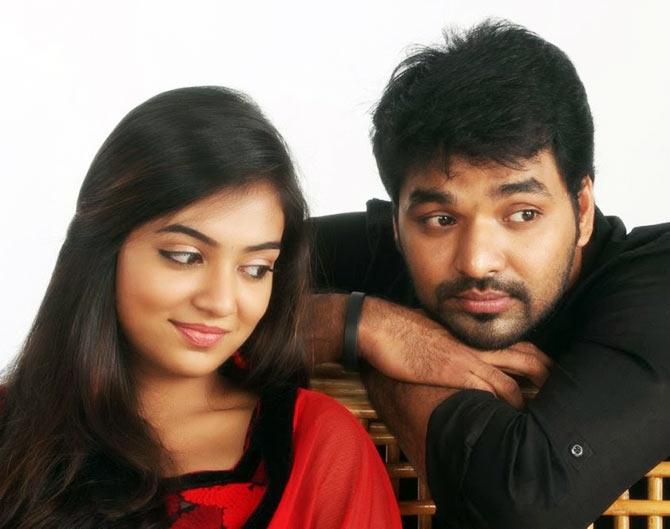 'We all know what a huge sensation Bombay turned out to be when it released back in 1995. I have chosen a similar backdrop, but I can confidently state that my film will be totally different.'
Director Anis looks forward to the release of his Tamil film Thirumanam Ennum Nikkah.
Director Anis's debut Tamil film, Thirumanam Ennum Nikkah, has generated a lot of interest with its unusual title. The songs have become an instant hit.
The film features Jai and Nazriya Nazim in lead roles and is a love story set against the cultural and religious backdrop of the Hindu-Muslim communities.
Extremely passionate about theatre, Anis worked for several years in a theatre company learning and understanding all aspects of stagecraft, scriptwriting and acting.
He graduated to cinema as assistant to director Nasser during the making of the film Devathai, in 1997.
In this interview with S Saraswathi, the debutant director talks about the importance of a good script and the expectations from his film.
Much is expected of your film…
There are several reasons why the film is receiving so much attention. I think the credit should go to the producers. Aascar Films are a reputed production company, who believe in choosing their scripts with care and are also known for making movies on a grand scale.
The banner gives the film credibility; it is not easy to get an opportunity to work for them.
Please click Next to see more.
'I chose the title because it describes my film perfectly'
July 23, 2014 17:27 IST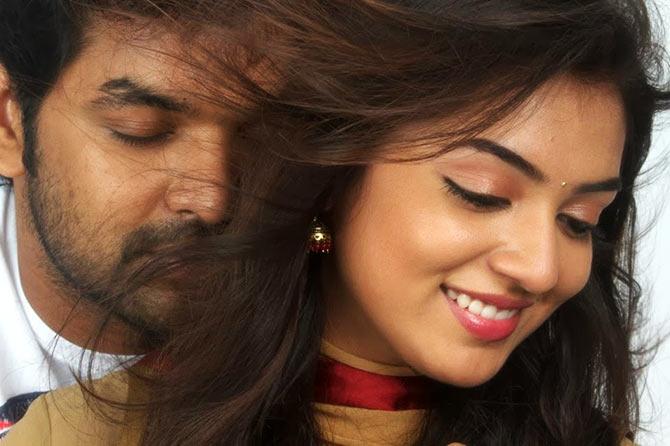 You are a newcomer, how did you get this opportunity?
Mr Ravichandran is a very simple man, who is easily approachable. His doors are always open and anyone can meet him, but the key is to impress him with the script.
He has heard so many scripts over the years that he has become an expert at picking out a winner. The recent Vallinam and Maryan both became huge hits.
If the script is good, then being a newcomer does not matter to him.
Once he heard my script, he was very impressed; his enthusiasm was unbelievable.
He immediately gave his consent and started planning how to go about it. It was definitely a huge opportunity for a newcomer like me.
You have picked an unusual title for the film.
The title was another of the reasons that people started talking about the film. It generated a lot of interest; people believe that the film will have a different concept, something new.
I chose the title because it describes my film perfectly.
'It is a total family entertainer'
July 23, 2014 17:27 IST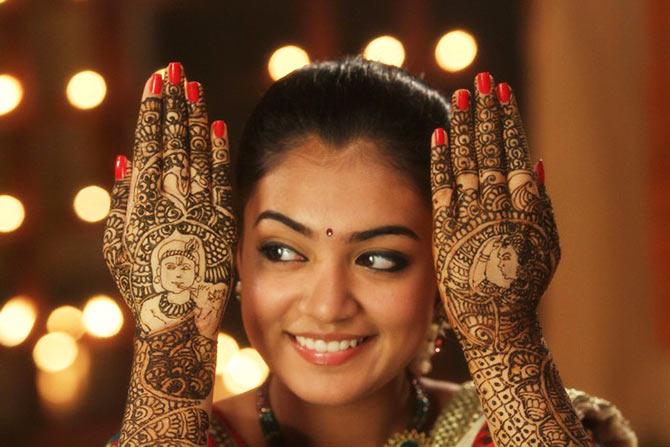 What is the film about?
The film is a simple, yet beautiful story of love and romance. It is a meeting of two cultures set in the backdrop of the Hindu and Muslim communities in our country.
The film reflects the colourful festivals, customs and rituals practised by these two communities.
It is a totally new genre that is also loaded with humour. It is a total family entertainer.
What inspired you to pick this backdrop?
Today there is a lot of competition for cinema, unlike the '70s and '80s when cinema alone was the main source of entertainment.
Television, with its multiple entertainment programmes and mega serials, is a huge attraction.
Visual Communication departments are producing hundreds of students every year, who are making innumerable short films that are flooding the market. In such a scenario, if you don't have a totally different script, people will not be interested.
I wanted to do something that no one had thought of or attempted before, that is why I chose the Hindu-Muslim backdrop.
Actually I can't really say it has never been attempted before. We all know what a huge sensation Bombay turned out to be when it released back in 1995.
I have chosen a similar backdrop, but I can confidently state that my film will be totally different.
'Samantha was the first choice for the role'
July 23, 2014 17:27 IST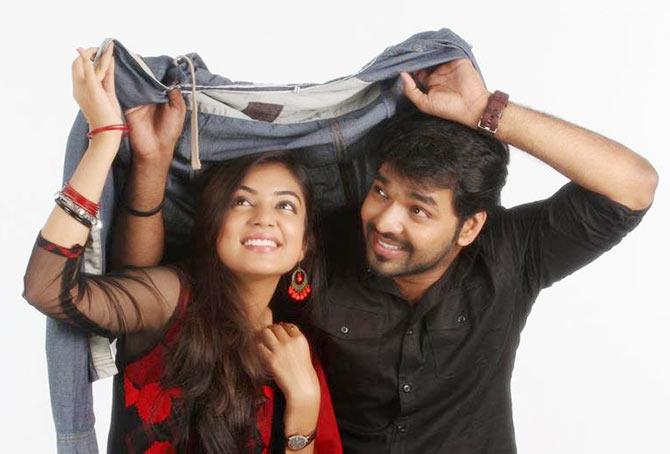 Tell us about the lead pair, Jai and Nazriya.
The Jai-Nazriya combination has worked really well for the film. Their onscreen chemistry is definitely a big plus.
When I first met Nazriya, she was in the 11th grade. We were looking for someone with south Indian looks, and she seemed to fit the bill.
Moreover, her role required her to play a Muslim character in the film. Choosing Nazriya turned out to be a huge advantage for me as she understood the nuances and was quite comfortable wearing the purdah too.
It was during the shoot of Engaeyum Eppothum that I met Jai. Once he heard the script, he had absolutely no hesitation in committing to the project.
Jai is a very dedicated actor and was extremely co-operative throughout the shoot. He never complained and did everything I asked him to. He also helped the other artists with their performance.
Was Samantha your first choice for the role?
Initially, we did try to get Samantha for the role, but later we decided to go with a new face.
This was actually supposed to be Nazriya's debut film, but unfortunately, due to the delay in the film's release, some of her other films released earlier.
I still think that a fresh face would have worked even better for the film. Today, Nazriya is a very popular heroine and people recognise her.
'Ghibran's music is definitely one of the highlights of this film'
July 23, 2014 17:27 IST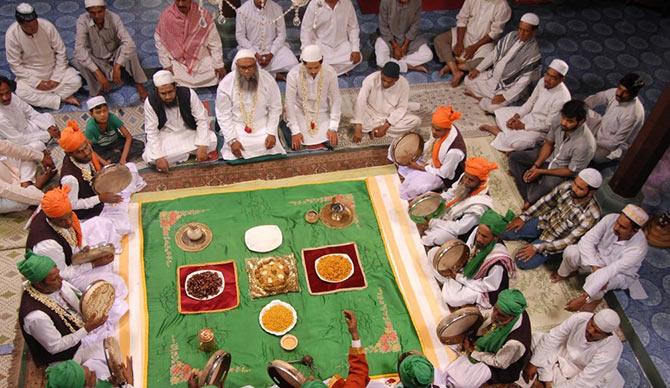 What role does Heebah Patel play in the film?
Heebah Patel is a Mumbai-based model. She plays the character of an Urdu-speaking Muslim girl in the film.
And because she too is a Muslim, she is fluent in the language and very comfortable in her role.
I have been extremely lucky to get actors who are totally suited to their character.
Tell us about the music in the film.
Ghibran's music is definitely one of the highlights of this film. We released the audio in December last year and even today the Enthaaraa Enthaaraa number is at the top of the charts. In fact all the tracks have turned out beautifully.
His work has received praise from all the top composers in the industry.
The producer, Mr Ravichandran also deserves credit for the music. He never interfered with my choice of actor, location or technicians, but he was completely involved with the music.
Being a huge music lover, he was eager to know about every tune that was composed. He is very particular about the music in all his films.
Will the film live up to expectation?
I believe that everything from the totally new genre to the performance of the lead actors, and of course the brilliant music by Ghibran, supported by the excellent song choreography, the visual effects and editing will together make this film a very unique experience.
Thirumanam Ennum Nikkah is a very positive film that will be loved by everyone who watches it.