Sudeep: I do have an offer to work with Rajinikanth
May 13, 2014 09:04 IST
Popular Kannada actor Sudeep's latest release Manikya (Jewel) is all set to break records at the box-office following the phenomenal opening that it got in more than 250 theatres across Karnataka. Trade pundits say the film has collected more than Rs 10 crore in the first week.
Manikya, which is a remake of the Telugu hit Mirchi, is directed by the actor himself.
Sudeep managed a casting coup by roping in senior actor V Ravichandran to play his father's role in the movie.
In this interview, Sudeep talks about casting Ravichandran for the role and the terrific response the movie has received.
You must be relieved that the movie has finally hit the theatres and is doing so well.
I am happy that we finally got the film out because it has been in the making for a long time.
I won't say I am relieved because suddenly I have become jobless!
This whole thing about relaxation is not really happening because meetings are continuing till 2.30-3 am. We are still discussing promotions for the movie.
But, yes, I am enjoying this lull and I am happy with the box-office collection reports.
'I am not here to break records'
May 13, 2014 09:04 IST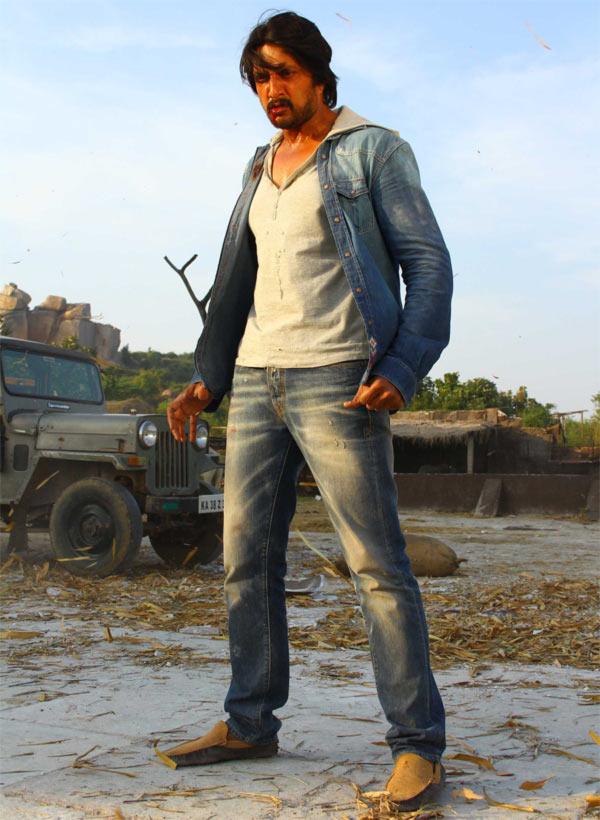 What do you attribute the success of this film to?
We saw this Telugu film and we were excited and picked it up. The team has worked together with a lot of belief and passion.
We worked day and night on the minute detailing of the characters and the characterisation. I think people like the characters in the film.
There's a good message in the end. We are also lucky to have released at the right time. It's a coming together of a lot of good things for a good film.
There is no formula for success. All you need to do is put in your best and be blessed with some good luck as well.
Amidst the IPL and the unseasonal rainfall in the evenings, the movie is still doing well, which makes me happy.
How do you react to people saying that Manikya has had the best ever opening and the film is breaking records and setting new ones?
I am not here to break records although I get to hear a lot of soothing things about the collections. It is public appreciation that is taking the film to such a humongous level, and that is what matters.
This record will also be broken one day. Records are meant to be broken.
I believe in enjoying this moment after all the hard work that we put in as a team
I just thought I will do a good film and didn't dream of this kind of response. This is a gift to me from the public and my fans. Their appreciation is sufficient for me.
'Everyone thought it was very risky making a film for Rs 19 crore'
May 13, 2014 09:04 IST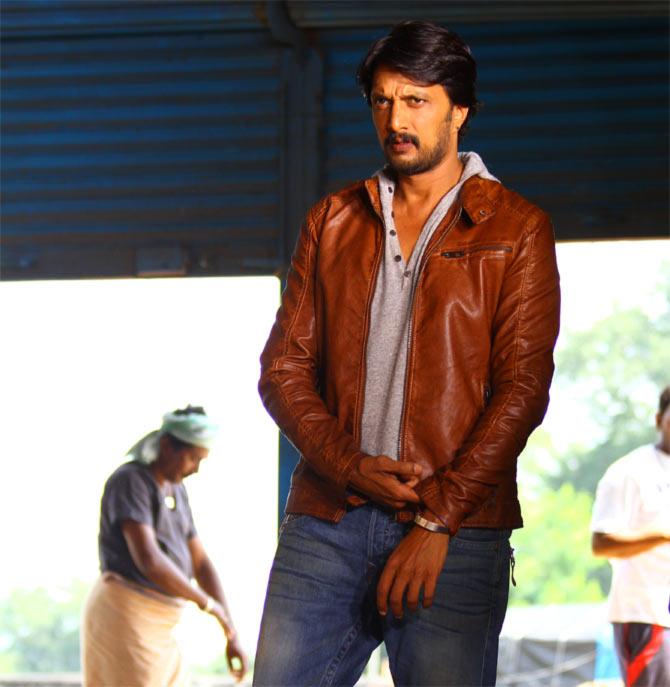 Is cinema a meeting point of commerce and art? What about the risk film-makers have to take?
The risk comes in the way we make our films.
We could have wrapped up this film within Rs 6 crore or maximum Rs 10 crore. We went beyond this. Everyone thought it was very risky making a film for Rs 19 crore.
Yes, it is risky but that's how we define or redefine ourselves. If you don't take risks, you are playing safe. You have to define growth to yourself. If you ask yourself what you want, and if the answers are big, then you have to work towards it.
I wanted my producer's money to be safe for the amount of investment that he was putting in. All I told him was that if the film doesn't do well, my money will be at stake and that's absolutely fine.
Do you think commercial considerations override artistic freedom?
No, I don't think so. There is artistic freedom in the script. We need to cater to people's tastes and what they want to see. This arrangement has worked well only with producer Kumar as he is like family to me.
Has the gamble to release the film in more than 250 theatres paid off?
I don't think it was a gamble. It was a well planned and thought-out strategy. It has been executed very well.
It would be a gamble if I was a newcomer in the industry. But there is a belief that I can pull in the crowds. No businessman would take such a chance without knowing his cards.
He (the producer) knew Sudeep can bring the crowds as I have been here for quite a while now. It is not a gamble; it is the right move.
'It is a challenge to direct any film'
May 13, 2014 09:04 IST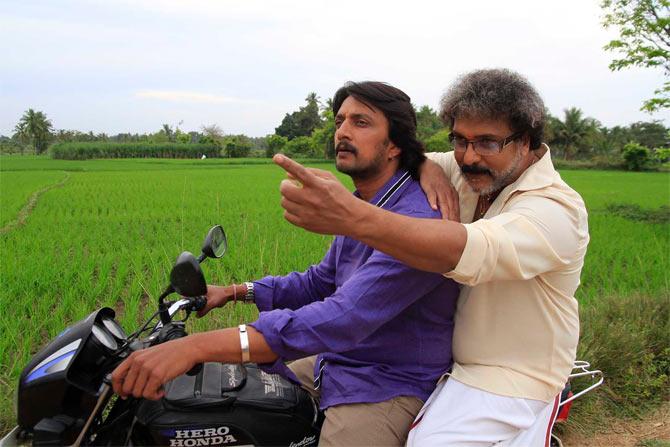 You seem to have missed the political turmoil when you did your shoot in Bangkok, Thailand?
We were never in the city and had selected safe locations.
The political turmoil didn't affect the public or the tourists. There were some places where cabs were not plying, but there were no scares.
How did you manage to cast a senior actor like Ravichandran to play the role of your father?
It was not difficult. I had a gut feeling that he would agree. He agreed within a minute.
I made sure that his character is justified; it was not meant to be a casting exercise to ensure good business.
I think people love our on-screen chemistry as father and son. Without altering the structure of the storyline, the script was tweaked to accommodate him.
He has a fan following and there are expectations from his fans when he comes on screen.
If he had not agreed I wouldn't have done this film at all because I wanted some reason for people to come and see this movie. I didn't want anyone else to play that role.
How challenging was it to direct an ensemble cast that comprised Ravichandran, Ramya Krishna and a host of newcomers?
It is a challenge to direct any film. The challenge for me was to justify each one's character and especially that of Ravichandran.
People should appreciate when Ravi comes on screen - that was the challenge. I have never tried to impress anyone, including my parents. I know what I am doing.
'I am trying to squeeze in some time to host the next season Bigg Boss'
May 13, 2014 09:04 IST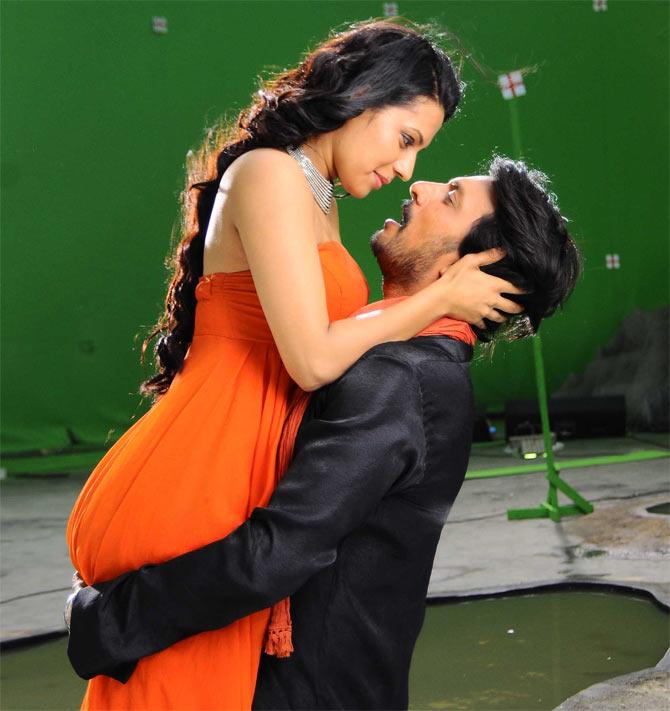 Why was the media kept away from the filming process?
The media was not kept out. I have never called the media when I have directed a film.
You are noticing me now, after I have directed six movies. Probably, the media was not interested during the last five films that I directed.
I had a huge responsibility of several crores of rupees. I had no time to sleep. I wanted to ensure that everything was right before I came to you.
I have always respected the media, and I expect the same (from you). I was doing my job.
Which are your forthcoming projects?
I have nothing planned as yet. There are a few films that I have evinced interest in doing. I have a Tamil film with Vijay, which is a fantasy film.
Isn't there an offer to work with Rajinikanth?
Yes, I do have an offer to work with him. I am scared to accept this offer.
I have been a huge fan of Rajinikanth. I am scared that if I accept an offer to act with him, I will stop acting and keep staring at him!
There are times when you pray to God when it is better that you pray from a distance.
Sometimes when you are taken into the sanctum sanctorum of big temples, you don't know what to pray when you are so close.
When I got the offer, I was all excited. I am now a little worried because they are not small people. It's not an offer that comes often.
I am a regular first day, first show Rajinikanth film buff. Suddenly, I am shaking with the offer that has come to me.
What is your future with Bigg Boss?
Discussions are at a nascent stage. It feels that the programme is identified with me. A new channel has taken over. Let's see how it goes because there are a slew of films lined up and this show involves some travelling every week.
It takes me two to three days to shoot for this programme and I am not sure if I will be able to accommodate my other commitments. I am trying to squeeze in some time to host the show.