Nikesha Patel: Om 3D is a love triangle
Last updated on: July 17, 2013 10:44 IST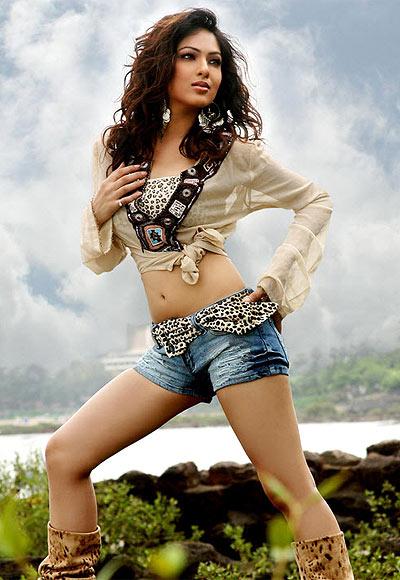 Born and brought up in the United Kingdom, Nikesha Patel got her big ticket to the cine world when she made her debut in Telugu film Komaram Puli co-starring Pawan Kalyan and directed by S J Suryah. The film, however, tanked at the box office.
Subsequently Nikita moved to Chennai and Bengaluru to do Tamil and Kannada films (Narasimha, Dakota Picture and Varadhanayaka).
Now, Nikesha is back to doing a Telugu film, Om 3D, the first action film produced by Nandamuri Kalyan Ram (who's also the main protagonist) and directed by Sunil Reddy.
In this exclusive chat, Nikesha throws light on Om 3D releasing this Friday, July 19, the shift to Tamil and Kannada films, and her future projects.
After you made your debut in Komaram Puli (2010), you have not acted in a Telugu film for the last few years. Why?
I was busy with Tamil films for which I was getting offers. I was looking to work with a big hero in Telugu after Komaram Puli. Unfortunately, I did not get the right script and the right hero together.
'I play a serious character and have got a chance to perform' in the film
Last updated on: July 17, 2013 10:44 IST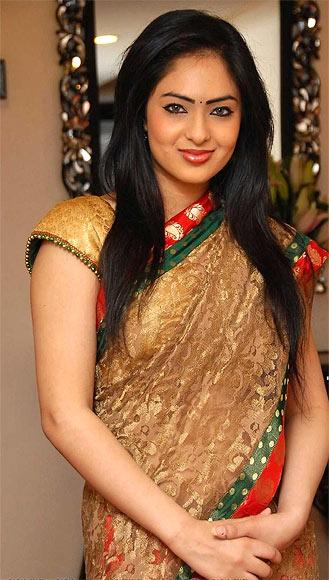 How did you come to sign Om 3D which is touted to be the first-ever action film in 3D?
I knew the director and in a non-professional meeting, he told me he wanted to cast me. I heard the script and was happy with it.
Initially, when he narrated the story, it was not 3D. I was quite excited to be part of the film. There's more to the film than just action.
In fact, the director told me I would get to do some action. But that did not happen eventually.
What role do you play?
There are many twists and turns in the film. I can't tell you much as it will ruin your viewing. You have to watch the film to know what it is about.
I play a different character – completely opposite to what I have played before. This is a serious role and I get to perform.
The film has another heroine, Kriti Kharbanda. Is it a love triangle?
You can say that.
'Kalyan Ram is a jolly person and a great actor'
Last updated on: July 17, 2013 10:44 IST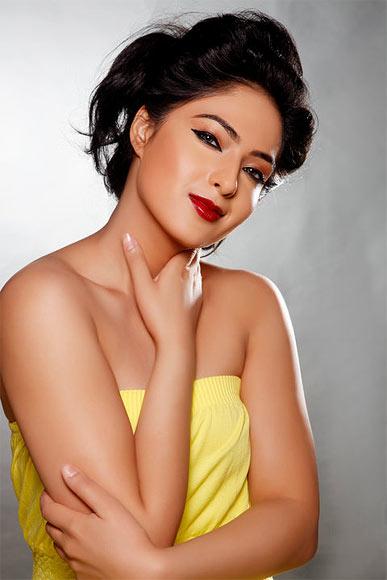 Did you and Kriti do scenes together?
We had a few scenes together. It was fun. So far I have not done scenes with another actress even though I had done a film (Varadhanayaka) which Sameera Reddy was a part of. Om was the first time I did scenes together with another heroine. It was quite an experience.
How was it acting with Kalyan Ram, who is also the producer?
It was great. He used to get involved in the technical and direction side of it besides production.
He is a jolly person and a great actor. I learnt a lot from him. Being an actor, it helps to be knowledgeable about direction as it aids your performance.
What's unique about this film?
I have never seen a trailer like this in a Telugu film. The technical team from the US has strengthened the technical side of filmmaking. We shot the film for four months. And the rest of the time was taken to work on the special effects.
'I had to work out to wear a swimming costume in the film'
Last updated on: July 17, 2013 10:44 IST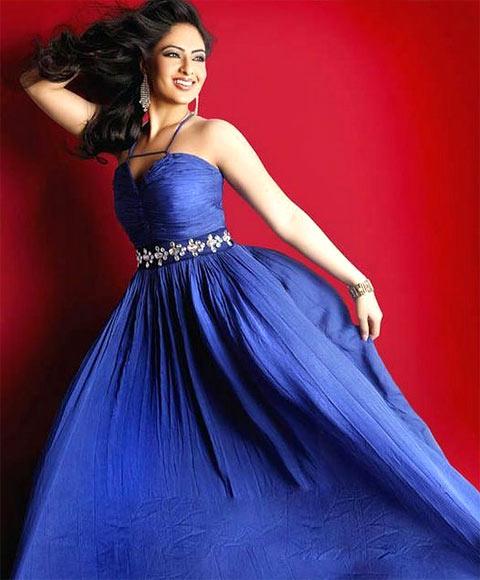 Do you wear a bikini in the film?
I wear a one-piece swimming costume in the film. For wearing the swimming costume, I did work out.
I styled myself. I picked up all my clothes in London. The character is trendy and stylish.
What would you say about the director Sunil Reddy?
He is a dear friend. I knew him before I signed the film. He is young and educated in the US. He brings something fresh to the table.
I thought Om would be just another film but when I saw the trailer, I was surprised. Like I said, there's a lot more to it and families can come and watch it.
Do you feel happy to be back in Telugu films?
There are a lot of memories coming back to me. I haven't been to Hyderabad for a while now. I feel like it is a second round now. I am happy. My first film did not do well. I'm hoping this film will do well.
'I have six Tamil films in my hand'
Last updated on: July 17, 2013 10:44 IST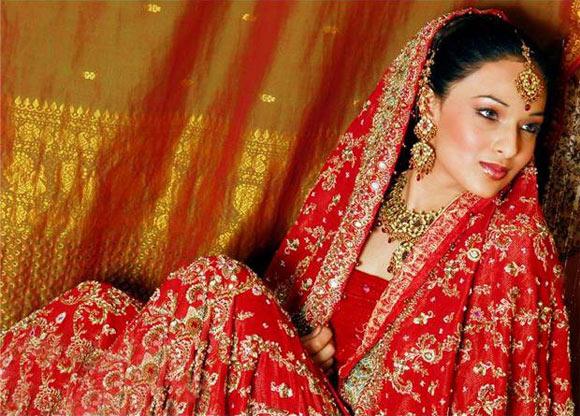 You are acting in the Telugu film RUM.
Yes, it's a bi-lingual (Telugu-Tamil). It's about three girls and is another action film. It was shot largely in Dubai. There is one more schedule left.
You seem to be quite busy doing Tamil films.
Yes, I have six Tamil films. I have started work on four of them (Narathan, Thalaivan, an untitled film with Gautham Karthik directed by Ravi Thyagarajan, and RUM). The other two are yet to be announced.
I worked with Karthik (Gautham's father) in Om and now I am working with the son (Gautham) in this untitled Tamil film.