'Mani Ratnam treated me like his daughter'
Last updated on: January 30, 2013 10:13 IST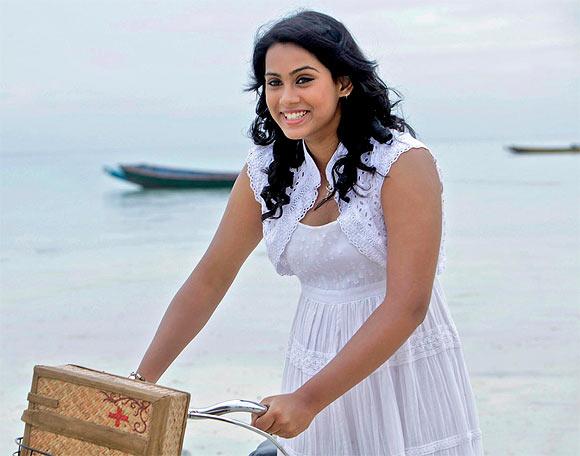 Thulasi Nair is just 15 years old and has already acted in a Mani Ratnam film. Daughter of the famous actress Radha and hotelier Rajasekharan Nair, and niece of well-known actress Ambika, Thulasi has been cast opposite Gautham, son of famous actor Karthik, in the Tamil film Kadal (dubbed in Telugu as Kadali).
Thulasi is bubbly and chatty like any teenager. She shares her experience of working with Mani Ratnam and Gautham in Kadal, in this exclusive interview.
How did you react when you heard Mani Ratnam wanted to cast you in his film?
At first I wasn't sure about it. My mother said I was just called for a meeting. "If it happens, it happens, don't get disappointed."
When we met, he (Mani Ratnam) took it a step further and made me do workshops for two months with Kalai ma'm. After the workshop, we made the video.
When he saw it, he said, you are my Dea (the character) and we are taking the shot.
It was all of a sudden and it was a surprise and shock though I was prepared.
'I didn't know about the film or my character till I acted in it'
Last updated on: January 30, 2013 10:13 IST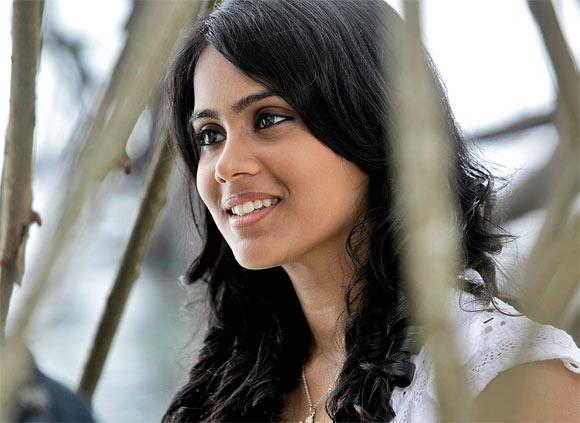 Didn't Mani Ratnam tell you anything in the meeting?
He didn't tell me anything. He was just observing me. I was very quiet and still. Suddenly, my mom cracked a joke and I laughed. So perhaps he found some quality in me or was looking for some expression in me for the character.
I didn't know about the film or my character till I acted and found out.
Were thoughts of acting in films so soon on your mind?
Not at all. I thought I would consider it after I was 20. This opportunity came and it was worth it.
You play a Christian girl in the film. Can you talk about your role?
That's true. Twenty per cent of her was hidden in me. The rest of her is such a complicated character.
My mother said how can anyone play such a complicated character? Mani Sir spent a year searching for an actor to play that complex character.
'Mani sir was so sweet and nice to me that others felt jealous'
Last updated on: January 30, 2013 10:13 IST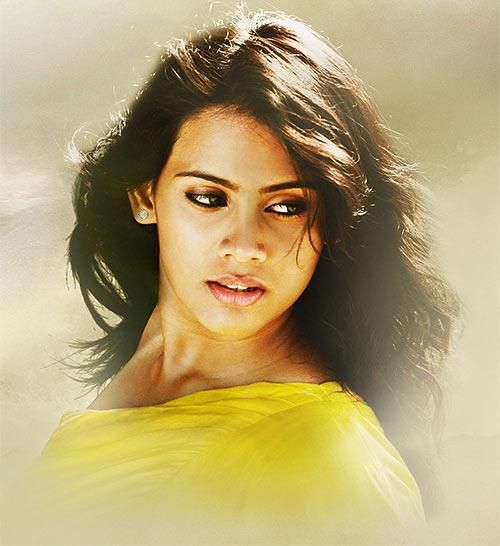 Did you do any preparations for the role?
Physically I had to prepare a lot. I had to lose weight. For the character, I didn't really have to prepare. I was a shy, quiet girl and the workshop with Kalai ma'm helped me emote. The character also had to be bubbly.
When Sir first saw me, I was fat. So, in two-and-a-half months I lost 15-20 kg. I got Arvind Sir's trainer to train me. The trainer also monitored my diet. All these people believed in me and gave me confidence.
It was my summer vacation. I would wake up at 5 am and go to the gym for an hour and go to the workshop and then again visit the gym twice in the day. So I was going to the gym thrice a day for about four hours doing cardio and weights. I was on a healthy diet – eating every hour. So it was okay.
How did you feel facing the camera on the first day and giving your first shot?
It was nerve-racking and I was nervous. When we were in one of the Andaman Islands, I thought what if I don't do it well. There was tension.
Mani Sir took me aside and told me 'You are coming on the cycle and calling out to the hero. What's there in it? Wouldn't you call any boy by his name?'
He asked me to chill and think the camera is not there. The shot was on a bridge and I cycled and yelled out the hero's name and then the dialogues began. Even now I think the camera was not there!
How was it to act under Mani Ratnam's direction?
Mani Sir treated me like his daughter. I felt comfortable and had respect for him. I didn't feel, Oh My God it's Mani Sir. He was calm and smiling and his hands were the perfect place for me to be in, my people felt.
It was a difficult time too. He was so sweet and nice to me that others felt jealous. But Sir finally found the girl and he told me he found a better Dea in Thulasi.
'I watched all of Mani Sir's movies and saw how the actresses had performed'
Last updated on: January 30, 2013 10:13 IST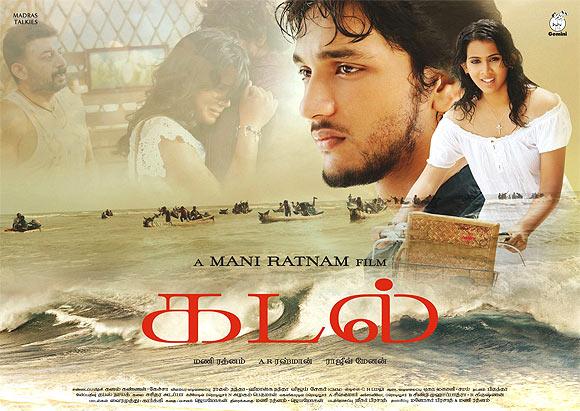 Your only training in acting was through the workshop. Did you take any suggestions from your mother or aunt, who were well known actresses of the south?
I did try to take suggestions from my mother. But she stepped back and said, 'Let Sir take care of you.'
I watched all his movies and saw how the actresses had performed. I noticed it was subtle and understated. There were not many references.
You speak Tamil well. Did you dub your voice?
I guess I've been watching Tamil movies a lot. The dialogues in Kadal are in the Thootukudi dialect and the pronunciation is hard. So, I didn't dub for myself.
Gautham's father Karthik acted with your mother in their first film Alaigal Oyvathillai. Gautham is also a debutant. How was he as a co-star?
All the time I didn't look at him as Karthik's son. Mani Sir planned it to happen and unexpectedly we both suited it. Gautham was in the project for a year and a half before I got in.
He's friendly. He's very dedicated and has put in some hard work. He would be practising and rehearsing his scene on his own, improvising it, to get it better. He has put in a lot of effort and will get a name for his acting.
'Cinema will not change me as a person'
Last updated on: January 30, 2013 10:13 IST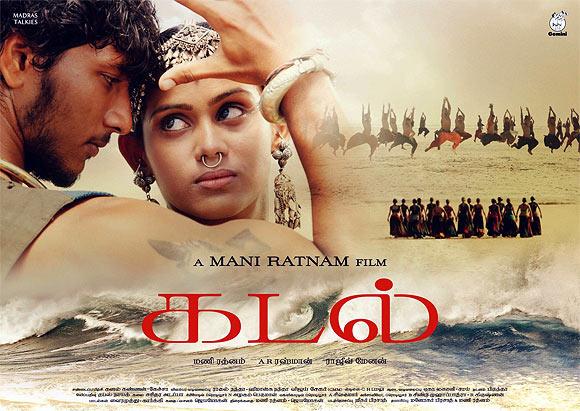 How did you manage your studies considering you are in class X?
I could manage thanks to the school being flexible. I promised my parents I would manage both.
I had a lot of support from the school too. The moment the shoot got over, I would go back to Mumbai to attend school and the teachers would help me.
If there was a long schedule, I would interact with the teachers on Skype and do the lessons with my mom sitting next to me! So, it was like private schooling. One of the exams clashed and I will have to write it this June.
How do your classmates look at you now that you have worked in a Mani Ratnam film?
They still see me as Thulasi. Cinema will not change me. My classmates are very supportive and proud of me but cool too. They love me for what I am.
Have you been able to shed the character of Dea or is it still lingering within you?
I'm not ready to leave Dea as she is a part of me. My mom keeps telling me I have to move on but Dea will always be with me.
'My first priority is to do business'
Last updated on: January 30, 2013 10:13 IST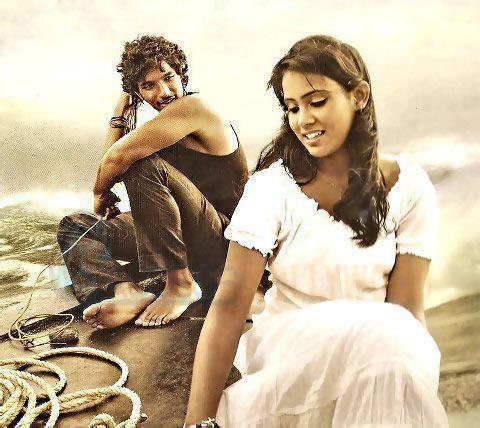 You are already working on your second film Yaan being directed by Ravi K Chandran...
Yes, this is a different experience. I was under Mani Sir's care and here I have to be independent and do things myself.
Would you want to continue acting?
Yes, I love the experience, love the field. To be someone else is an experience. I want to feel the experience of what my mom and aunt went through. My first priority is, of course, business.
How does your father encourage you in cinema?
When both my sister (Karthika) and I got our first projects, Dad was over the moon. My mom, in fact, was hesitant and thought twice. I think that was a mother's instinct at work. My Dad was there on the sets of Kadal right through the shoot.
How do you feel as Kadal releases this Friday?
I am nervous and excited. So much hard work has been put in by everyone. I hope the audience appreciates it.