Salman: Getting kicked gives me the biggest kick
Last updated on: July 21, 2014 19:24 IST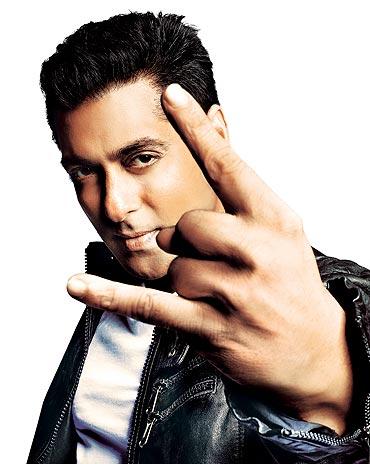 'Journalism has become a joke now -- it's not journalism any more; it has become entertainment.'
Salman Khan ko gussa kyu aaya.
Salman Khan is an angry man.
He's upset with journalism, and he's upset with press photographers.
But with a film coming up for release -- the action Eid release Kick -- the superstar has no choice but to address the media.
Salman vents out, in this candid chat with the press. Patcy N takes notes.
How different is Kick from the original Telugu version?
Kick is inspired by a Telugu film of the same name. The plot is the same but the film is totally different.
What are the action scenes like?
When you look at some of the action scenes, you will think that a lot of hard work has gone into them, but that's not true. And then some scenes look easy but you had to do a lot of hard work for it.
It would be hard work if I had not done these kinds of stunts before, but I have done this kind of stuff before.
I have been playing sports, riding cycles all my life, so doing these stunts was not very difficult for me.
I have learnt how to jump from a motor cycle, fight and drive at the same time, so it's not difficult.
We did not compromise. If a scene required 30 cars being blown off by a bus, there were 30 cars waiting to be blown off.
The bus was brought from London to Poland for the shoot.
The main hero of this film is the heart of the producer, who never compromised.
There are about three to four action teams. I have done my own action scenes. But for shots from different angles, a body double has been used.
Please click Next to see more.
'Jai Ho is a Rs 126 crore flop, which is fine'
Last updated on: July 21, 2014 19:24 IST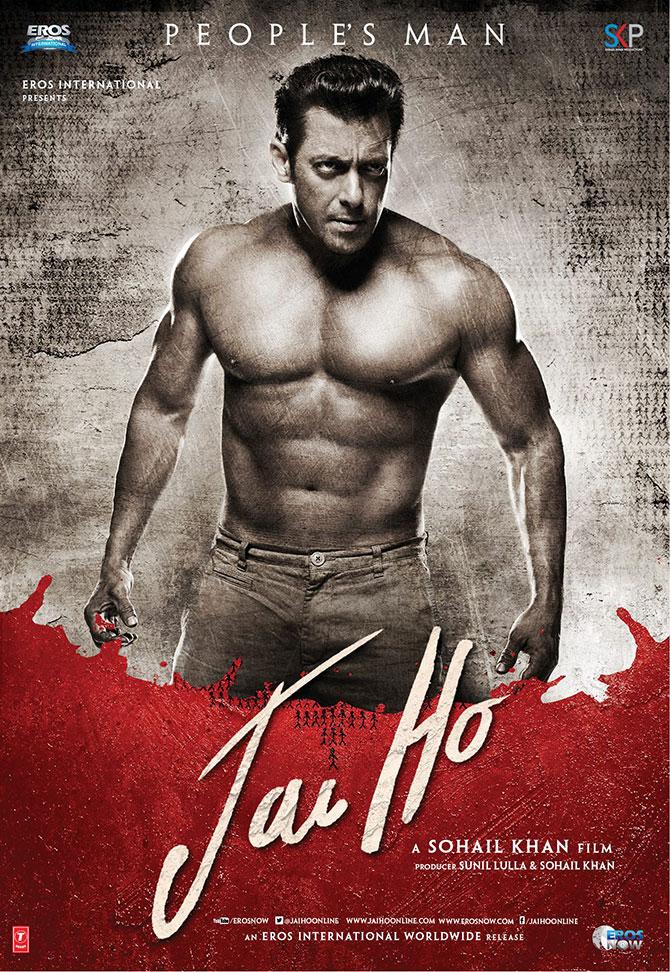 The buzz for Kick is more than for other films…
Most films in this genre have this kind of buzz.
A little before Wanted, the buzz for this genre increased. Even a film like Ready had that buzz.
Action films like Dabangg and Wanted, which have comedy and masti, create a good buzz before the release.
What went wrong with Jai Ho?
Jai Ho is a serious film.
We make films for kids but Jai Ho had a roar, which we liked, but the kids got scared.
We thought that kids love digital games so they wouldn't be scared.
Your film should be better than the previous one. In that process sometimes the film looks convincing and sometimes it just becomes too much to handle.
The music of the film also didn't do well.
The release date of the film was not good -- it was January and people had just returned from their holidays but had not come out of the holiday mood.
The ticket cost just Rs 250 when other film tickets were Rs 450, Rs 650 and Rs 950. I think that was a big mistake, though we stand by it because we did it for our fans.
Jai Ho on television is the most amazing film.
Ultimately, it is a Rs 126 crore flop, which is fine.
'Any festive season is the best time to release films'
Last updated on: July 21, 2014 19:24 IST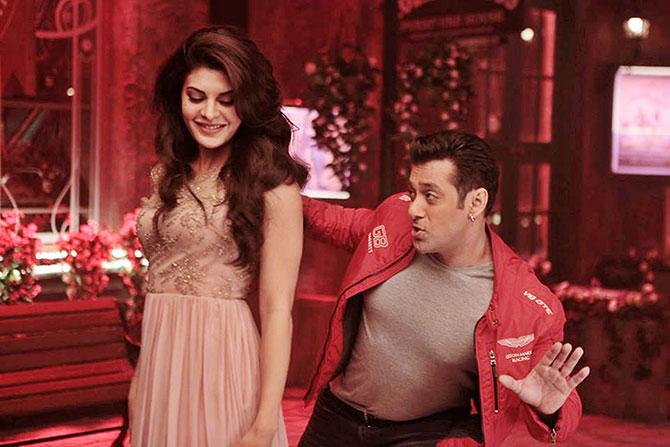 You worked with two hot actresses, Jacqueline and Nargis, in Kick…
Everyone is saying Jacky and Nargis are really hot but I say they are very sweet, and their demureness is hot.
You have a release for Eid this year.
Yes. Last year we were not prepared for Eid, but this year we are.
Any festive season is the best time to release because of the holidays and you can also accommodate more than one release.
There are no releases during Ramdan, so Eid is the good day. Diwali is good because there are 10 days of holiday. Christmas is a festive season and chilled out time.
'Jacqueline has brought a huge difference to my character in Kick'
Last updated on: July 21, 2014 19:24 IST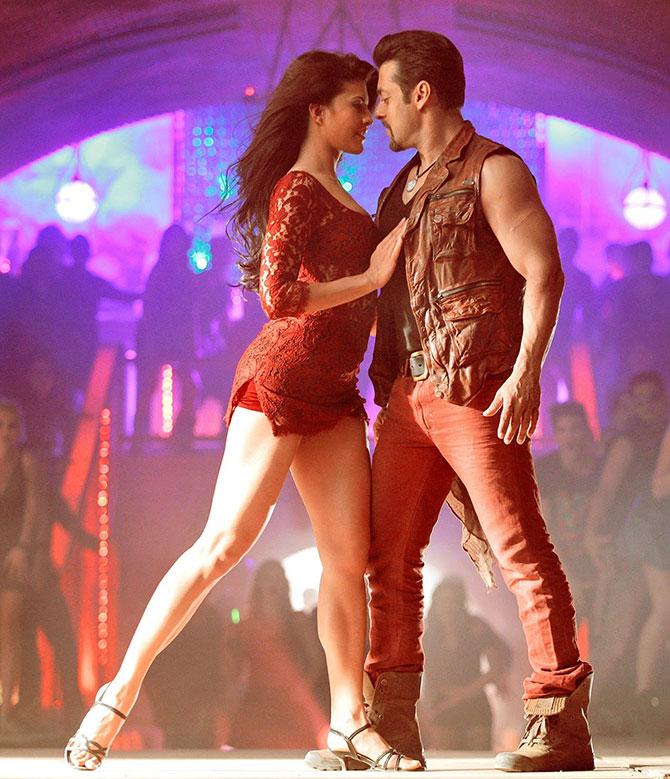 How do you handle the pressure during the release?
I have no pressure at all; I am not in any numbers game.
If a film does well, it is okay. If it doesn't, it bothers me as I gave my best but it doesn't pressurise me.
Being in the numbers game can be tiring.
How difficult is it to work in a film now?
I have done so many films that now when I say my dialogues, I feel I have said this dialogue somewhere before!
It is difficult to bring change, but Jacky has brought a huge difference to my character in Kick.
The film also has Nawazuddin (Siddiqui) and Randeep (Hooda). You have not seen them with me before. I look different because of them.
What gives you the biggest kick?
Getting kicked gives me the biggest kick.
'I had a really bad experience with a real train when I was shooting for Tere Naam'
Last updated on: July 21, 2014 19:24 IST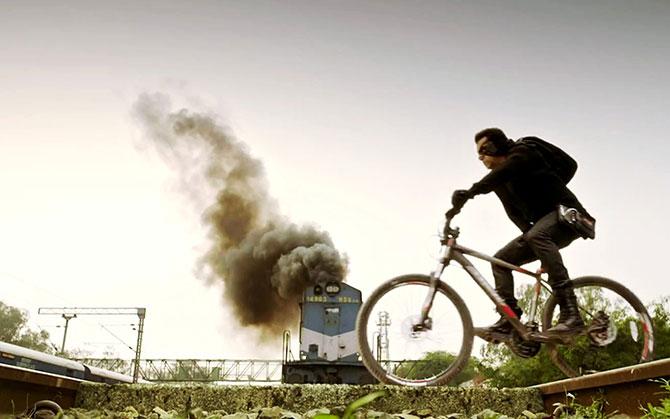 You have a train sequence in this movie. How was that?
I don't get scared of CG (Computer Graphic) trains (laughs).
I had a really bad experience with a real train when I was shooting for Tere Naam.
I had to walk on the train tracks with a bandage on my head. There was a stuntman working on the train tracks who looks at the train and has to pull me out as my back is to the train.
But the stuntman panicked and froze. I am not supposed to look back in the scene so I had no idea how close the train had come.
The stuntman looked at me and then he looked at the whole unit and at the last moment, he pulled me out.
I got hit a bit on my leg and the stuntman told me, 'I panicked, but when I looked at the whole unit, I knew if anything happens to you, I will be killed. So I took the risk and apne jaan ko jokim main daal ko aapko bachchaya.' (I risked my life and saved you)
The whole unit was shocked. Then they realised that this could be done in CG and the effect would have been the same.
In Kick, there is a train but it is at a safe distance. In the scene, I am cycling in front of the train.
The reason to keep the train far off is what if the cycle chain comes off or the tyre get stuck crossing the track? It is therefore necessary to keep a safe distance.
'My name in the film is Devi Lal Singh in Kick'
Last updated on: July 21, 2014 19:24 IST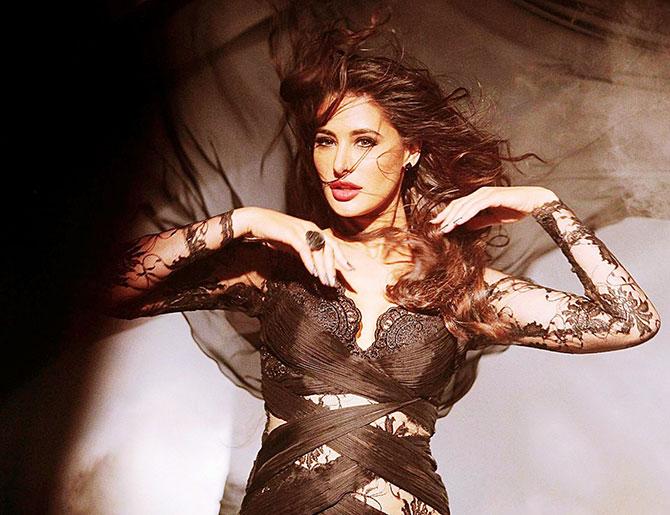 Your name in the film is Devil…
My name in the film is Devi Lal Singh. So the short form is Devi L which becomes Devil.
You have worked with Katrina, Jacqueline, Nargis -- all of them are foreigners. Can we say you have an affinity towards them?
You don't look at Sonakshi Sinha, Zarine Khan, Sneha Ullal...?
'Interviews are a compulsion'
Last updated on: July 21, 2014 19:24 IST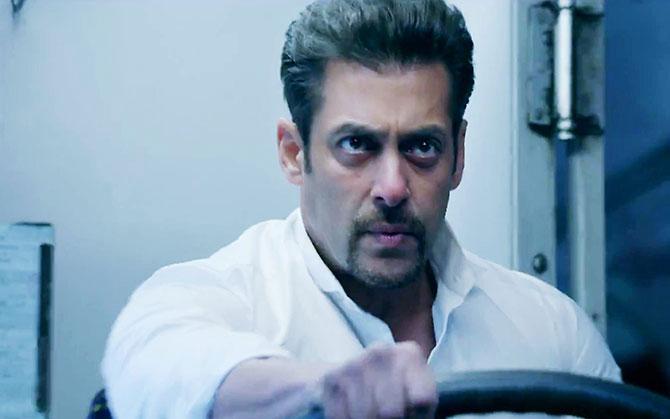 You sing in this film. Is that your passion?
It's my hobby. I enjoy doing it.
Interviews, I have to do; it's a compulsion.
I try to enjoy things as much as possible. Till the time I enjoy it, I will do it. The day I feel it is not enjoyable, I will give it up.
Journalism has become a joke now -- it's not journalism any more; it has become entertainment.
The problem will be when you have to capture real stories. The real stories will not be conveyed because everything is so badaa chadaa ke (exaggerated).
There is no social and national responsibility, it is just about TRPs.
It is our fault usually because we are letting this happen. It is the fault of politicians because they are letting it happen. This is your fault because you are letting it happen. This is the fault of your newspaper owners and your editor. It is everybody's fault.
This is the fault of the people, who are used to reading bullshit.
'The photographers are aggressive'
Last updated on: July 21, 2014 19:24 IST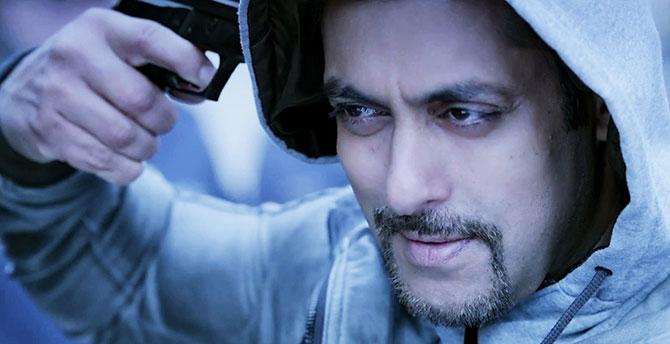 Recently, there was an altercation between your personal security and the press photographers, resulting in the latter refusing to cover you until the release of Kick. It is said that if you had gotten involved, the matter would not have worsened. Please comment.
Why should I step in? That's not my job.
I said 'Jisko rehna hai, woh raho, jisko janaa hai, woh jaoo' (whoever wants to stay can stay, whoever wants to go, can go). That was my way of stepping in.
The fight is between the Royalty's bodyguards and press photographers, who have to handle the situation.
Press photographers ask me to stand at the events to take a photograph and get Rs 150 and Rs 250 per photograph, and then click non-stop on their digital cameras.
There is no way you can ban me. It is your choice not to take my pictures.
I would be happy if the whole fraternity says 'No, we will not take his pictures.' I will be really glad.
I hope they can survive.
At least there are some people (photographers), who have taken a stand, right or wrong it doesn't matter.
It will be their loss, I may also lose, but their loss is definite.
The photographers get aggressive and disturb the party.
In Baba Siddique's Iftar party, the press photographers were climbing over everybody, from ministers to the stars.
But that stuff doesn't work with me, dude.
The fault is also of our PR team. Why do they call so many people? Just call a few publications.
And why do photographers need to come so close to us? They have such long lenses that they can shoot from 30 feet away.
There was a picture of Priyanka Chopra from outside the building in the middle of the night. The photographer got the picture, no? So why do you have to come so close? It is because they are competing with each other.
With this kind of behaviour, our PR teams are going to call four or five photographers to shoot pictures and if they also ban us, then we have our own photographers, who are superb.
'Lai Bhaari is the first film in which I told Riteish at least give me a few more scenes'
Last updated on: July 21, 2014 19:24 IST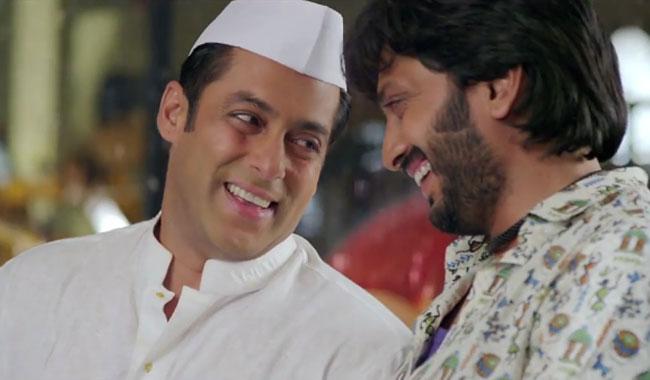 You are doing a Rajshree film, Prem Ratan Dhan Payo…
It is the most difficult film I have done in a very long time. It's been 13 years since I have done a film with Sooraj (Bharjatya).
I have changed so much, I am not that pure person any more.
But Sooraj is exactly the same, the niceness and innocence that Sooraj had when he wrote Maine Pyaar Kiya at the age of 17 is still there.
It is difficult for me to become that Prem once again. I have to unlearn everything that I have learnt.
This film is going to take me back to the person who I was.
You had a cameo in Riteish Deshmukh's Marathi film Lai Bhaari.

This is the first film in which I told Riteish to give me a few more scenes.
I loved doing it. I was shooting for Jai Ho and he was shooting for Lai Bhaari in Ramoji Studios.
We finished the scene in one night. I have not seen the film but I have heard the reactions. It is my first film in Marathi
'I would be happy if the actors beat me at Being Human'
Last updated on: July 21, 2014 19:24 IST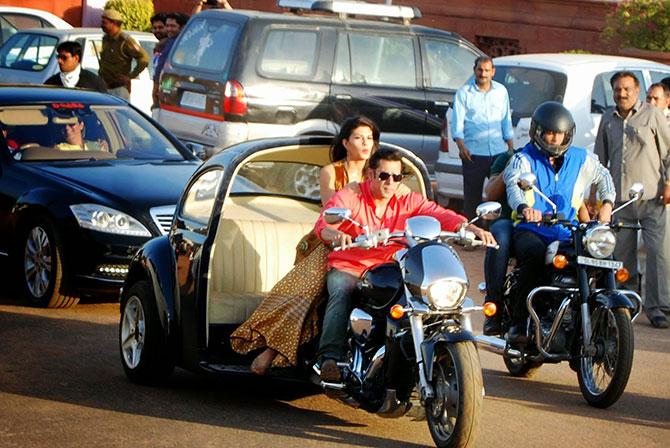 What are your forthcoming films?
I am doing No Entry Mein Entry, a film with Mahesh Manjrekar.
I am doing Shuddhi with Karan Johar.
I am also doing a film with Aditya Chopra and Kabir Khan.
Tell us about your charity, Being Human.
My mission is to take Being Human to a different level. I am struggling with it. I have never worked so hard in my life.
I want to take it to a level where it will be difficult for actors to compete with the magnitude of this charitable trust.
Stardom is nothing. It changes every three years. I want them to beat me at this. I want them all to start a charitable trust and I want them to beat me hollow and destroy me at Being Human.
I would be happy if they beat me at this.