'Resul Pookutty' advice and suggestions helped me'
March 20, 2014 09:22 IST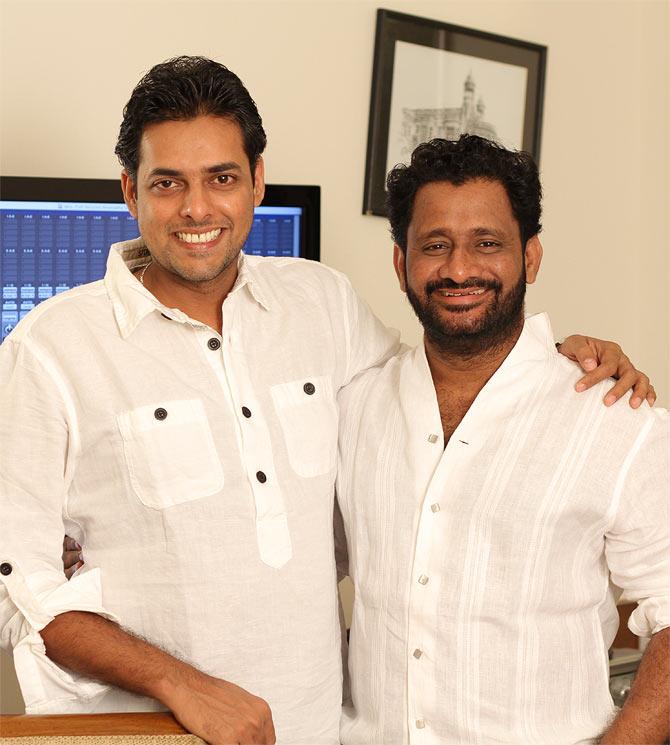 Renjith Viswanath makes his debut as a live-sound engineer with Rakshit Shetty's Ulidavaru Kandanthe, which also happens to be the first Kannada film to have sync sound.
After having graduated with a BSc in Multimedia, he studied sound design at the Chetana Studios in Trichur, Kerala. He worked in Kerala for a few years before moving to Oman and Dubai, gaining more experience in working with sound.
His passion for movies brought him back to Kerala. He began working in film projects as a song mixer in Malayalam and Kannada.
rediff.com spoke to him when he was doing the final mixing of Ulidavaru Kandanthe, at the Mantra Digital audio lab in Chennai.
The movie is set for release on March 28, 2014.
Ulidavaru Kandanthe will be the first Kannada film to have sync sound. How did you get started?
I have been working in the Kannada film industry for over seven years now. I worked as a mixing engineer for various music composers like Gurukiran and even Ajaneesh's debut film Shishira and a few other composers.
For the last seven months I have been working only on Ulidavaru Kandanthe but for a little help that my friend needed for a V K Prakash film.
Ulidavaru Kandanthe is my first film as a live sound engineer. I am very committed to Ulidavaru Kandanthe. I am sure the Kannada audience will have a different experience while watching it.
'I was a part of Rakshit Shetty's Simplag Ondhu Love Story'
March 20, 2014 09:22 IST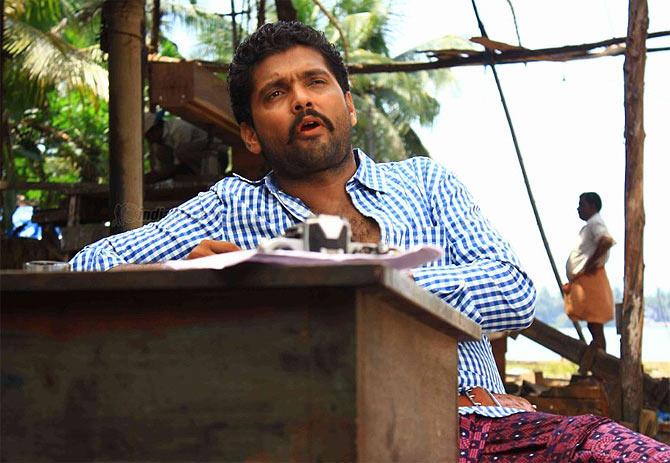 For people who don't understand what a live sound engineer is, how would you describe your job?
While watching a movie, you watch what has been shot with the camera. I work on the audio for the same.
We record a variety of sounds like dialogues, ambience, and sound effects. My job is to put together all of them.
How did you end up working in Ulidavaru Kandanthe?
I was a part of Rakshit Shetty's Simplag Ondhu Love Story and worked on the song mixing.
I met Rakshit through the film's music director, Bharath. Apparently, Rakshit was eager to have live-sound in his directorial debut and Bharath referred my name.
We had a couple of pre-production meetings and then I was on board.
'It was challenging to shoot the film in sync sound'
March 20, 2014 09:22 IST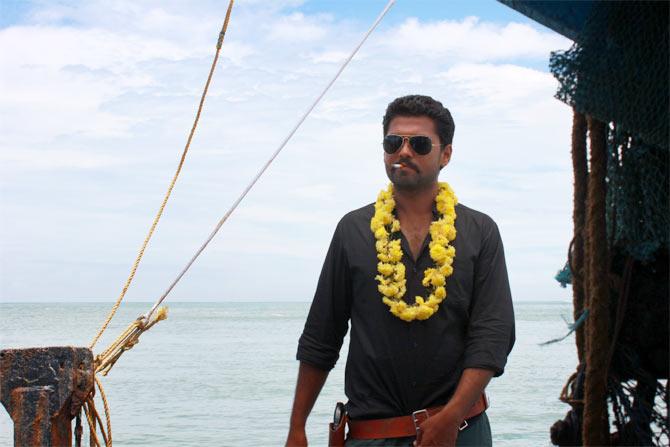 Live sound is a huge challenge. How did you achieve it, especially for a film that was set in the early 1990s?
Rakshit was very clear that he will shoot the film in sync sound. He did not want dubbing. He was open to have as many takes as possible to achieve perfection.
Yes, it was challenging. We were a little worried initially as to how we would achieve it, but with an open minded director, a liberal producer and co-operative artists and technicians, we made it possible. The discipline on the sets was amazing.
While scouting for locations in coastal Karnataka, we made sure we chose a place that would fit in with the soundscape of the 1990s, as the story demanded it.
Though we could not control the sound from places like the harbour and fish market, we hid microphones in places to collect the sound that we wanted and managed to do a good job.
Which was the most challenging scene to work on with the sync sound?
Initially, I thought the harbour and fish market scenes would be difficult. But they went well.
What posed a challenge was a silent scene with Tara madam, set in the night.
It was raining cats and dogs. It was quite difficult. We had a few dialogues and then continuity problems and all that.
It was tough to even capture the ambiance. Somehow, we managed in post-production
'After Resul Pookutty won the Oscar, people know what a live sound engineer does'
March 20, 2014 09:22 IST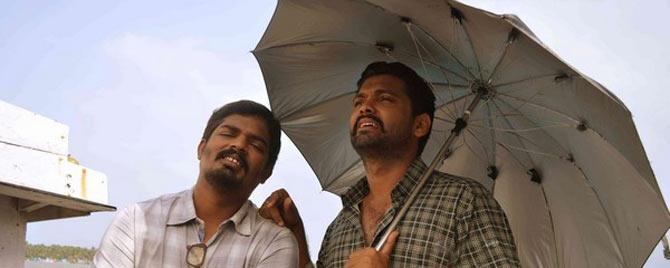 Why is sync sound not usually preferred by filmmakers?
Support has to come from the producer.
If a producer is looking only at profits, then he may not be keen about using sync sound technology.
Are sound technicians recognised in India? Have things changed after Resul Pookutty won the Oscar?
I think after Resul won the Oscar, an average filmgoer understands what a live sound engineer does.
I would like to share an experience. I was at Kochi airport a few years ago and after the baggage checking, a customs officer grew suspicious of my sound equipment and asked me what it was.
I explained to him what it was and what I do. He quickly exclaimed, "You mean you do what Resul Pookutty does?!" (laughs).
He let me go and wished me an Oscar too!
Have you met Resul Pookutty?
I have worked with Resul on One, The Unity Song, where you will find more than a hundred artists on the video.
I travelled all over the country to record that.
Before the shooting began, I met up with Resul. He advised me to take adequate precautions before the shoot and stay focused.
His advice and suggestions helped me.