When Raj Kapoor burnt his hand for Mahendra Kapoor
Last updated on: January 10, 2012 18:07 IST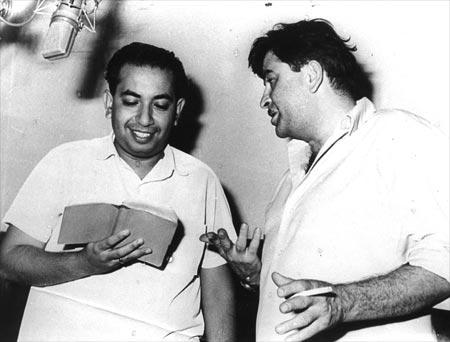 Singer Mahendra Kapoor, who sang the famous song Mere Desh Ki Dharti, would have been 78 on January 9. We pay tribute.
In the
first part
of our two-part special series, Mahendra Kapoor's son Ruhan spoke about his famous father, and shared some interesting anecdotes about his life.
Here, Ruhan talks about Kapoor's friends and colleagues in the industry like Raj Kapoor, Manoj Kumar and Kishore Kumar.
On the relationship between thespian Raj Kapoor and Mahendra Kapoor
The Filmfare Awards used to be held at the Shanmukhananda hall (in the Mumbai suburb of Sion), and only the film fraternity attended. My father sang Iktara Bole from Yaadgar for one Filmfare function. It is a political satire, a comical song written by lyricist Verma Malik. 
Rajsaab loved it so much, he couldn't stop laughing. He stood up and kept on shouting 'Once more!' till my father sang it again.
My father told me another incident when he went with Raj Kapoor for a show in Tashkent, in Russia. Rajsaab asked him whether he would play the harmonium when he sang his songs. My father agreed, so as decided, my father played the harmonium and Rajsaab sang his songs. People applauded; Rajsaab was a demi-god in Russia.
My father's song Neele Gagan Ke Tale was a huge hit in Russia. He asked someone to translate the song into Russian and memorised it. After Rajsaab left the stage, my father started singing Neele Gagan Ke Tale in Russian! 
People there went mad, and they began calling out my father's name and cheering for him. Rajsaab heard the noise and wanted to see who was so popular. On seeing Mahendra Kapoor on the stage, he said, "Sirf ek Kapoor he doosre Kapoor ko maat de sakta hai" (Only one Kapoor can defeate another Kapoor) 
Rajsaab was very happy with my dad. While returning from Tashkent, he told my father, 'Mahendra, I can't give you the songs picturised on me as Mukesh sings my songs, you know that.' 
My father said, 'I know it and I don't want them. Mukesh is a good friend.'
Rajsaab said, 'There are second heroes in my films for whom you can sing. I can give you those songs. Henceforth, all my second hero songs, only you will sing.' 
My father pulled his leg a bit. 'Paaji, you are such a big man, once you reach India, you will forget you ever told me this.' 
Rajsaab said, 'Mahendra, you think like this of me?' He then took the cigarette he was smoking and burnt his hand and said, 'This mark will remind me that I have to give you songs.' 
When they came back, Rajsaab gave him the song Har Dil Jo Pyaar Karega, Woh Gaana Gaye Ga from Sangam.
'Manoj Kumar and my father were made for one another'
Last updated on: January 10, 2012 18:07 IST
O
n the friendship with Manoj Kumar
Manoj Kumar and my father were made for one another -- with all due respect to other singers, no other singer's voice did justice to Manojji like my father's voice. 
The first song my father sang for Manojji was Mera Rang De Basanti Chola from Saheed. Mere Desh Ki Dharati from Upkar was almost like a second national anthem -- it is very popular even today. In fact, in 2000 it topped a BBC list of the most popular songs in all sections and age groups.
My father was very patriotic. Though he was in Mumbai during Partition, he comes from Punjab which saw the worst riots and murders.
Manojji was an encyclopaedia of Indian history; you could question him about anything and he would give you the right answer. So when my father sang patriotic songs, Manojji would tell him about incidents during the riots and about the wars and inspire and charge my father up and then tell him to go to the microphone and sing. He had lots of stories to tell about Punjab and the Partition.
I remember one time during a film night in Pragati Maidan, in Delhi, all the singers were senior to my father, whether it was Rafisaab, Mukeshji or Kishoreda. My father told Manojji, 'All have sung and by the time I sing there won't be anyone in the auditorium. I am leaving.' 
Manojji said, 'Nahi Mahendra, the climax is the main part of the show and it should be the best.' 
My father said, 'But that is in the films, not for stage performances,' and Manojji said, 'You just sing, I will see to it this is the best part of the show.'
He told the guards to close all the gates so that no one leaves Pragati Maidan, then he went to all the actors who were present and told them Mahendra is going to sing Meri Desh Ki Dharati as the last song and as soon as the first stanza is over, he wanted them all to join him on stage.
And that's what happened. Dilip Kumar, Feroz Khan, they were all on the stage and they all started dancing, and looking at them the audience started dancing! The next day there were headlines in the papers: 'Meri Desh Ki Dharati rocked the show'. 
Kishore da: Where is the toilet in Lal Quila
Last updated on: January 10, 2012 18:07 IST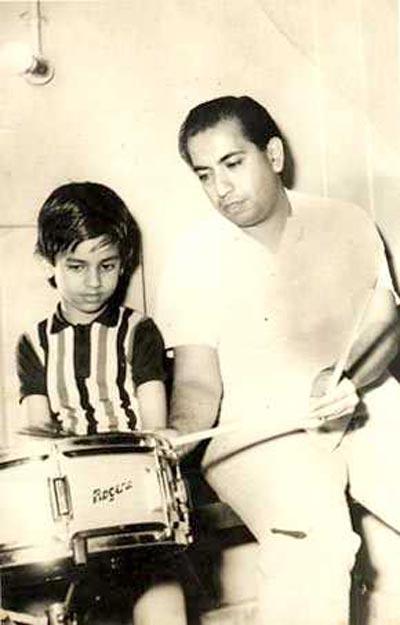 On Kishore Kumar and his masti
Whenever Amitabh Bachchan and Vinod Khanna acted together in a film, their songs were sung by Kishoreda and my father, especially if it was Kalyanji-Anandji's music. Dad sang for Vinod Khannaji and Kishoreda for Amitabhji.
Once my father and I were a bit late for my father's recording and were rushing in when we met Kalyanji-Anandji and they said don't worry, Kishore has just come in, but he is refusing to sing. My father asked why and they said you go and ask him.
My father went to Kishoreda, who hugged him and then sat again holding his head. Father asked him, 'Is your health okay? Are you fine?' 


He said, 'I am totally fine.' 
So my father asked why he wasn't singing. He said, 'I asked Kalyanji one question. He is very smart otherwise, but he can't answer my question.'
My father asked him what is the question, and this is what Kishoreda said.
He had gone to see the Lal Quila in Delhi with his son Amit Kumar who insisted on taking a guide. 'The guide charged Rs 100. I did not wanted to give that much money, so I asked the guide, you know the whole place really well, if I ask you any question can you reply? The guide said he could, so I told him if you fail to answer, I will not pay you. The guide was scared but he agreed. He took us all over the Quila and gave every detail.'
Then Kishoreda asked him, 'I saw the queen's room, the king's room and what not, but where is the toilet? Where did the king go to shit; did he go to the farm with a lota (vessel) in his hand?'
The guide did not know, so Kishoreda did not pay him. But now Kishoreda wanted Kalyanji to give him the answer!
My father and I burst out laughing; Kishoreda narrated the story with so much animation that it was difficult not to. 
Anyway, my father persuaded Kishoreda to sing that day and they recorded the song Waqt Ki Hera Pheri Hai from the film Hera Pheri. That is how funny and stingy Kishoreda was, all at the same time.
Another incident was when my father and Kalyanji went to Kishoreda's house to rehearse a song as Kishoreda was unwell. The rehearsal went well and then Kishoreda all of a sudden said, 'I want to give both of you a gift, main tumhe yeh bataoonga ke Madhubala (his wife) kaise mari?'(I want to show you how Madhubala died)
He took them to his bedroom and lay on the bed and started looking at his watch and started talking to them, then began yelling, but since a plane was passing overhead, they couldn't hear each other. My father and Kalyanji kept on asking 'Kya?' but Kishoreda could not hear them. 
After the plane passed, he said, 'Yeh hi bolte bolte Madhubala gujar gayi. Maine ghar galat jagah khareed liya, yaar, woh bolti gayi aur mujhe kuch samjha main hi nahi aaya' (It is saying this only that Madhubala died. I bought a house in the wrong place. She kept saying something and I couldn't understand it)
When Sahir Ludhianvi refused to give the lyrics of Chalo Ek baar Phir Se
Last updated on: January 10, 2012 18:07 IST
On the making of Chalo Ek Baar Phir Se
Most of the songs my father sang were composed by Ravisaab. Ravisaab once told me that he had composed 42 tunes for the song Chalo Ek Baar Phir Se... from Gumrah, sung by my father. B R Chopra approved the 42nd tune. 
Even if he had composed one tune a day, it would have taken him 42 days just to make one song! It took nearly two to three months to make one song. It was a lot of hard work.
Chalo Ek Baar Phir Se Ajnabee Ban Jaye Humdono was not written for the film Gumrah; it was a poem by Sahir Ludhianvi. Yash Chopra was a huge fan of Sahir Ludhianvi. He knew all his poetry by heart and the two worked with B R Chopra. 
For a particular situation in the film, Yashji told B R Chopra that there is a nazm written by Sahirsaab which would best fit the situation and he recited the lines of the poem. B R Chopra loved it and they immediately called Sahir for the music session.
Sahirsaab said he wouldn't agree to the lyrics being used in the film unless he knew in what context it would be used. 'I have to listen to the situation and have to like it, to give you the song,' he said. 
So they wrote the whole situation and convinced Sahirsaab to give the song. Any other lyricist would have given the song immediately because it was already written, it was an old poem for which he would be paid. But Sahirsaab wanted justice done to his poetry. He travelled by bus and smoked beedis and could easily have been lured by the money, but in those days people were proud of their work.
'I don't want my son Sidhant to make the same mistake'
Last updated on: January 10, 2012 18:07 IST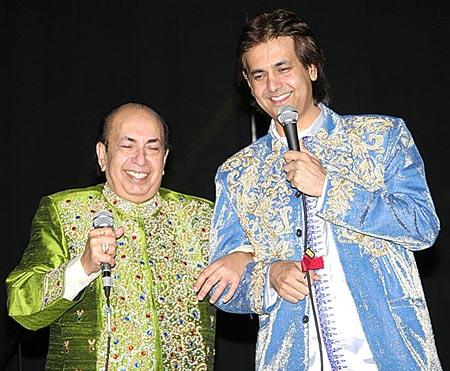 On why he did not take up singing like his father
I started learning singing at a very early age but during my school and college break when I joined Manojji as an assistant, Dilip Kumar put the germ of acting in my mind and I started my career in theatre with Shafi Inamdaar. 
I performed for two years then Yashji saw me and gave me Faasle, after that I did Love 86 and Imaandar, but things started changing and were getting too complex.
Ultimately I gave up acting and started doing stage shows with my father. We did lots of stage shows abroad. My father would sing his songs and I would sing the latest popular songs of those days, but little did we realise that to be popular you need Bollywood songs. 
I realised that most when my father died and we were father son duo performing abroad, there was vacuum after he passed away, plus the shows were always about Mahendra Kapoor. I was just the added attraction, so what do I do after he passed away? But now I am working on my album.
The mistake that I made I don't want my son Sidhant to make. He is very young, just 21, and he has just finished his graduation and learnt animation. 
He started singing when he was four. He learnt from Xavier and Joe Fernandes. He wants to do a course in music from the Royal College of Music, London. He is learning vocals from Pandit Murli Manohar Shuklaji. 
He has composed a few songs, one for a BBC documentary on Gandhi and also for the comedy serial Big Bang Theory.