Priya Banerjee: I am nervous about KISS
September 12, 2013 09:50 IST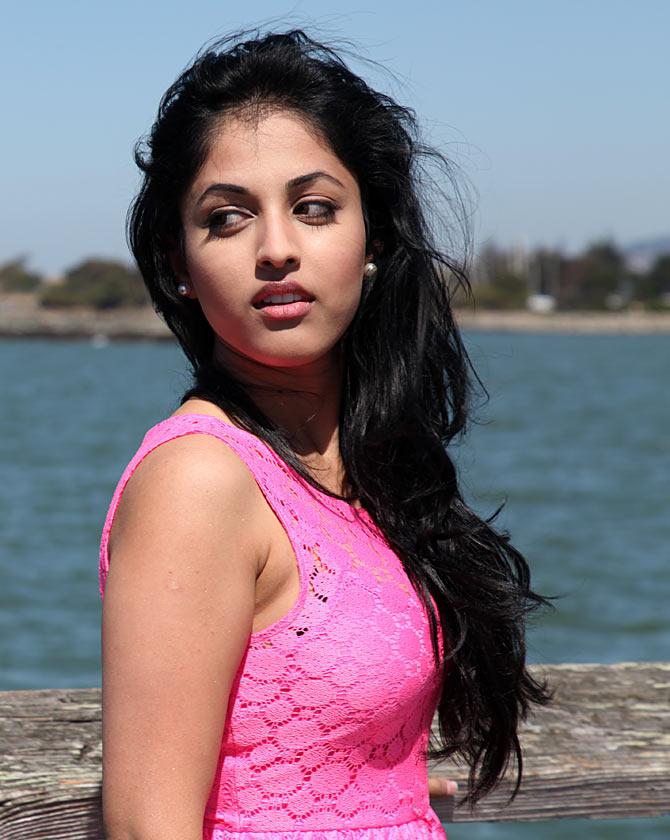 Priya Banerjee, the latest entrant to the Telugu film industry, was declared Miss Photogenic at the Miss World Canada in 2011. She has been a model and TV show host. She has also trained in classical music and performed in shows in Canada.
Though a graduate in international marketing, she was always fond of acting. She trained in Anupam Kher's Actor Prepares school in Mumbai. KISS (Keep it simple stupid) directed by Sesh Adivi is her first film.
Priya talks about her background and her debut film KISS, which releases on September 13.
You grew up in Calgary, Canada...
Yes. I lived in the Middle East for a very little while before moving to Calgary, Alberta. I did my schooling and university in Canada.
You seem to be interested in music and dance...
I think it's the Bengali roots. My dad loves singing. He used to make me listen to the Hindi film songs of Kishore Kumar and Mohammed Rafi songs.
I would wake up in the morning to Bengali songs and Kathak dancing. My dad was into singing and my mum into dancing. So, I have been trained in Kathak and Rabindra Sangeet.
When I was about 15, I discovered I could actually sing. I did a lot of stage shows in Canada when in school. My Dad wanted me to be a singer. I considered that as I loved performing and entertaining.
'KISS is very entertaining and commercial film'
September 12, 2013 09:50 IST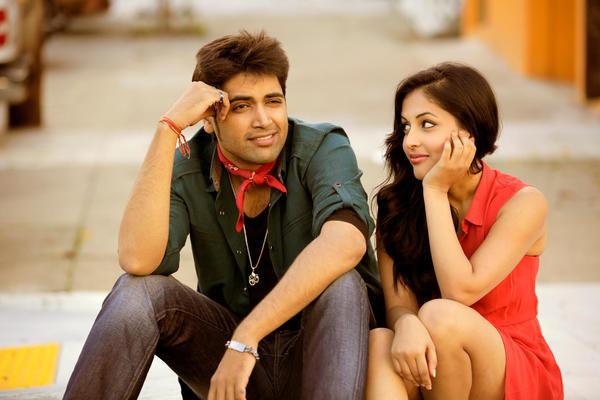 Why acting then?
To be honest, acting happened accidentally. A photographer friend of mine was building his portfolio. I told him I would be his model for free.
I started getting offers from other photographers and make-up artists and more pictures were published. That was just a fun thing I was doing while in high school and University.
I always liked acting. I would make these expressions in front of my grandma and mother and they would think I have completely lost my mind! They were not allowed to get up, but had to watch it. This was when I was small.
Once I finished my degree, I knew what I had to do. I knew what I see myself as, and acting was something I always wanted to do.
Was the beauty pageant the passport to enter acting?
Of course, it gives you a lot of recognition. Suddenly you are really popular and I was so since I did Miss World­ Canada. I was Miss Photogenic. The recognition that followed boosted the fact that I could go further and do something in this field.
It was a very important decision I took to move to Bombay. I have never lived in India before. I am the only child of my parents. They did freak out but they were very supportive.
You also went to Anupam Kher's school...
Yes, I did a three month's course when I came here. I was about to go back home when I got this film KISS right away. I'm glad I ended up doing it.
I never got the opportunity to try out in Bombay. The moment I finished, I got this offer. I loved the script which was good.
What did you like about the script?
I've always thought that this is what a debut film should be like. Very entertaining and commercial. The whole movie is based on the character.
'I could relate to my character quite a bit'
September 12, 2013 09:50 IST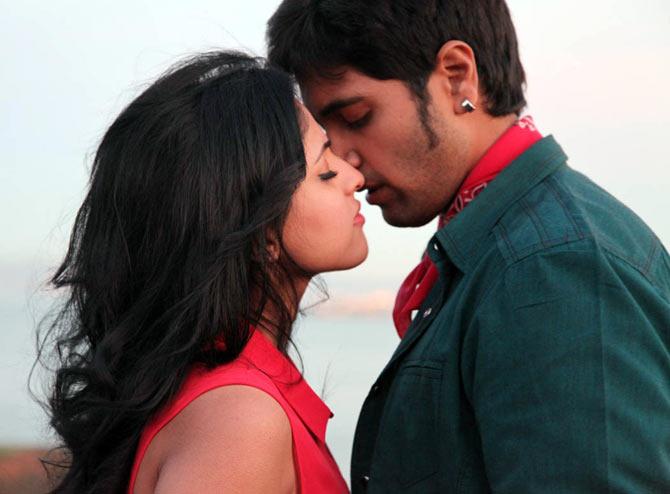 Were you familiar with the Telugu film industry when you signed the film?
A little. I had heard of Telugu and Tamil films and seen a couple of them too. I made the effort to watch a few Telugu romantic comedies after I signed this. I really liked them.
Could you talk a bit about your role and what you like about it?
I could relate to it quite a bit. It's a girl who is 19-20 years old who is looking forward to falling in love and has big dreams.
The way she goes out of her way and goes against everyone to get what she wants in life is beautiful. I could relate to the character and I thought it could be fun doing it.
How was Sesh Adivi as a co-star? He has lived in the US too...
I clicked with him right away. It was amazing. And he was very friendly. As a director he was strict at times but he knew what he wanted. He helped and guided me. I could give a good performance because of that.
'I was very nervous as I did not know the language'
September 12, 2013 09:50 IST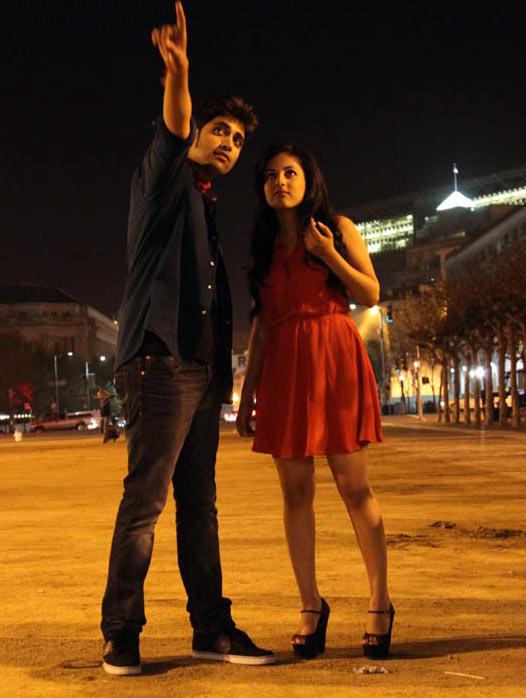 How did you manage to surmount the Telugu barrier?
I was very nervous as I did not know the language. They trained me for about three weeks. I'm usually pretty good with languages. I picked up fast. Now I can understand it. I learnt the meanings and then delivered the lines by memorising them.
Are you now open to doing films in all languages?
Definitely, I would love to. For me it's the script that matters. If I love the script and I can relate to the character, I would do it.
How did your parents react to your taking up acting as a career and more so doing a Telugu film?
My parents are very supportive but they were worried also. Since we are not from the film industry they wonder whether it is safe. They have their fears like all parents but they don't let that come in the way of their support.
Have you signed any other films?
I have some projects but cannot mention them right now. I will be doing films in Hindi and Telugu.
Are you excited about your debut film?
Yes, I'm excited and nervous too. It's a mixed feeling.