How Aamir Khan fell in love with Kiran Rao
Last updated on: July 02, 2014 18:20 IST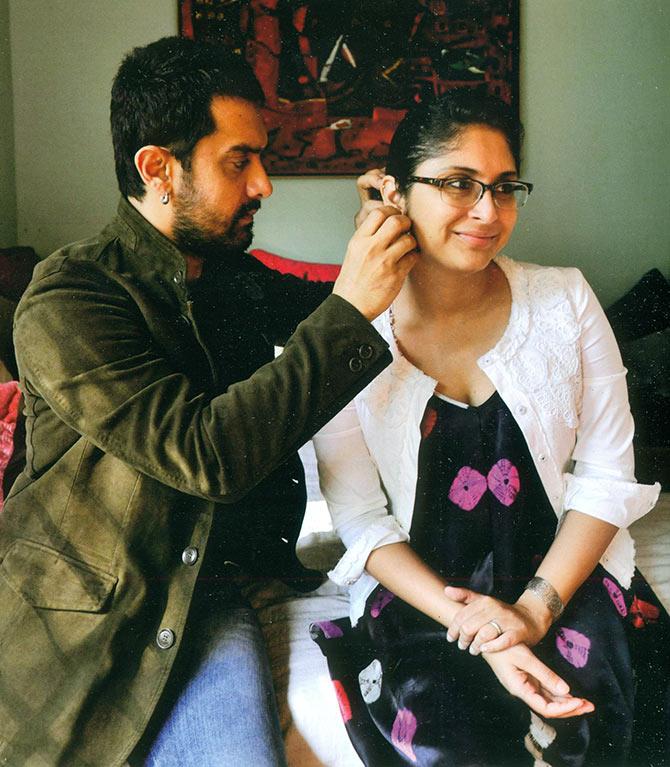 Aamir Khan rarely talks about the women in his life -- wife Kiran Rao and ex-wife Reena Dutta.
He talks even less of his children, especially baby Azad.
In a book that documents his life, Aamir Khan: Actor Activist Achiever, author Pradeep Chandra gives us a closer look at the man himself.
We present an excerpt from the book:
Both Reena and Aamir have not shared with anyone the issues that broke them as a couple.
There was no bickering, no spate of ugly attacks and no filth that was plashed. Without washing their dirty linen in public, they were divorced.
The two still share a healthy relationship, which is linked to their children.
For the first time when Aamir finally spoke about their separation in media, he said, 'Probably the most traumatic period has been my divorce -- not just for me but for everybody involved, I imagine. I can't think of any other significant low.'
Please click Next to see more.
Excerpted from the book Aamir Khan: Actor Activist Achiever by Pradeep Chandra, published by Niyogi Books India, with the publisher's permission, Rs 1,500.
'I really value the 16 years Reena and I spent together'
Last updated on: July 02, 2014 18:20 IST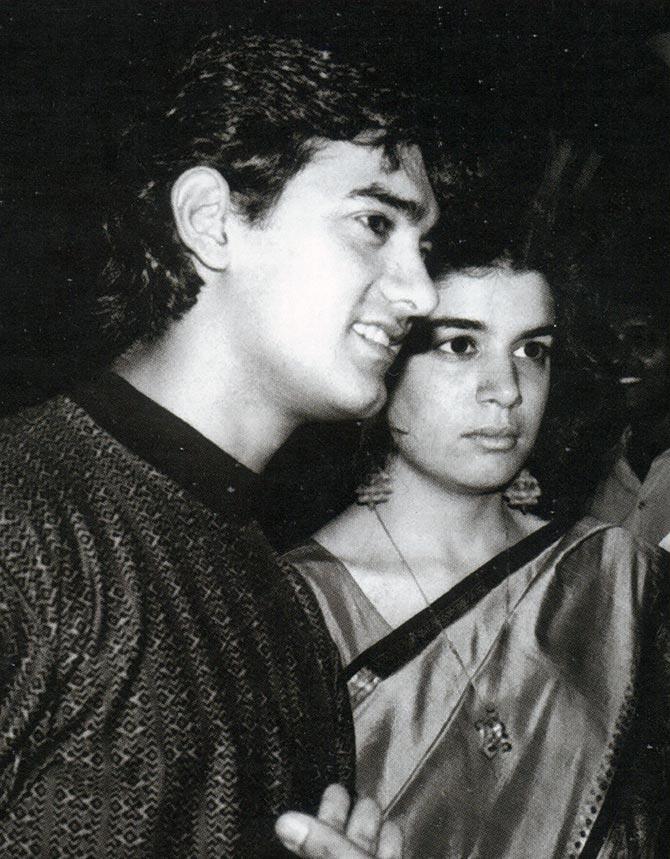 He confessed that he was in depression for three years, had stopped working and didn't even step out of the house.
He spoke about this while interacting with leading ladies of Star Plus in a special show. They are still seen together in times of happiness and sorrow.
'I really value the 16 years Reena and I spent together. I have the highest respect and love for her. I will always have that,' he told Hindustan Times.
'She has immense strength of character and patience. She is a valuable part of my life. Our relationship may have altered, but nothing and no one can take away what we have shared,' he said in an interview to Femina magazine in 2013.
Four years after his divorce with Reena, on December 28 2005, Aamir married Kiran Rao, who had been an assistant to director Ashutosh Gowariker during the making of Lagaan. The marriage was registered under Special Marriage Act in Mumbai.
He did not speak about their relationship in the media for at least a year and a half, during which they were in a live-in relationship. Once he was ready to announce it to the world, he did so.
However, when Aamir decided to marry Kiran, there were a lot of speculations -- nobody believed that such a big star will marry someone who was still working towards establishing her name in this industry.
'I loved Aamir in QSQT but I enjoyed the film more'
Last updated on: July 02, 2014 18:20 IST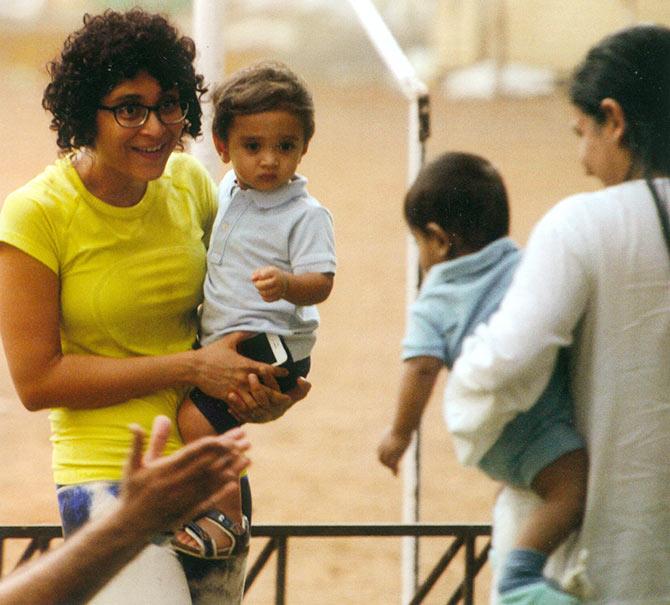 They married with the full family in attendance in his farmhouse in Panchgani.
As a fourteen-year-old Kiran had seen QSQT on the new VCR her family had bought. She revealed, 'I loved him in it but I enjoyed the film more. I was like "What a great film, what great music, what acting and what a cute guy!'"
What she might have never imagined was that years later she would marry this 'cute guy'. Before she got to know him closely, the only impression she had of him was 'he is one of the few good actors in the industry'.
She added, 'Even the fact that he is a perfectionist and all; I genuinely didn't know any of this, until I met him and got to know him.'
So when Kiran received an offer to work with Aamir Khan's production house, she got pretty intrigued by the idea of being a part of his film though she knew that she would hardly interact with him.
'Aamir had no 'filmi' persona about him at all'
Last updated on: July 02, 2014 18:20 IST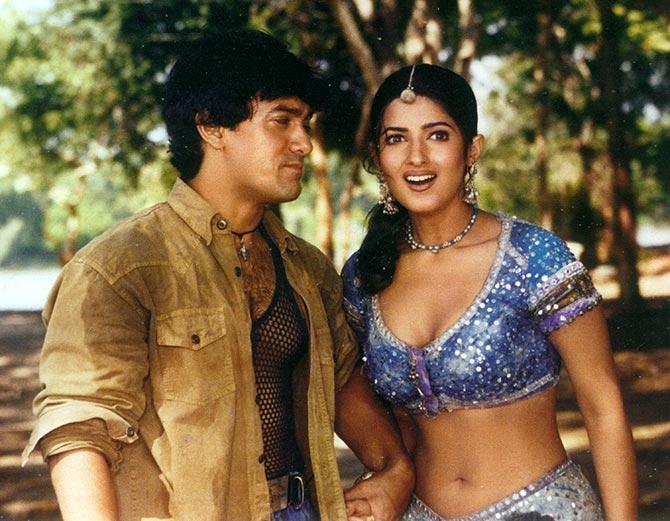 Her first encounter with him was on the bus in which they were travelling to Bhuj for a recce.
Though no one imagined Aamir's company on that journey as the bus was full of technicians and crew members, 'Aamir Khan, who is a superstar, was also on the bus,' Kiran informed later. 'But Aamir was not just on the bus, he also made conversation with every assistant, asked their names, introduced himself,' she added.
This first encounter with Aamir made Kiran realise that he was a regular chilled out person with no starry tantrums.
'He had no "filmi" persona about him at all,' she revealed. Though he was surrounded by security guards, she found him completely down to earth. She felt there was no snobbery or "I don't talk to assistants" kind of attitude in him, which impressed her.
Aamir remembered their word-building games, which they used to play on the sets of Lagaan.
His general impression about her was of a really nice, warm, happy, bright girl who is fun to be with. He also confessed that the earrings which the character Bhuvan wore in Lagaan actually belonged to Kiran, which he borrowed from her.
'I fell in love with Aamir quite early'
Last updated on: July 02, 2014 18:20 IST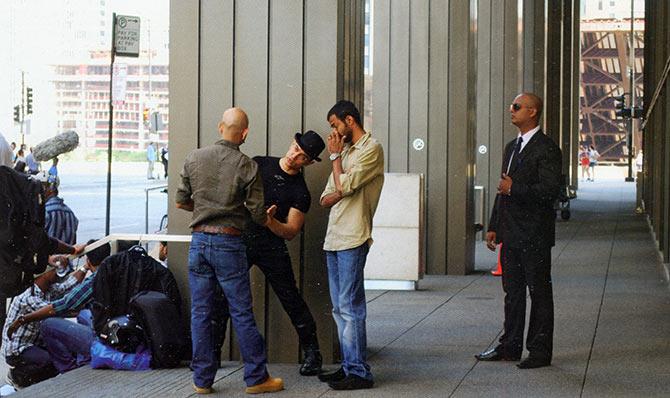 After that they met while Kiran was doing some work on the Goa schedule of Dil Chahta Hai. That
is when she reminded him that he owed her a pair of earrings in exchange for the ones he borrowed for Lagaan. Aamir actually went with Reena, his wife at that time, and shopped for earrings from the Taj hotel shop for Kiran.
However, he actually got to know her better much later, when they were shooting a commercial for Coke. As Aamir was also producing it, they happened to spend much more time together.
By that time he was single once again and they started dating on and off.
Both of them, at that time, were not keen on a long-term relationship. But after a few months of spending time with him, Kiran started falling in love with Aamir, though she did not expect anything serious to come out of such a casual relationship. She confessed, 'I felt like "Oh... this is someone I really want to spend more time with and this is someone I want to know better." But I fell in love with him quite early... a couple of months spending time intimately with him, I was hooked.'
'Kiran and I were friends first and then lovers'
Last updated on: July 02, 2014 18:20 IST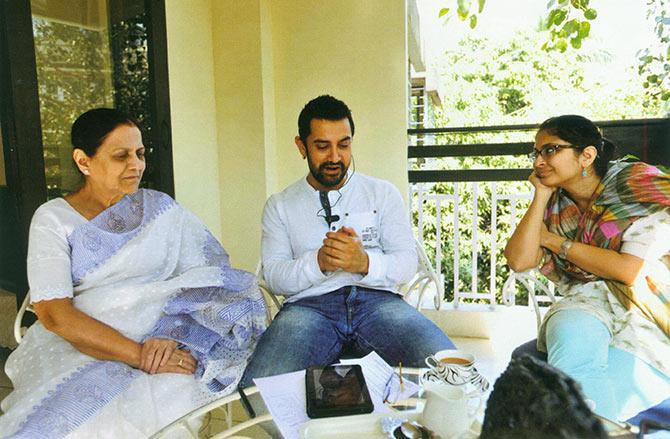 During those days, after splitting up with Reena, Aamir was raw and damaged.
'Emotionally, I was very brittle at that point of time,' Aamir accepted.
He was not ready to get into a committed relationship. However, it was not easy for him to treat his relationship with Kiran as just a casual one.
'Slowly I felt that when I am with her, I am comfortable and happy and open to share anything with her. Actually, we were friends first and then lovers. I felt relaxed after years,' he added.
So what made Aamir realise that she was special? It was when, once while feeling very low, Kiran called him. The call went on for half an hour and when he put the phone down he found himself gravitating towards her.
When he confessed his feelings about her to his sister Nuzhat, she advised him to stay away from Kiran, as he was too damaged at that time to take it forward. But Aamir could not control his heart and took their relationship a step further by asking her to move in with him.
'We were quite happy being together'
Last updated on: July 02, 2014 18:20 IST

As his children have always been his first priority, it was important for Aamir to take them into confidence before he started living with Kiran.
After his separation with Reena, the kids were spending three days in a week with Aamir and it was quite obvious to them that Kiran aunty was more than a friend to their father.
Aamir had always been open with his kids. So when he expressed his feelings about Kiran to them, they gave their nod. The depth of all these relations can be gauged from the special bonding Kiran shares with these two kids.
She adores them and is all praises for the kids, 'I love them and they are just lovely kids and I think Reena has done a spectacular job of bringing them up the way she has. They are warm, affectionate, intelligent and grounded kids.'
After spending some quality time together, they mutually agreed to get married.
Kiran believes that they married more to keep people at large, happy. 'We were quite happy being together,' she explained. Now Aamir is happily married to someone who shares his passion for making films.
Kiran fondly calls him Chhotte.
'I love Kiran's energy'
Last updated on: July 02, 2014 18:20 IST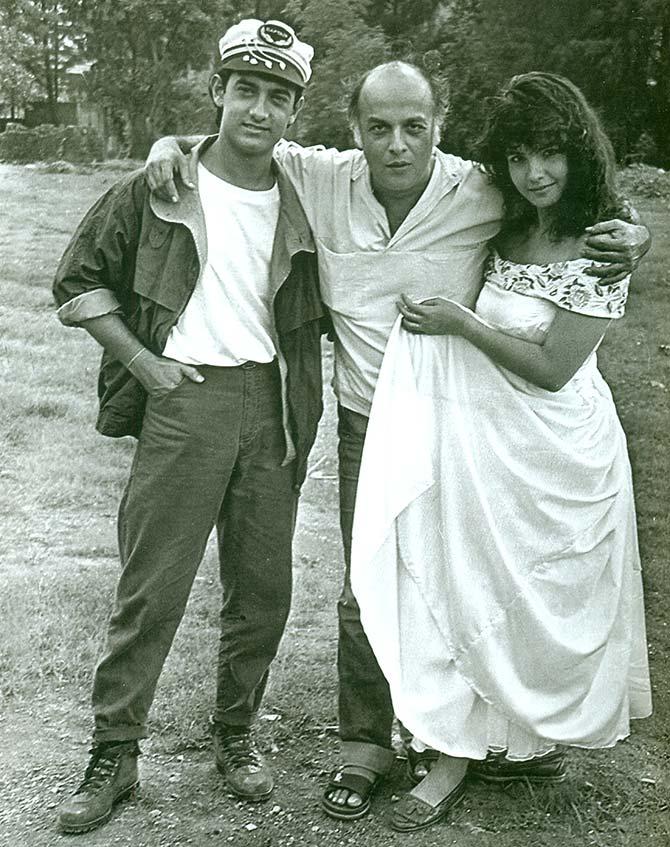 Their relationship experienced several magical moments, one of them was the candlelight dinner they had in Panchgani.
'While I was working on Taare Zameen Par, I convinced her to go out for dinner with me in Panchgani. We drove towards Mahabaleshwar and stopped somewhere in the middle of the wilderness for a candlelight dinner,' said Aamir in an interview to The Week.
Kiran confessed in the same interview, 'I might forget everything in my life but it is quite impossible to forget that evening.'
Aamir shares what he loves about Kiran. 'I love her energy; it's a very vibrant and positive energy which I find comforting and healing. She is a very happy person.'
Kiran is extremely protective of Aamir and can pick up a fight with anyone who upsets him.
She fascinates Aamir with her knowledge about art, music and many more things.
Aamir also likes her sense of aesthetics and design, and is totally in love with her creative instinct. Aamir's sensitivity never fails to touch Kiran's heart; she finds this quality of his very endearing.
He makes a lot of fun of her that actually amuses Kiran; makes her laugh a lot and always keeps her on toes.
When Kiran was asked to describe her husband in words, she said, 'A good human being and hugely talented at the same time.'
'I am much more relaxed ever since Kiran has come into my life'
Last updated on: July 02, 2014 18:20 IST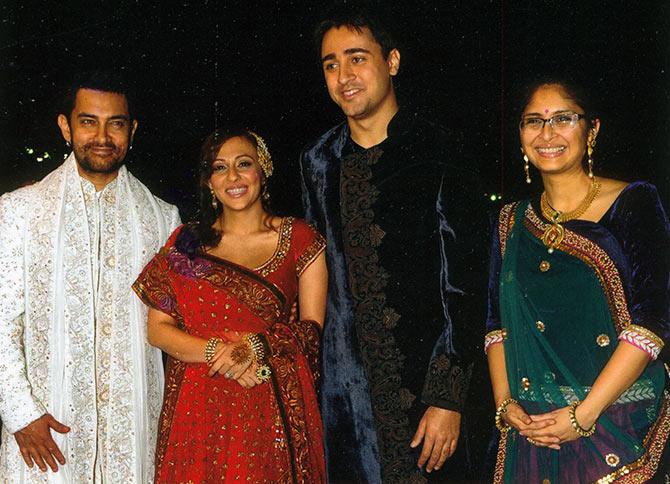 Aamir does not expect Kiran to do things in his way or do his day-to-day chores. 'that's not her job, and I am quite capable of taking care of myself,' he firmly stated.
He acknowledges Kiran's contribution to his life: 'Kiran has contributed a huge deal to me -- to my personality and to my very hectic fabric. I am much more relaxed ever since she has come into my life.'
However, she has not affected his choice of films. 'Often she hasn't liked what I've selected, but changes her mind once she watches the film. For instance, she didn't like the script of Rang De Basanti, although she liked the film,' he elaborated.
While there are several qualities which this couple admires in each other, there are certain habits of each other which annoy them as well. Like Aamir's reading habit annoys Kiran, owing to which Aamir doesn't indulge much into meaningful discussions with her.
The talkative nature of Kiran bugs Aamir the most as it intrudes into the time he loves to spend with his books. Like most regular couples, if Aamir is boss on the sets, Kiran is at home but she always consults him while taking big decisions, primarily to avoid the chances of him complaining about it later.
'Azad is Aamir's spitting image'
Last updated on: July 02, 2014 18:20 IST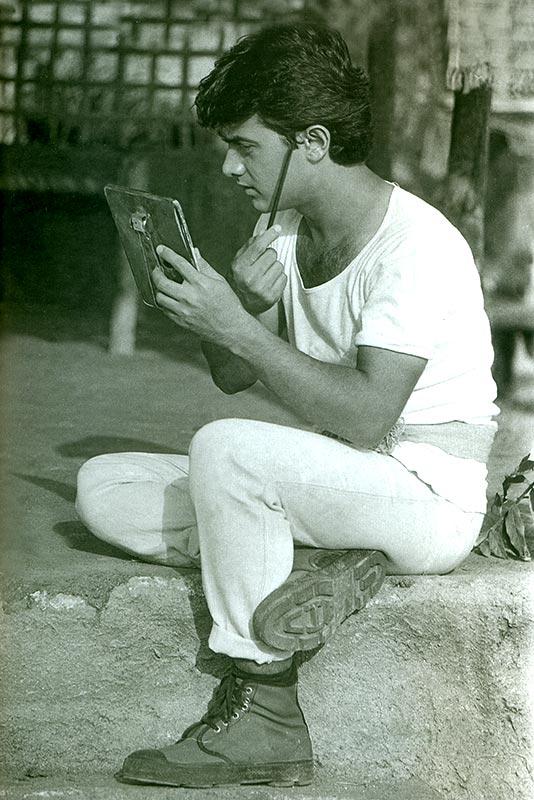 On reflection, 2012 has turned out to be a remarkable year for Aamir.
Kiran and Aamir are now proud parents of a child whom they named Azad Rao Khan. He was born to a surrogate mother using the IVR (in-vitro fertilisation) method on December 1 2011.
Aamir told People magazine, 'Just his birth and having him around is the best thing to have happened to us.'
He told Femina that Azad is a fantastic kid, who is very quick and very communicative.
Aamir revealed that until the time Azad was born, Kiran's entire focus was on Aamir. 'Now I have to share her attention with Azad and I am happy to do that,' he cheerfully added.
People close to the actor say that he has changed a lot after the birth of his son Azad. He has not only become much more outgoing but has also stopped taking himself too seriously.
With Azad, Aamir is rediscovering himself every day. He is thoroughly enjoying this phase of his life.
'Azad is Aamir's spitting image. His son has made Aamir far more gregarious and fun-loving and the actor is now reaching out to many more people than every before,' told a friend of his to Mumbai Mirror.