Hindu organisation seeks ban on Total Siyapaa
Last updated on: March 13, 2014 15:46 IST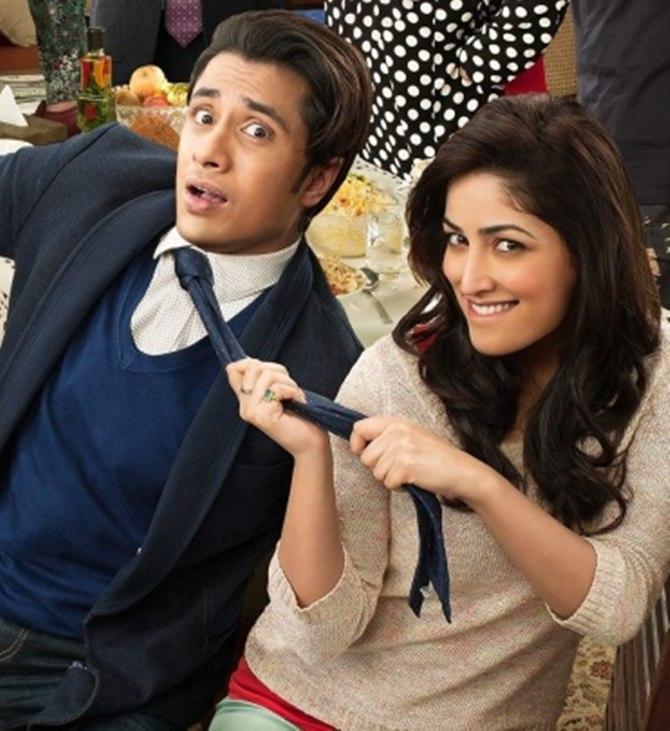 A Hindu right wing organisation has sought ban on Bollywood movie Total Siyapaa for its "anti-national" content.

Hindu Janajagruti Samiti (HJS) in their representation to the Central Board of Film Certification has demanded cancellation of the film's censor certificate.

Total Siyapaa hit theatres worldwide on March 7.

Directed by E Niwas, the film stars Pakistani singer-actor Ali Zafar and Yami Gautam.

HJS convenor Manoj Solanki has taken strong objection to some dialogues in the film, which is a story of a Pakistani man settled in London and his love affair with an Indian girl.

The HJS has objected to certain dialogues in the film, which it feels are "anti-national and in glorification of Pakistan".

The HJS is also meeting theatre owners in the state and requesting them not to screen the movie in Goa.

Solanki said thousands of Indian citizens were killed due to Pakistan-sponsored terror activities, but the film glorifies Pakistan.

"Government should immediately ban the film," he said.
Kushal Tandon on girlfriend Gauhar Khan: We are going strong
Last updated on: March 13, 2014 15:46 IST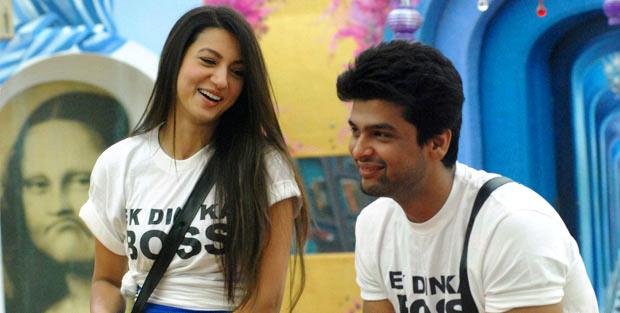 TV actor Kushal Tandon says his relationship with model-turned-actress Gauahar Khan, who he met on reality TV show Bigg Boss 7, is going strong with each passing day.

Love blossomed between the two on the controversial show, which Gauahar eventually won.

"We are going strong. We are exploring each other. I am happy, she is happy. We lead normal lives and are doing what couples who are in love do," Kushal said.

Gauhar and Kushal will be next seen together in stunt-based reality show Fear Factor-Khatron Ke Khiladi. The actor says having Gauahar on the show was a great help as they would pull each other up whenever there was an adverse situation.

"We would boost each other up whenever one of us would feel low or out of confidence. In some stunts we were partners, in some we were pitted against each other but there was no competition between us," he said.

The fifth season of Khatron Ke Khiladi will be hosted by filmmaker Rohit Shetty and will have celebrities like Dayanand Shetty, Salman Yusuff Khan, Mugdha Godse, Ranvir Shorey among others. The show will air on Colors from March 22.

Kushal had to opt out of the show after just eight episodes because of an injury on his shoulder.

"I had this injury for quite some time and that is why I was apprehensive to participate on the show. But it healed and I was on the show. While doing a stunt I got hurt at the same place and had to quit.

"But I won that stunt," Kushal said.
Rajat Kapoor: I can't compromise my film to accommodate stars
Last updated on: March 13, 2014 15:46 IST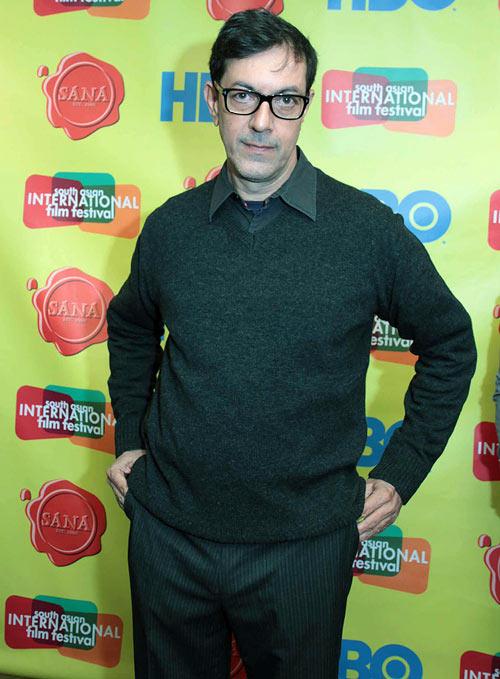 Actor-director Rajat Kapoor says he will never rope in Bollywood A-listers in his films at the cost of the script.

Rajat, 53, who is behind critically acclaimed films Raghu Romeo, Mixed Doubles, Mithya among others, said his script is always the star of his film.

"I am not a regular filmmaker. I take a lot of time to write a particular script. I make films on issues which we face everyday but tend to ignore. My films are for common man and any actor can serve the lead. I will never compromise my film in order to take Bollywood stars. I am really not interested," Rajat said in an interview.

The versatile actor is again donning the director's hat with Delhi based drama Aankhon Dekhi. The quirky film revolves around the character of Raje Bauji (played by Sanjay Mishra} and the day-to-day experiences he shares with his extended family.

"I have been writing this script for past eight years. The idea of the film is very simple. We know many things in life but we tend to believe those which we have either experienced or seen. I think this idea has crossed many of our minds. It is a funny, philosophical and family film," he said.

Rajat also revealed that he wrote the script keeping Sanjay in mind, whom he met on the sets of 2010 satire film Phas Gaye Re Obama.

"When I did Phas Gaye Re Obama, I was writing the script of Aankhon Dekhi. I and Sanjay shared screen space together in it. He is such a brilliant and effortless actor and I was really moved to see his performance. I decided that time only that Sanjay is my Bauji in the film," he added.
Court frames charges against Saif, two friends in assault case
Last updated on: March 13, 2014 15:46 IST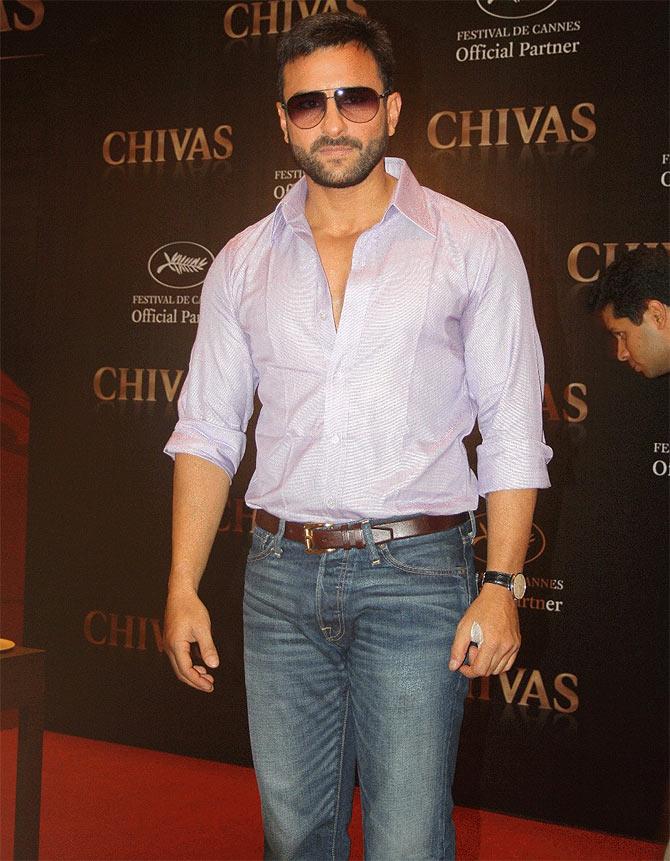 Two years after actor Saif Ali Khan allegedly assaulted a South-Africa based businessman and his father-in-law at a Colaba hotel, a local court on March 13 framed charges against Saif and his two friends.

"The court today framed charges against Khan and his two friends -- Shakeel Ladak and Bilal Amrohi -- under section 325 (assault) and 34 (common intention) of the Indian Penal Code," public prosecutor Wajeed Sheikh said.

However, the trio pleaded not guilty after the metropolitan court read out the charges to them.

Saif and his friends had been arrested following a complaint filed by NRI businessman Iqbal Mir Sharma after the two allegedly got into a fight at the Wasabi restaurant in Taj Hotel on February 22, 2012.

The trio was later released on bail.

Saif, 42, was accompanied by his wife Kareena Kapoor, her sister Karishma Kapoor, Malaika Arora Khan, Amrita Arora and some male friends at the hotel when the brawl broke out.

According to police, when Sharma protested the raucous chatter of the actor and his friends, Saif allegedly threatened them and subsequently punched Sharma in the nose, fracturing it.

The NRI businessman had also accused Saif and his friends of hitting his father-in-law Raman Patel.

However, Saif had maintained that Sharma made provocative statements and rather used abusive language against the women accompanying him and this led to the ruckus.

The police had filed a charge sheet against the trio on December 21, 2012.
© Copyright 2021 PTI. All rights reserved. Republication or redistribution of PTI content, including by framing or similar means, is expressly prohibited without the prior written consent.