'Few paid attention to Rajesh Khanna's debut film'
Last updated on: July 23, 2012 13:00 IST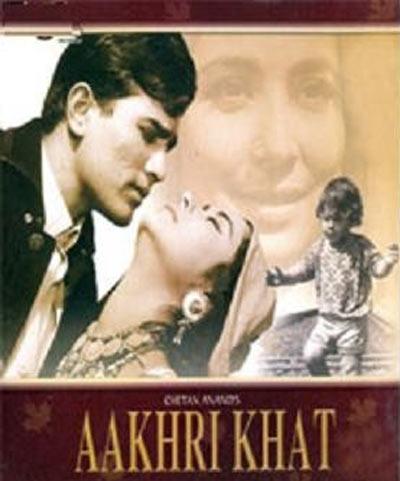 When Rajesh Khanna made his Hindi film debut in 1966 with Aakhri Khat, a low budget film, few paid attention. Even fewer must have imagined that the 23-year-old would go on to become the first ever superstar of the Hindi film industry and cause mass hysteria of epic, unprecedented levels.
Avijit Ghosh's piece, The God Of Romance, in the book Bollywood Top 20: Superstars of Indian Cinema charts the dramatic rise and tragic fall of the Bollywood's first superstar.
Here's presenting an excerpt from the essay:
A lot happened in Bombay cinema in 1966. Dharmendra bared his beefcake torso and scored both at the box office and with heroine Meena Kumari in Phool Aur Pathar. Shammi Kapoor, despite a protruding paunch, danced like a dervish to the boisterous tunes of R D Burman in Teesri Manzil. And lyricist Shailendra produced a classic, Teesri Kasam; the movie's failure broke his heart, took his life.
Few paid attention to Aakhri Khat, a low-budget quickie that, in hindsight, appears to be a precursor to Hollywood's cutesy 1994 box office smash, Baby's Day Out. Directed by Chetan Anand (of Neecha Nagar and Haqeeqat fame), the movie was weaved around the escapades of a fifteen-month-old wandering the city streets and vanished like smoke in the wind.

The only thing that endures in popular memory is the melodious track, Baharon mera jeewan bhi sanwaron (gorgeously rendered by the combined talents of Lata Mangeshkar, Kaifi Azmi and Khayyam), that Vividh Bharati plays to this day.
The film's hero was a twenty-three-year-old debutant named Rajesh Khanna; it was his reward for winning the United Producers Talent Contest. He played a city-based sculptor who falls in love with a gaon ki gori. She conceives after a hesitant sexual union-as innocent belles invariably did in 1960s' Hindi movies. Complications arise; they separate.
When the hero comes to know through her aakhri khat that his beloved is somewhere in the city with his child, he desperately looks around. The role required the young actor to showcase an array of emotions -- tenderness, anxiety, guilt, frustration -- and he wasn't found wanting.
Excerpted with the permission of Penguin Books India from the book Bollywood Top 20: Superstars of Indian Cinema by Bhaichand Patel. Penguin Viking/ Rs 599.
Aradhana and Do Raaste unleashed the Rajesh Khanna phenomenon
Last updated on: July 23, 2012 13:00 IST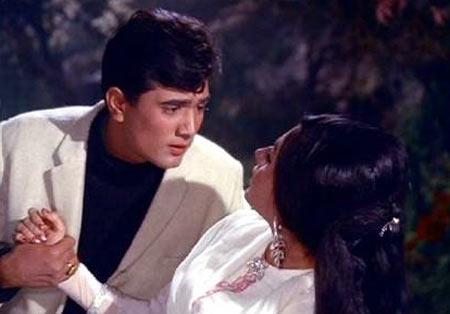 But the following year when he starred in three more box­ office turkeys -- Raaz (the movie's opening credits says, G P Sippy proudly presents Rajesh Khanna), Baharon Ke Sapne (superhit director Nasir Hussain's first flop) and Aurat -- one wondered whether the judges who declared him a winner had made a serious error of judgment.
Then, much like a blizzard without advance warning, director Shakti Samanta's Aradhana arrived on 7 November 1969. A goulash of drama, romance and some of the finest music that S D Burman ever composed, the movie turned out to be a monster hit.

A month later another romantic family drama created a similar box office tsunami: director Raj Khosla's Do Raaste with Mumtaz as the young hero's leading lady. But the impact of these two movies was much more than the megabucks raked in.

Together they unleashed the Rajesh Khanna phenomenon, creating a fresh hierarchy of stardom in Bombay (now Mumbai). One shake of his head was enough for financiers to write out blank cheques for distributors to buy a movie before a single shot was canned. Producers, directors, writers -- everyone became secondary to his star power.
A young Rajesh Khanna went around asking for roles in 'an MG sports car'
Last updated on: July 23, 2012 13:00 IST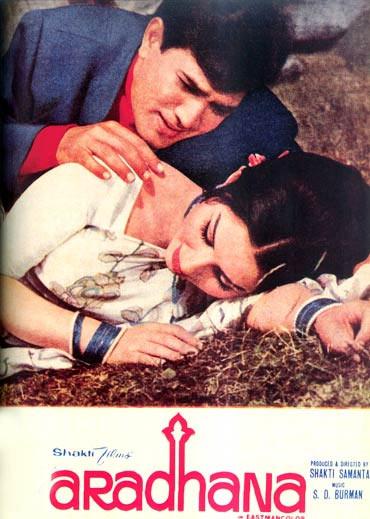 The route to the audience's heart is complicated and mysterious. Nobody really knows how an actor-of ordinary build, average height and a face often sprinkled with pimples-induced such messianic mania and hypnotized an entire nation.

Groping for a phrase to capture the zeitgeist, the industry finally coined a new term: superstar. Rajesh Khanna had become the omphalos of a new world order in the Hindi film industry.
Born in Amritsar on 29 December 1942, Rajesh (his original name was Jatin) was adopted by a childless couple related to his own parents who were more affluent than them and lived near Girgaum, Bombay. By all accounts, he was pampered as a child. As a teenager he was interested in theatre. When he wanted to join films, the young actor went around asking for roles in 'an MG sports car', say Dinesh Raheja and Jitendra Kothari in The Hundred Luminaries of Hindi Cinema.
Maybe it was written.
Aradhana came at a time when Bombay cinema badly needed a fresh face. Raj Kapoor, Dilip Kumar and Dev Anand had aged, though the last two were still playing lead roles. Shammi Kapoor had grown obese and Rajendra Kumar's appeal had gone stale.
True, Dharmendra, Manoj Kumar and Jeetendra had delivered runaway hits but there was still plenty of room at the top.
A generation of girls had found their pin code to heaven with Mere sapno ki rani
Last updated on: July 23, 2012 13:00 IST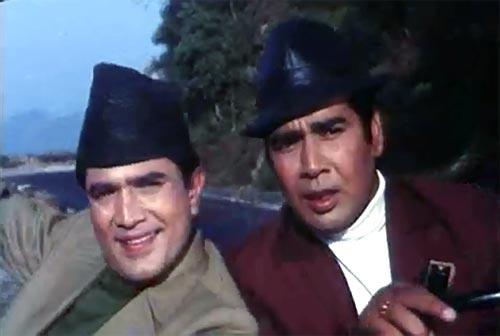 And when Rajesh, sporting a black Nepalese cap, rode an open jeep and serenaded heroine Sharmila Tagore with the song, Mere sapnon ki rani kab aayegi tu, a generation of girls had found their pin code to heaven. Women now in their fifties claim they got the biggest 0 of their lives when the film's second Rajesh Khanna made his entry in the famous airport scene.

Dressed in a flight-lieutenant uniform, the actor looks arresting as he walks towards girlfriend Farida Jalal, muttering words of love, and takes her in his arms. Few women wouldn't have liked to swap places with Jalal. If there was one game-changing moment in his career, this was it.
They say shrieking college girls smeared his car with lipstick, wrote letters in blood, married his photograph. Once when he had fever, a group of college students spent hours taking turns to put ice water on his forehead in a photograph, as the actor recalled in an interview to Gulf News in October 2007.
Men admired and aped everything he did
Last updated on: July 23, 2012 13:00 IST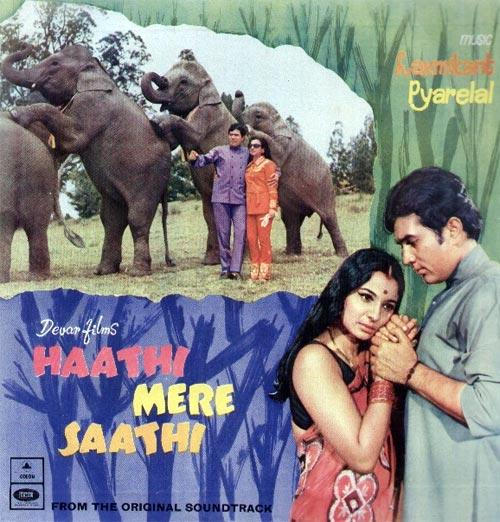 Men admired and aped everything he did. When he slapped a belt over his shirt for Binaca Geetmala's top 1971 track, 'Zindagi ik safar hai suhana', it spawned a million imitators.

His round-collared guru kurtas, an intelligent fashion ploy that also hid an expanding waistline, too became a rage. Even kids, especially after Haathi Mere Saathi (1971), adored him. His smile sold toothpastes (Macleans), a rare case of celebrity endorsement those days.
Navin Nischol, a star in his own right, had a first-hand experience of the frenzy. He told the Star and Style in the September-October 1980 issue: 'Believe me, the kind of mass hysteria he aroused in his day, I don't think even Amitabh has seen. And I was a witness to it. I had gone for a wedding reception at the Taj. Kaka [Rajesh was nicknamed Kaka much before a Brazilian footballer got that name] was coming out of the hall while I was going in.

We crossed each other on the way, and-this is the incredible part-the whole damn hall walked out behind that guy! It was such a stunning sight-that whole sea of humanity simply following him as he made his way out. It was unforgettable... Look I'm getting goose pimples just talking about it.'
He was the biggest thing to have happened to mainstream Hindi cinema
Last updated on: July 23, 2012 13:00 IST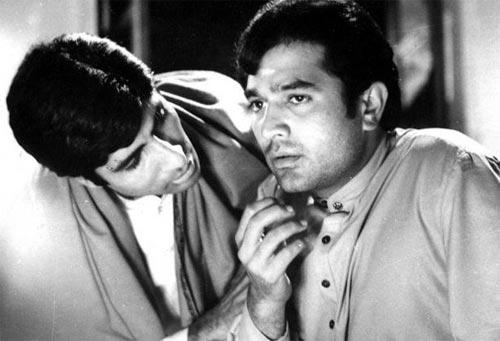 That's why Jack Pizzey's 1973 BBC film documentary on Rajesh Khanna, Bombay Superstar, introduces him 'as the biggest star of the biggest film industry of the world.'
He is described as someone with 'the charisma of Rudolph Valentino and arrogance of Napoleon'. You can understand where the last bit came from: the filmstar cancelled five appointments with the makers of the documentary -- including inviting the crew home and promptly forgetting-before giving them audience.
He was acting big because, strictly going by box office statistics, he was the biggest thing to have happened to mainstream Hindi cinema. His finest hits came with Sharmila Tagore, Mumtaz and Asha Parekh (in that order), although overall, he did a dozen movies with Hema Malini too. Statistics put out by Boxofficeindia.com show that between 1969 and 1971, Rajesh Khanna delivered superhits by the sackful.

In 1969, apart from Aradhana and Do Raaste, the year's two top grossers, Bandhan was another big box office smash, while even Doli and Ittefaq, a songless murder mystery, earned profits. In 1970 the superstar had four of the year's top-ten winners: Sachaa jhutha, Aan Milo Sajna, Kati Patang and Safar.
That year The Train and Anand also earned profits.
The next year he bettered himself delivering four of the year's five biggest hits: Haathi Mere Saathi, Dushman, Maryada and Andaz.

Among the other of his films released that year, Amar Prem finished eighth. Everything he touched turned to box office gold: The dream run was finally broken when Mehboob Ki Mehndi (1971) collapsed at the cash counters.
The dream run was finally broken with Mehboob Ki Mehndi in 1971
Last updated on: July 23, 2012 13:00 IST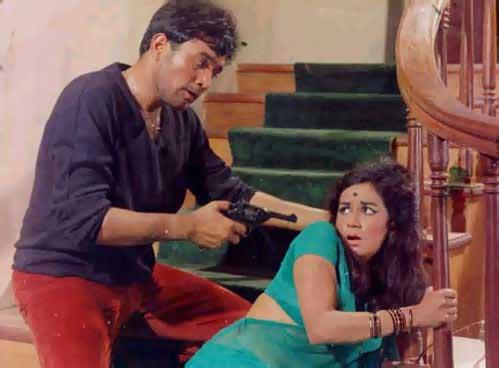 Few top actors till then, with the exception of Ashok Kumar and Dilip Kumar, had endeared themselves in equal measure to the masses, the classes as well as the critics.

Rajesh Khanna found that fine balance. In his early days, he displayed a penchant for intelligent, off-beat movies such as lttefaq and Aavishkar (1974).

Barring Dharmendra, no other big hero took such risks in the late 1960s and early 1970s. There was symmetry to his performances in Khamoshi (1969), Safar, Anand and Amar Prem that won him critical accolades. He surprisingly got the Filmfare Best Actor Award for Sachaa Jhutha and, more deservingly, the following year for Anand.

In the awards ceremony held in 1973, despite two impressive performances in Dushman and Amar Prem, he lost out to Manoj Kumar's thoroughly forgettable Be-imaan. That was also the year when Hema Malini's Seeta Aur Geeta was preferred to Meena Kumari's Pakeezah for the Best Actress Award.

And incredibly, Be-imaan also swept the Best Film, Best Director and Best Music categories over contenders from Pakeezah, Shor, Amar Prem. So much for Filmfare being India's answer to the Oscars!
Romance was his core competence
Last updated on: July 23, 2012 13:00 IST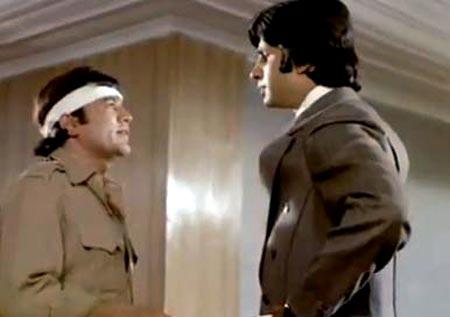 Songs were the soul of Rajesh Khanna's movies. And he enacted them in his trademark style: rhythmically shaking the head and gently lowering the eyelids as if offering an invitation: His hands would often go up in the air as if striking a mudra. Even flops such as Mehboob Ki Mehndi, Mere Jeevan Sathi (1972), Mehbooba (1976) and Aashiq Hoon Baharon Ka (1977) had chartbusting tracks.

His career thrived on some of the most popular numbers composed by R D Burman -- in films like Kati Patang, Amar Prem, Namak Haraam (1973), Aap Ki Kasam (1974) -- and Laxmikant-Pyarelal-in movies like Do Raaste, Haathi Mere Saathi, Dushman. The two music directors, along with Kishore Kumar whose singing career was revived by Aradhana, synergized Rajesh's movies. They invariably reserved their best for the superstar. Once the slide began, the songs ceased to be as great as before. Without them, Rajesh Khanna became an actor without his best lines.
Romance was his core competence. As the 1973 BBC documentary noted, 'Rajesh has found more ways of implying love than the Kama Sutra has of making it.' But the truth is that the actor brought no revolution to the art; he just gently tweaked the existing formulas.

He blended the playfulness of Dev Anand with a fraction of Dilip Kumar's intensity; to this he added his own charm and style. The characters he played had a touch of poet-philosophers. The forest officer of Kati Patang, with eyes clearer than spring water, recites poems to a 'widow he has fallen in love with. As a man, the actor evoked a melange of possibilities. He could be a sensitive lover, a naughty but reliable husband, an eye-candy neighbour, an indulgent brother, even a great lover, if you wanted a 'Roop tera mastana moment. He could be intense without being suffocating.
He wooed both urban and rural India
Last updated on: July 23, 2012 13:00 IST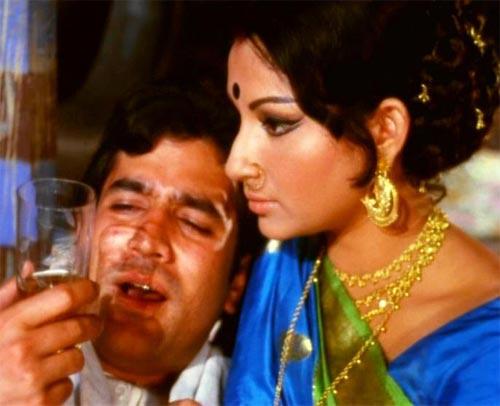 Which is why few actors profited more from a broken heart. It is easy to empathize with the smiling-laughing cancer patient Anand. The melancholia of Anand babu in Amar Prem seeps to the audience.

You understand why the bhadralok visits the brothels. And you know he is not lying when he tells the golden­hearted prostitute (played by Sharmila Tagore), 'Tumne is kamre ko mandir bana diya.' There is a style with which he says: I hate tears. Rajesh's acting was defined by style.
He wooed both urban and rural India, playing characters from the city as well as the hinterland sometimes both in the same film as in Manmohan Desai's Sachaa Jhutha.

He looked dapper in finely tailored suits; he could also carry off a dhoti-kurta-tabeez with ease. Just watch him play the country bumpkin in Bandhan (written by Salim-Javed) and dance to the paisa vasool track, 'Bin badra ke bijuriya kaise chamke'.
Rajesh Khanna's strength lay in his ability to represent things he didn't even seek to
Last updated on: July 23, 2012 13:00 IST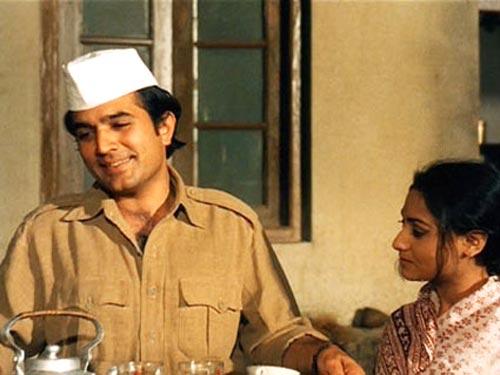 In his biggest hits, the characters he generally played belonged to the comfortable side of middle class: the flight lieutenant of Aradhana, the forest officer of Kati Patang, the bhadralok of Amar Premo Some characters he played also came from the underclass.
In the title role of Bawarchi (1972), he cooked food and served love in the mode of a proto-Munnabhai. The honest clerk of Apna Desh (1972), the rustic musician of Sachaa Jhutha, the unemployed youth of Baharon Ke Sapne, the working-class hero of Namak Haraam were again lower-middle-class representations.

But Rajesh's strength lay in his ability to represent things he didn't even seek to. In the best tradition of the 1970s' hero, he was always pro-poor, a do-gooder.

In Aan Milo Sajna, he pulls a horse-cart out of the mud to help an old gentleman and his five daughters. That's typical of the screen image he carefully fashioned.