Everything you wanted to know about Jayalalithaa, the actor
Last updated on: November 09, 2013 17:45 IST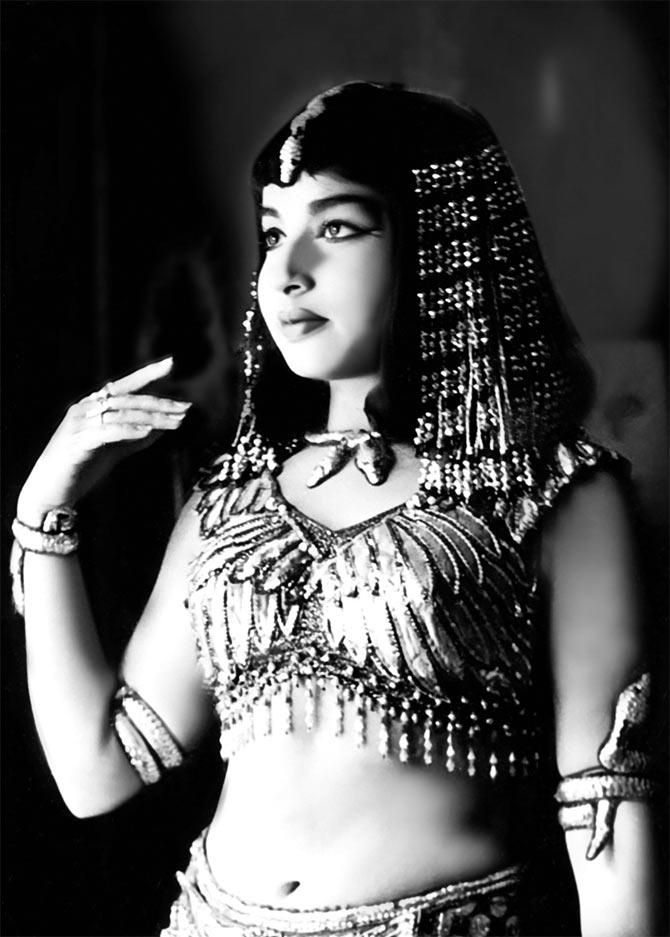 At the age of 65, Jayalalithaa Jayaram is currently serving her third stint as Chief Minister of Tamil Nadu.
Born on February 24, 1948, in a family that served King Jayachamarajendra Wodeyar of Mysore, she was named Komalavalli at birth.
She lost her father when she was just two, and her mother started working in films to support the family. Circumstances forced the young Jayalalithaa to enter the film industry too, later on.
Though reluctant to work in films initially, the young actress soon took the cinema world by storm.
Within the span of a few years, she had worked in all southern languages, and with cinema legends M G Ramachandran, Sivaji Ganesan, N T Rama Rao, Krishna and Gemini Ganeshan.
At a time when heroines appeared demurely clad in saris on screen, Jayalalithaa started the trend of wearing short-sleeved dresses, skirts and tight pants.
Click Next to see more.
Early Years
Last updated on: November 09, 2013 17:45 IST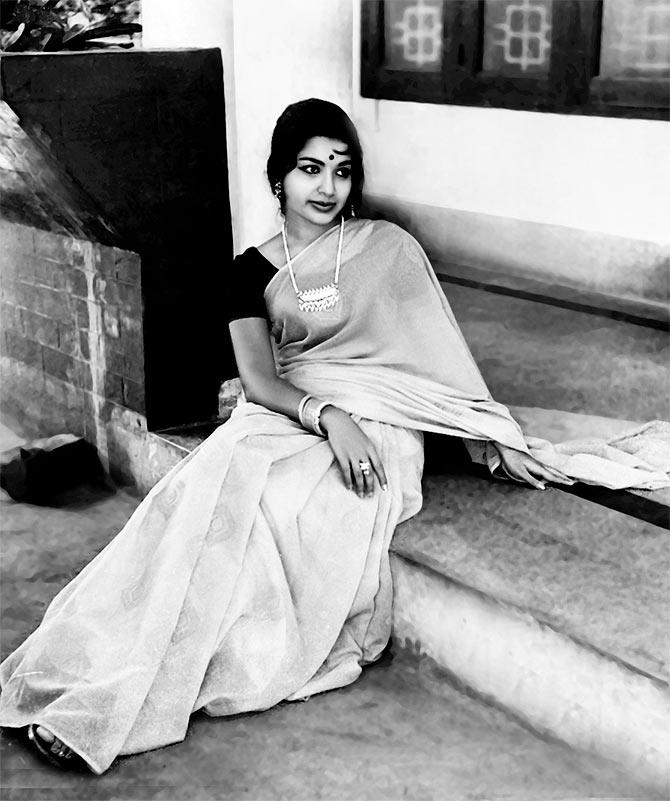 Jayalalithaa's first film was an English language film titled Epistle, which released in 1961 when she was only 13.
The film was directed and produced by Shankar Giri, the son of the former President of India, Dr V V Giri.
In 1964, when still in school, she played the lead in her first Kannada film, Chinnada Gombe.
The film was shot during her summer vacation, as she did not want to miss her lessons at school. An exemplary student, Jayalalithaa studied for a few years at the Bishop Cotton Girls High School in Bangalore before moving to Chennai, where she attended the Church Park Presentation Convent.
Accomplished singer and dancer
Last updated on: November 09, 2013 17:45 IST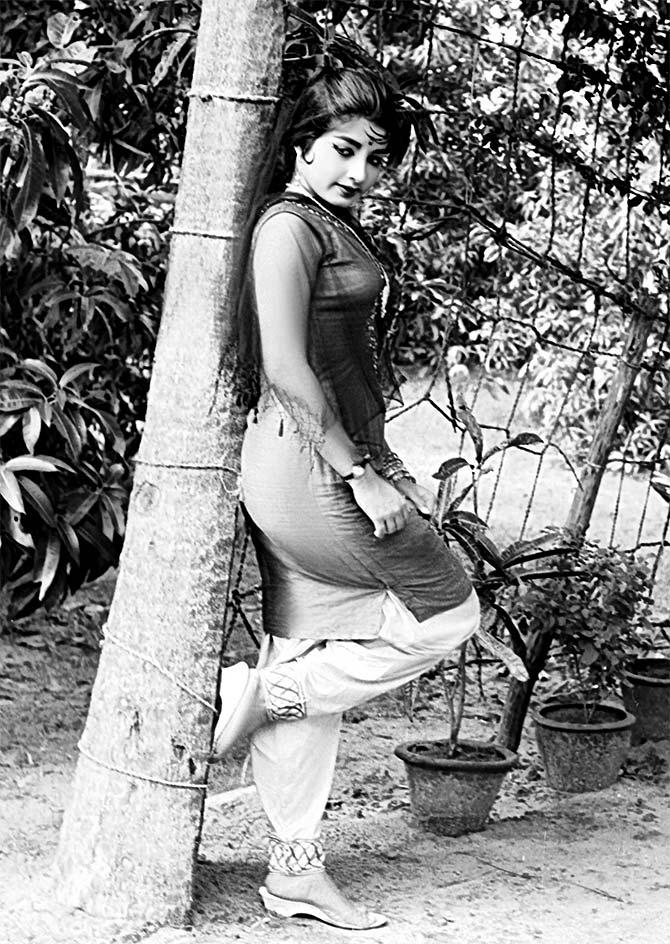 An excellent dancer, Jayalalithaa was trained in Bharat Natyam, but was equally proficient in Mohiniaattam, Kathak and Manipuri.
She learnt Carnatic music and sang several songs in her own films, such as Amma Endraal Anbu in Adimai Penn (1969), Naan Endral Athu Naanum Avalum in Suryakanthi (1973) with S P Balasubrahmanyam, and Chithira Mandapathil in Anbai Thedi (1974) along with T M Soundararajan.
In 1972, the Tamil Nadu government honoured Jayalalithaa with the Kalaimamani Award, which is given by the Tamil Nadu Iyal Isai Nataka Manram for excellence in the field of art, dance and drama.
The magic of Jayalalithaa and MGR
Last updated on: November 09, 2013 17:45 IST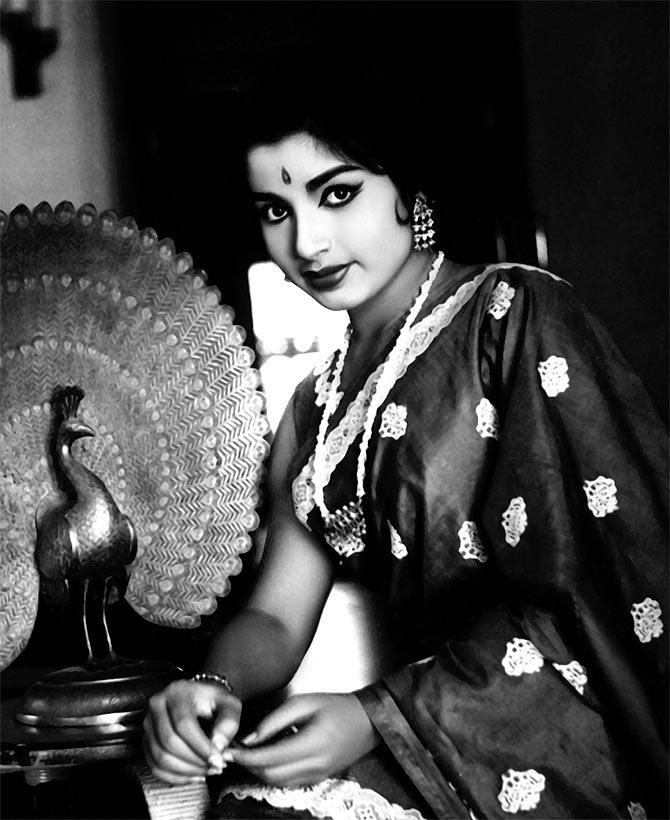 Jayalalithaa made her debut in Tamil cinema with the film, Vennira Aadai, in which she played the role of a schizophrenic widow.
She received rave reviews for her performance, but it was Aayirathil Oruvan (1965) opposite Tamil superstar M G Ramachandran that changed her life.
Jayalalithaa was just 14 and a novice in the film industry, while MGR, at 45, was already a legend, with some 80 films to his credit.
The two created magic on screen. They became the rage overnight. Aayirathil Oruvan is considered one of their best films ever.
Directed and produced by the legendry B R Panthulu, the film is about sea pirates, slavery, and the independence of labourers. Jayalalithaa's charm and charisma as a beautiful young princess complemented MGR's serious character in the film making it far more appealing.
Breaking records
Last updated on: November 09, 2013 17:45 IST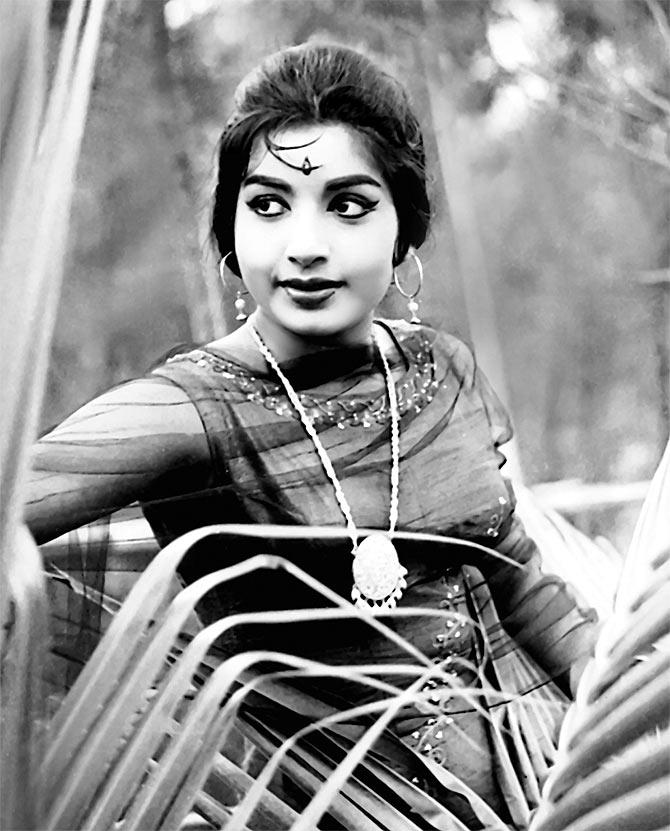 Adimai Penn (1969) was originally shot with Saroja Devi in the female lead, but after her marriage halfway through the film, her scenes were deleted and Jayalalithaa was cast in a dual role.
Adimai Penn broke many records. For the first time in Tamil film history, a movie was houseful for 400 shows in four theatres in Chennai.
Jayalalithaa plays the role of a peasant and a queen, two very different characters, which she carried off with equal conviction.
With Nadigar Thilagam Sivaji Ganesan
Last updated on: November 09, 2013 17:45 IST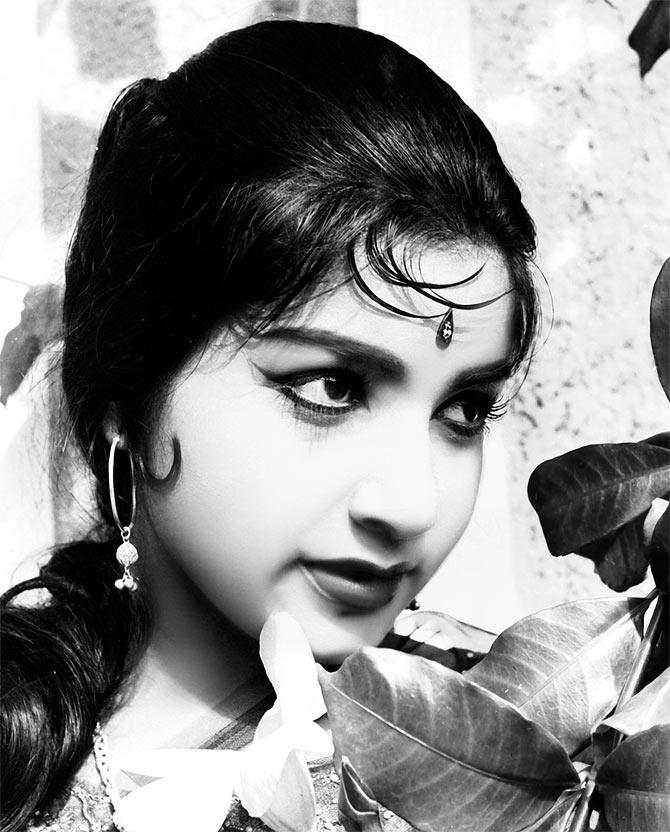 Jayalalithaa worked with Sivaji Ganesan in 17 films, of which 15 were declared golden jubilee hits.
Motor Sundaram Pillai (1966) was their first film together. Jayalalithaa played the role of his daughter in the film. It was in Galatta Kalyanam (1968), which released two years later, in 1968, that she was paired opposite him.
Galatta Kalyanam is a romantic comedy directed by C V Rajendran. Jayalalithaa delighted audiences with her flair for comedy.
It was this film that created a fan-following for Jayalalithaa and Sivaji Ganesan, and made them one of the most sought after pairs in Tamil cinema.
Hindi debut
Last updated on: November 09, 2013 17:45 IST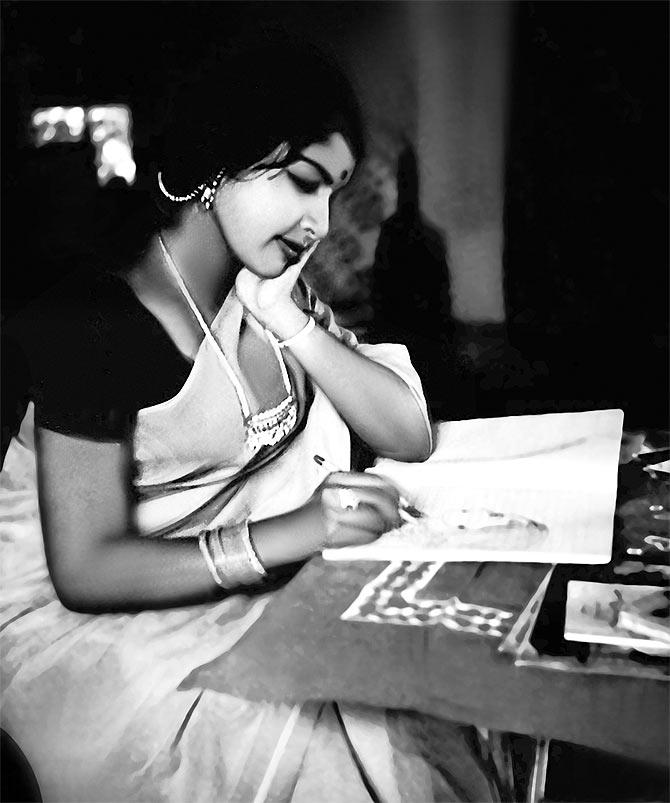 Jayalalithaa made her Hindi film debut in 1968 with a film titled Izzat starring Dharmendra and Tanuja.
She plays a spunky Adivasi belle, Jhumki, in love with Dharmendra, who is far above her socially.
Her feisty role in the film earned her much appreciation and also showcased her dancing talent.
Foray into Telugu films
Last updated on: November 09, 2013 17:45 IST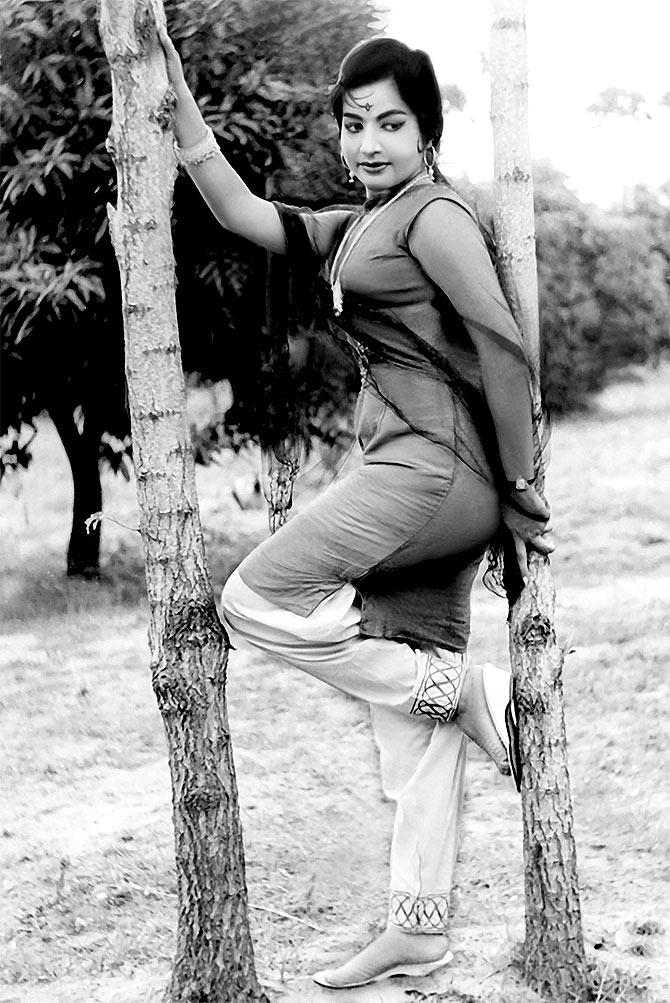 Goodachari 116, the first spy film in Telugu, starring Jayalalithaa and superstar Krishna, became such a smash hit that many sequels to the film were made in later years.
In this James Bond style film, Jayalalithaa played a vamp-like character. She was still at the beginning of her career, and this film brought out her talent and brought her recognition.
Sri Krishna Satya directed by Kadiri Venkata Reddy won the Nandi Award for Best Feature Film from the Government of Andhra Pradesh.
Jayalalithaa played the dual role of Devi Sathyabama and Chandrasena in the film, while N T Rama Rao essayed the role of Lord Krishna and Lord Rama. There are about 38 songs and slokas in this film.
The last film
Last updated on: November 09, 2013 17:45 IST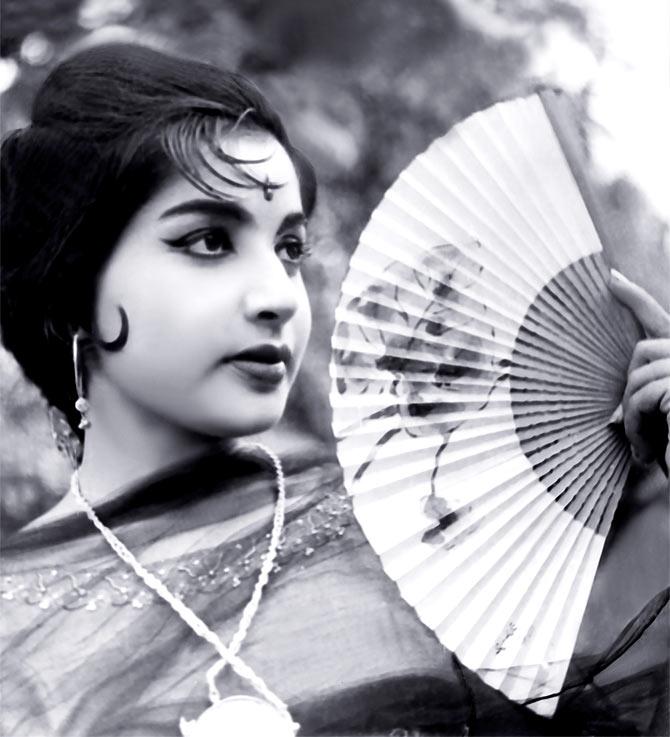 In 1992, when Jayalalithaa was the Chief Minister of Tamil Nadu, she made a brief appearance in a film titled Neenga Nalla Irukkanum, in which she portrayed herself and was seen crusading for total prohibition in the State. The film, however, bombed at the box office.
It is Nadhiyai Thedi Vandha Kadal, which released in 1980, that is considered her last film as a full-fledged actor.
The film was directed by B Lenin and had Jayalalithaa and Sarath Babu playing the lead roles.
Though the film did not do very well at the box office, it was appreciated for its music. In fact, this was Jayalalithaa's only film that had music by Maestro Ilayaraja.