Does the West get India right?
August 20, 2014 17:02 IST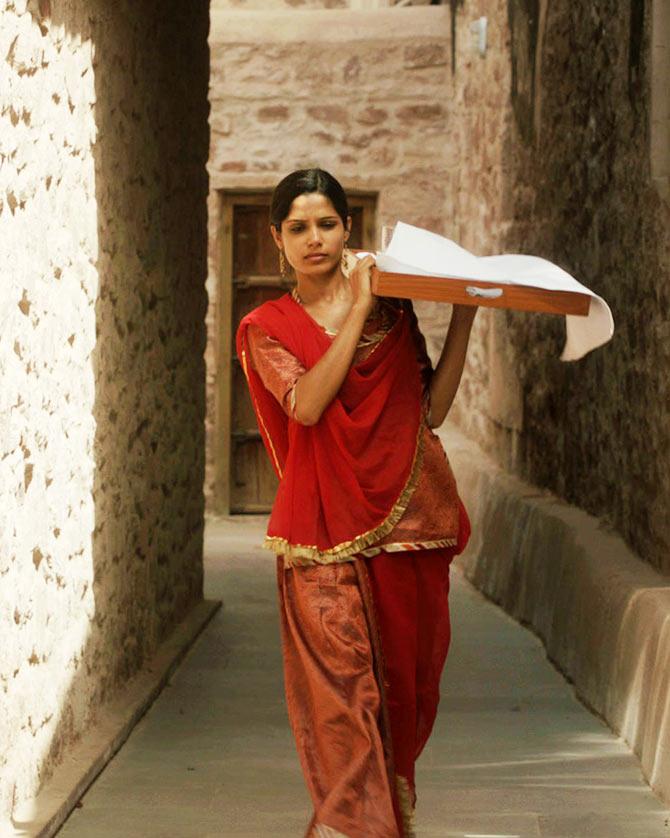 Sometimes, yes. We take a look.
Every few years, a Hollywood or a British production company re-discovers India and thinks it is cool to set a film there -- a film that will show the exotic qualities of India through the eyes of Western people, portray the resilience of the human spirit, and that brown and white folks are more or less alike.
Even Oprah Winfrey recently said about her film The Hundred-Foot Journey: 'I loved the idea of the fusion of food and culture... I loved this theme that we're all more alike than we really are different.'
Critics sometimes have issues with such films, especially when the films harp on stereotypes or India is viewed through the simplistic prism of a production house like Walt Disney Co.
But India often sells to a certain class and age group of audience in the west. After all, there's a reason why Fox Searchlight decided to make a sequel to The Best Exotic Marigold Hotel.
Aseem Chhabra/Rediff.com revisits 10 films about India made by Western filmmakers, and grades them.
Trishna
Michael Winterbottom had an inspired idea -- to take Thomas Hardy's Tess of the d'Urbervilles and set it amidst the five-star hotel culture in Rajasthan, bringing the 19th century class divide to contemporary India.
He cast well, giving Freida Pinto her most challenging role, along with the hugely talented Pakistani British actor Riz Ahmed.
Some parts of Trishna work well.
The film portrays the rural setting of Rajasthan -- Trishna's (Pinto) family and their lives and surroundings -- with a lot of authenticity. It also plays fair by showing us the world of the hotel magnate (Roshan Seth) and his UK-educated son Jay (Ahmed) who wants to make films.
The seductive moments in the first act and the devastating relationship between the protagonists in the final act keep the film engaging. Then there is the haunting soundtrack and songs composed by Amit Trivedi.
But Trishna nearly collapses in the second act, where the scene shifts to Mumbai and its film industry.
Winterbottom never works with a script and the improvised scenes with Anurag Kashyap and Kalki Koechlin seem forced, laughable, and meandering.
In those long dragged out moments, it seems as if Winterbottom lost control of his project. He manages to save it by the end.
Grade: B
Read the review here.
Please click Next to see more....
The Best Exotic Marigold Hotel
August 20, 2014 17:02 IST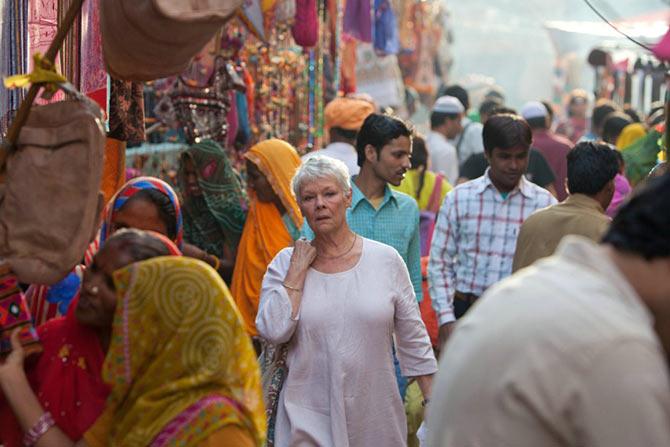 In 2011, Fox Searchlight presented a film that was essentially aimed at the educated, 40 plus audience who would enjoy a BBC inspired dramedy, set in the exotic locales of India.
But The Best Exotic Marigold Hotel -- a story of a group of British retirees, who settle for a cheaper retirement deal by moving to India -- had a twist. The hotel they settle for in India is anything but exotic.
Marigold... boasted of some fine performances from Judi Dench, Maggie Smith, Tom Wilkinson and Bill Nighy, with some genuinely moving sub-plots.
If there was one flaw -- and it was a big one -- then it had to do with the main Indian actor.
Dev Patel was embarrassing as Sonny Kapoor, the hotel owner.
At most times, he jumped around like a clown, out to please his white guests. And his accent was awful.
Equally stereotypical was Lillette Dubey as his rich mother, a role she plays again and again.
Marigold... got the Brits right, even the somewhat cliched transformations in their character. It got the Indians all wrong. But the gamble paid off and the film was a box office success.
Grade: B
Read the review here.
Please click Next to see more....
Million Dollar Arm
August 20, 2014 17:02 IST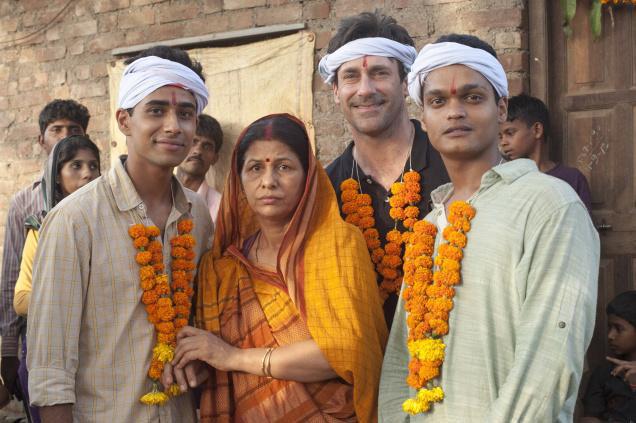 It was a great idea to seek two Indian cricket bowlers and train them to become baseball pitchers.
A reality show was set up to find the athletes. Two players were brought to the US, and they made news and joined the minor league, but their careers never took off.
Walt Disney Co thought it would be a good business decision to build on the nostalgia of Slumdog Millionaire and produce what could be an entertaining, inspiring film. Million Dollar Arm remained just that -- a Disney film, and a wannabe Slumdog Millionaire with even A R Rahman's recycled music.
In Dollar... as well, Mumbai is full of heat, dust, noise and madness and a helpless white man -- played by Jon Hamm -- is thrown into it. Hamm's character lands there directly from the airport to find a run-down place as his office space.
The three supporting Indian actors -- Pitobash Tripathy, Suraj Sharma and Madhur Mittal -- bring some honesty in their performances, but the script only gives them clichés and stereotypes to work with.
Some may consider Dollar... to be a feel good film, but even for Disney standards it is weak.
Grade: B
Read the review here.
Please click Next to see more....
The Darjeeling Limited
August 20, 2014 17:02 IST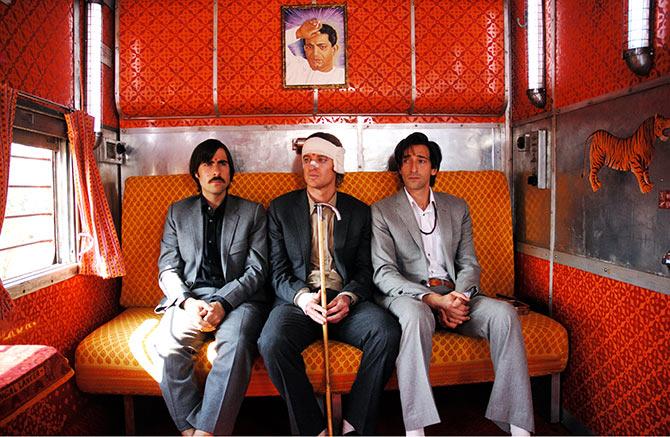 Wes Anderson brought his quirky, whimsical humour to India in this 2007 film with his regular cast -- Owen Wilson, Jason Schwartzman and Adrien Brody -- playing three brothers on a long journey in India in search of their mother, Anjelica Huston.
Along with them were Anderson's other repeat cast members -- Bill Murray, the hilarious Kumar Pallana (who had no dialogues) and Waris Ahluwalia. Irrfan Khan had a guest appearance.
Darjeeling... was rich in Anderson's colourful, sometimes bizarre production design.
A whole train was redone to match the director's fantasy.
And if Anderson was going to make a film in India, it would have to be a tribute to one of his favourite directors, Satyajit Ray. Anderson used many of Ray's memorable compositions, including works he did for Merchant Ivory Productions.
Darjeeling... was not laughing-out-loud funny, and it doesn't match his genius in the recent The Grand Budapest Hotel. But Anderson was respectful towards India and made a mostly enjoyable movie.
Grade: B+
Capturing India in The Darjeeling Limited.
Please click Next to see more....
Slumdog Millionaire
August 20, 2014 17:02 IST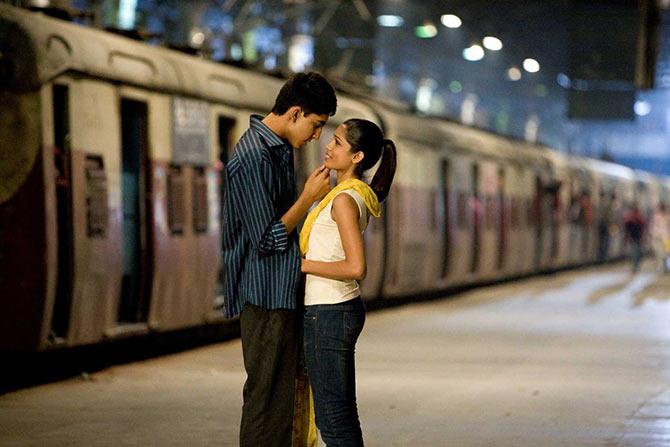 Danny Boyle's Slumdog Millionaire came out of nowhere.
The film was almost going straight to DVD, but then the sane business folks at Fox Searchlight -- inspired by the reception it got at Telluride and Toronto film festivals -- decided to release it in theatres.
Now eight Oscars and $378 million worldwide later, Slumdog Millionaire has set the standard by which every Western film project in India is measured.
The film had its flaws -- the most annoying being the range of Indian English accents spoken by its actors. Dev Patel struggled so much to hide the British accent and often failed in his attempts.
Many Indians were turned off with the film's focus on the slums of Mumbai.
Slumdog Millionaire presented India and its high energy that hardly any Indian film ever captured. It had a powerful, innovative and memorable soundtrack by A R Rahman. Unfortunately, the master composer has not been able to reach that standard with any of his other Hollywood projects.
Most importantly, Slumdog Millionaire showed a face of post-liberalisation India where failure is not a word in anyone's vocabulary. It was India on high-octane, more dramatic and cinematically real than we could have ever imagined.
Grade: A-
Read the review here.
Please click Next to see more....
Holy Smoke
August 20, 2014 17:02 IST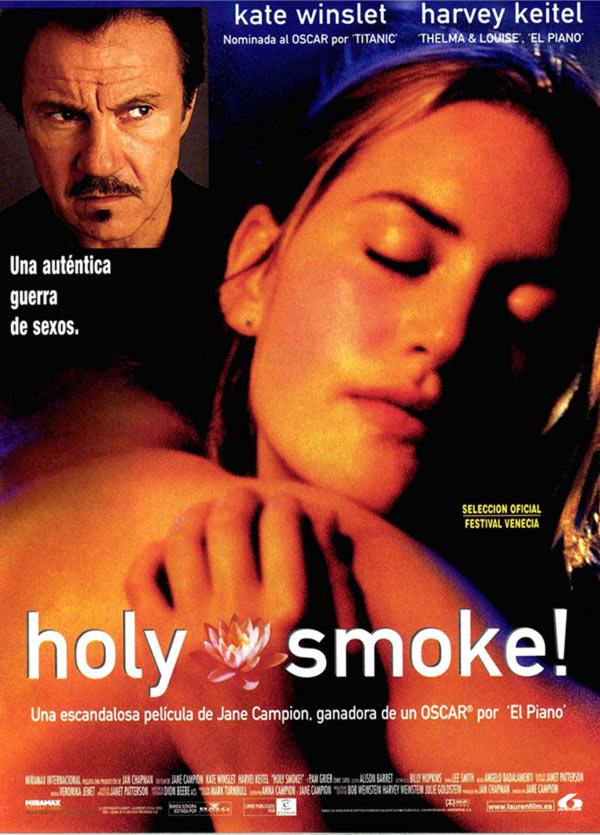 Jane Campion set part of Holy Smoke -- her 1999 battle of the sexes -- in India.
Most of the first act was shot in Delhi and Rajasthan, as Kate Winslet's Ruth -- a product of a working class suburb of Sydney -- joins a Hindu religious cult in India.
For a film that looked at young rootless Western travelers to India -- some would call them the children of hippies -- Holy Smoke does a terrific job of capturing the mad haze of drug (or perhaps faith) induced spirituality and trance-like dancing.
It is quite hypnotic in the way the camera moves and tracks the colours and vibrancy of India, albeit from the eyes of the young Western visitors.
If there is a flaw in the film's India act, it has to do with the scene where Ruth's mother is thrown into the madness of Chandni Chowk and later in the old city's narrow, filthy lanes.
Visually, those situations seem more compelling to Western filmmakers than the serene quietude of Lutyens Delhi and one can understand the choices Campion made.
But Campion is constantly poking fun at the expense of her characters and their limited exposure to other cultures.
Holy Smoke becomes a layered film, when Harvey Keitel's cult-deprogrammer enters the narrative.
The most thrilling thing in the film is to see Winslet in a white sari. She walks, runs, dances in the sari for practically half the film, as if she was born wearing it.
Grade: B+
Please click Next to see more....
Gandhi
August 20, 2014 17:02 IST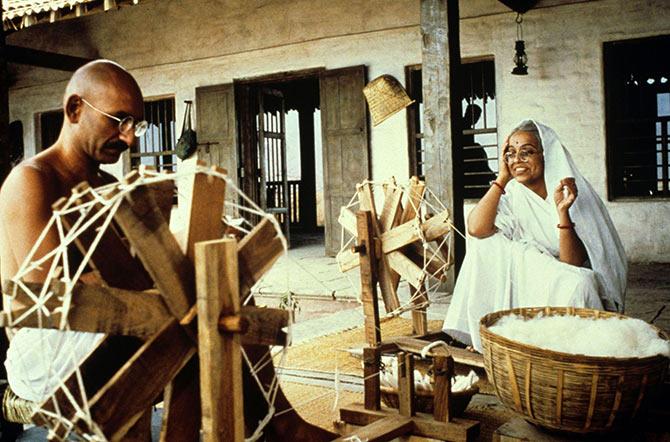 There were many sceptics when Richard Attenborough announced his plans to make a major epic on the life of Mahatma Gandhi.
A couple of previous films related to Gandhi's life and death, including Nine Hours to Rama, had been banned in India.
But this time, the Indian government and the National Film Development Corporation stepped in as co-producers.
Gandhi was massive in every way -- from the thousands of extras hired for the funeral scene at India Gate, to a huge array of well-known actors.
Everyone remembers Ben Kingsley's star-making Oscar winning performance.
Practically all the young Indian actors -- graduates of the National School of Drama -- were in Gandhi.
Attenborough also cast some wonderful theatre personalities in key supporting roles -- Habib Tanvir and Alyque Padamsee from India, and Athol Fugard from South Africa. A future three-time Best Actor Oscar winner, a man by the name of Daniel Day Lewis, had a small part in the film.
Gandhi was a very complex film to make and Attenborough put his soul into it. There is a reason why it won eight Oscars, despite a strong lobby to push the case for Steven Spielberg's ET.
The film had a lot of heart, and it was a special tribute to India and its history.
Grade: A
Please click Next to see more....
City of Joy
August 20, 2014 17:02 IST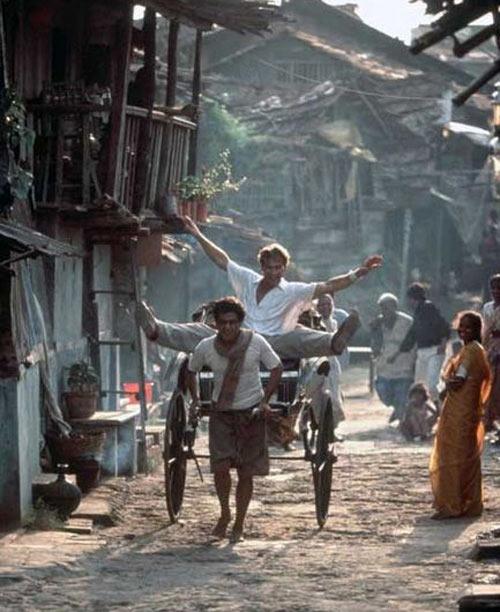 Roland Joffe's City of Joy had good intentions and was based on Dominique Lapierre's inspiring bestseller by the same name.
But the story of an unhappy and cynical American doctor (Patrick Swayze), who sets out to help the poor people of Kolkata, was packed with cliches and stereotypes of the poor -- a noble lot, set against the ugly villains of the city.
There was even a Mother Teresa-like British woman, played by Pauline Collins.
Om Puri and Shabana Azmi played the frazzled and tragic poor slum-dwellers. But all Azmi did was to look deeply concerned. She had no dialogues.
City of Joy is an example of filmmakers and even writers who set out with the goal to show the plight of the poor in a Third World country. But the white-saviour mentality does not always translate into good art.
Grade: B-
Om Puri talks about Patrick Swayze here.
Please click Next to see more....
A Passage to India
August 20, 2014 17:02 IST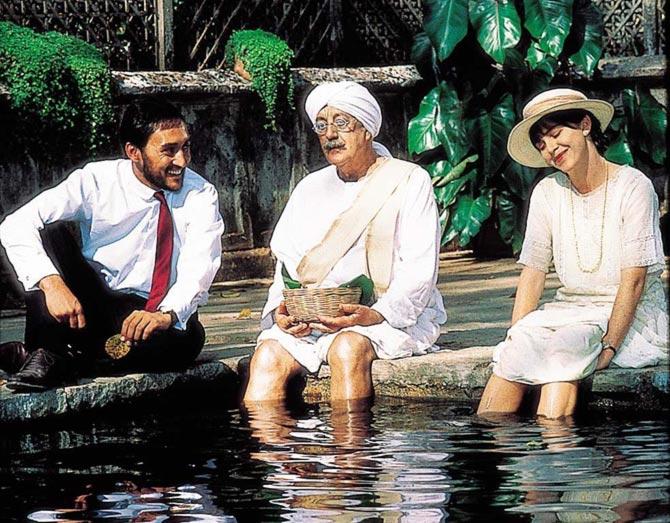 In what would become British master David Lean's last film, he takes us on a journey to India via E M Foster's classic novel.
It was a perfect vehicle for Lean, whose previous works including Lawrence of Arabia and The Bridge Over the River Kwai.
The intent behind A Passage to India, was noble -- a well-received book that gives the viewers various perspectives of British colonialism and ultimately revisits the mystery of what happens to a young British woman (played by Judy Davis) as she enters the ancient Marabar Caves.
Much of Passage... is good -- including a lovely performance by Dame Peggy Ashcroft -- but even with Lean's good intentions, his Indian characters become caricatures, nervous and fumbling in the presence of white people.
The wonderful actor Victor Banerjee, playing Dr Aziz is as much of a clown as Dev Patel is in The Best Exotic Marigold Hotel.
And then there is the odd casting of Professor Godbole. Instead of looking for a fine older Indian actor, and there were many at that time, Lean chose to cast his regular Alec Guinness for that role. Guinness was a wonderful British actor, but he was a total misfit in this film, pretending to play with an Indian accent and gestures.
Grade: B
Please click Next to see more....
Shakespeare Wallah
August 20, 2014 17:02 IST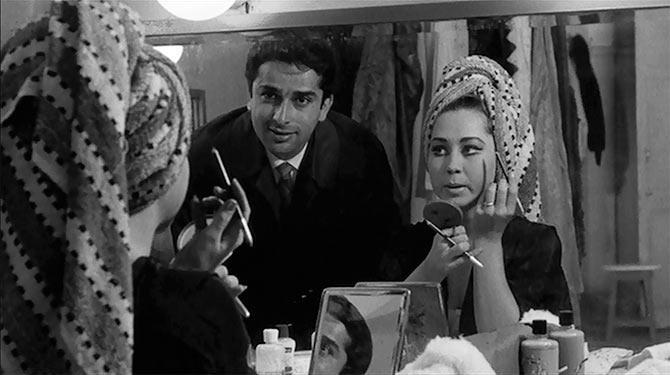 Director James Ivory made six films in India, including the grand Heat and Dust, based on Ruth Jhabvala's Booker Prize-winning novel.
Shakespeare Wallah was the first film that made him and his partner Ismail Merchant well known in the international film circles.
It was in competition at the Berlin Film Festival, where actress Madhur Jaffrey won the Silver Bear for Best Actress.
Shakespeare Wallah is marred by some uneven acting -- including by the otherwise very handsome and charming Shashi Kapoor.
But it is a interesting story about the clash of high art, presented in the form of a traveling British Shakespearean theatre group and what is presented as the crass commercial Hindi film industry.
Satyajit Ray composed the music for the film -- the first full soundtrack he did for a film directed by someone other than himself -- and it was beautifully shot by Ray's cameraman Subrata Mitra.
Forty-nine years later, Shakespeare Wallah seems a tad dated, but it still stands as an iconic film and one of the early works about India made by an outsider.
Grade: B+