Dharmendra's MOST HILARIOUS Filmi Moments
Last updated on: June 6, 2013 18:45 IST
Few actors can vouch to entertain like  Dharmendra.
He's one of Hindi cinema's best-looking legends to romance the silver screen, portray the luminous face of scrupulous idealism, bash the baddies into a mean pulp with his robust physicality and growling punch-lines as also tickle our funny bone with his amusing, effortless, inimitable antics.
Strangely, despite such all-rounder appeal, the star of more than 280 odd and amazing movies remained saddled by a confining 'He Man' image for the better part of his career. Having said that, the adulation and affection he enjoys among his fans almost makes up for it.
The 77-year-old is ready to rock the celluloid again this week with sons –Sunny and Bobby Deol in his new comedy, Yamla Pagla Deewana 2. For whatever it's worth, Dharmendra appears to be in his element. And that is known to produce some hearty laughs in the audience.
On that note, here's my pick of his10 Most Comical Moments in the movies. Go ahead and share yours on the message board below.  
Chupke Chupke
Dharmendra displays effortless wit as the playful, prankster Botany professor masquerading as a 'shudh Hindi' spewing chauffeur to tease his new bride's conceited  brother-in-law  (Om Prakash)  inHrishikesh Mukherjee's delightful Chupke Chupke.
There are so many hilarious scenes but the one where he, ahem, Shri Pyaaremohan Ilahabadi,introduces himself as the new driver to Om Prakashand Usha Kiran is my favourite.
Here, he deliberately rankles the duo with his chaste lingo (Bhojan to humne lauhpathgamini sthal par hikar liya tha), steady motto (Hindi bolte samay humangrezi shabd ka prayog uchhit nahi samajhte) and inquiry (Jab T-O, to, D-O, do, toh G-O, goo kyon nahi hota?)  
Sholay
Last updated on: June 6, 2013 18:45 IST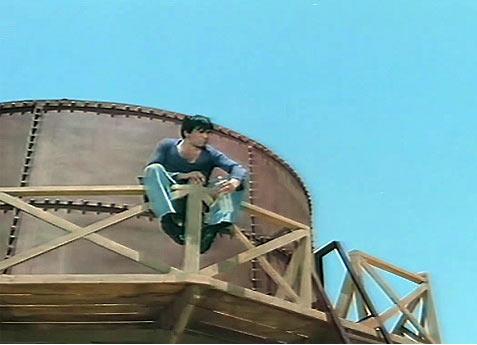 Bollywood's ultimate masala blockbuster is the quintessential example of 'films that make you laugh and cry.' And Dharmendra's 'soooocide' moment atop a water tank is the one that aspires for the former. (It also highlights his tremendous energy and trippy timing in the genre.
In this repeatedly referenced sequence of pop culture, a smashed Veeru cries out to the 'Gaonwalon' about the gross injustice meted out tohim after Basanti's Mausi flatly refused her niece's hand in marriage, 'Yeh Basanti haina isse mera lagan hone wala tha, Chacha. Lekin iski budhi mausine beech mein bhaanji maar di.'
Chacha Bhatija
Last updated on: June 6, 2013 18:45 IST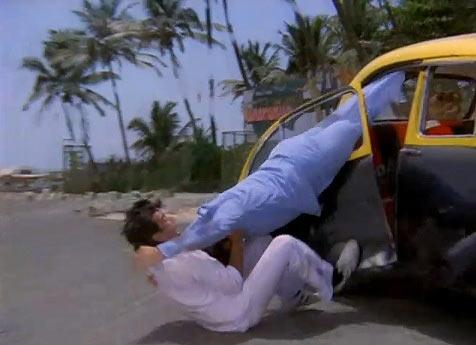 There's no way to keep a straight face through this one.
In Manmohan Desai's favourite subject – lost and found, there's a scene where Dharmendra plays a cabbie driving Randhir Kapoor to Juhu.
Their non-stop banter concludes with a slapstick tussle (atsome point our man's butt is sizzling alongside pieces of ragda pattice on a scorching tava), which is both undeniably -- absurd and laugh-out-loudhilarious.
Naukar Biwi Ka
Last updated on: June 6, 2013 18:45 IST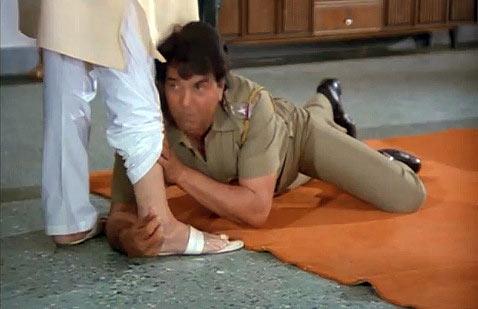 Dharmendra's chemistry with Om Prakash is one of a kind. Their first meeting in the superhit Naukar BiwiKa is quite memorable.
Clad in a super tight cop uniform (he's an aspiring actor hired by Anita Raaj to play a pretend husband), a visibly uneasy Dharam employs his discomfort to turn into a goofball wanting to appease Raaj's granddad. 
But the artist in him goes overboard to achieve that.
First he swings himself on the elderly chap's feet, makes inane faces and in his consciously nasal dialogue delivery shoots,'Dadaji, humein maaf kardijiye. Main aapki poti ke pyaar mein paagal. Aapki poti meri pyaar mein paagal.  Hum dono paagalpremi,' pausing to notice the fair complexion of Dadaji's legs only to continue, 'Dadaji pairon se toaap bilkul angrez hain.'  
Pratigya
Last updated on: June 6, 2013 18:45 IST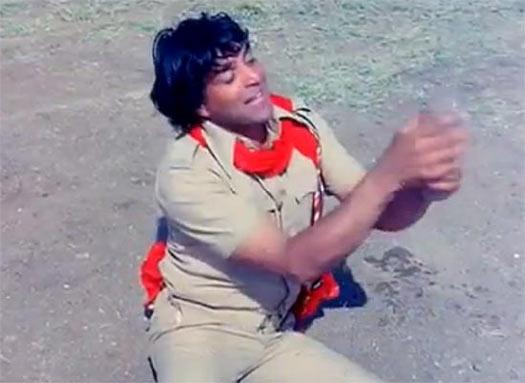 As a Jat truck driver who is compelled to take a deceased police officer's place and train a bunch ofbumbling villagers into daring cops, Pratigya's Dharmenda engages provides ample amusement with his wobbly English 'Left, Rat (right' and 'Lane (line) lagao.'
One of the first lessons he imparts is how to take a perfect aim. But the funny thing is that, though equipped with an automatic gun, the man himself doesn't know the ABCs of shooting.
Ghazab
Last updated on: June 6, 2013 18:45 IST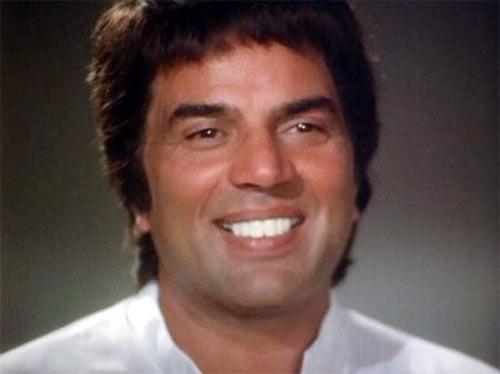 In Ghazab, Dharmendra plays the double role of separated brothers. One's a ghost with the mind of a petulant child while the other's a macho, fearless adult avenging his sibling's brutal murder.
In an otherwise trite drama, it's the spooky, buck-toothed Dharmendra's quaint antics as Munna (whether he's tormenting his potential father-in-law (Asit Sen) or unconsciously terrorising his otherwise brave brother) that ensures Ghazab is mostly watchable.  
Jugnu
Last updated on: June 6, 2013 18:45 IST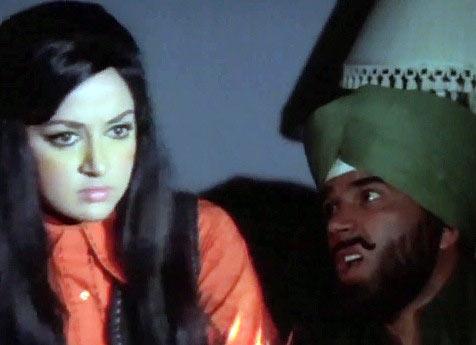 In Pramod Chakravarthy's1973 super hit, Dharmendra plays the proverbial Robin Hood – stealing from the rich to help the needy and poor.
Among its many breezy scenes, there's one in which the actor dressed up as a Sikh electrician reaches Hema Malini's home under the pretext of restoring electricity (that he's slyly cut off earlier) in the pursuit of a suitcase.
The hilarious interactions that ensue -- his droll Punjabi accent, her clueless reactions, are a riot.  
Jeevan Mrityu
Last updated on: June 6, 2013 18:45 IST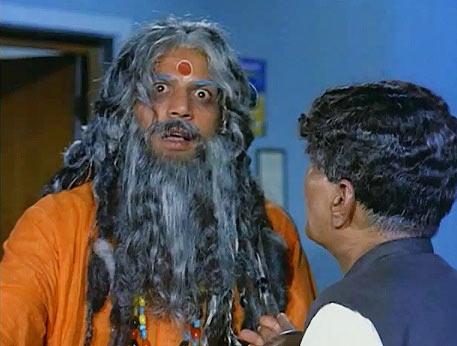 Although a revenge drama, Dharmendra isn't the vicious kind. And so he uses tact and garbs to nab his offenders.
During one such mission, he dresses up like a clairvoyant sadhu and uses his big eyes and animated expressions to dupe the men responsible for wrongly framing him in a case of fraud.
Dharam Veer
Last updated on: June 6, 2013 18:45 IST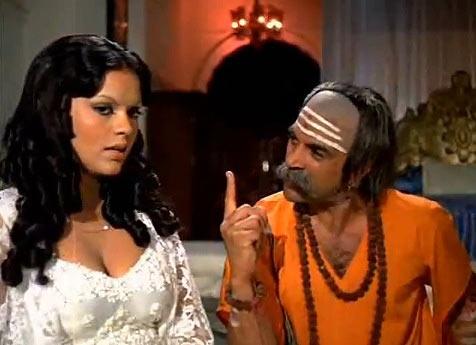 Even when he's not wearing a Roman skirt and flaunting those sculpted thighs, Dharmendra, along with Jeetendra, has a ball in this no-hold barred Manmohan Desai brand of entertainment.
For one scene, Dharmendra dresses up as a mind-reading 'baba' yet again and persuades a voluntarily dim Zeenat Aman how her well-being lies in kissing the ostensibly departed Dharam back to life.
Superman
Last updated on: June 6, 2013 18:45 IST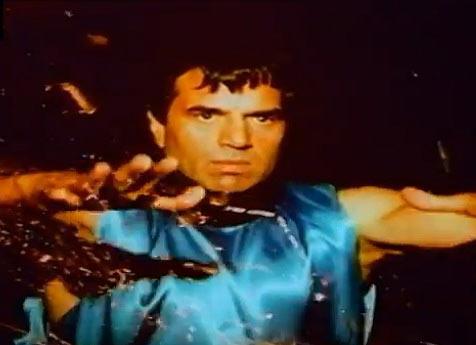 Why this one? For the sheer audacity. Moreover, it's so abominably bad; it's actually howlarious even if you're not under any influence.
In the Superman ripoff starring Puneet Isaar as the titular superhero, Dharmendra plays the desi Jor El. In one of the scenes, he rescues a hijacked plane from crashing by merely gesticulating with his handsand such priceless solemnity, it's a hoot.