Birthday Special: Madhuri Dixit's 47 faces!
Last updated on: May 15, 2014 11:36 IST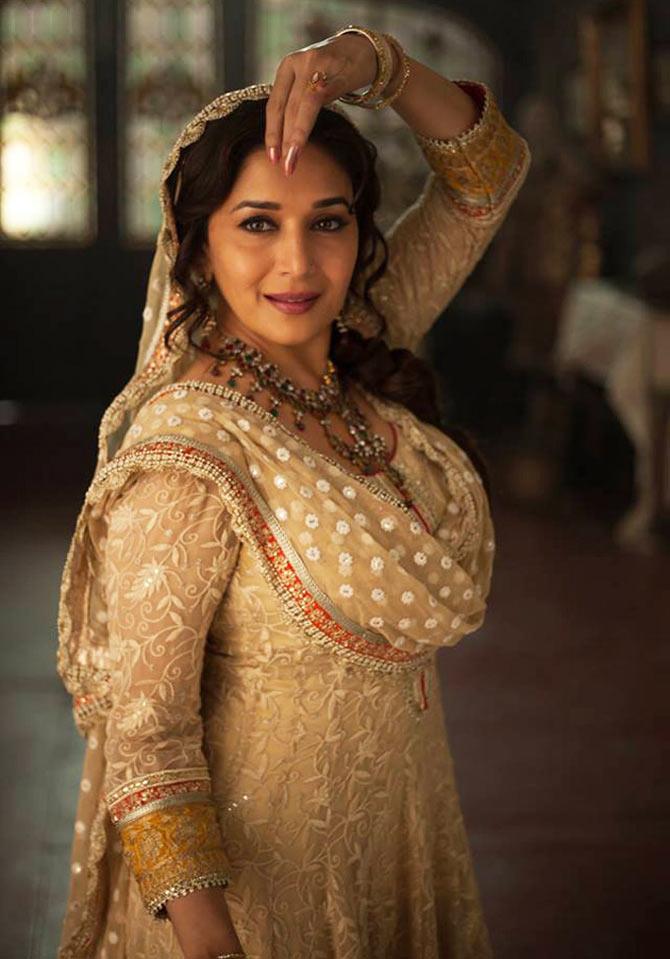 Here's celebrating the gorgeous Madhuri Dixit.
Few can dazzle the screen with a smile as bewitching, a movement as lithe and a charisma as incontestable as Madhuri Dixit.
From the naive newly married in Abodh to the furious feminist of Gulaab Gang, the actress steadily graduated from a promising newcomer to an iconic figure in her three-decades long career. The spell her stunning face, poised dance and persuasive histrionics cast on Bollywood and its followers is far from broken.
The star of Ek Do Teen, Dhak Dhak and Maar Daala turns 47 today, May 15. And what better way to celebrate her special day with 47 memories of her countless looks in the movies?
Take a look.
Dedh Ishqiya
As the luxury-accustomed Begum, Dixit represents the decadent facet of high society in all its superficiality and splendor in an avatar that evokes nostalgia and poetry.
Please click Next to see more.
Gulaab Gang
Last updated on: May 15, 2014 11:36 IST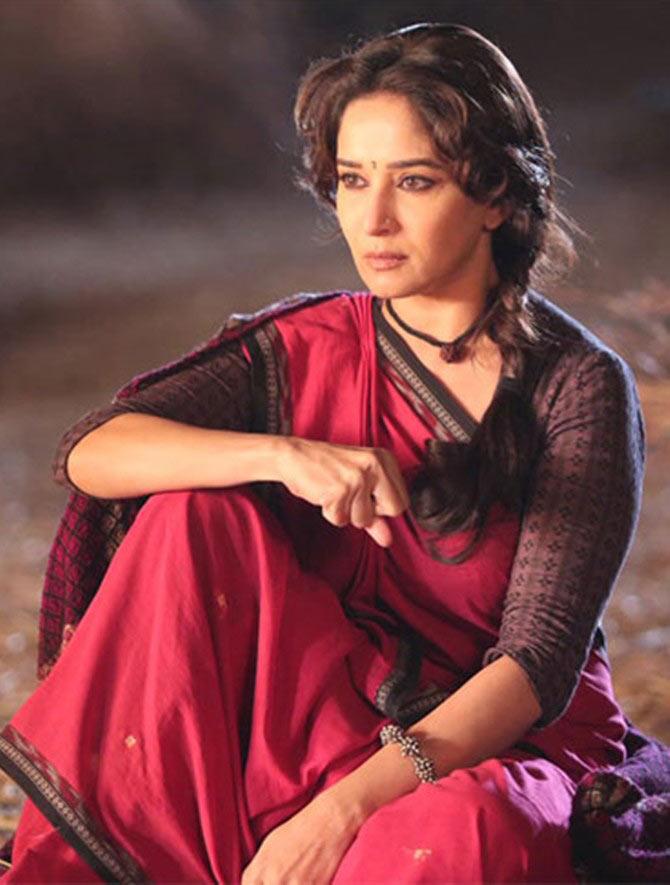 Madhuri drapes herself in a strictly pink wardrobe teamed with striking handloom print blouses to convey girl power and take on Juhi Chawla in the author-backed role of Rajjo.
Devdas
Last updated on: May 15, 2014 11:36 IST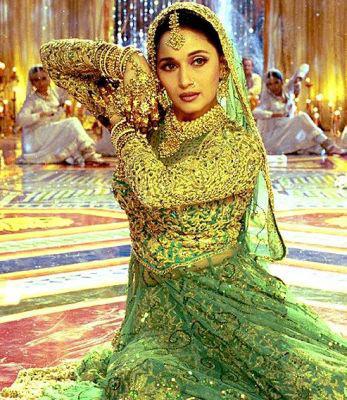 Costumes are the heart of Sanjay Leela Bhansali's cosmetic interpretation of Devdas and Madhuri lends the intricately embellished designs of her wardrobe a real touch of grandeur and sparkle.
Yeh Jawaani Hai Deewani
Last updated on: May 15, 2014 11:36 IST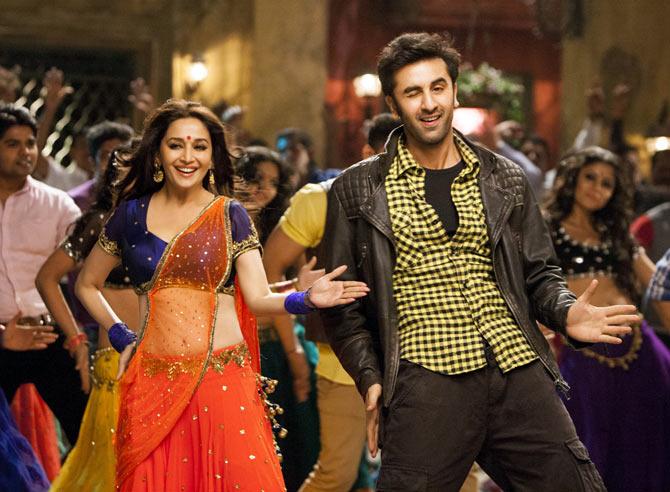 Mads brings the house down in her teasing ghagra alongside a gleeful Ranbir Kapoor to deliver the talked-about item song in Ayan Mukerji's second film, Yeh Jawaani Hai Deewani.
Aaja Nachle
Last updated on: May 15, 2014 11:36 IST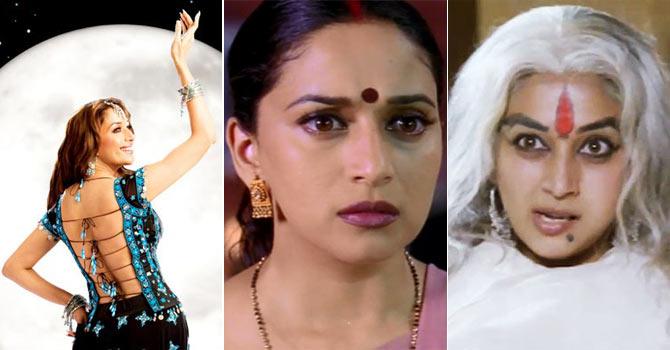 After a long hiatus, Madhuri returned to the big screen with a bang and a befitting invitation, Aaja Nachle in a role designed to showcase her greatest strength -- dance.
Hum Tumhare Hain Sanam
Armed with crepe silk saris, large bindis and a Bollywood essential, mangalsutra, Madhuri signed up to play a soppy, silly housewife to Shah Rukh Khan and BFF to Salman Khan in Hum Tumhare Hain Sanam.
Raja
As the incorrigible prankster and main draw of Raja (starring Sanjay Kapoor in the titular role), Dixit engages in all kinds of inanity.
And one of them involves her turning into an inflated, witchy, white-haired creature.
Yeh Raaste Hain Pyaar Ke
Last updated on: May 15, 2014 11:36 IST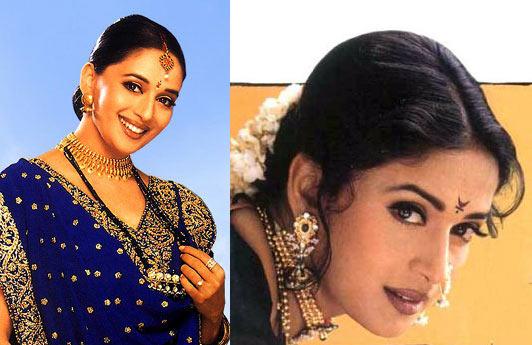 Madhuri demonstrates a typical case of Bollywood-styled amnesia in a melodrama best remembered for her lovely saris designed by Ritu Beri.
Gaja Gamini
Ever the enchantress, Madhuri breathes life into M F Husain's paintings in the indulgent, experimental and cryptic ode to her classic Indian beauty.
Lajja
Last updated on: May 15, 2014 11:36 IST

Rajkumar Santoshi's Lajja explores various issues of crimes against women in his thought-provoking drama where Madhuri's village nautanki star steals the scene with her power-packed intensity.
Pukar

From fun loving to dark to remorseful, Madhuri's character experiences a sea of emotions in Pukar and her changing appearance in the film reflects the difference suitably.
Mohabbat

Even Madhuri's delightful screen presence isn't enough to lure the audiences for this Mohabbat-free fare.
Dil Toh Pagal Hai
Last updated on: May 15, 2014 11:36 IST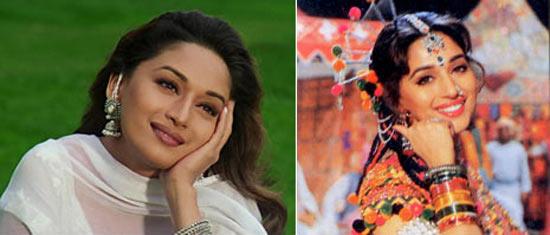 Dreamy styling by Manish Malhotra, unabashed romance Yash Chopra style and a flawless Madhuri Dixit, the actress NEVER looked this good.
Prem Granth

Playing the traumatised village belle in Rajiv Kapoor's Prem Granth didn't enthuse the box office but Madhuri appeared ravishing as ever in her creative costumes and accessories.
Koyla
Last updated on: May 15, 2014 11:36 IST

Despite Madhuri's best efforts to look trendy in a cropped denim shirt and ghagra and her chemistry with Shah Rykh Khan, Rajesh Roshan's Koyla failed to set the box office on fire.
Rajkumar
Rajkumar is a perfect showcase for Madhuri Dixit's underrated attribute as a stylist's dream. The star rocks all sorts of adventurous make-up essaying a princess in this Robin Hood-reminiscent fantasy.
Yaarana
In yet another remake of Sleeping With The Enemy, Madhuri sports a funny blonde wig to stay inconspicuous. Looks like that plan backfired.
Mrityudand
Last updated on: May 15, 2014 11:36 IST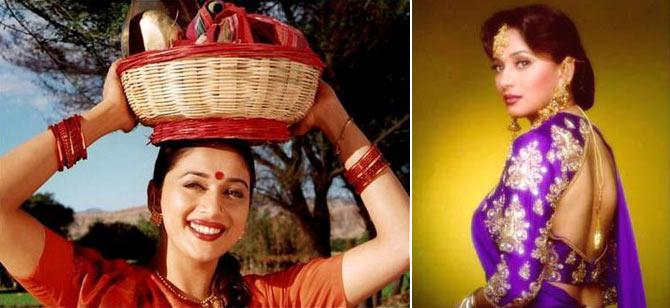 Not many actresses represent the cause of women like Madhuri Dixit.
In the critically acclaimed Mrityudand, she single-handedly takes on the chauvinistic elements of Bihar's rural region with impressive grit and dynamism.
Hum Aapke Hain Koun..!
Madhuri Dixit in a crystal studded purple sari is quite easily the first image that pops in mind at any mention of the biggest hit of her career.
Anjaam
Last updated on: May 15, 2014 11:36 IST

From air hostess to avenging angel, Madhuri goes through bizarre extremities in abundance in the gory revenge drama, Anjaam.
Khal Nayak
Technically, she plays a no-nonsense cop in the Subhash Ghai flick but an enduring image of MD is, obviously, wiggling to Choli Ke Peeche.
Sahibaan
Madhuri plays a sweet pahadi girl in the tradition of Hema Malini in Kudrat and Mandakini in Ram Teri Ganga Maili who catches the fancy of a vile Thakur in this old-fashioned triangle.
Dil Tera Aashiq
Last updated on: May 15, 2014 11:36 IST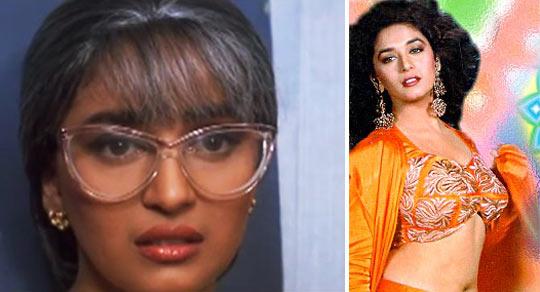 Though the rom-com didn't work, Madhuri is cute as a button in her silver haired bun and vintage glasses juggling between Salman Khan and Anupam Kher's affections.
Beta
Playing the gutsy new bride who responds to her nasty mother-in-law's atrocities in kind, Madhuri slips effortlessly into her character. And even finds time to share her raunchy Dhak Dhak moves.
Saajan
Last updated on: May 15, 2014 11:36 IST

In the musical love triangle co-starring Sanjay Dutt and Salman Khan, Madhuri's poetry smitten avatar is expressed in extravagant song and dance treats.
Dharavi
Playing Om Puri's fantasy (and a million others), Madhuri Dixit, dressed in all red, embodies the ultimate dream come true with her trademark laugh and attractive flirting.
Prem Deewane
Madhuri Dixit takes the role of a serious cop quite seriously in an otherwise not so serious movie called Prem Deewane, which despite its amusing content flopped.
Zindagi Ek Jua
Last updated on: May 15, 2014 11:36 IST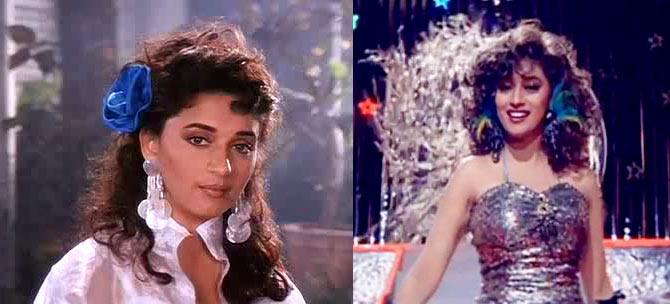 Before she slips into the habit of drugs, Madhuri oozes oomph like only she can to entice her frequent co-star, Anil Kapoor in this desi Scarface.
Khel
And a big shout out for the hottest thing about the movie -- Ms Idlidoo!
Sangeet
Last updated on: May 15, 2014 11:36 IST

Madhuri plays a double role of mother and daughter in the poignant Sangeet. It's her restraint in the senior avatar in what made viewers first realise the extent of her calibre.
100 Days
The whodunit relies on Madhuri's star power and vulnerability to keep us on tenterhooks and no prizes for guessing how well she delivers.
Jamai Raja
Hema Malini's over-the-top, controlling mother is the focus of Jamai Raja's developments but lending it glamour is Madhuri, who plays her equally defiant daughter.
Prahaar
Last updated on: May 15, 2014 11:36 IST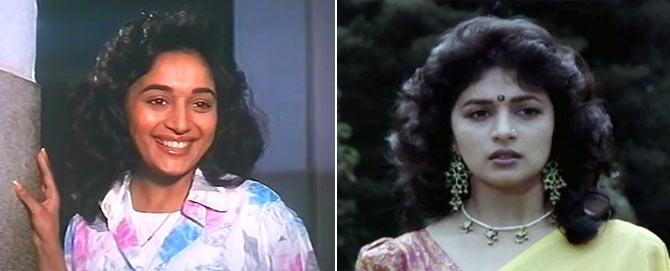 The actress sports a no make-up look to play a bereaved army man's Catholic fiancée in Nana Patekar's hard-hitting Prahaar.
Deewana Mujhsa Nahin
Aamir Khan is part photographer, part stalker whereas Madhuri Dixit his model and muse in this crazy romance best remembered for its breezy title track featuring our lady in a burgundy brocade blouse and yellow chiffon sari.
Kishen Kanhaiya
Last updated on: May 15, 2014 11:36 IST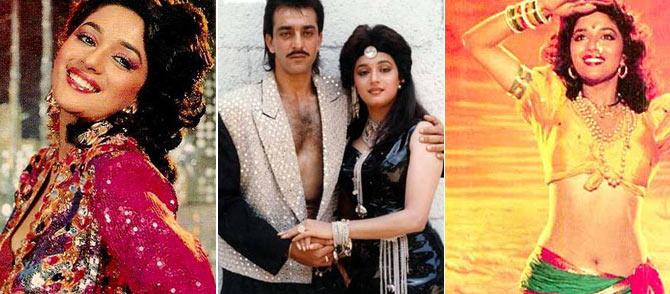 Madhuri and Anil Kapoor play fully filmi fans in Rakesh Roshan's reworking of Ram Aur Shyam. And Madhuri's over-the-top wardrobe reflects that influences amply.
Thanedaar
A non-dancer like Sanjay Dutt too turns dancer in Madhuri's magical company for the hit dance track, Tamma Tamma Loge in Thanedaar.
Sailaab
Madhuri Dixit dons the garb of a sexy koli dancer in one of her most copied avatars of all time for the Sailaab chartbuster, Humko Aaj Kal Hai Intezar.
Dil
Last updated on: May 15, 2014 11:36 IST

The actress pulls off a two pony-tailed look without a fuss to play a college goer constantly sparring with Aamir Khan in Dil.
Parinda
Free of make up, plain white chuirdars, a simple ponytail, Madhuri plays the identifiable girl next door in Vidhu Vinod Chopra's violent drama, Parinda.
Ram Lakhan
Last updated on: May 15, 2014 11:36 IST

Subhash Ghai's heroines are as 'shuddh desi' as they get. And Madhuri fits perfectly in his vision as the demure, desi Radha of Ram Lakhan.
Prem Pratigya
A sari-clad Madhuri won favourable reviews and a Filmfare nomination for her strong performance in Prem Pratigya.
Tridev
She may be of pure ornamental value in the multistarrer but it's quite a treat for Tridev buffs to watch her sashay to the beats of Oye Oye.
Tezaab
Last updated on: May 15, 2014 11:36 IST

When Madhuri Dixit danced to the iconic Ek Do Teen, little did she realise the countdown to her phenomenal success has just begun. The rest, as they say, is history.
Dayavan
Feroz Khan's shabby remake of Mani Ratnam's brilliant Nayakan is best remembered for Madhuri's steamy lip lock with Vinod Khanna.
Uttar Dakshin
Last updated on: May 15, 2014 11:36 IST

A pretty Madhuri teamed up with Jackie Shroff and Rajinikanth in the South versus North face off, Uttar Dakshin.
Swati
As leading lady Meenakshi Seshadri's exuberant stepsister, Madhuri exudes freshness and charm to a supporting character.
Abodh
A teenage Madhuri made her debut as a petulant young bride coming to terms with the concept of marriage and intimacy in Rajshri's Abodh. Lousy make up and traditional saris couldn't conceal the star she was destined to be.