Abhishek: I miss my daughter when I am at work
July 31, 2014 14:56 IST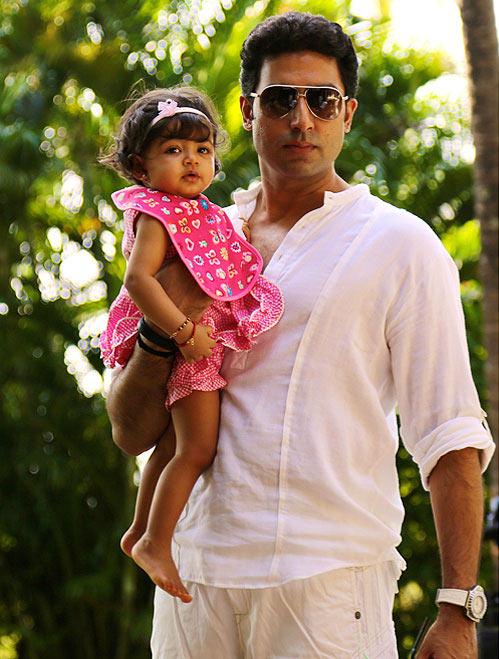 'My connection with Jaipur goes back a long way.'
Abhishek Bachchan on why he bought the Jaipur team franchise in the Pro Kabbadi League.
The Indian Premier League (IPL) for cricket set the trend for celebrities investing in teams in various sports.
While most B-town celebs have invested in cricket teams, Abhishek Bachchan has taken a different route. He has invested in the recently started Pro Kabbadi League.
The 38-year-old actor has bought the Jaipur team franchise. The other seven teams are Mumbai, Delhi, Kolkata, Bangalore, Chennai, Pune and Patna.
Sonil Dedhia caught up with Abhishek at a promotional event to find out more about his interest in the game, and why he would like to do a biopic on the life of Yuvraj Singh.
Did you ever consider investing in other sports that have leagues, like cricket or badminton?
This is the first time I am looking at sports as an entrepreneur and as a business.
The history of kabaddi is fantastic. It has its origin in the Mahabharat.
The director of the Pro Kabbadi League, Charu Sharma, met me and pitched the idea and I really loved it.
It happened all of a sudden but I am glad I took the decision to invest in this sport.
You also have plans to start a similar league for women?
Yes, it is part of the agenda. We have discussed the formation of a Pro Kabbadi League for women in the near future.
Please click Next to see more.
'I found the love of my life Aishwariya while shooting in Jaipur'
July 31, 2014 14:56 IST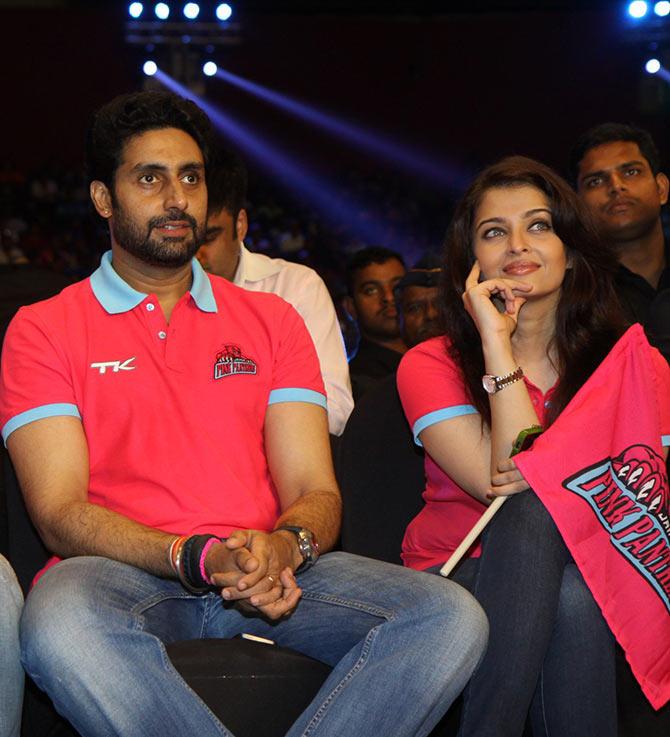 Considering kabbadi is not a popular sport, don't you think this is a risky proposition?
My funda is simple -- no risk no reward.
Why would you want to do anything easy in life?
Risk is the wrong word; rather I would say it is going to be an uphill battle. But I am confident about the people associated with the league.
The likes of Kishore Biyani and Kotak Mahindra have invested in the league. I am pretty confident that our efforts will pay off.
Why buy a team from Jaipur?
My connection with Jaipur goes back a long way. The city holds a special place in my life.
I used to visit the city with my father for his shoots. I came here to shoot for my first film Refugee and then I found the love of my life, Aishwariya, during the shoot there of Umrao Jaan.
I love the people, the food and the colourful markets of Jaipur.
'Shah Rukh Khan would be the perfect choice to do a biopic on Dhyan Chand'
July 31, 2014 14:56 IST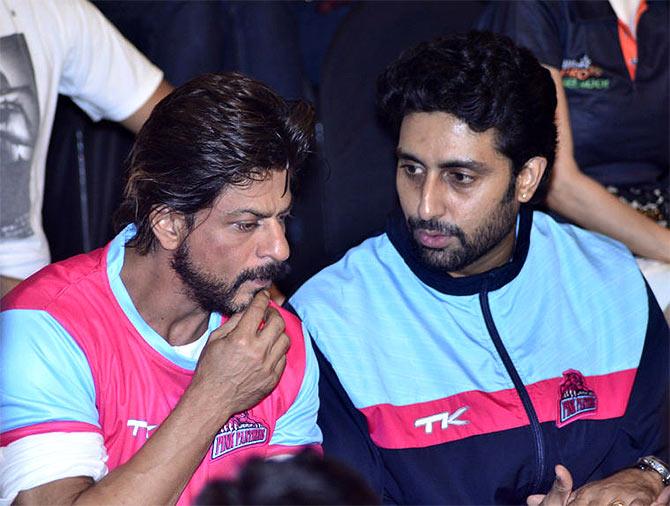 Would you like to make a film on kabbadi?
Not right now. I would first like to formulate some base for the sport. Then I may think about making an entire film on it.
As I mentioned earlier, kabbadi goes back to the Mahabharat days so you can get lots of exciting content. But I would wait and let the sport get a little more popular.
Several biopics are being made on sporting legends. Is there any sport star's life that you would like to enact?
I would have loved to play Kapil Dev, Sunil Gavaskar, M S Dhoni, Sachin Tendulkar or Sourav Ganguly, as they are all legends.
I would love to do a biopic on Yuvraj Singh. I think Yuvraj has had a fantastic life. He is a warrior.
From getting selected in the Indian squad at a young age, being a young superstar, then being dropped from the team, fighting cancer and then coming back, Yuvraj had to struggle a lot but he is a true champion.
Another sportsman whose life will be fantastic on screen is the great hockey player Dhyan Chand.
It is an unbelievable story. I think Shah Rukh Khan would be the perfect choice to do a biopic on Dhyan Chand.
If you check his old photographs, he looks similar. He just needs to change his hairstyle a little bit. I have already told Shah Rukh about it.
'Aishwarya doesn't need help in doing action'
July 31, 2014 14:56 IST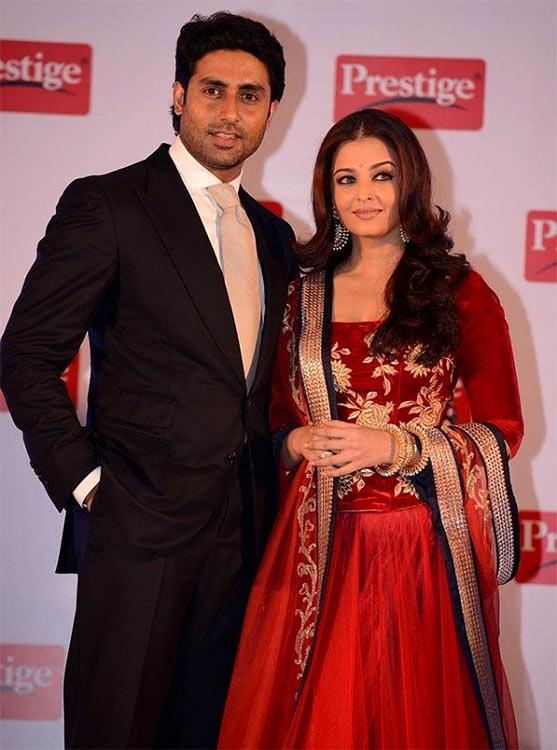 You have a busy schedule. How do you make time for your daughter Aaradhya?
I miss my daughter a lot while I am at work. But today technology is advanced so I often talk to her through Skype and face time.
After finishing this interview, I am heading straight home to play with her.
Aishwarya is making a comeback in Sanjay Gupta's Jazba. She does a lot of action sequences in the film. Will you be helping her with the action?
She did a lot of action in Dhoom 2 so I am sure she doesn't need my help (smiles).