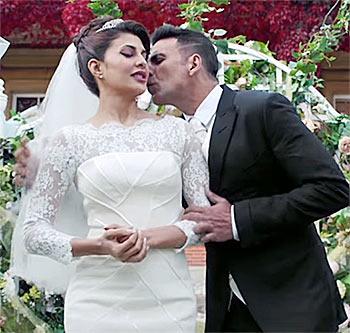 'There are some really great artistes in this country but there are some who are able to appeal to the world. I dream of being something like that.'
'People know that if Rahman Sir is taking you for a song, then you are probably good. It's like a sifarish (recommendation); it's as good as graduating from a nice MBA college.'
'When I am recording a song, if I don't enjoy it, that song will never get approved in my voice. I know when I leave a studio if I haven't done a good job. Earlier it used to be disappointing, like an opportunity lost, but now I accept it.'
Imagine having a dream. Now, imagine living it.
That exactly what 31-year-old singer-composer Nakash Aziz has been doing since the last eight years.
His repertoire includes hit numbers like Pungi (Agent Vinod), Second hand jawaani (Cocktail), Gandi baat (R… Rajkumar), Afghan jalebi (Phantom), Jabra fan (Fan) and, of course, his latest hit, Pyaar ki from Housefull 3.
Like his songs, Nakash likes having fun when faced with typical questions. For example, ask about the projects he had on hand and he will deadpan, "Avatar 2 and Jurrasic Park 6. As composer," before guffawing with gusto.
And then, attempting to give his journey in Bollywood a different spin, he tells Jahnavi Patel/Rediff.com, "Earlier, I used to travel by rickshaw. Then by bike. Then my father bought a car so I used it for travelling, Now, I am travelling to buy the car."
Read on to find out what else Nakash has to say:
What has your journey in Bollywood been like?
I have told this story so many times that I can't say it with the same level of interest any more.
Let me just say it's been fantastic, full of excitement, with lots of ups and downs.
I am sure everyone goes through the same thing so it wasn't different from anybody else's journey; it's just about discovering yourself.

Was it like a dream come true?
Yes, you can say that I am living my dream.
There are some really great artistes in this country but there are some who are able to appeal to the world. I dream of being something like that.
It would be very disappointing if I don't get there so I really want to be that artist who inspires people all across the world.

In your journey, has there been any point when you've been disappointed?
Yes. But I realised whenever there was disappointment, something good followed.
When I was doing a reality show (Indian Idol 2 in 2005), it was heartbreaking to get out before I made it to the top 10. That was a big thing as I would have then made it to the hoardings promoting the show in the entire country. I'd be able to go to parties and award functions.
At that point, I thought it would never happen to me but I was proved wrong.
Video: Nakash Aziz sings a medley of his songs. Video: Afsar Dayatar
When you got to know about Jabra fan, how excited were you considering it was going to be the only song in Fan?
I was stressed. When such opportunities come your way, you don't feel you're ready for it.
It was my first song with (music composers) Vishal-Shekhar. I thought they were making a mistake giving it to me but now I trust them (laughs). I think they are really smart.
I had sung for Shah Rukh earlier in Dilwale (Tukur tukur).
Till then, I had mainly sung duets. I knew if I sang a solo Shah Rukh Khan song, it would change my life.

Did you expect it to become such a big hit?
Not really. I knew it would become popular but I didn't know it would go on to become what it is today. It really surpassed my expectations.
Again, it's about believing in yourself. I never think I am ready for that opportunity till I am put in that situation.
I surprised myself and hope to surprise myself for the rest of my life.

You've assisted A R Rahman for Rockstar, Ranjhanaa, Highway and other films. What have you learnt from him?
I have done very little work with Rahman Sir; it was not that he specifically wanted me for specific projects. There are certain things you need to do for certain music composers; they can't be doing everything. That's how I was able to contribute a little bit.
The best thing about this was that I could watch Rahman Sir working right in front of me, being with people, the way he would make music -- watching all that was very helpful.
You take a lot from just being with great people; their aura is such that they can teach you even when they are not speaking to you.
People know that if Rahman Sir is taking you for a song, then you are probably good. It's like a sifarish (recommendation); it's as good as graduating from a nice MBA college.

When you're nervous before recording a song, what do you think of?
I am always nervous before recording a song or going on stage. Somebody told me it is good to be nervous.
'Don't screw up' -- that's the only thing that goes on in my mind.
IMAGE: Salman Khan in the song 'Selfie Le Le Re' from Bajrangi Bhaijaan
You've sung a variety of songs like Suno Aisha (Aisha), Selfie le le re (Bajrangi Bhaijaan), Dhating naach (Phata Poster Nikhla Hero), Heer toh badi sad hai (Tamasha) and now Pyaar ki (Housefull 3). Do you think you need to be versatile to survive in Bollywood?
You need to be in intelligent. You can sing one genre of songs and still survive in the industry, but you've to be exceptionally good at it.
Many people do tell me, 'You only sing fast numbers. Why don't you sing romantic songs?' The thing is, nobody has tried to make me sing romantic songs expect Rahman Sir (Bekasoor from Lekar Hum Deewana Dil).
If you listen to it, you'll feel it is a beautiful song. When we launched that album, we got a standing ovation. The people in the audience included biggies like Randhir Kapoor and Kareena Kapoor. But Bekasoor went unnoticed.
I don't believe I can't sing slow songs; it's just that it hasn't been recognised yet. If the time right now is for people to listen to fast songs, so be it.

Do you fear being categorised?
I am already categorised so there's no fear at all.
Earlier, it used to worry me. People are not doing what I am doing. I believe that many people would want to be in the place I am at today. I feel really lucky and fortunate.
It's God's blessings that I get songs which, wherever I go, people want dance to. That's why I love being categorised.
To what extent do lyrics matter in a song?
For me, lyrics are very important because that's my reference in terms of emoting a song. If it's a fast song and there are some words that don't go with the tune, I won't be able to emote it ever.
You might wonder what kind of lyrics the kind of songs I sing have, but every song has its own story. Every song is trying to convey something.
These songs are hits because the lyrics and melody gell so well; that's why I am able to emote the song.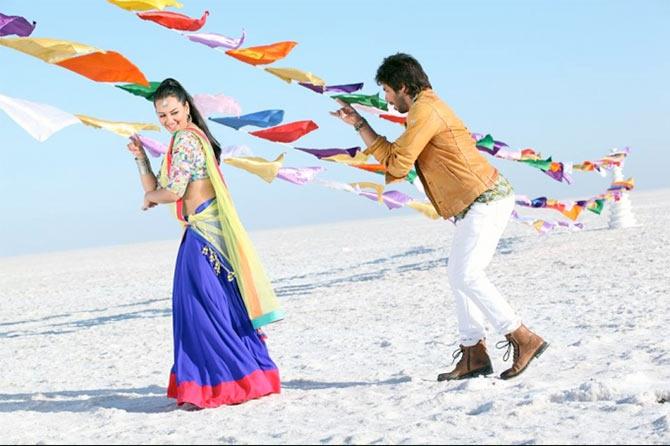 IMAGE: Sonakshi Sinha and Shahid Kapoor in the song 'Saree Ke Fall Sa' from R... Rajkumar
You just said every song has its own story. Do you connect emotionally with your songs?
When I am recording a song, I try to feel it as much as possible.
I might not listen to the same song again but, because I perform it so much, I don't need to.
The first time I sang Saree ke fall sa (R... Rajkumar) on stage, I found it very weird because it sounded like the original; I felt I was listening to a CD. It was also weird because, before that, I used to sing somebody else's songs.
When I am recording a song, if I don't enjoy it, that song will never get approved in my voice. I know when I leave a studio if I haven't done a good job. Earlier it used to be disappointing, like an opportunity lost, but now I accept it.
Whatever songs I have sung now, I have really, really got into the skin of the song.

Do you think that's important?
For me, it is.
I cannot take it as a job where I go and mould myself in a certain way, apply a formula and sing. I try to feel it as much as possible.
It's difficult to feel fast songs but you have to understand where the director and music director are coming from because singing is like acting; you are performing a song.

You've sung for films in the south as well; is it because you don't want to limit yourself to Bollywood?
No, it's just that I got an opportunity and I never say no to an opportunity. I never say no to any kind of work that is offered to me.
I am open to doing anything; I would like to try everything in music. That will tell me where I stand in terms of my ability so I am always trying to push myself in music at least. Otherwise, I am a very lazy guy.

You've not composed many songs. Why?
When it comes to composing, I really want to maintain my style. I feel that, in today's times -- I know people will hate me for saying this -- music is a little generic. There's a romantic song, a fast song, a daaru wala song, an item song... the other songs, which are situation-based, kind of get lost.
I don't want to change my composing style; whoever likes it will work with me.
I am quite particular about my composing; I don't want to hamper it in any way. I like what I do.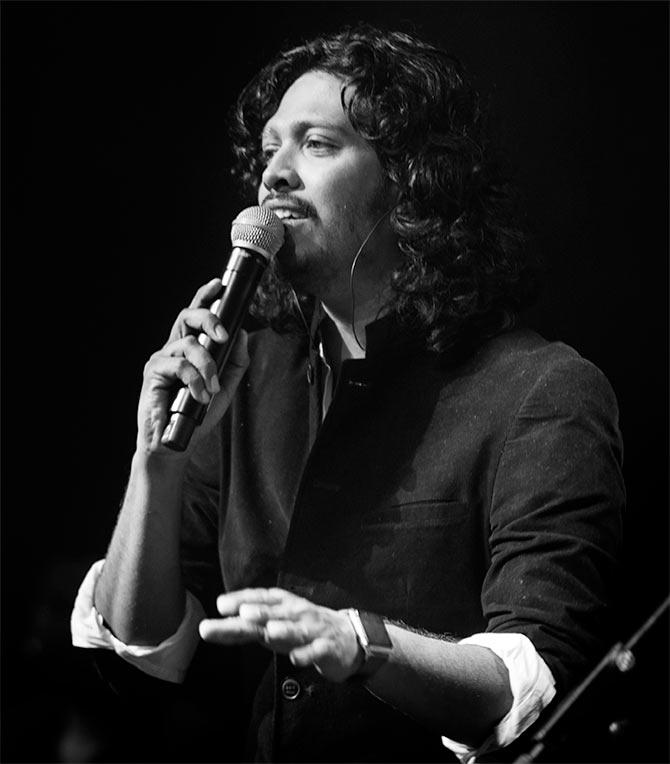 IMAGE: Nakash Aziz

Over the years, composing for Bollywood has evolved from lyrics to the music. Your comment?
Change is inevitable; we change everyday so it's only natural that music will change too.
Everything changes; you have to know how to accept change and work according to it.

In the earlier decades, the singers dominated; now, with every new project, there are new singers.
It's good actually. It shows that our country is very rich in talent.
What I don't like is that many of the singers just come and go. There are a few like Benny Dayal, Arijit Singh and Divya Kumar who have been there and are doing good work. That is what I would want to do… have a long career.
It's not about having too many songs; it's about having the right amount of songs.
I have been singing for the past seven or eight years in Bollywood and I have had two hits every year. That has taken care of my career and shows and given me the satisfaction that I did two songs and both did well.
Do you think the competition is intensifying?
I can only compete with myself because, if I try to be like someone, I will fail miserably because they are good at being themselves.
I cannot be like someone, but I can definitely improve myself.

Is there any actor or director on your wish list?
The world is on my wish list, so it will be very unfair to name just one or two people.
I want to collaborate with great artists, great minds; that person could be somebody who hasn't even started doing Bollywood because I have seen such amazing talent.
One thing that I would have loved to do is meet Michael Jackson and do something with him but, sadly, he is no more.
I would love to meet Will.I.Am. They are human beings and I believe they're approachable. If I want it badly enough, it will happen.

From the new lot, who is your favourite music composer?
I love Tanishk Bagchi (Tanu Weds Manu Returns), he is my jaan. I really like his melodies.
Amaal Mallik is very hardworking. He is very focused and clear and that is what I like about him.

Anyone from the industry who has inspired you?
Yes. Pritam Chakraborty, Sonu Nigam, Shaan, Kanika Kapoor...

You're coming up with an album…
Like I told you, I want to do the kind of music that I enjoy and I think is good. Of course I want it to be appreciated by everyone but it's totally my take.
It's just like life... you have problems, highs and lows; that's how the process of making this album has been.
I don't want any stone to be left unturned. When I look back at this particular project 10 years down the line, I shouldn't feel like I shouldn't have done it.

Is it based or on your life?
No, it's just based on the things that have inspired me and how I felt at that moment.
I don't really push myself to sit down and work on it whenever I can but, because I love doing it, that just happens. There's just no stopping myself.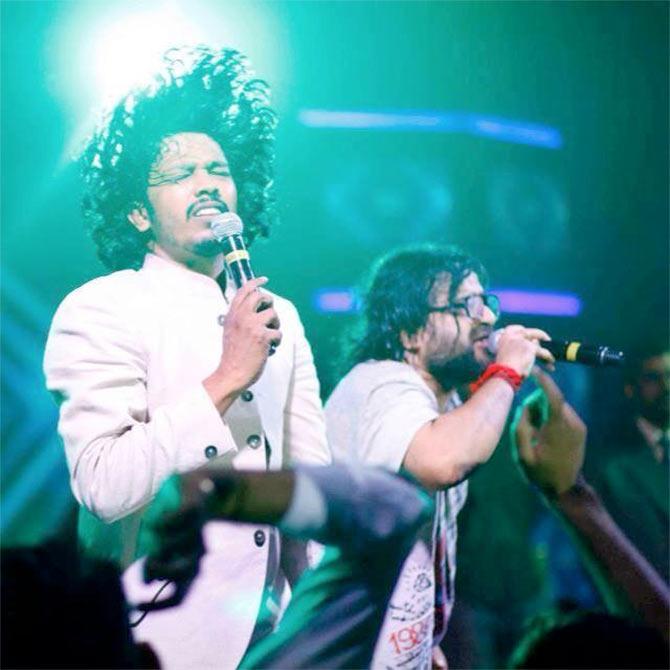 IMAGE: Nakash Aziz and Pritam. Photograph: Nakash Aziz/Facebook
Do you like performing live?
I love performing live; it gives me a different high.
Before I go on stage, I am very nervous but, after the first song, it's all great.

If you had to choose from the songs you have sung, which one is your favourite?
One song I really enjoyed singing was Fatafati from Barfi! I can now say with immense pride that I shared that song with Arijit, who I think, is a phenomenal artiste.