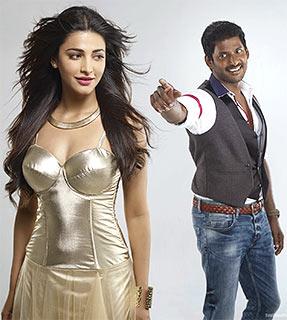 Hari Gopalakrishnan is a name synonymous with commercially-driven, fast-paced entertainers. Hari started his career as a director with the film Tamizh in 2002.
In a career spanning over a decade, he has given numerous hits like Saamy, Ayya, Vel and the more recently, Singam and Singam II starring Suriya.
His latest film, Poojai featuring Vishal and Shruti Haasan is all set to hit the screens this Diwali.
Produced by Vishal under his home banner, Vishal Film Factory, the film has music by Yuvan Shankar Raja.
Hari and Vishal worked together in the hugely successful Thamirabharani, which released in 2007.
In this candid chat with rediff.com, director Hari Gopalakrishnan opens up on his style of filmmaking, working with Vishal and his thoughts on competing with Kaththi this Diwali.
In the behind-the-scenes show of Poojai, you seem to be intensely coaching all your actors...
As a director, even while working on the script, I know exactly how the film is going to pan out.
Most actors understand their characters and know what is expected from them. But just as an additional support, I explain to them how I visualise the scene. This makes it easy on everyone.
That is not to say that we do not improvise during the making of the film, or that I am too rigid. Discussions go on continuously until the very end; sometimes we make important changes even during the dubbing stage.
I remember making a significant change during the making of Singham. Suriya, who was in the US at that time, dubbed the scene and sent the recording via phone. The dialogue went on to become very popular.
I have a clear-cut idea about the overall tone and style of the film even while I am penning the script.
Do you decide who will play the characters while writing the script?
As far as the principal characters are concerned, I make no compromises.
Vishal was in it from the beginning.
But I was also determined to get Sathyaraj and Raadhika. Both essay significant roles in the film. I personally met them to get their consent.
Most of the supporting cast is handled by the production team. We usually give them a couple of choices and they handle it.
Did you approach yesteryear actress Rekha about a role in the film?
We did discuss getting Rekha for a particular role. The production house made an attempt to contact her, but things did not work out.
Though she definitely would have added value to the film, the role was too small for it to be feasible.
You have chosen a whole lot of older actresses...
We have eight heroines and six directors as part of the cast. Besides Shruti, who plays the female lead, we have Raadhika, Kausalya, Sithara, Abhinaya, Andrea, Renuka and Shanti Priya.
Among the directors, there is R Sundarrajan, Prathap Pothen, Senthilnathan, and Manobala.
All the characters are totally justified, with well-defined roles.
Is the antagonist in the film a Bhojpuri actor?
Since a part of the film was shot in Bihar, we wanted some authentic actors, who would fit the part.
We were looking for Bhojpuri actors, when we heard of Awadhesh Mishra. He is a well known face in Bihar and has worked in several films in a negative role.
He has given a great performance in the film.
How much do people in Bihar know about Tamil cinema?
In Bihar I went to the meet the current Arts and Culture Minister, Vinay Bihari, regarding some permission needed for a shoot. I was introduced to him as the director of Singham and to my great surprise, he immediately got up and gave me a warm hug.
Since the film has been remade in Hindi, many in the North have also seen it. I am not saying that I was recognised as Hari, the director, but my film is definitely known to them.
In fact, the minister expressed a desire to work in my film! We needed someone to play a collector, and he immediately agreed to work with us.
Today, Singham is not just a Tamil, Telugu or Hindi film; it is a brand.
Tell us about Vishal…
It is now seven years since we worked together. This time he is also my producer. Initially I was worried about how this would work, but everything went off very smoothly.
Vishal was extremely cooperative, he made sure we got whatever we needed. He is very meticulous, and every single thing was planned well in advance, making it a very hassle-free shoot.
I would say he is the perfect producer.
How did Vishal injure his finger and fracture his hand during the shoot?
Vishal puts in a lot of effort to make sure every scene is perfect. He is very particular about the action sequences and takes a lot of risks.
During one scene, he tore his finger on a metal sheet and needed 16 stitches. But within 30 minutes, we resumed shooting. He is a very dedicated actor.
Later, while shooting in Karaikudi, he suffered a slight fracture. We continued with the shoot after a short break.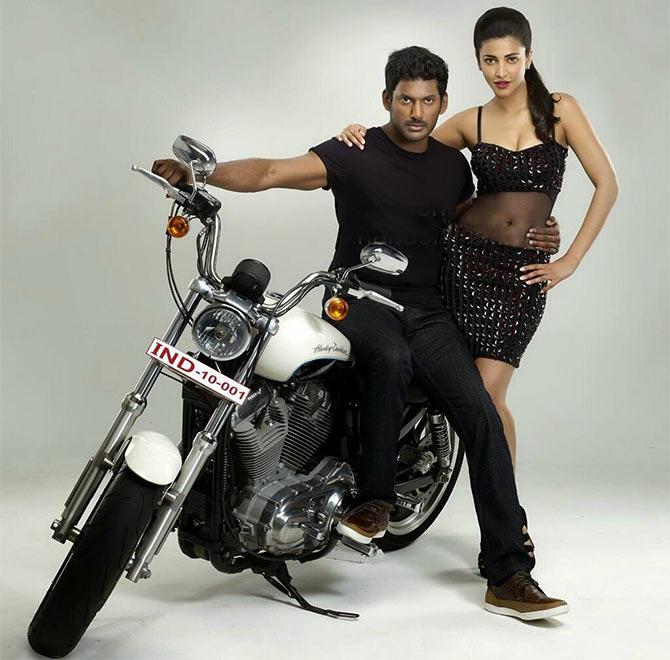 Did you chose Shruti Haasan because you wanted someone who is also recognised in the Telugu film industry?
Not at all. We were looking for someone with a totally modern look and she fit the character perfectly.
It has been a while since she has worked in a Tamil film, so she readily agreed.
Whatever the critics say, you always seem to have the last laugh as most of your films have been hits. How does it feel?
However big a hit a film turns out to be, not everyone is going to like it.
There will always be people who love the film, those who absolutely hate it and some who enjoy certain aspects of the film.
I learn something from every response, be it positive or negative. If possible, I try to avoid certain aspects that have not been received so well.
I agree I make commercial films so some elements are unavoidable. But I do try to make it as logical and reasonable as possible.
To be honest, I prefer people who say they don't like the film. We then end up having a healthy argument and come up with a better idea. It is no fun when people simply say they like the film.
I always like to understand the reasons for people's likes and dislikes.
How do you feel about competing with A R Murugadoss's Kaththi?
This is how it has always been. Several big names prefer to have their films released during festive occasions.
Even otherwise, my films have always competed with some of the best.
I am glad my film is releasing alongside an important film like Kaththi. I think it will work better this way. People will end up watching both the films.