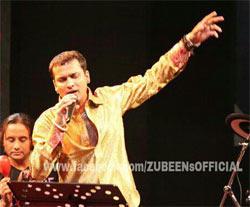 Wherever he performs in Assam, noted singer Zubeen Garg draws a huge crowd. He has a huge fan following and the colourful way he carries himself on stage delights his fans particularly those of the younger generation.

In his 20-year music career, Zubeen has sung some 15,000 songs, and with Ya Ali… from the film Gangster, carved a niche for himself in Bollywood and earned a Filmfare nomination in 2007.

The versatile singer also sings both modern Assamese songs and folk tunes from his land of blue hills and red river (the Brahmaputra).

But this Rongali Bihu or Bohag Bihu (the popular Spring festival in Assam) was different for Zubeen. He drew in the crowds for the Bihu programmes as usual, but the outlawed United Liberation Front of Assam (ULFA) led by its fugitive commander-in-chief Paresh Barua was not among his fans.

In fact, Zubeen is on ULFA's black list for openly defying its diktat that Hindi songs and movie dances must not be performed on Bihu.

ULFA decreed that Hindi culture from 'colonial India' must not be allowed to invade Rongali Bihu programmes which should showcase only the colourful ethnic culture of various indigenous communities from Assam and other parts of the Northeast.

Most singers and dancers in Assam were apparently cowed down by the ULFA diktat but Zubeen Garg ignored it and sang Hindi songs at the Bihu functions.
Bihu is celebrated in Assam with much pomp and grandeur for about a month from April 15 and it gives a great opportunity to popular artistes and singers to interact and perform before their fans all over the State.
Zubeen argues that "Hindi is a national language and I love it and I will sing Hindi songs. No organisation can dictate what an artiste should sing. I don't understand ULFA's argument for not allowing Hindi songs to be performed in Bihu functions.
ULFA should instead encourage those talented singers from Assam who have been able to make a mark outside the State."
The faction of ULFA that is against holding talks to resolve the region's problems has warned Garg that he will have to face the consequences if he continues to promote Hindi movie songs in Assam.
In a statement e-mailed to the media, ULFA (anti-talks faction) said that it has taken strong exception to Zubeen Garg performing Hindi movie songs in a prominent Bihu function in the heart of Guwahati and from now on will consider him as the ambassador of 'culture from colonial India'.
The ULFA stated that Garg's action was uncalled for as all the other artistes in Assam refrained from performing Hindi songs this Bihu in deference to ULFA's diktat.
"Hindi is not a national language but the official language of the Union," ULFA said in reply to Garg's argument. It also referred to the "landmark judgement of the Gujarat High Court in 2010 wherein it was stated that 'There is no national language in India.'"
ULFA pointed out that it has not yet banned Hindi language in Assam, but it wants to restrict the performance of Hindi songs in Bihu functions to ensure traditional folk culture gets prominence during Bihu functions.
In a welcome show of solidarity several musicians and artistes from the state have not only stood firmly behind the singer but have also condemned the militant outfit.
Noted filmmaker from Assam, now based in Mumbai, Jahnu Barua, said that music appeals to all irrespective of the language and a singer should be given the liberty to sing in the language of his choice.
Barua, who has made several Hindi films, including Maine Gandhi Ko Nahin Mara, has asked ULFA to learn to respect culture. "Culture and music have no language barriers. It is by way of cultural exchange that human civilisation has emerged. One should also learn to pick up good things from others' culture," he said.
Assam Chief Minister Tarun Gogoi congratulated Garg for taking a stand against the militants and said ULFA's influence was waning and nobody in the state was bothered about them. "Colossal musician late Bhupen Hazarika too sang Hindi songs in Bihu functions. But did that harm Assamese culture?" Gogoi asked.
Noted singer Pulak Banerji said what songs an artist chooses to sing is up to him or her. "Nobody has the right to curtail this right of a creative person or dictate terms," he said.
"If somebody sings a third-rate vulgar song then we will all condemn him or her. But what Zubeen has sung is his own creation, and one that has earned him fame across the country," said singer Shanta Uzir referring to Ya Ali that has been popular across the country for several years.
Another popular singer, Manas Robin, upheld the right of the people of Assam to listen to Hindi songs. "This attitude of the ULFA is criminal. They are infringing upon the basic rights of a creative person. Moreover, just as a singer has every right to sing in any language, so do people to listen to songs in Hindi and other languages," he said.
Self-professed guardians of Indian culture in other parts of the country, who similarly seek to curtail artistic freedom, should be confronted in a similar way.