Two new shows will replace Kaun Banega Crorepati on Sony Entertainment Television: Dekha Ek Khwaab and Parvarish.

Dekha Ek Khwaab is the story of an ordinary girl called Monica, played by Priyal Gor, who suddenly discovers she is a princess of the royal family of Devgarh.

Aruna Irani, who plays Rajmata Mrinalini Devi in the serial, says: "It's a big responsibility to match the TRPs of KBC. When KBC was running on Star TV and when it went off air, my show Des Mein Nikla Hoga Chand replaced it and the title started with D and it did well. This time also, KBC is wrapping up and our show Dekha Ek Khwaab, which again starts with a 'D', is replacing it."

Aruna has been acting in television for 12 years now and says she is happy with the kind of roles she is getting. "In the past, movies were all about big families and uncles, aunts, brothers and sisters were important characters. We all used to fit into some role or the other. But now things have changed and so has the concept. Now we are getting better roles in TV and we are happier here."
The actress will launch another production venture on Zee Television in December.
The other serial Parvarish is largely about parenting. Shweta Tiwari and Rupa Ganguly play two mothers, Sweety Ahluwalia and Pinky Ahuja, who are sisters and who try to rival each other to be a better parent.
In this interview with Rajul Hegde, Shweta Tiwari tells us more about the serial and how it relates to her life.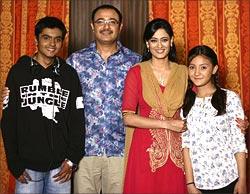 Your new show is about parenting. How challenging is it in your real life?
Being a single working mother is a huge challenge. I have to thank my mother who takes care of the household chores. My daughter is 10 but tall for her age and I'm concerned about how she dresses and carries herself. I encourage her to wear pajamas and track pants and not shorts. I tell her that her skin will get tanned if she wears shorts and it works!
I have to wear all kinds of dresses when I am working. But I am dressed appropriately when I am at home. There was a time when I used to be very careless about things, like I would leave everything on the table. But when I saw my daughter picking up my habits, I changed.
Do you follow Bigg Boss?
No. I had not watched any season of Bigg Boss before the show because I didn't find anything interesting in it. I went into the house because the money they offered was huge.
From my own experience, I can say that they only show the negative things that happen inside. Every evening, in the last season, we used to play kho-kho and have lots of fun but all they showed were the fights and hatred.
You are playing a mother with kids in your new show. Will it get in the way of your career as an item girl?
I have no intention of being an 'item girl'. My Katto gilehri act in Miley Na Miley Hum was part of my role. Not many people saw the film so most of them felt that I had done an item number. I don't have anything against item numbers but I will not put my life on hold for the sake of it.
Similarly, I am not obsessed about doing only films. As a TV actor, I am more famous than most film actors. I will not sit at home hoping for a film to come my way. I am not very choosy about doing films. I don't ask which banner is making the film; all I need is that the role should excite me.