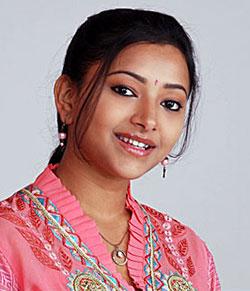 'I want to know what grave crime I committed, and why a section of the media was having so much fun at my expense,' says a livid Shweta Basu Prasad.
There was no businessman, no politician in my room when the raid happened... I dare anyone to prove I made those comments about being forced into prostitution that were attributed to me," says the very articulate Shweta Basu Prasad.
The actress, who was released from a rescue home where she spent two months after an over-sensationalised raid in a posh hotel in Hyderabad, rubbishes the quotes that were attributed to her after her arrest.
In the statement that was extensively circulated, Shweta was quoted as saying, 'I have made wrong choices in my career and I was out of money. I had to support my family and some other good causes. All the doors were closed and some people encouraged me to get into prostitution to earn money. I was helpless and, with no option left to choose, I got involved in this act. I'm not the only one who faced this problem, and there are several other heroines who have gone through this phase.'
Shweta says she never commented on this issue.
"Quotes were concocted on my behalf and circulated everywhere, on every channel, in every newspaper and on all the websites. How could I say anything when I was not around? I was in custody. I wasn't even allowed to speak to my parents, how would I speak to the media?" she asks.
Shweta's legal team has tracked down a leading newspaper in Hyderabad as the source of origin of the concerned quotes, and the actress promises stringent legal action against the publication.
"This made-up melodramatic statement has damaged my reputation. It suggests that I made a comment on other actresses and their lifestyle. Why would I do that? And why would I say that doors were shut on me? Cinema has been my life from the age of 10. It is my identity. I'd never defame the industry. And why would it disown me?" Shweta asks.
The actress says she has no complaints against the film fraternity.
"I have friends in the film industry," she says. "I am well-connected. I had been auditioning for roles even when this (the arrest) happened. I have spent three-and-a-half years making a documentary on Hindustani classical music. I turned down roles after my first Tamil film as a leading lady was a hit because I wanted to focus on my documentary. Now that it's in post-production, I want to concentrate on my acting career. So which doors were closed? Such shallow emotions and vocabulary! Any sane person would have seen it's made up. I can't understand how it was used everywhere as my statement."
Another report in a leading paper says Shweta was let out of the rescue home because her life was in danger. The report quotes a source as saying, 'Clearly, the people involved in this 'business' are extremely influential. They are worried that if she is in the remand home for too long, out of their reach, she might reveal their names and put them in trouble. If she is outside, they may be able to prevail upon her to keep mum.'
Laughing at the above report Shweta says, "Who are these sources talking about my life being in danger? Can we tone down the theatrics? And what names would I spill? When I was arrested and detained for interrogation, the police asked me the names of Tollywood actresses who might be involved. I didn't even know many of their names. Why should I make comments on other actresses?"
Shweta is ready to plunge into her acting career again.
"I want to move on now," she says. "My parents have suffered enough. I want to know what grave crime I committed, and why a section of the media was having so much fun at my expense. We, as a nation, enjoy watching (people) suffering. We are a sadistic people. I want to ask the journalist who made up this statement: how much do you know about me and my family?"