'If we manage to transform even one homophobic person, that will be a victory for the film.'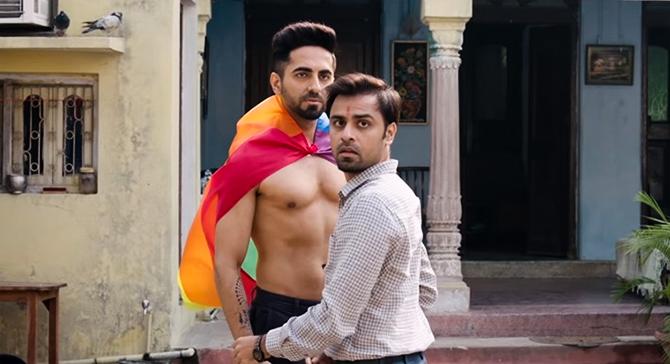 There are all kinds of movies in Ayushmann Khurrana's varied filmography, but the National Award-winning actor now hopes to do an out-and-out action thriller, Rohit Shetty style.
The actor has made a name for himself with quirky stories set in small town India and in his latest Shubh Mangal Zyada Saavdhan, he plays a gay character.
A crowded release calendar notwithstanding, the actor said he will go wherever an interesting script takes him as he does not believe in dos and don'ts.
"Engaging people for two hours in a theatre is most important. It could be a vanilla subject but it'll work if the film works as a whole. Right now, I'm looking for an action thriller. I'd love to work with Rohit Shetty though it's a completely different zone for me," Ayushmann tells PTI.
The actor has been on a golden run that started with 2017's Bareilly Ki Barfi to his last release Bala, but there has not been enough time to pause and process.
"I live in the present but my eyes are always on the future. I'm just thinking what's next and I'm always excited," he says.
"The kind of subjects I'm getting these days, they're incredible. I've this FOMO (fear of missing out), I want to be the first one to do a particular subject. This fear always makes me reach out for newer subjects."
It is not always that good scripts come one's way, sometimes one has to stick their neck out and seek out movies that matter, said Ayushmann citing the example of Sriram Raghavan's Andhadhun -- for which he earned a National Award -- and Anubhav Sinha's Article 15.
"There should be no shame in asking for work, for films, even if you are an established actor who wants to work with a film-maker on a particular subject," he says.
The actor's hunger for interesting films made him 'say yes instantly' to Shubh Mangal Zyada Saavdhan.
A follow-up to the actor's 2017 hit Shubh Mangal Savdhaan, the film is one of the few which explore same-sex relationships in mainstream Hindi cinema.
Ayushmann looks at the film as an 'induction to homosexuality for the masses' and not so much a gay love story.
"We aren't delving so much in what's happening between the two (men), it's the reaction of the family when they come to know that their son is gay. But this treatment was important because it's the first step. We can't directly climb on the 10th step because people are still jittery about the subject," he says.
Backed by Aanand L Rai, the film is directed by Hitesh Kewalya.
Ayushmann said the tone of the film is intentionally over the top.
"People should come for entertainment and leave with a message. If we manage to transform even one homophobic person, that will be a victory for the film."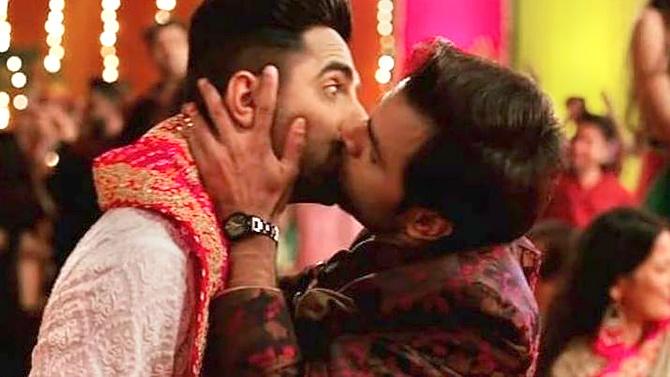 Representation of homosexuality in Bollywood films has often been criticised for being a caricature, rarely sensitive and mostly played for laughs.
The 35 year old recognises that and said the team was clear they did not want to make being gay a caricature.
"It was a big no. We have seen stereotypical gay characters on screen, most of them are sidekicks, playing heroine's best friend. In this film, they are the protagonists. My character is confident about his sexuality and doesn't care what society thinks, while the other character is in the closet and scared. We have shown both sides."
The makers found it tough to cast an actor opposite Ayushmann until they zeroed in on Jitendra.
Ayushmann said it wasn't because the other actors were reluctant to play a homosexual on screen but because his role was more "heroic."
"I think my lines were more flamboyant. The character has bold dialogues, is the one shouting from the building wearing a Superman cape. My character is more heroic, so probably that could be a reason. But I feel the other character has a better arc. He is closeted, fights the family and comes out in the open. If I was not seven films old, I would have done the other character," he says.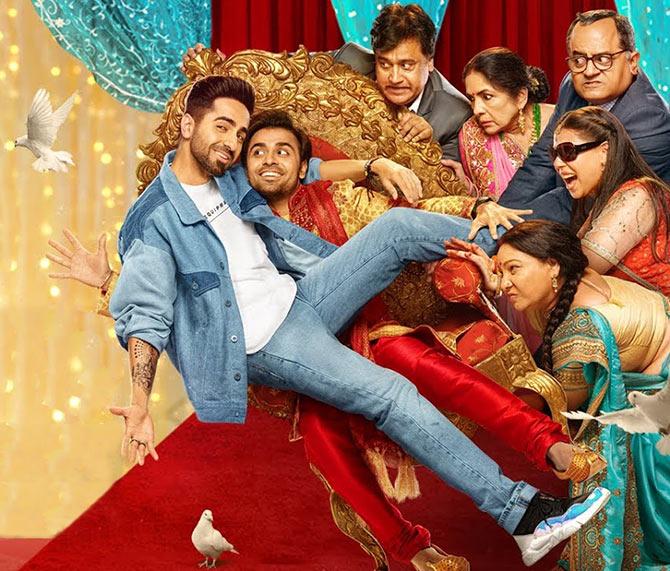 The 'other' character, meanwhile is played by Jitendra Kumar.
Choosing the right moment to take a leap of faith from the comfort of easy money he earned by teaching physics to acting was the real struggle for the actor.
An IIT-Kharagpur graduate, Jitendra wanted to be an aeronautical engineer. He failed to make the cut and settled for civil engineering but his heart was somewhere else.
"I wanted to be an aeronautical engineer, but I didn't get a good rank, so I got civil engineering. That's where I lost interest in studies. If you're not excited for the field of engineering that you have, you can't be a good engineer," the actor said.
"Kyun pull giraaoon main? (Why should I build a bridge that could collapse anytime?) That's more dangerous," he quipped.
That's when acting happened.
He joined online channel The Viral Fever in 2012 and taught physics to support himself financially.
In TVF, he became popular with his parody of Delhi Chief Minister Arvind Kejirwal, Jitu bhaiyya in Kota Factory and Gittu in Permanent Roommates.
"I knew I can teach physics well, so earning money from tuition was no struggle. The struggle was to earn money through acting. It was in figuring out the point when you are confident enough to leave the job that pays easy money for the job you love. Then the struggle was to get a serious acting gig to be able to completely sustain myself on it," he says.
Pitchers, which came in 2015, was the first time Jitendra earned enough money to pay off his bills and he never looked back.
In Shubh Mangal Zyada Saavdhan, his character Aman has come out of the closet for his partner Kartik, played by Ayushmann, but does not know how to open up to his conservative family.
"He is open to his partner. Sometimes, the viewer will feel he is quite dominating in his relationship. But when it comes to his family, he doesn't know how to get through them. That probably has to do with the environment at home, knowing his father is a conservative man. So he knows his father won't accept their relationship that easily," he explains.
There's much ado about his kissing scene with Ayushmann in the film.
The actor believes that initially, it may come as a shock for some but when the sequence will come along with the story, the viewer will feel the romance.
"When people first saw a couple of opposite genders kiss on screen, there was a lot of controversy, like it happened during Raja Hindustani all those years ago. Whenever the scene used to come on TV, somebody would cough, mummy would get up and go into kitchen, etc. It used to be quite awkward.
"Now people can watch that long kiss with parents. So things gradually changed. With time, it became normal. This is the first step. I hope they'll realise this is just another kiss," he says.