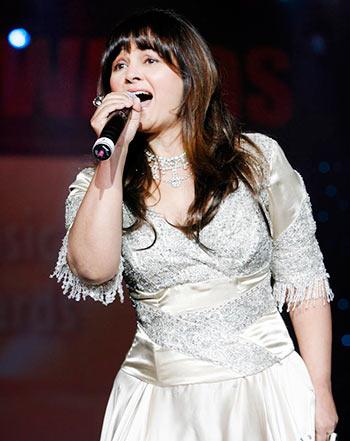 Indi pop singer Alisha Chinai recently spoke out about the music scene in Bollywood, and her tiff with composers Vishal-Shekhar.
What do you think of the contemporary playback singers in Bollywood?
Sunidhi Chauhan works hard on her voice and has good technique.
Shreya Ghosal has a pretty voice but somehow something is missing... the wow factor.
Which voices, according to you, have the wow factor?
Atif Aslam, Rahat Fateh Ali Khan, Adnan Sami... Well, all the Pakistani singers. Pure magic.

What do you think of Priyanka Chopra's voice?
Priyanka has a sexy voice.
Singing, I'm not sure. I haven't heard her. I would love to hear her album.
Vishal Dadlani once said you have a good voice but you're a bad singer.
(laughs) That's seriously funny considering they called me to sing. I'm the hit-maker, baby. The star of the song. Besides these guys are not the Beethoven of Bollywood. If you are so good, why do you need to lift foreign grooves?

They called me to sing their song. All I said was I was not interested or inspired to sing for Bollywood. The fame doesn't excite me.
Why are you unhappy with being a ghost voice? Weren't you glad to see Aishwarya Rai and Katrina Kaif take your songs Kajra re and Tera Hone Laga to millions?
No, I am against lip-synching in the Bollywood mocktail. It doesn't do justice to the singer or the actress. The singer gets relegated to being a ghost voice and the actress just looks very pretty. But also very silly hamming up in the song-and-dance routine.
Any composers today that you respect and would like to work with?
The great A R Rahman, of course! He has great production skills.
I like Anu Malik's melodies. They are hooky and mushy.
Shankar-Ehasan-Loy are good too. Shankar is a very good singer and producer too.
You have remained single all these years?
I am at a happy place. It's far less complicated and troublesome. Relationships are too fragile and transitory these days. Nothing lasts.
Don't you miss a companion?
Yeah sure I do! But it's important to find the right man. I think I will find him soon.