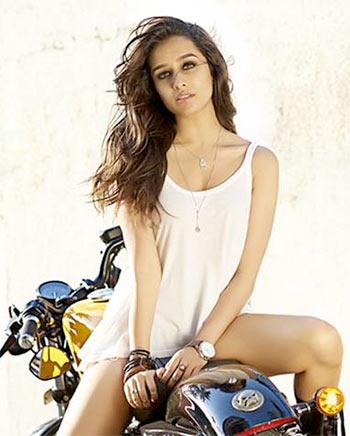 Photographer Dabboo Ratnani captures Bollywood's stars in a way only he can!
A picture speaks a thousand words.
Ace photographer Dabboo Ratnani, who recently launched his 2016 celebrity calendar, says some pictures have stories behind them.
We gives us a peek into his fabulous pictures, and tells us their stories.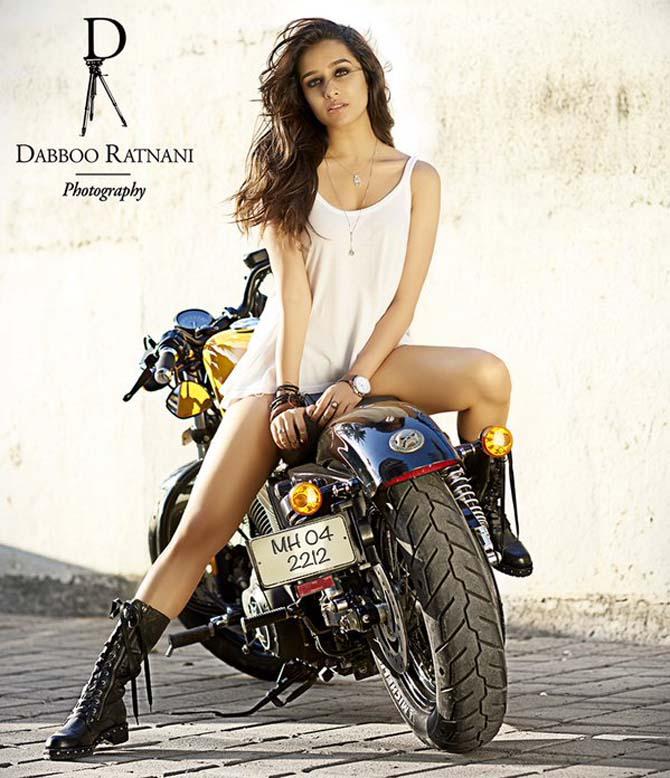 Image: Shraddha Kapoor/Twitter
This is the second time Shraddha Kapoor has been a part of my calendar.
I am a biker myself but I haven't done a hardcore picture of my Harley Davidson bike.
We made the picture a bit different, making her sit backwards rather than showing her riding the bike. It seems like she's just chilling.
I borrowed Dino Morea's bike for the shot.
We shot just below Shraddha's building. The makeup started around 2 pm, and I started shooting about an hour later. We were done half an hour later.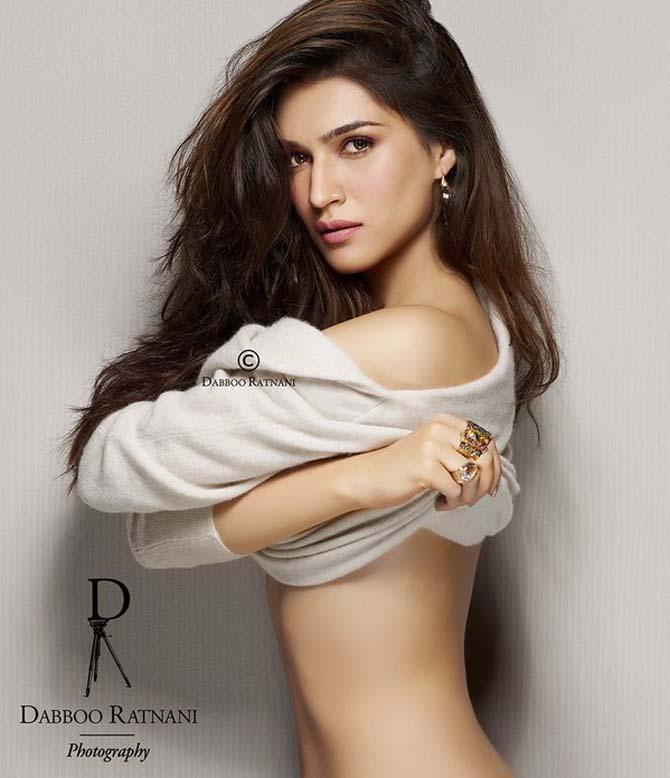 Image: Kriti Sanon/Twitter
Kriti Sanon has always been pictured looking cool in her Dilwale promotions and other occasions but never sensuous.
I explained the shot to her and initially, she felt she wouldn't be able to carry it off.
Once, we started shooting, I told her she had to make it look effortless and casual, not like a pose.
The look is very soft -- the hair, makeup, lighting -- but even then, the picture is hot.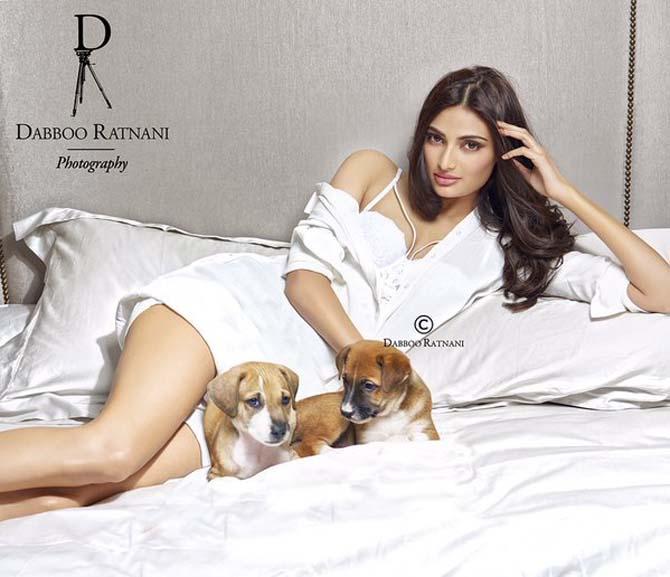 Image: Athiya Shetty/Twitter
This is my first shot with Athiya Shetty.
The puppies are from an NGO called World For All, which handles adoption for pups. Instead of using imported dogs, we decided to go with street dogs.
I wanted to shoot her waking up next to her dog.
Athiya has dogs at home, so she's very comfortable around them.
It's sexy, sensuous and yet sweet, because of the atmosphere created -- the whites, the bed and the puppies.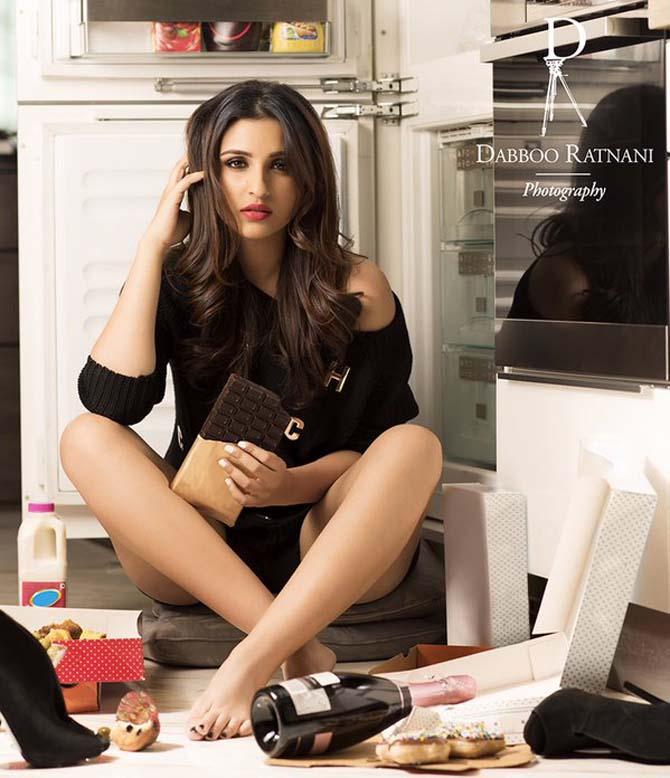 Image: Parineeti Chopra/Twitter
The idea behind Parineeti Chopra's picture was one of those moments where you're raiding the fridge and binging after a night of partying.
So it's a fun shot, yet sexy.
This is my first calendar shot inside a kitchen, so I thought it would be different for me.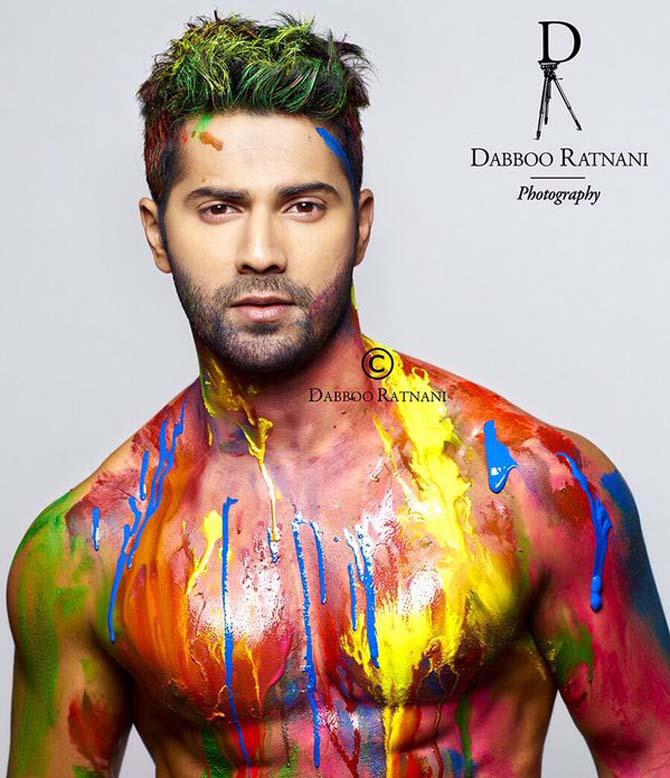 Image: Varun Dhawan/Twitter
I have three kids at home, so I see paint and colour a lot; half the time they're coloured!
Initially, for Varun Dhawan's picture, I wanted a face-painting effect with safe colours. But when we put that on, it wasn't what I wanted. I wanted the feel of wet paint dripping from him.
I decided to go with postal colours, so we first experimented on my wife Manisha and me to make sure there won't be any allergies.
It worked out fine, and looked the way I wanted.
After the shoot, he just wiped himself, wore his T-shirt and went home, without having a shower.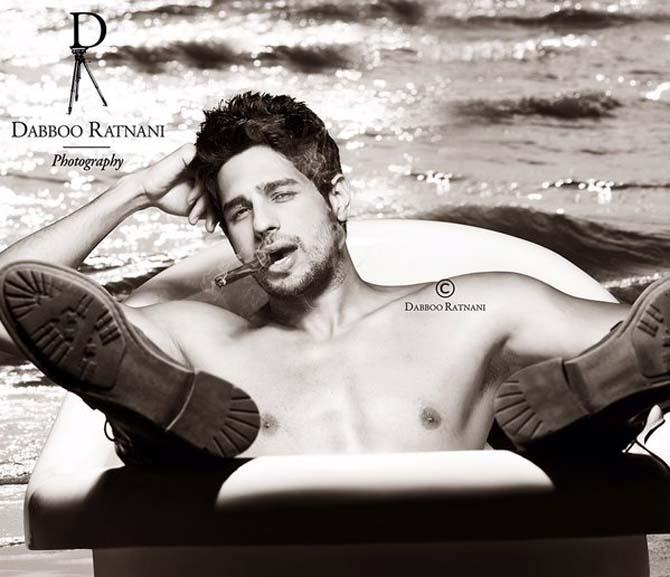 Image: Sidharth Malhotra/Twitter
Sidharth Malhotra's picture has him in a bathtub that looks like it's sitting on a beach and he is enjoying his own space and time with a cigar.
This is my third calendar shot with him.
It worked out pretty good. He's looking really hot. His attitude comes across in the picture.