'Since Hina is a friend and a strong contestant, I want her to win, but Shilpa will win because she has made very few mistakes in the game.'
The twist in the eviction pattern broke Luv Tyagi's lucky streak of surviving eliminations.
This time, a contestant could be voted out by live voting in a mall in Mumbai where the finalists were taken for promotions.
In a neck-to-neck battle, Luv lost to his sworn rival Vikas Gupta by 30 votes!
Luv started his Bigg Boss 11 journey as a 'padosi' and perfected the task of troubling the 'gharwale'.
While his mates -- Lucinda Nicholas, Sabyasachi Satpathy, Mehjabeen Siddiqui -- were evicted much earlier, Luv played his cards well.
But he struggled to form bonds with the housemates which led to troublesome situations for him.
It was only later that he formed strong alliances with Hina Khan and Priyank Sharma.
The trio often strategised together and supported each other in times of need.
Luv discusses his stint in Bigg Boss 11 with Rajul Hegde.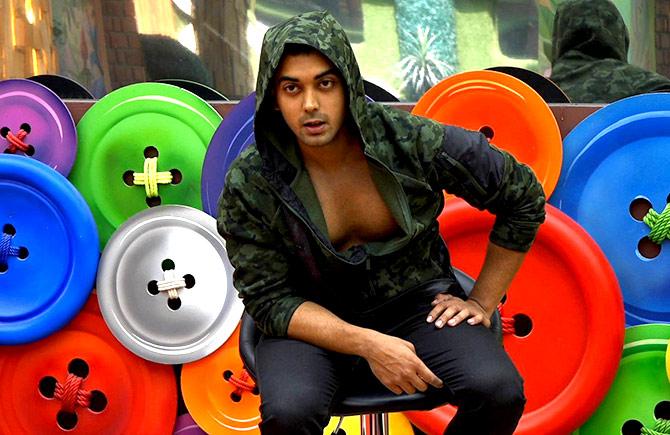 Were you expecting elimination?
I think it was a fair decision. After I was nominated with Hina Khan, Shilpa Shinde and Vikas Gupta, I had a feeling I would be eliminated.
Initially, I was lying low in the house, but I finally broke the ice and managed to form a bond with Hina and Priyank.
Those people have a larger fan following than me. I would have a better chance if I was with Puneesh Sharma and Akash Dadlani.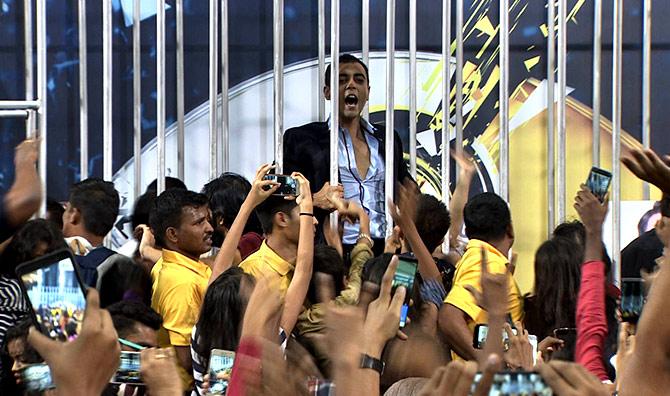 What was it like seeing your fans in the mall during the live voting?
Fans were going crazy and were shouting Hina and Shilpa's names.
Even I had my supporters, but I didn't know how to react and turned to Shilpa.
'Calm down', she said.
It was so overwhelming, I can't express it in words.
I feel blessed with the love and affection.
Some evicted contestants feel you got lucky in the house because of Hina, and that her fans supported you as both of you are friends.
I don't think so.
On second thoughts, it could have worked that way.
I have played the game in a different way and I have a different set of fans.
This is a new world for me. I didn't know how to go about things in the beginning.
Slowly, as I started understanding the game, I started playing it from the heart. And my game became better as the days passed.
Our friendship is genuine and there was no plan behind being friends with her.
Hina is just like Priyank Sharma, Benafsha or Sapna Chaudhary to me. I did not do it for my survival inside the house.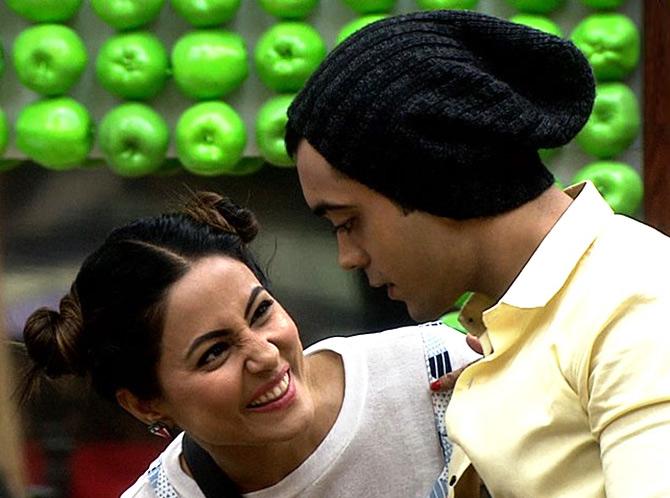 Your friendship with Hina went sour towards the end.
Hina, Priyank and I played the game together for many weeks.
But on the ticket to finale task, I wanted to play with Puneesh and Akash because I wanted the ticket to the finale.
That didn't go down well with Hina.
It was my decision and I don't regret it.
Even when I left, I hugged her and told her that we'll meet outside.
She was upset when I was leaving.
We have sorted out our differences. Everything is cool now.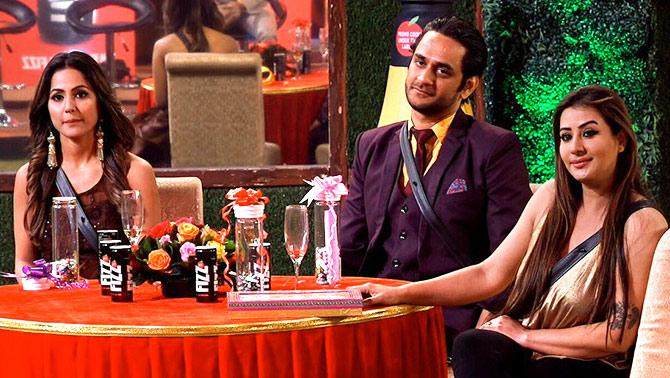 Who is playing the game best?
Vikas, Shilpa and Hina have played the game very well. They have maintained a good graph.
On the other side, Puneesh and Akash have always struggled. They have always tried to stay away from nominations.
Since Hina is a friend and a strong contestant, I would want her to win, but Shilpa will win the show because she has made very few mistakes in the game.
She has a huge fan following and I saw the craze for her in the mall during the live voting.
She deserves the trophy.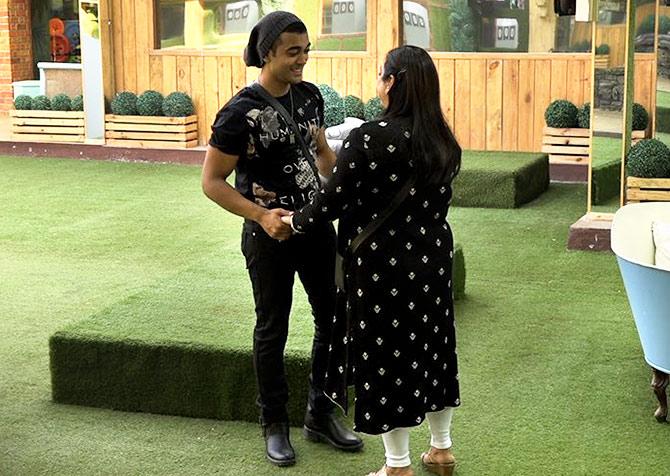 What was your best moment in Bigg Boss?
When I met Salman Khan for the first time during the show.
Also, my mom's visit inside Bigg Boss.
What next?
I always wanted to act and be in this industry. I will grab whatever comes my way.
Bigg Boss is a stepping stone to the industry.
I am not a trained actor. I am hoping for the best.
I have kept in mind what Salman Khan told me: The show will change my life and I must learn how to handle things.