'At times, Bigg Boss would bar him from participating in some heavy tasks owing to his poor health.'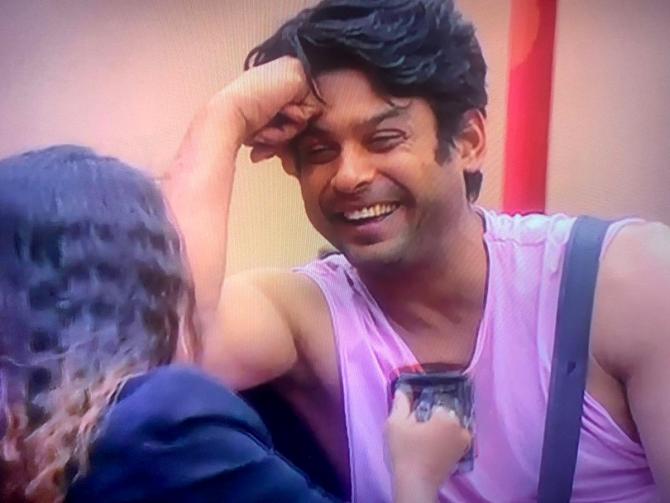 India woke up to the tragic news of Bigg Boss 13 winner Sidharth Shukla's sudden demise due to a massive heart attack in Mumbai. He was 40.
Sidharth's housemate in Bigg Boss 13, Shefali Bagga is finding it extremely difficult to come to terms with his loss.
"His career was going from strength to strength," Shefali tells Rediff.com Contributor Mohnish Singh.
Everyone is shocked to hear about Sidharth Shukla. How are you processing the tragic news?
I am shocked beyond words.
I still cannot believe that it has happened.
There are so many people who are losing their lives to heart ailments these days.
As far as Sidharth Shukla is concerned, he was so fit.
You two spent so much time together in the Bigg Boss house. How was his health back then?
Yeah, we spent a lot of time together in house. There also, he was not well for quite some time.
He experienced a bout of food poisoning.
He was sent to the medical room where doctors checked on him. His diet was changed completely.
But even with so much suffering, his strength and willpower was so strong that whenever there was any task assigned to the housemates, he would always come forward and say, 'I am game to do this task.'
At times, Bigg Boss would bar him from participating in some heavy tasks owing to his poor health.
But even in that case, Sidharth would try to involve himself in the task as much as possible.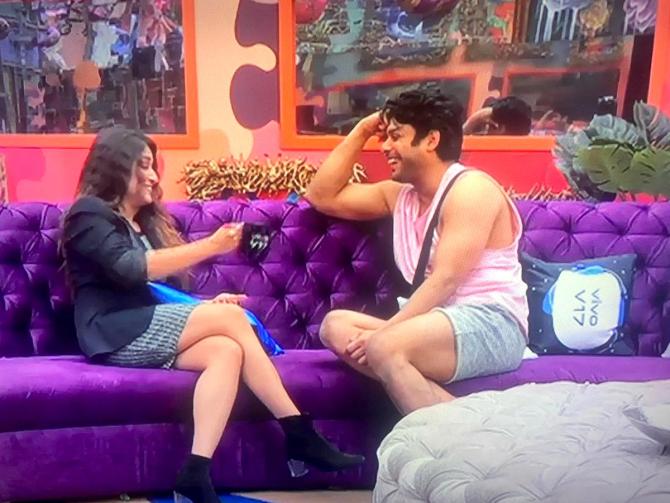 He was a person who always lived in the moment.
If he had taken up any task, he would make sure he finished it.
His career was going from strength to strength. I do not know what was troubling him.
I do not exactly know what caused this.
I am still trying to get in touch with someone from his family. I called his manager also.
But I can imagine what they must be going through now.
He was so young. He was just 40.
So many people loved him. People follow him like anything.
I do not know what to say; this is really shocking for me.
What kind of a human being was he?
He was a very, very fun-loving person.
If anybody had to name the most sensible person in Bigg Boss 13, it was him.
People praised him for his straightforwardness. Each and every word that he would say was on point.
He was very considerate also.
I still remember how he would talk to me, pacify me in the second half of the show when the entire house was against me. He was always there for me, so was Shehnaaz.
Otherwise also, he was very fun loving and competitive.
He would never think of his health or injury. He would just go for it.
He was very honest towards whatever he would do.
Had you met him before Bigg Boss 13?
I met him on the very first day of the show only.
Of course, I knew him ,but I had never met him before.
Despite being so fit, he suffered a cardiac arrest. Isn't it shocking?
Exactly!
He used to take good care of himself. His mental and physical health.
He was a fitness freak.
Are the medicines available in the market not good enough?
Everyone is tense about something or the other. But news about someone passing away due to cardiac arrest was so uncommon till not long ago.
Heart attack to a person like Sidharth Shuka?
I'll get to know the actual reason only after talking to his family.
What his mental state was or what medicines he was taking, I do not know.
Were you in touch with him after Bigg Boss 13?
I interacted with him on Shehnaaz's birthday recently.
Honestly speaking, we did not interact very often.
I used to talk to Shehnaaz a lot because she is a close friend. I interacted with him at times through her.
We fought a lot in the Bigg Boss house, but when I was right, he always supported me.
After coming out of the house, everything was good.
How would you like to remember him?
There is so much to say.
I spent so much time with him in Bigg Boss.
I would often tease him saying, 'What type of girl do you want? When are you planning to get married?'
He would always say, 'I should like her, and we should understand each other. That's it.'
He was the person who would not stress much about life.
He was a fun-loving person who lived in the moment.
He was very sensible.