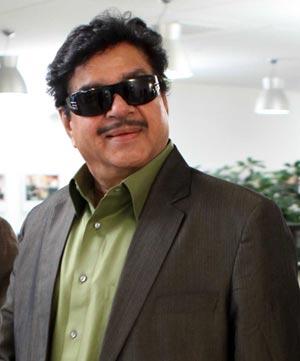 After undergoing a bypass surgery last month, Shatrughan Sinha is slowly but surely finding his way back to good health.

The actor, who is 12 kilos lighter now, was first hospitalised at Mumbai's Kokilaben hospital with a severe respiratory disorder on July 2. He later underwent a bypass surgery on July 16. He is likely to get discharged in a week's time.

"By the grace of God, the excellent care taken by the doctors and staff at this hospital, the good wishes of my fans and friends and most importantly, my wife's constant attention and prayers, I have fully recovered though I'll be in hospital for a few more days for physiotherapy and tests," Sinha said.

Re-living the trauma of the past month, Sinha says, "It all started on July 2, when I had difficulty in breathing. It was probably due to the adulterated paint in our new home. I was rushed to the hospital. I thought I'd be discharged by evening. I dozed off. When I opened my eyes, I said, 'Let's go home.' My wife and children looked at each other and then at me. They asked me if I knew what the date was. It was then that I realised that I was oblivious for four days. I has slept on July 2, and woke up on July 6."

After that, Sinha's condition took a nosedive on July 16 once again.

"After tests, doctors discovered a couple of blockages in my heart," he said. "They said it didn't need urgent remedial surgery. It didn't have to be operated for maybe three-four years. But since I was in hospital and in that mindset of healing, we decided to go ahead with the surgery. We had the option of an angiography or a bypass surgery. We opted for the latter."
Now Sinha says he is as fit as a fiddle. "I've never felt better. I am raring to go back to my normal routine. I'll take it easy for a while after I am home again."
Shatruji is all praise for the Kokilaben's proprietress Tina Ambani.
"She is an old colleague and co-star and now, she has proven to be a dear friend," he says. "I feel so much at home here, thanks to Tina's special supervision. I've got the best suite in the hospital with my own terrace."
Another colleague who has won Sinha's heart is daughter Sonakshi's Rowdy Rathore and Joker co-star Akshay Kumar. "He has been very inspiring in his good health talk. He came here and humbly told me how important it is to eat, sleep and exercise well. I am now on to a different routine altogether. I wake up early in the morning and go for long walks. I'll be resuming yoga very soon. Late nights are completely out; not that I partied late anyway."
The actor adds: "The positive outcome of this experience is that I value my wife and health, in that order, much more than before. It's a myth created by my 'well-wishers' that I used to have long drinking sessions every night with my cronies. I stopped drinking years ago. I lead a regimented life. I also have medical tests done regularly."
Looking at the brighter side of the experience, Sinha says, "I got to know how much the film industry loves me. Not just Tina and Akshay, Amitabh Bachchan, Ramesh Sippy and so many others visited me."
As soon as Sinha is back to normalcy, he will start a film with Akshay. "It's a subject that he wanted to do for a long time. But he has laid down a pre-condition: he says our shooting shift will be from 7 am to 2 pm. I am game."