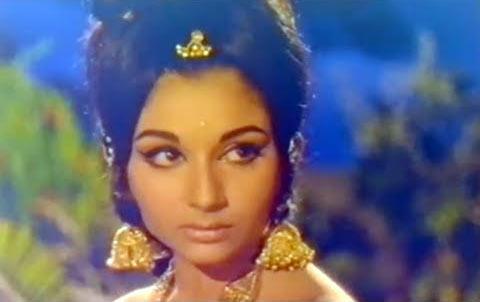 Actress Shammi, 84, lost her only sister -- legendary dress designer Mani Rabadi -- recently, leaving a void that will be hard to fill.

Grief-stricken, Shammi -- popularly known as Shammi Aunty -- said, "She was the older one, and she went first. She complained of a swelling in the leg, so I met her on Sunday. Then she was gone."

Sharmila Tagore, who worked extensively with Mani Rabadi, recalled her association with the dress designer fondly.

"I was very close to Mani Rabadi. She not only designed my clothes in some of my films, she was also a personal friend and guide when I was new to Mumbai," the actress says. "I worked with three designers in my heydays -- Bhanu Aathiya, Shalini Shah and Mani Rabadi. Out of these, Mani was the least assertive and aggressive. I remember Bhanu used to be quite insistent and particular about her fees etc whereas Mani was too soft-spoken."

Recalling the film where they worked together, Sharmila said, "Mani did my clothes in Hum Saya, Dil Aur Mohabbat, My Love and many more. Mani had a developed sense of fashion and makeup. She gave me tips on facials, eye makeup, etc. At that time, I was new to Mumbai and Mani was a dear friend. I spent a lot of time with her."

Sharmila still has many of the saris designed by Mani Rabadi. "Yes, I've kept her saris," she says. "She used real zaree in her saris. Now, of course, no one uses real zaree. It's too expensive. Only the synthetic kind of zaree is used now. I am particularly fond of a navy-blue zaree sari that Mani had designed for me. I am going to wear it again one of these days."

Asha Parekh adds, "What I remember most is how wonderful a person Mani was. It didn't matter whether we worked together or not. She was there for me. Her sister Shammi is my closest friend, so I always ran into Mani."
In the picture: Sharmila Tagore in Hum Saya