'I haven't experienced such a thing ever. It was beautiful.'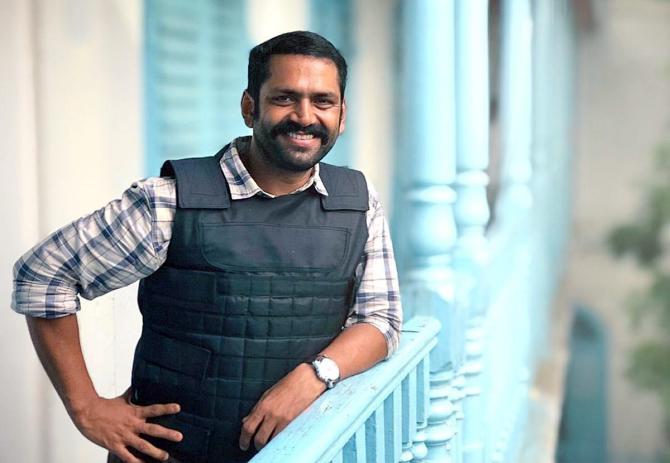 Sharib Hashmi is enjoying the fantastic response that the second season of The Family Man is getting.
The success is, of course, well deserved and long overdue.
The actor, who has seen a tough struggle right from his first film Filmistaan in 2012, is seeing better days now.
He tells Patcy N/Rediff.com, "Whatever hard work you do, you reap the benefits later. I am reaping the benefits of my hard work now."
What kind of response are you getting for Family Man 2?
We have got a tremendous response; it has gone beyond my expectations.
It's unbelievable how people have praised the show and appreciated all the characters.
It's overwhelming!
I am in a happy space.
I feel proud that I am a part of such a huge show.
How has life changed?
It will take some time for my life to change, but I can tell you what the immediate change is: My followers have increased on Instagram.
I am getting so much messages that I have not been able to reply to everyone.
I am getting job offers, but that started just after the first season.
Due to the pandemic, everything got delayed.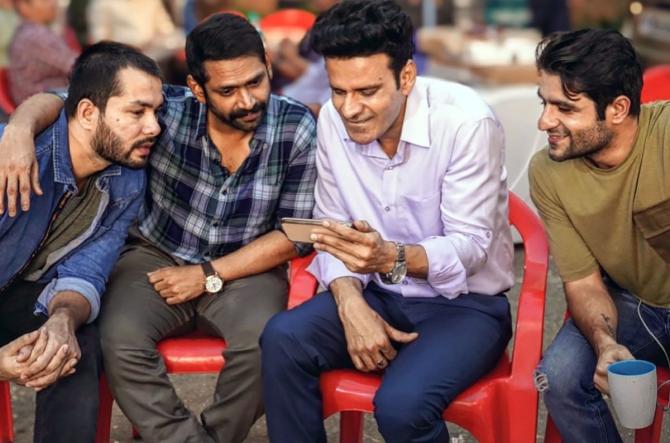 What do you think is the reason for your character JK's popularity?
People see their best friend in JK.
Fans, who are messaging me, are using lingo that one would normally use for a friend.
JK is a guy with whom you can share anything; he is someone who is not only close to you, but even to your family.
He will chat with you, drink with you, say silly jokes... he won't judge you.
He will point out your mistakes.
How was the camaraderie in the TASC team -- Srikant, JK, Zoya, Milind and Muthu, played by Manoj Bajpayee, you, Shweta Dhanwanthary, Sunny Hinduja and Ravindra Vijay?
There was too much fun while shooting the show; I look forward to go on the sets of Family Man.
(Creators and Directors) Raj and DK are the life. They keep the unit charged up.
Manoj sir, Sunny, Shreya and Shahab (who plays Sajid)... we are close knit.
I don't have any scenes with Shahab, but since we are always shooting together, we are good friends now.
Sunny, Shreya, Shahab and Aritro (Rudraneil Banerjee)... even if we are not shooting and if we are in Mumbai, we meet at least twice a week. We are thick friends.
I have a special bond with Manoj sir.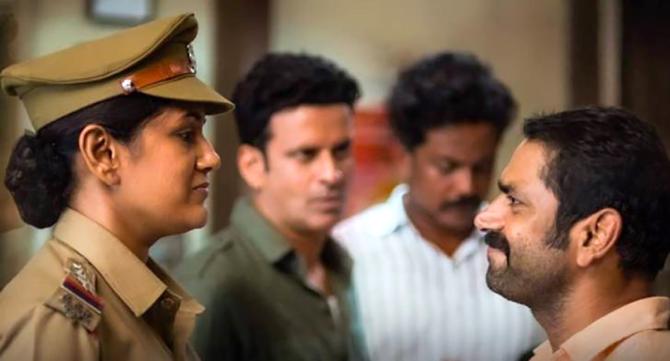 This season, you have a romantic angle with Umayal, played by Devadarshini.
When I read the script for season two for the first time, I read all the episodes in one go because they were so gripping and engaging.
I found JK's character very interesting in season 2. We actors very rarely get such good scripts.
In the first episode itself, JK goes alone on a mission as Srikant Tiwari is doing a desk job.
My character graph shows dynamic changes in season 2.
My friendship with Manoj sir is also emotional in season 2. We fight like dogs in the jail sequence.
Plus, there is a romantic angle with Devadarshini, which is very cute.
It's really nice how they (Raj and DK) approached JK in the second season.
I was never nervous. I was just too excited.
I enjoyed working with Samantha (Akkineni), Ravindra Vijay, Uday Mahesh and Anandsami. They are all talented actors.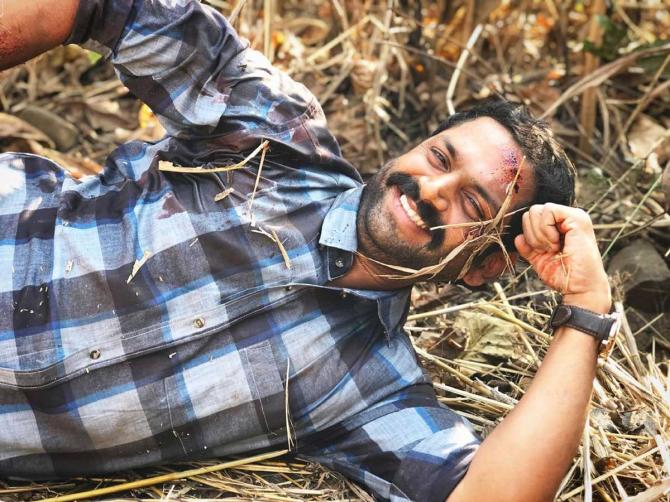 Just before the end of the season, we thought your character would die...
Friends and fans started calling me and messaging me on social media, saying 'Please don't die.'
I haven't experienced such a thing ever. It was beautiful.
What did you learn from the Family Man cast and crew?
I can't pinpoint and say what I learned, but as everybody knows, I am an untrained actor. Whatever I have learnt on the job is by observing people.
I had the fortune of working with some of the gems of the industry -- Manoj sir, Inam Ul Haq, Kumud Mishra, Shah Rukh Khan, Kay Kay Menon... I have learnt a lot from these actors. They are talented and brilliant at their job.
I was fortunate to work with Yash Chopra (Jab Tak Hai Jaan).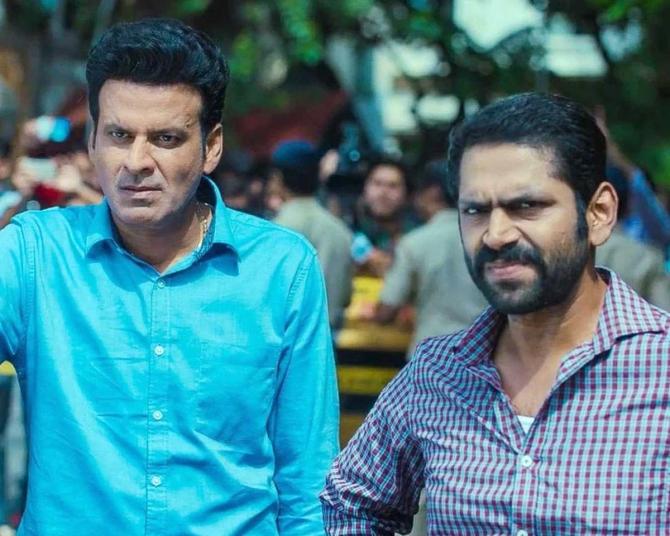 How was it working with Manoj Bajpayee?
Working with Manoj sir feels like you have joined an acting school.
The kind of discipline and dedication he has, even if I get five percent of it, I will become a better actor.
I try to imbibe Manoj sir's discipline that he maintains in his day to day life, but I have not achieved it.
Manoj sir prepares and rehearses for some scenes, but sometimes he is so spontaneous, you are shocked.
Naseer sir (Naseeruddin Shah) in had said an interview that 'Spontaneity is extremely well rehearsed' and I completely agree with that.
For you to be spontaneous, you have to know all your lines and the scene properly. Only then can you improvise.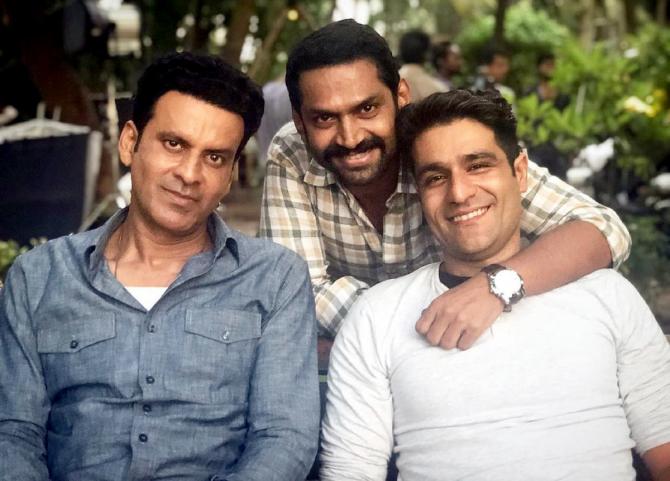 There were three directors this time: Raj, DK and Suparn Verma. Was it smooth?
We never felt that Raj and DK are two directors because they are so much in sync. They work seamlessly.
When Suparn came, he gelled well.
Even when Suparn was shooting, either Raj or DK was always on the sets.
When Suparn joined our team, we welcomed him with open arms.
He mingled with the team and adapted very fast.
Besides The Family Man, you have done two interesting Web series: Asur and Scam 1992...
It's all destiny.
I have worked really hard to reach here and God is giving me the fruits of my hard work now.
Gulzarsaab got an Oscar for Jai Ho, but I would want to believe that he got the Oscar for his songs in Aandhi and Izzajat. Whatever hard work you do, you reap the benefits later.
I am reaping the benefits of my hard work now.
If you have patience and perseverance, nothing can stop you.
A lot has been written about your insecurity about your height. Are you comfortable now?
Once I got comfortable with my height, I started working as an actor.
All the insecurities that I had because of my height and looks delayed my entry into Bollywood.
The day I decided I want to be actor, I was already 33. By then, I had thrown away all my complexes.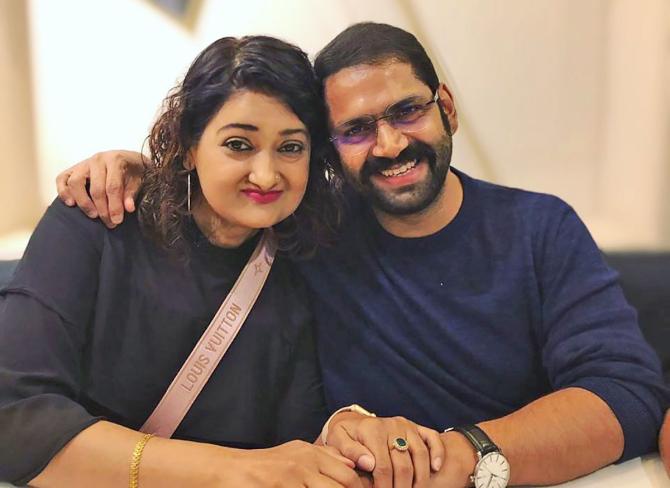 You sold your house and wife's jewellery to become an actor. How is your financial condition now?
I am trying to buy back whatever we lost slowly and steadily.
Obviously, I am in a better position now, but I haven't won a lottery.
I am not thinking about finance.
I am in a happy space now.
My wife has been my pillar of support.
When I was struggling to get acting assignments even after Filmistaan, one day I told her, 'If I was working, my salary would have been this much...'
My wife said sternly, 'Don't ever regret your decision to quit your job and pursue acting because then all our sacrifices will go to waste.'
I never regretted my decision.
Even if I had not achieved what I have achieved now, I would not have felt bad because at least, I tried.
Do you still write?
I wrote the dialogues for Notebook.
My last release was Ram Singh Charlie.
I want to write again and this time, I want to direct it myself. But there is still a lot of time for it.
Which actor do you idolise?
From childhood, I have been a huge fan of Kamal Haasan. Ever since I saw Ek Duje Ke Liye, I went crazy.
I have seen all his Tamil and Telugu films that came on Doordarshan with subtitles.
I have never met him, but I hope to meet him and work with him.
I am also a huge fan of Dharmendra.