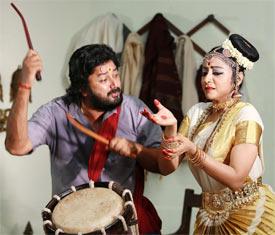 Jayaram plays a Chenda artiste in the national award winning director Shaji N Karun's Swapaanam. Bengali dancer Kadambari is the female lead.
"Many geniuses have been dubbed as eccentric during their lifetime. Here, Unni, the percussionist played by Jayaram, is an amazing talent but he becomes the victim of sibling rivalry and plain jealousy," says Shaji, the cinematographer turned director of such hugely appreciated films as Piravi, Swaham,Vaanaprastham and Kutty Sranku.
"Just like a lighted candle, an artiste burns into oblivion. But in the process, a certain amount of energy is transmitted to the people around. There have been several such examples around us and Unni is one of them," he explains.
Swapaanam is produced under the banner of Horizon Entertainment by Rajan Taliparamba. Harikrishnan and Sajeev Pazhoor are the scenarists. Saji Nair wields the camera and the music director is Sreevalsan J Menon.