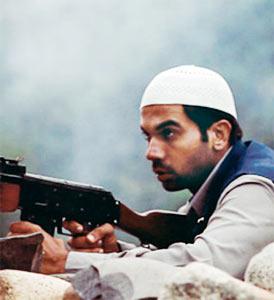 While the focus during the prolonged trial of the alleged perpetrators of the 26/11 terror attack was on Ajmal Qasab, the acquittal of co-accused Faheem Ansari by the honourable Supreme Court, would have made slain lawyer Shahid Azmi very happy.

Shahid, who was once detained under TADA, made it his life's mission to defend TADA detainees like Ansari.

Shahid's family feels terribly hurt by the fact that he is almost forgotten today.

Says the slain lawyer's brother Khalid, "He lost his life fighting for those accused of terror charges. At least he should be remembered now when guilty have been booked and the innocent have been acquitted."

The film on the life of lawyer Shahid Azmi, who was gunned down in his office in broad daylight on 10 February 2010, is finally here. When the slain attorney's family members saw actor Rajkumar Yadav playing Shahid Azmi in Hansal Mehta's bio-pic Shahid,
they were blown away by the uncanny resemblance.
"I met Rajkumar," says Khalid. "He was wearing a coat exactly like what my brother would wear. His hairstyle was the same too. I think he has done justice to the role as he is very soft spoken, like Bhai. Even their noses look same."
With the film in the theatres, the family is more hopeful than ever getting justice for the murdered lawyer.
Says Khalid, "My brother was a lawyer. He had full faith in the Indian Judiciary. So do I and my family. I don't watch a lot of films but this one, I will. I think it will bring into public focus my brother's fight and death. Yes, I do think cinema has a much wider audience because if it's good it can reach out to many cultures. Then it occurred to me that if it affected a person so much that he wanted to make a film on his life, it means he would have seen something in his life to have the urge to tell his story. Maybe this way, my brother can be remembered longer."