'If there's a Fan sequel, I want a song and dance with Shah Rukh Khan.'
Here's introducing Fan girl Shriya Pilgaonkar, who celebrates her birthday today, April 25.
Shriya Pilgaonkar may have had a small role in Fan, but she totally loved doing it. An unusual Bollywood debut for this youngster, it certainly did not go unnoticed.
The beautiful daughter of Sachin and Supriya Pilgaonkar, Shriya has already dabbled in Marathi and French cinema before trying her luck in Bollywood.
She tells Jahnavi Patel/ Rediff.com what it's like to be romanced by Shah Rukh Khan.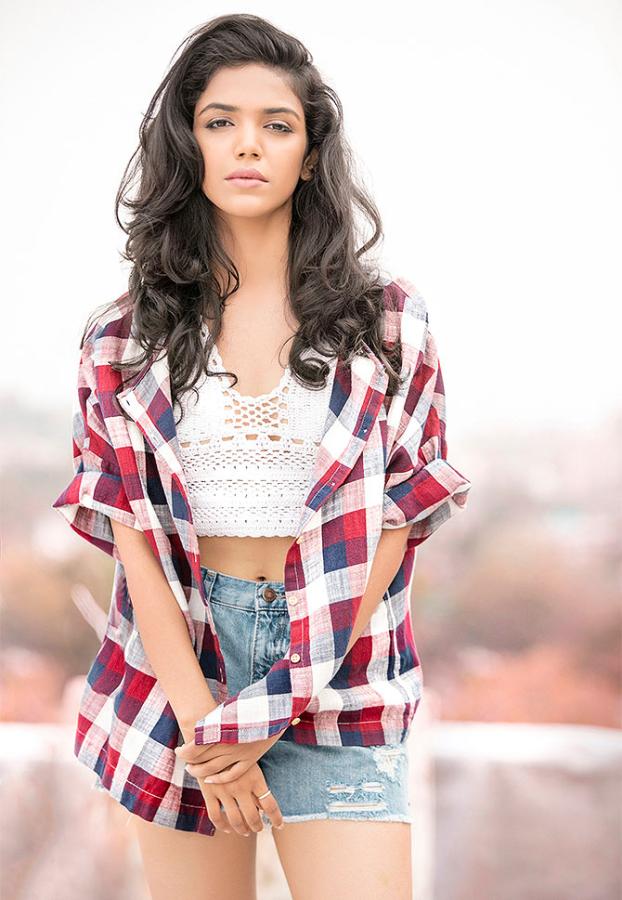 IMAGE: Shriya Pilgaonkar
You had said in an interview that you have always thought of yourself as a director. How did acting happen?
Two reasons: I am a Kathak dancer, and have got an advanced diploma in it. Abhinay (expression) is a part of dance, so I think the performer in me would come out when I would dance.
Secondly, a friend of mine was directing a play and he wanted an actor, who could sing and dance. He told me to audition for it, and I did without giving it much thought.
It was a 10 minutes play and I ended up rehearsing for a month.
The entire process of rehearsal and doing the play made me realise that there was nothing I wanted to be other than an actor.
How was the experience of working with Shah Rukh Khan in your very first film?

He doesn't give you any scope to be intimidated because he is the most humble star.
He is such a fantastic co-actor that he doesn't have to go out of his way to discuss a scene or overly rehearse but he does that because of which every co-actor would be comfortable working with him. The credit really goes to him.
I had met him five years ago when I was at the Yash Raj Studio helping a friend on her short film. She had some work at the studio and I came along with her.
Eventually, the first film that I ended up doing was a YRF film called Fan with him. It was a big coincidence for me.
As a co-star, I understood why is he a superstar -- it's not just his talent, aura or destiny, he definitely is the chosen one. One big aspect of his personality is that he makes everybody feel special.
He has so much love to give, that's why I think he gets that love back.
Everybody who works with him will have only wonderful things to say because he isn't a selfish actor. He made me feel I was Kajol!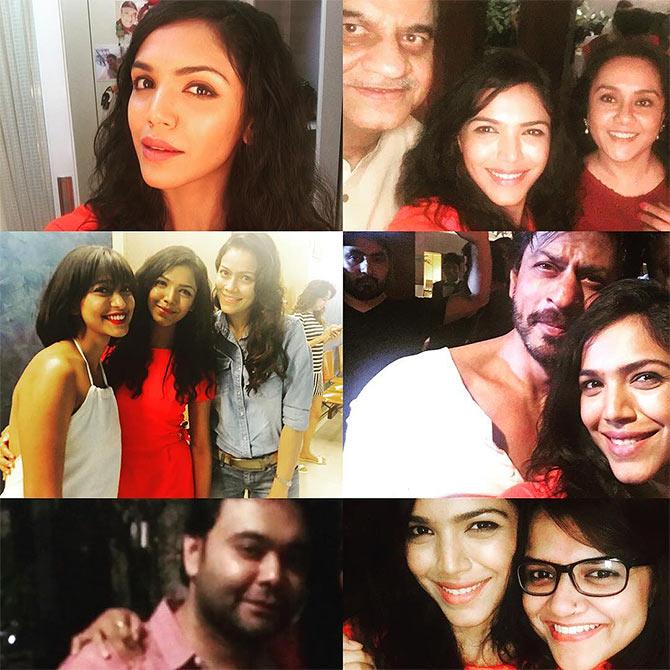 IMAGE: Shriya Pilgaonkar with the Fan team. Photograph: Shriya Pilgaonkar/Instagram
Shah Rukh Khan has called you a fine actress. How does that make you feel?
I am smiling so much right now (laughs).
When a person you look up to and are so charmed by gives you a compliment, you will be flattered.
I am very grateful because he also took time to get to know me. That was a very nice thing because when you think of working with a star, you assume that they are not going to be as invested in you and your performance but those are all wrong assumptions.
You're a star kid. Why didn't you opt for a better project where you would be the main female lead?
I never think in terms of better or worse, I believe there are many ways to get to where you want to be.
For me, the length of the part doesn't matter as much as what kind of a film and team I am working with. So I wouldn't change a thing about this because I know how rare it is, especially for a young actor, to be able to play somebody opposite Shah Rukh Khan and also to be part of a film, that, in many ways, has done different things as a YRF Hindi commercial film.
My criteria for choosing a film are first the story and the team that I'm working with. In this case, I had the best of all.
You've done advertisements, plays, made your Marathi film debut in 2013 with Ekulti Ek, done a French film called Un Plus Une with Oscar-winning director Claude Lelouch... Why did Bollywood take so long?
I am not very strategic by nature.
I had never decided that now on, I'll do Marathi (films).
As and when things come up, I go for auditions or script readings.
I did not audition Fan specifically, I had auditioned for other projects at YRF. I was aware that around 750 girls had auditioned for my part. Suddenly, the director came across my tape of some other audition and decided to cast me.
Everyone has a different journey, so one can never really predict how long it's going to take, especially when it's not like a typical launch. The most important thing is getting the right project.


IMAGE: Shriya Pilgaonkar with her grandfather. Photograph: Shriya Pilgaonkar/Instagram
What kind of feedback have you got for Fan?
Honestly, I went into this with absolutely no expectation as I knew mine was a small part. I did not know how it would resonate with people but I was pleasantly surprised to see the love my character got.
I got a lot of Twitter love from Shah Rukh Khan fans, it's absolutely overwhelming.
The best compliment I got was from Shah Rukh himself. He was on a Marathi talk show, where he said that I am a different kind of an actress. He said something to the effect that he really likes to talk to me.
I think that's a very sweet compliment.
Someone else said that for some actors, they don't need a big part to shine. That was another nice feedback.
You have been active in plays and extra-curricular activities since school. Was there anything besides acting or directing that you'd thought of?
Definitely! I am working on a book on my grandfather's travels. It's a long term and a passionate project for me. My grandfather is my most favourite person.
He is a big traveller and I want to work on a book based on his travels.
I love to travel too; I travel constantly and I'd love to have a travel show.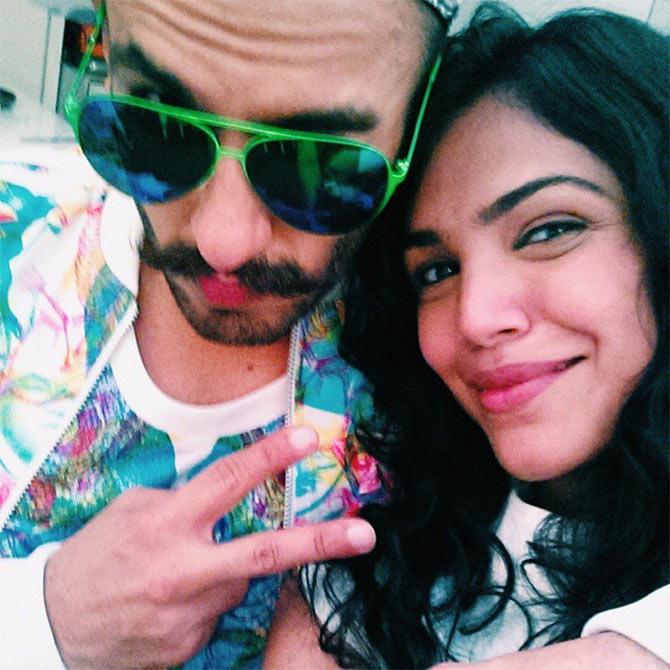 IMAGE: Ranveer Singh and Shriya Pilgaonkar. Photograph: Shriya Pilgaonkar/Instagram
Which actor would you like to work with?
I'd love to work with Ranveer Singh because he has fantastic energy. Vicky Kaushal is among the new actors I want to work with. There's also Nawazuddin Siddiqui and Kangana Ranaut.
In terms of directors, I want to work with Vishal Bhardwaj, Imtiaz Ali, Shakun Batra, Dibakar Banerjee... I love their films.
Also, whatever I do I want to do on a global scale. It's very inspiring to see someone like Priyanka Chopra, the way she has carved for herself. I hope to create a niche like that for myself.
Was there any pressure on you as you are the daughter of talented actors like Sachin and Supriya Pilgaonkar?
Well, I have never been brought up to feel any kind of pressure because I've always been very independent and my parents have always encouraged that.
There was never any pressure to prove anything. If anything, the pressure was for me to carve my own unique path.
I don't have the most typical journey since I've done a Marathi film (Ekulti Ek), a French film (Un Plus Une) and now a Hindi film (Fan).
I like to enjoy the work that I do. I never compare myself to anybody.
My father is very multi-talented, diverse and versatile, and that is something I work towards. I want to be as versatile as him. That's the kind of pressure I put on myself -- to be versatile.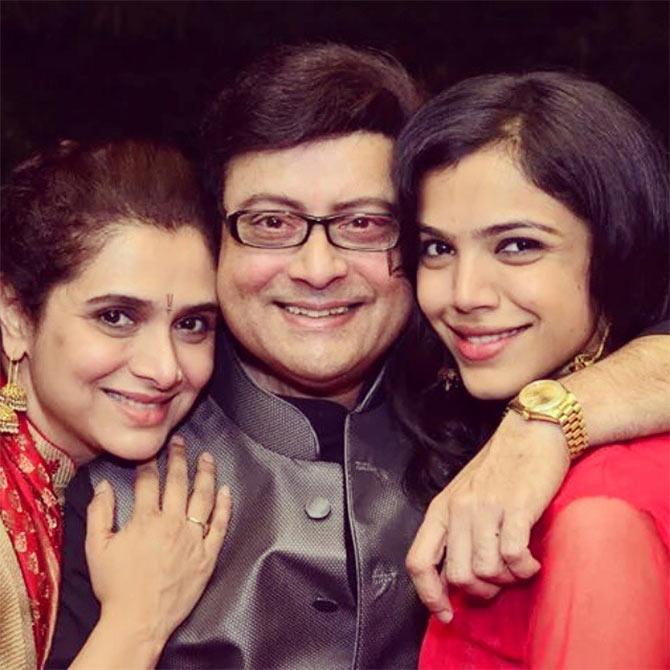 IMAGE: Surpiya Pilgaonkar, Sachin Pilgaonkar and Shriya Pilgaonkar. Photograph: Shriya Pilgaonkar/Instagram
Do you want to work with your parents?
Absolutely!
At some point, I'd like to direct my parents. They have acted together in many Marathi films so I would love to make something for them.
In fact, my first film, Ekulti Ek, was directed by my father. I began my journey working with them, in a way.
Any parental advice that has kept you motivated?
My mother has told me something that I completely believe in -- as an actor, there's so much scope to be anxious because acting is a project-based thing. There could be days with a lot of work and days without any work. I shouldn't let my general happiness be affected by it.
I constantly make an effort to focus on what is on my plate and maximise that, as opposed to focusing on what's not there.
My father is the biggest example. My parents have been working all their lives and their energy and attitude is so fantastic.
I think the common thing between my father, Shah Rukh and Jean Dujardin (the director of Shriya's Un Plus Une) is this fantastic energy and the spirit to keep learning.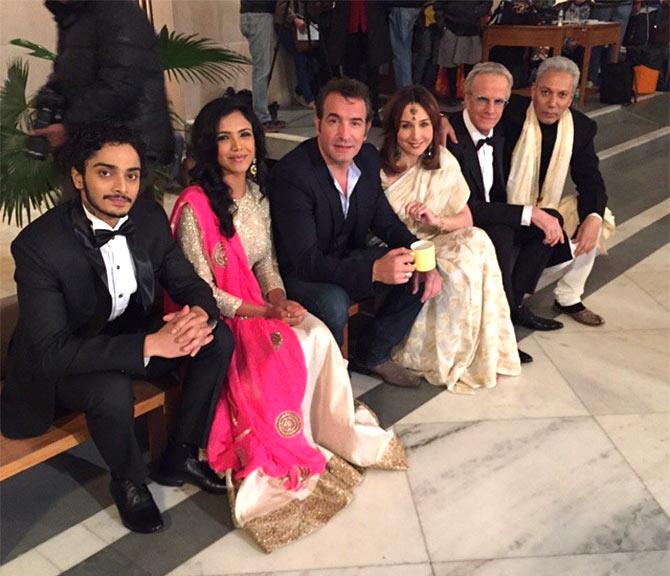 IMAGE: Shriya Pilgaonkar with her French film, Un Plus Une team. Photograph: Shriya Pilgaonkar/Instagram
Have you ever accompanied your parents during shoots?
Sometimes, yes. I have featured in a few episodes of Tu Tu Main Main, as the neighbour's boy, Bittu! It was just a casual thing, I would hang around, observe and go back.
Which of your father's movies is your favourite?
Sholay and Satte Pe Satta are absolutely iconic.
I am so proud to say that my father was a part of Sholay. He was also an assistant director on that film.
My father shares such wonderful stories at home that I feel he's a film school for me. He has so many experience to guide me with.
He has been a child actor too -- it's amazing that I have seen my father acting since he was five.
More recently, I am super proud of his performance in the Marathi film, Katyar Kaljat Ghusali. His look in the film is totally new. It is based on an iconic play with the same name.
What was your childhood like?
I used to be a competitive swimmer, so for the first 10 years of my life, I was just working hard to be a sportsperson. I don't remember doing anything else other than that.
I had a disciplined childhood because of swimming.
My mother encouraged me to do many things, she wanted me to be a all-rounded global person. So I have learnt the Japanese language as well!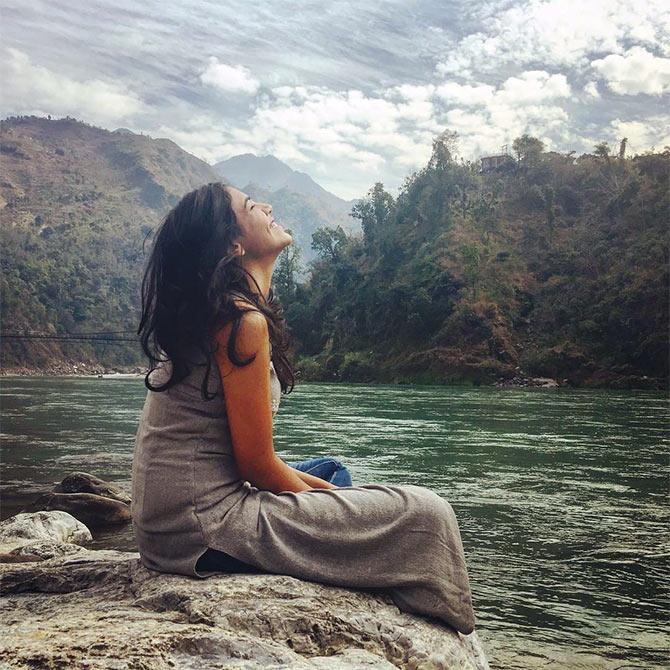 IMAGE: Shriya Pilgaonkar. Photograph: Shriya Pilgaonkar/Instagram
What did your parents think of Fan?

They were very happy for me; they enjoyed watching me on screen.
They were just waiting for me to show up on screen. They are proud and excited, and also surprised by the love I got.
There have been reports of a Fan sequel. Would you like to be a part of it?
Why not?
But this time, I want a song and dance with Shah Rukh Khan.