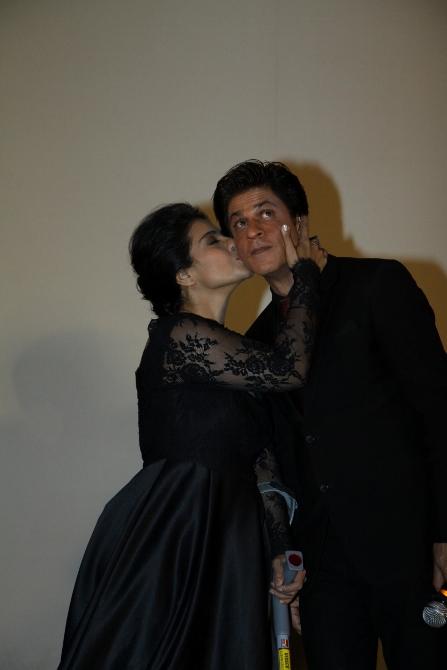 Celebrating 1000 weeks of nationwide popularity, India's favourite onscreen jodi -- Raj and Simran -- reunited at Maratha Mandir recently.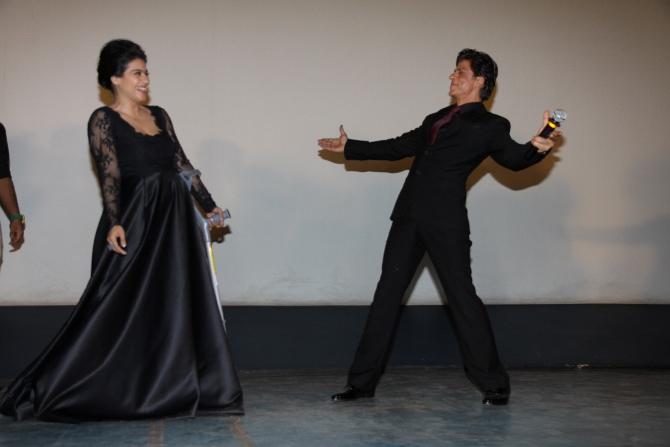 Image: Kajol and Shah Rukh Khan in Maratha Mandir
When Aditya Chopra's directorial debut Dilwale Dulhaniya Le Jayenge hit screens in 1995, few people must have imagined that the film would go on to create history.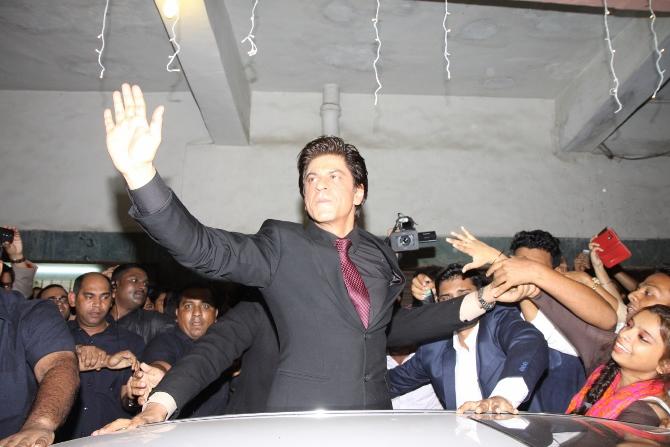 Image: Shah Rukh Khan arrives.
Almost twenty years on, Chopra's much loved protagonists and one of the most loved onscreen jodis of Bollywood -- Shah Rukh Khan and Kajol -- recently arrived at Maratha Mandir, the single screen in central Mumbai that has screened DDLJ every day ever since it was first released.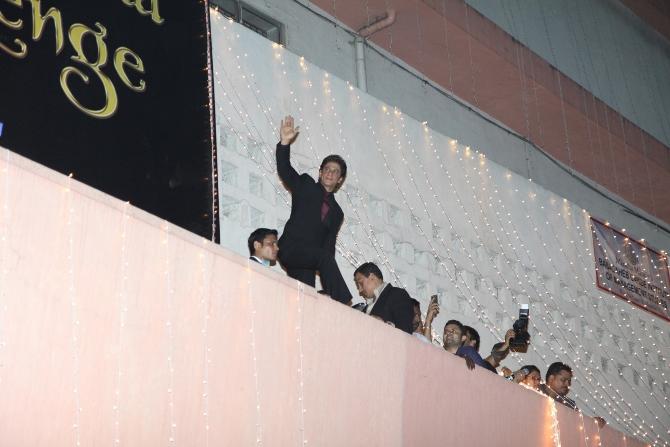 Image: Shah Rukh Khan waves to fans
Speaking on the occasion of the film completing a stupendous 1000-week run at the theatre, Shah Rukh Khan addressed his gathered fans and the media.

"Dilwale Dulhania Le Jayenge wouldn't have been possible without Aditya Chopra, Yash Chopraji (who produced the film) and all of you (his fans).

"But, for me, this almost 20-year-old film had a very modern take of things, and the whole film revolved around only one character.

"We were trying, not only to woo, but to respect, love and actually make a point through that one character and it would not have been possible if that character was not played by Kajol," SRK said.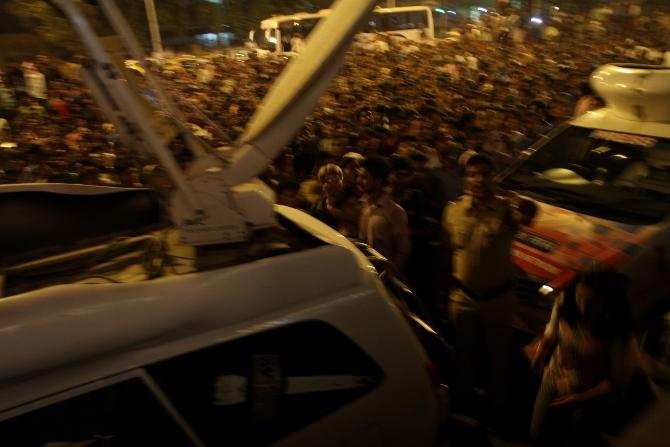 Image: The crowd outside Maratha Mandir
While scores of fans thronged the venue to commemorate the milestone as well as to catch a glimpse of their favourite romantic jodi of all time, it was evident that managing the eager crowd was quite a task for the security personnel, even as SRK, dressed in a sharp suit, tried to maintain his composure at a point and interact with his fans as much as he could.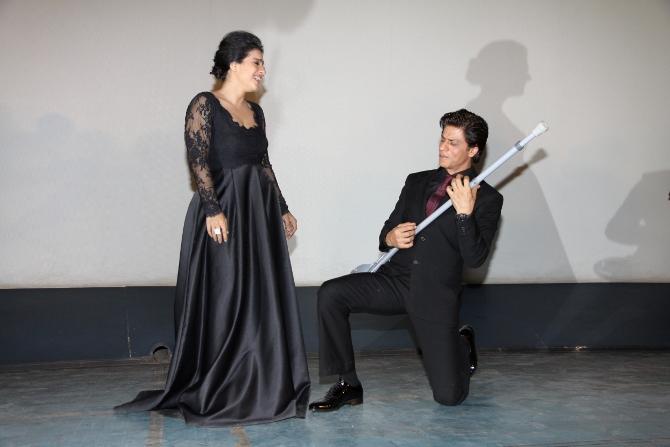 Image: Kajol and Shah Rukh Khan
His DDLJ leading lady Kajol, meanwhile, dressed in a gorgeous lace-lined black gown, had to be escorted to the theatre as she held on to a walking stick due to a foot injury.

The duo, who went on to star in several other successful films after DDLJ and remain close friends off screen even today, looked psyched to be there together and engaged in entertaining banter through their nearly 15-minute appearance.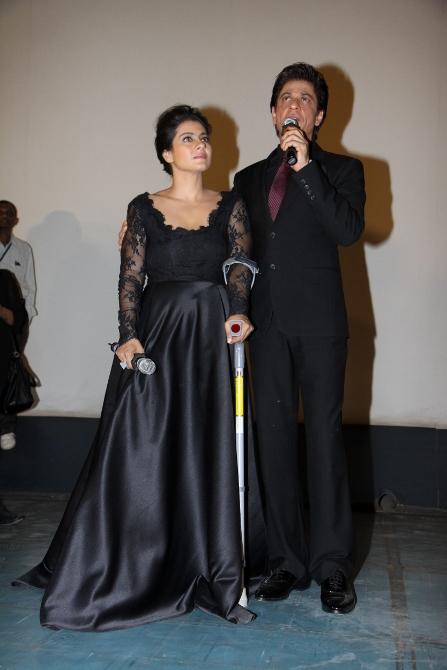 Image: Kajol and Shah Rukh Khan
Kajol, who said she really like her friend and co-star SRK's dimples and nose, had a message for his fans.

"I want to tell all the fans of Shah Rukh that he loves you more than you love him!" she said.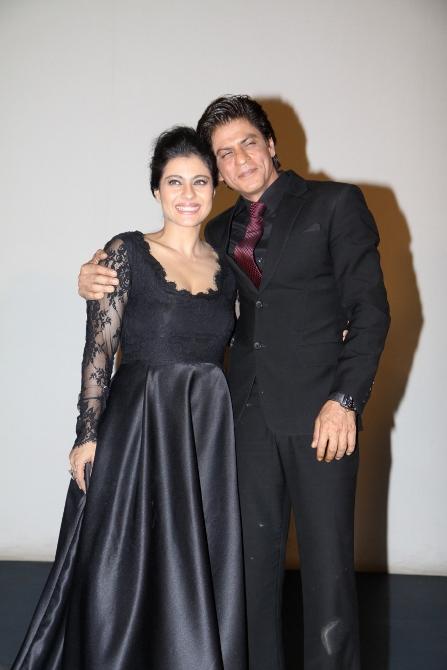 Image: Kajol and Shah Rukh Khan
The articulate star actor that he is, SRK had the last word in this mutual admiration club and its reunion.

"The film was all about Simran and will always remain about her.

"Kajol's simplicity and unassuming ways reflected in the way she portrayed Simran.

"Not only as a friend, as a co-actor, or as Ajay Devgn's wife, that is how she is in real life. She is purity personified. The film's purity and beauty comes from her," he said.

Photographs: Abhijit Mhamunkar