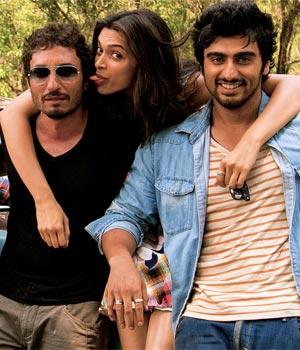 'Cocktail allowed me to make Finding Fanny.'
Homi Adajania gets candid.
Finding Fanny is getting a lot of praise from critics and the film fraternity, and the man behind it all is Homi Adajania.
Director of such films like Being Cyrus and Cocktail, Homi is known for his hatke cinema.
In a conversation peppered with expletives, Homi tells Patcy N how he filmed this 'wacked out story.'
How did you come up with the unusual story of Finding Fanny?
I like to collect weird articles and stick them above my desk. I found this article about an Italian postman, who had been arrested and put in jail for 11 years.
He had got a new job in a small town as a postman, but he did not deliver a single letter for one whole year.
People complained about not receiving their bills and getting news, and finally when they checked, they found that the postman's house was full of undelivered letters, from ground to ceiling.
He just took the letters and kept them at home while he drank beer and watched television.
That incident got me thinking. What if I had proposed to someone in a letter, and that letter had not gone through? I got the idea from there.
Human beings are very complex and bizarre. We try to act normal but there is nothing normal about us.
I wanted to put this bunch of five buffoons (Pankaj Kapur, Dimple Kapadia, Naseeruddin Shah, Deepika Padukone and Arjun Kapoor) in one village and see what happens.
You wanted to do this film before Cocktail but producer Dinesh Vijan was not confident. What changed his mind?
I gave him a hit film like Cocktail so why wouldn't he change his mind?
Dinesh kept telling me we will do it later and kept me hanging. Plus, Naseer couldn't do it at that time so I had to drop it.
Without sounding clichéd, I genuinely believe every film has its own destiny
I couldn't have made it on the budget I was given, but after doing Cocktail, I got an expanded budget. Cocktail allowed me to make Finding Fanny.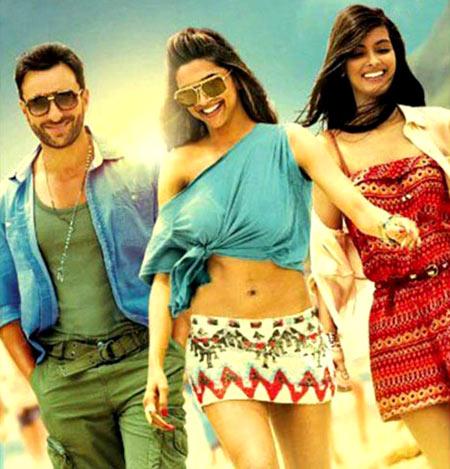 Saif Ali Khan, Deepika Paukone, Diana Penty in Cocktail
You had to prove yourself by making Cocktail to be able to make Finding Fanny?
No, I did not have to prove anything.
The reason I made Cocktail was because I was scared. I thought I did not know the narrative format of a song-dance film. It was alien to me.
That's why I kept refusing to do Cocktail. When I finally realised that I was not doing it because I was scared, I immediately called Dinesh and said I am doing it. He said, 'Call me when you are sober in the morning.'
In the morning, I told him I will make Cocktail my own way, and I did.
Did you choose the cast?
Naseer was my first choice when I wrote the story. Deepika wasn't my first choice; I wrote this film after Being Cyrus when Deepika was not in the industry.
There were many actors I was considering but I did not approach anyone and the film got shelved.
I told Deepika the story when I was working on Cocktail. She said let's make the film, I can't get the Goa story out of my head.
It was a completely wacked out story, which is not her space, but she wanted to do it.
What about Arjun Kapoor?
I cast Arjun because of Ishaqzaade.
I've known him when he was slightly differently shaped (he was 140 kilos earlier). He came to assist me during Being Cyrus but then fell ill with jaundice.
When I saw him in Ishaqzaade, I was bowled over. I thought this boy has a grasp of cinema because in his first movie he was playing a character totally different from what he is in real life.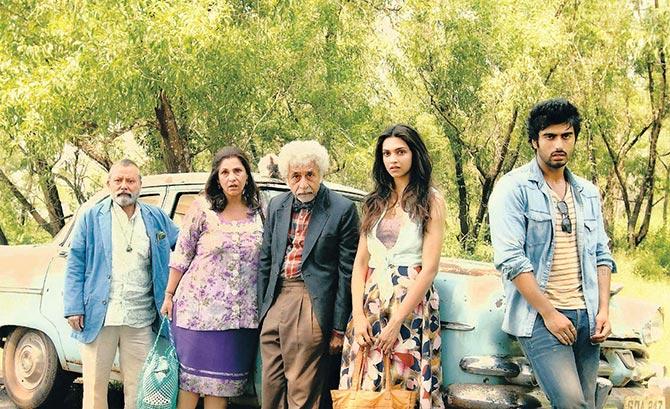 Pankaj Kapur, Dimple Kapadia, Naseeruddin Shah, Deepika Padukone and Arjun Kapoor in Finding Fanny
Why make this a Goan film?
I did not decide that it must be set in Goa. I wrote it as a short story. I read a lot. I prefer reading to watching a film. I am extremely influenced by the South American authors, especially Márquez (Gabriel García Márquez).
When this story came in my mind, I just felt that this film needs to be Márquezian style with high breed of an Indian village. What suited it was the Catholic-Portuguese influences in Goa.
When I wrote it out, I realised that the soul of the film is in the language and the dialogue. I tried to make it in an Indian language but then we decided to shoot in English and dub in Hindi.
It's a fictitious Goa; it is not the Goa we see. I have avoided the plastic Goa; I have avoided the tourists and the beaches, the drugs and the raves and the hotels.
The fictitious village, Pokoli, where everybody lives, is not any one place. Deepika's house is in South Goa, Arjun Kapoor's house is up North, and so on. I shot everything separately and merged it together.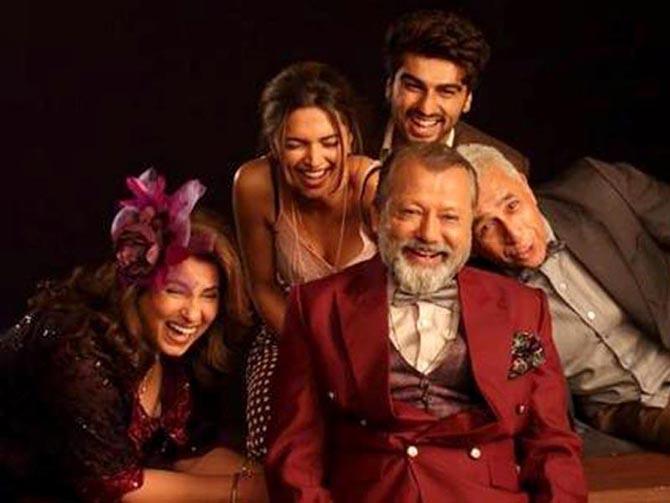 Dimple Kapadia, Deepika Padukone, Arjun Kapoor, Pankaj Kapoor, Naseeruddin Shah in Finding Fanny
The film is in English. Doesn't that limit your audience?
I want to tell this story in English. The producer had the guts to put the money in, and the studio had the guts to back him.
Mostly people will watch the English version and people who speak broken English are also going to watch the English version. It's a very easy film to understand.
I feel it should not be denied to non-English speaking audiences and that is why we dubbed it in Hindi.
Do you think the censor board is being hypocritical when it cut the word 'virgin' from the trailer, and the film?
I can't complain; they eventually allowed us to keep it. But there is complete hypocrisy.
I shot such aesthetic shots of Deepika Padukone's back. It is moonlight and she takes her shirt and bra off and it is a back shot. She is sitting on Arjun Kapoor. The censor board said they can't show this.
I asked them if they had seen the scene in Cocktail where Deepika is in a bikini and rolling around on the beach and Saif is using his hand to do puppetry on her stomach. How ridiculous is that, and still you passed it, so why can't you show a silhouette shot of two people making love in a field?
They said, 'Beach pe bikini penta hai, field main kaise pehn sakte hain?' This was the reason to cut the shot.
So, yes, there is hypocrisy and lacking in consistency. They should have ratings other than U/A and A.
Would you make a sex comedy?
No. Sex comedy is boring for me. I am not alarmed by it, but I think it is an easy way to make bucks.