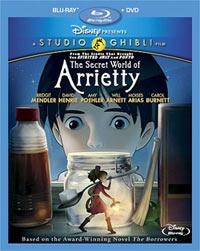 The combination of the hand-drawn animation and a touching story of unusual friendship and adventure works magic in The Secret World of Arrietty, the latest hit from Japan's Studio Ghibli, famous for award winning hits like Ponyo and Spirited Away.

Based on a novel by Mary Norton, The Borrowers, this hugely entertaining film is dubbed in English with splendid voices by Carol Burnett, Amy Poehler and Will Arnett, among many talents.

Presented by Disney, the Blu-ray and DVD combo packet offers one of the best entertainment values this summer.

Though many Ghibli hits made under the endlessly creative eyes of Hayao Miyazaki, who is revered by Disney animators as one of the most influential and best animation writers and masters across the globe, have each grossed over $150 million in Japan, their films have a limited but good run outside Asia. But it is difficult to imagine anyone not being seduced by the charm, visuals and technical marvels of these films after watching a few scenes.

The little people called Borrows are leading a quiet life below the kitchen floor. They stealthily gather small bits of items they need for survival including biscuits and furnishings from the upstairs of a home without being discovered by the beans (humans).

Arrietty is a curious and gutsy teenager (voice by Bridgit Mendler) whose parents (Poehler and Arnett) think

she's ready for her first 'borrowing' trio. 

Meanwhile, a young 'bean' Shawn has moved into the house above them, to rest and prepare for a heart surgery, and to be cared for by a strong woman,  Hara (Burnett). Shawn stumbles into the world of borrows and comes to know Arrietty.

When a secret friendship develops between Arrietty and Shawn, there is a fulfilling experience for them (and the viewers) and a terrific adventure.

British author Mary Norton won the Carnegie Medal for The Borrowers in 1952, the year it was first published in England. The book has remained in print and is also available in an illustrated version. With the appeal of the film, and the solid reception expected for the Blu-ray and DVD, the book could also be in demand.

This is the kind of films which appeals to adults and young viewers. The adults might wonder how the hand-drawn animation still triumphs over CG while sharing with the children the delight of a passionate story.

This summer, there will be many films in the theatres appealing to the family audiences but when it comes to home entertainment, there would be hard to find something that is as entertaining as Arrietty.

One wishes the extras included extensive insights into the making of the film. But there is quite a bit of additional stuff here including the original Japanese storyboards, trailers and television spots, and the music video Summertime.