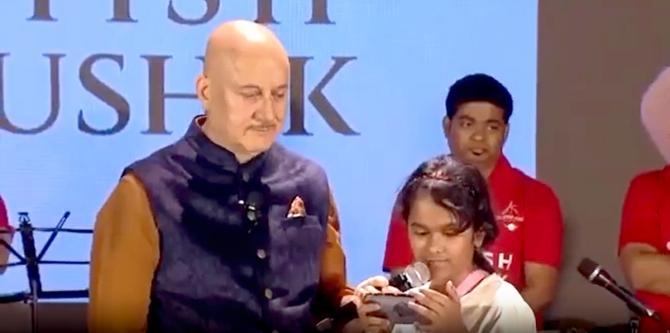 Anupam Kher celebrated his friend Satish Kaushik's 67th birth anniversary on April 14 by hosting a musical night, and getting the late actor's friends to share their memories of him.
With a lump in his throat, Kher shared that he was finding it difficult to live with the fact that Satish is not among them any more and that he had decided to cancel the event a few days ago.
But then Satish appeared in his dream and asked, 'You won't be doing anything on my birthday?'
That was when he decided to go ahead with the event.
It was Anupam Kher's first day in Mumbai. And he was watching Satish Kaushik make an impressive new friend. This, Anupam recalls, is what happened next: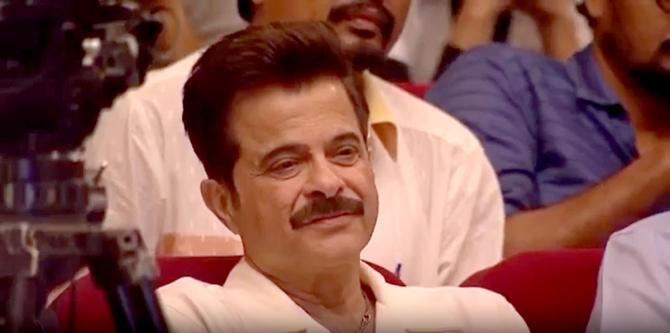 Anil Kapoor showcased a montage as a tribute to his dear friend, which showed beautiful pictures of the two, including stills from the films they did together like Mr India, Ram Lakhan and their last outing, Thar.
The actor got so overwhelmed that he teared up and could not muster up the courage to walk up to the stage in the first go.
When Anupam insisted that he say something about his friend, Anil bared his heart out and shared many fond memories.
He became friends with Kaushik while working on 1983's Woh 7 Din.
"I had watched one of his plays called Bicchoo at Prithvi Theatre. I found him to be a great actor and suggested his name to Boney," Kapoor shared. "He came to do one scene in Woh 7 Din. When Naseersaab saw him, he fired him, saying, 'Why are you doing just one scene here?'
"But he still did it. From there, our friendship started," Kapoor said.
'Whenever he came to my house...' Anil Kapoor shares his memories in the video.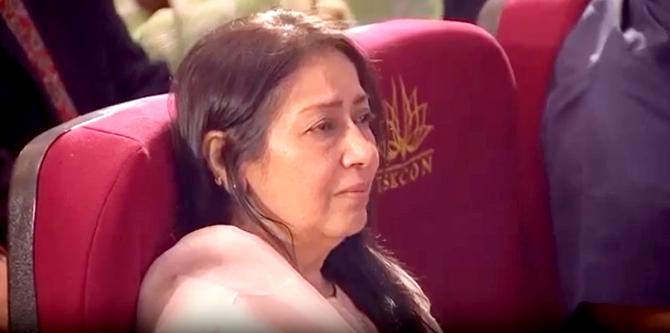 Shabana Azmi knew Satish Kaushik from the days of Masoom, where he was assisting Shekhar Kapur.
While wiping her tears, the actress also spoke about the time he contemplated suicide after his film Roop Ki Rani Choron Ka Raja flopped.
Satish Kaushik found humour even in his darkest days, and she recounts it here, drawing in the laughs.
Javed Akhtar knew Satish Kaushik from the early 1970s, and spoke about his brilliant sense of humour.
While that was Satish Kaushik's bulletproof jacket against life, behind it lay a very sensitive person.
'Iska kahaani adhuri reh gayi,' Javedsaab says in this video.
Comedy is a very difficult job but Satish Kaushik made it very easy, endorses the king of comedy, Johnny Lever.
"I learnt acting while working with Satish Kaushik," he says, citing the example of his cop role in Roop Ki Rani Choron Ki Raja.
In the film, Kaushik wanted him to play the character in a way Lever just couldn't do, leaving him in deep thought about why he couldn't nail it. He tells us here.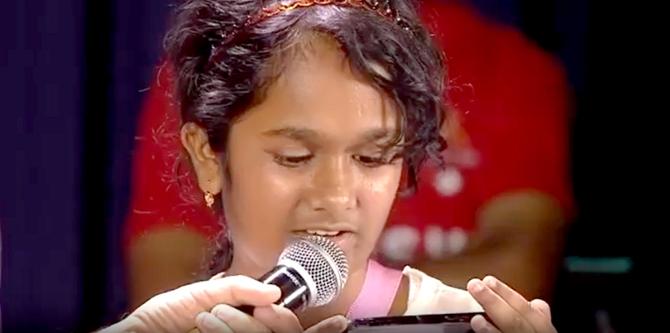 Satish Kaushik's 11-year-old daughter Vanshika moved everyone to tears when she read a heartfelt letter to her father.
Anupam Kher revealed that she had placed the letter next to her dad's mortal remains when they were being transported to Mumbai from Delhi. She did not read out the letter during the funeral, saying that she would do it only when the time was right.
She read it out at the event:
'Hello Papa, I know that now you are no more but I want you to know that I will always be there for you.
'Your friends taught me to be strong but I can't live without you. I miss you so much. If I knew this was going to happen, I would miss school just to spend time with you. I wish I could have hugged you once. You are still in my heart.
'I do not feel like going to school anymore.
'I don't know what my friends will say. Will they make fun of me?'
The room tried its best to hold back its tears, as Vanshika continued, 'Whenever I felt sad, he would always tell me, 'Vanshika, do you want to go on a lunch date to JW Marriott?' Once when I had my school exhibition, he made me laugh with his weird dance moves while I was performing my dance.
'Please come in my dreams every single day. I have done pooja for you and want you to be in heaven and live a happy life in a big mansion with a Rolls Royce and a Ferrari. You will eat great food. Please don't be reborn, we will meet in 90 years.
'Please remember me, I will remember you forever. I had the world's best dad ever.'
Satish Kaushik's friends cut a cake to celebrate his birthday, and Anupam offered it to Vanshika and her mum, Shashi.