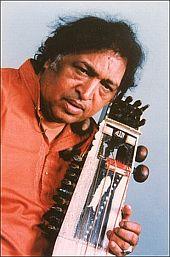 Sarangi maestro and classical singer Ustad Sultan Khan, the soulful voice behind hits like 'Piya basanti' and 'Albela sajan aayo re', passed away on Sunday afternoon in Mumbai after prolonged illness.
The Padma Bhushan awardee, 71, who hailed from a family of sarangi players in Jodhpur, was on dialysis for some time, family sources said.
His funeral will take place in Jodhpur on Monday. Credited for reviving sarangi, Khan is famous for his extraordinary control over the instrument and his husky voice.
He started performing at a the age of 11, and later collaborated at the international level with sitar maestro Ravi Shankar, on George Harrison's 1974 'Dark Horse World Tour'.
Khan's was a family of sarangi masters from Rajasthan. He was initially tutored by his father, Ustad Gulab Khan. Later, he trained under Ustad Amir Khan, a classical vocalist of Indore gharana (school).
After establishing himself as sarangi player, Ustad Sultan Khan also worked with musicians from the Hindi film industry, such as Lata Mangeshkar, Khayyam, Sanjay Leela Bhansali apart from collaborating with musicians in the West.
Apart from Padma Bhushan, Khan won numerous musical awards including the Sangeet Natya Academy Award twice, the Gold Medalist Award of Maharashtra and the American Academy of Artists Award in 1998.
Khan was also a member of the Indian fusion group Tabla Beat Science, with Zakir Hussain and American bassist Bill Laswell. His son, Sabir Khan is also a well-known sarangi player.
Image: Ustad Sultan Khan