Here's looking to Saif's little girl making her big Bollywood debut!
Rumours have swirled around Sara Ali Khan's Bollywood debut for months.
That Hrithik Roshan had been signed opposite Sara, Amrita Singh and Saif Ali Khan's daughter.
No, no, suggested another scuttlebutt, it was Ranbir Kapoor.
And Karan Johar was supposed to produce the film.
Well, despite recent talk, Sara will make her acting debut opposite Sushant Singh Rajput after all.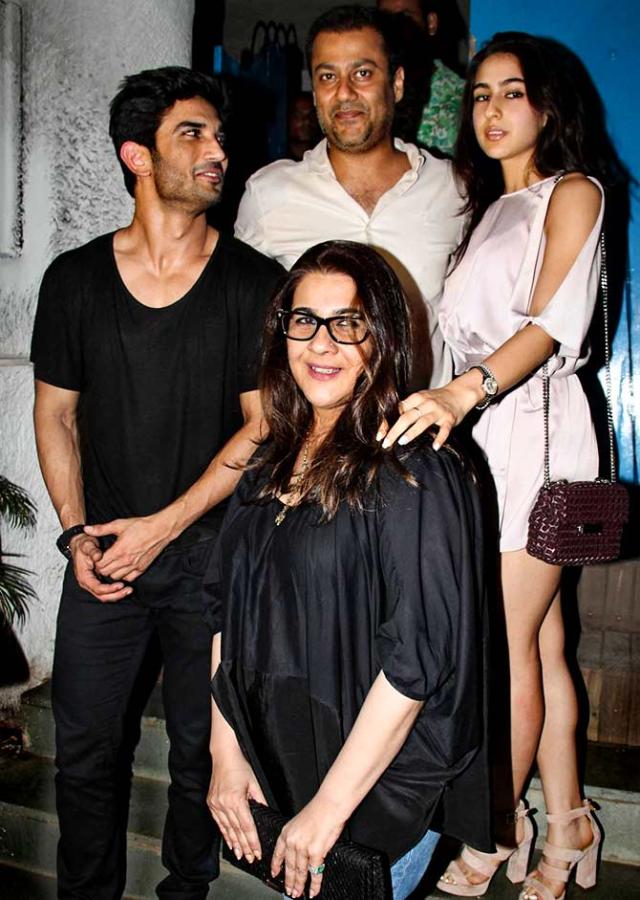 IMAGE: Sushant Singh Rajput, Abhishek Kapoor, Sara Ali Khan and Amrita Singh outside a Bandra, northwest Mumbai, restaurant.
Sara's debut movie, Kedarnath, will be directed by Abhishek 'Gattu' Kapoor, who cast Sushant in Kai Po Che, the then television star's first film.
On Thursday, June 22, a statement revealed that the film is a joint venture between Abhishek's production house, Guy In The Sky Pictures, and Prernaa Arora and Arjun N Kapoor's KriArj Entertainment.
'We're excited about this collaboration,' Arjun said in the statement. 'Abhishek has always been high on our wish list and we couldn't have asked for a better subject than Kedarnath. It is a story that will strike a chord with audiences.'
'My recent visit to Kedarnath was very empowering,' Abhishek added, 'and I am excited to have Sushant Singh Rajput and Sara Ali Khan on board for this project'
The announcement nixes the rumour that Amrita wasn't enthu about Sushant after his latest Raabta bombed.
Amrita has been in the business long enough to know that hits and flops are part of the showbiz game, and Sara couldn't have a better launch in Bollywood than Gattu's film.
VIDEO: Sara and mom Amrita with Abhishek and Sushant.
It will go on the floors by this year end.