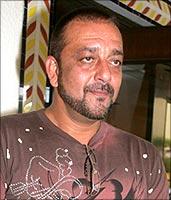 Sanjay Dutt has been sentenced to five years in jail by the Supreme Court in connection with the 1993 Mumbai blasts case.

While Dutt is obviously worrying about his fate, the producers of his under-production films aren't sweating it out.

The 53-year-old actor has four films in the making -- Policegiri, Zanjeer, Ungli and Peekay.

According to media professional and industry observer Abhijit Mhamunkar, none of them will be affected. "The verdict may have gone against the actor but this will not affect his films in a major way," he says.

"Out of the four films, Dutt's next release Policegiriwill be affected the most. He will be able to complete the shooting of the film, as he still has four weeks to surrender and only five percent of the film is left. But it will be difficult for the production house to promote the movie without him, as he's the solo star in it."
Policegiri, made on a budget of Rs 15 crores, co-stars Prachi Desai and is directed by south director K S Ravikumar.
The film's producer T P Aggarwal says, "Sanjay is like family to me. Right now, I am trying to speak to the industry people and see if there is a clause to file a petition against the verdict. My film is 95 percent complete but I am not really bothered about releasing it."
Dutt had also started shooting for Kurbaan director Rensil D'Silva's Ungli, to be produced by Dharma Productions. The film also stars Emraan Hashmi, Kangna Ranaut and Neha Dhupia.
Rensil D'Silva claims his film will not be affected by the verdict: "The news came as a big shock for me. He is a very humble human being. Seventeen days of the shoot is remaining but I don't need Sanju (Sanjay Dutt) for it. He has completed his portion. My film is very much on schedule."
"The approximate budget of Ungli is Rs 25 crores and since Emraan Hashmi is also a popular star, the verdict will not affect the film," Abhijit says.
Dutt plays the iconic character of Sher Khan in the remake of Apoorva Lakhia's Zanjeer. Scheduled to release in May, Dutt's verdict will not affect the film at all, as he has finished shooting for it.
"And Zanjeer will be publicised as the Bollywood launch of Ram Charan Teja rather than a Sanjay Dutt film," Abhijit says.
As for Rajkumar Hirani's Peekay, Abhijit says. "It will be possible for Dutt to complete the film as he doesn't have a parallel lead role. It will be interesting to see how the actor approaches all his films. "