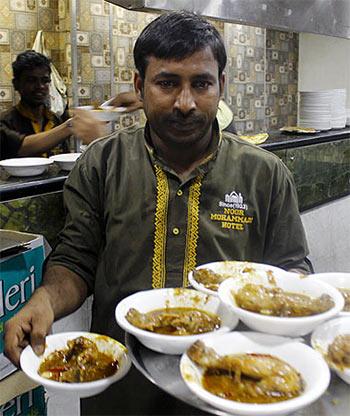 A Mumbai restaurant celebrates Sanjay Dutt's release by serving its signature dish Sanju Baba Chicken, FREE!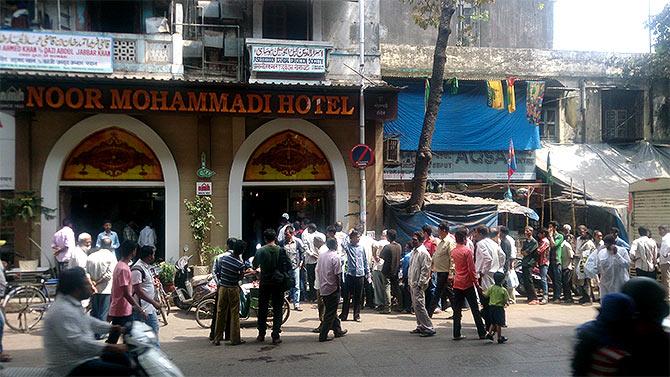 IMAGE: People queue up outside

N

oor Mohammadi restaurant to eat Sanju Baba Chicken. Photograph: Hemant Waje/Rediff.com
Noor Mohammadi restaurant, located at Bhendi Bazaar in South Mumbai, has a long queue snaking up the road on February 25.
Though the restaurant is well frequented by Mumbai's locals, today is a special day.
It is the day that Sanjay Dutt has been released from jail, and the restaurant's owner Noor Mohammadi Khalid Hakim is serving his signature dish, Sanju Baba Chicken, free of cost to his patrons.
"I heard on radio that this dish will be served free and that's why I came here to eat," says Manohar Tambe, a sales executive from Chembur, an eastern suburb of Mumbai.

"I am very happy to see Sanjay Dutt as a free man. I have watched many of his films. Vaastav and Lagey Raho Munna Bhai are my favourites," he adds.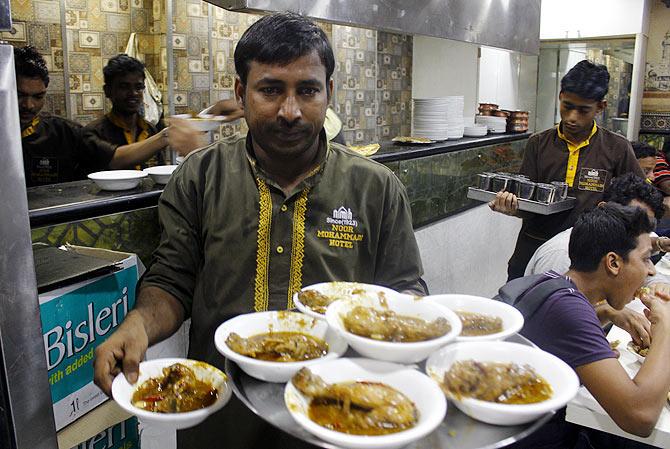 IMAGE: A waiter at

N

oor Mohammadi restaurant serves the dish. Photograph: Hitesh Harisinghani
Khalid stands at the restaurant's entrance, and keeps a watch on the proceedings. He shouts at his customers, asking them to maintain a queue and not create chaos.

"As promised, I am serving 'Sanju Baba Chicken' free till midnight," Khalid says.

This signature dish has been prepared according to the recipe given to Khalid by Sanjay Dutt himself, seven years ago.

A huge fan of Dutt, Khalid had asked the actor to inaugurate a family room in his restaurant way back in 1986, and Dutt had done so.

"We have been friends for more than 30 years now and I am very happy to see Sanjay Dutt out of prison," Khalid says.
Fans tell Syed Firdaus Ashraf why they have lined up outside the restaurant. Video: Hitesh Harisinghani
His younger brother Rashid is also a big fan of the actor.
"We have made one huge dekh (big utensil) of Sanju Baba Chicken," says Rashid. "When it gets over, we will make another."

With so many people milling around for a taste, things were not always smooth.
Though Sanju Baba Chicken, priced at Rs 70 for half a plate, was being served free, customers had to shell out a nominal price for roti (Rs 6 each) or rice (Rs 20). Customers, especially women, were also upset that they could not carry any takeaway.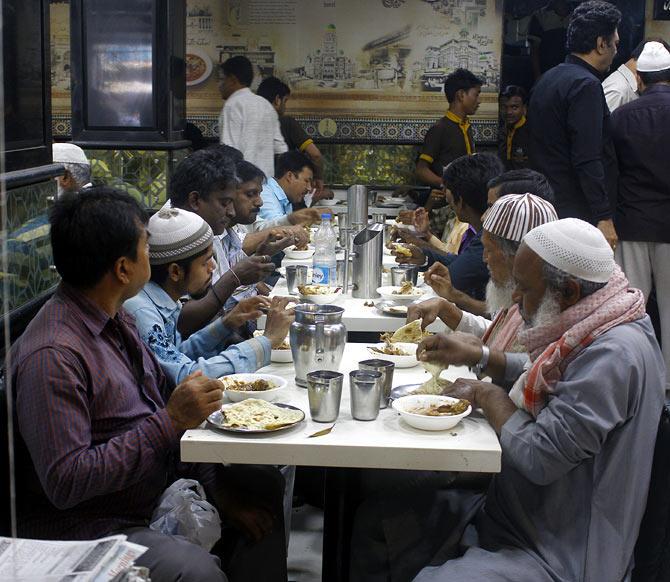 IMAGE: Fans enjoy Sanju Baba Chicken. Photograph: Hitesh Harisinghani.
But on the whole, the restaurant has gained a lot of supporters.
Irfan Ansari, a labourer, says, "This is very good news for poor people like us. We cannot afford a dish for Rs 70 so it's a treat for us. Sanjay Dutt's release has brought good news to people like us."