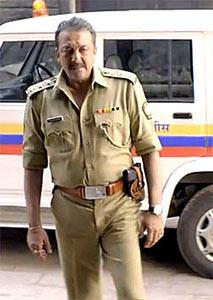 'The mood was very sombre on the sets on the last day when Sanju was around. Imagine what he must have undergone that day!'
Director Rensil D'Silva discusses his latest film Ungli.
Ungli is one of Sanjay Dutt's last films before he was jailed in 2013, in connection with the 1993 Mumbai blasts case.
The film, also starring Emraan Hashmi and Kangna Ranaut, got delayed for quite a few reasons, Dutt's jail term being the most important one. Now, its director Rensil D'Silva is relieved that the film is finally releasing this Friday, November 28.
Rensil talks to Sonil Dedhia/ Rediff.com about the last day he shot with Sanjay Dutt, and what he learnt from his debut film Kurbaan.
Ungli has been in the making for over two years now. Why the delay?
The most obvious reason was Sanjay Dutt, who went to jail last year. It was completely unexpected.
Luckily, I had finished almost 80 per cent of the shoot. But four to five scenes were remaining, and we completed that during his legal hassles.
It then became a domino effect.
Ungli is an ensemble film where five actors are required in all the frames. So if one guy goes missing, it becomes difficult.
The second delay was the music.
We just didn't get what we wanted. Ungli is not a regular masala film. It required a certain soundtrack, and I am very happy to say I have got it with an ensemble of musicians.
A minor reason was that we were looking for a solo week to release the film. This is a packed year. (Producer) Karan Johar first thought of releasing in May but things didn't work out so we decided to arrive in November.
The delay must have been frustrating.
Yes, it frustrated the hell out of me.
Sanjay Dutt went to jail and that was the end for me. I couldn't do anything about it. I had to reshoot it. That is a hell of a lot of money and time.
And the mental stress you go through is unparalleled. Fortunately, I could complete the film.
Tell us about the last day you shot with Sanjay Dutt.
He had a very dramatic scene with Emraan Hashmi and at the end of it, he got very emotional.
The mood was very sombre on the sets when Sanju (Sanjay Dutt) was around.
I remember Karan was on the sets too. We hugged Sanju but he didn't say anything. He went aside to do a brief photo-shoot and then did not return. He just drove off.
Imagine what he must have undergone that day!
What if Karan Johar had agreed to re-shoot the film? Who would you have cast as a replacement for Sanjay Dutt?
If I had to re-shoot, I would go to Anil Kapoor. I have worked with him on 24.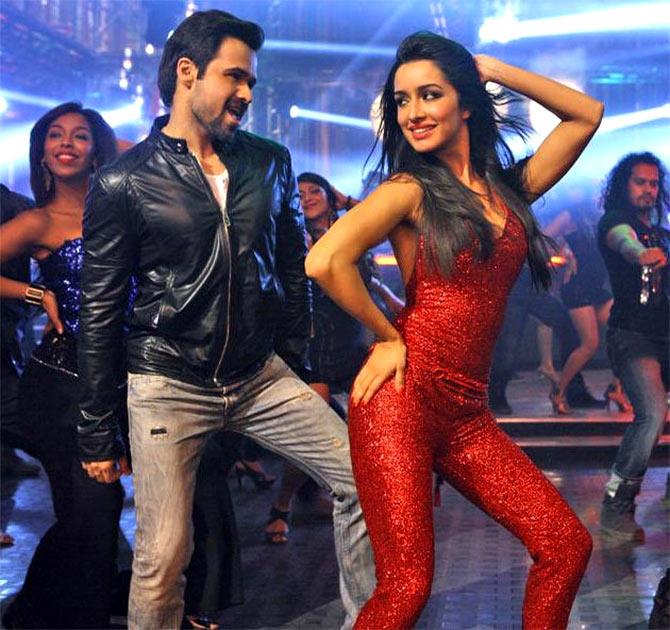 Image: Emraan Hashmi and Shraddha Kapoor in Ungli
Your actors Emraan Hashmi, Kangna Ranaut and Randeep Hooda have really evolved in the past couple of years. Did you make any changes to the script to suit their changing screen persona?
I am very sceptical about these tweaks. First, it is the most dishonest thing to do, unless it comes organically.
Second, you are destroying the screenplay, something you believed in, just for commercial value.
For me, the screenplay is very sacred. It is my bible. So I don't like making these changes.
If it's a promotional item number, then that's a different thing. That is more of a marketing effort.
But as a filmmaker, I have to be honest to the story I narrated to my actors and the film I had thought of.
Karan Johar feels your last film Kurbaan went wrong in its marketing; the focus shouldn't have been on Saif Ali Khan and Kareena Kapoor's romance. Did you unlearn certain things while making Ungli?
I'll give you an example. There are 10 investors in a room and they ask what is Kurbaan? I would start with 'Kurbaan is a film about jihaad.' So five investors would start getting up to leave the room.
It has no item numbers, no lip sync songs, a love story that is doomed and everyone dies in the end... I wonder how many investors would still be sitting in the room.
Then it ends with a woman who has just walked out on her lover from a train and the last shot is that of her eyes. At this point, even the last investor would have gone out of the room (laughs).
But having said that, I am a filmmaker and I want to make films about reality. It's amazing that as I was shooting the train sequences, 26/11 was happening in Mumbai. So I was getting real feedback.
Nakul Kamte, my director of sound...his cousin (Ashok Kamte) was the head of the Anti Terrorism Squad and he died in the operation.
Making a film on 26/11 is going to be as tough and as many investors are going to walk out of the room versus if I were to say I am making a rom-com. But does that mean we stop making films that are a comment on society? So I will continue making such films.
Maybe the one learning is to not make it on that scale and budget where you won't be able to recover it.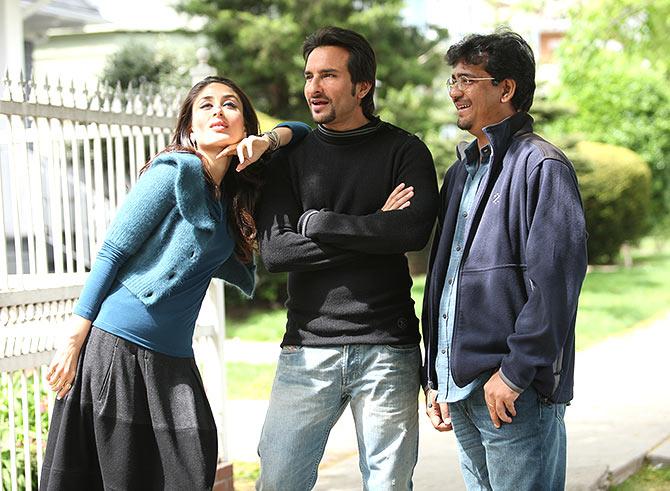 Image: Kareena Kapoor, Saif Ali Khan and Rensil D'Silva on the sets of Kurbaan
You wrote the Indian version of 24 which received a positive response.
24 saw a whole new audience, who otherwise never watched television.
The victory has been gradual so now the sponsors are coming back.
I don't believe in TRPs as I am not convinced with the way they calculate it. I have started writing for the second season which will take off next year.
Is it difficult to tweak the story to suit the sensibilities of Indian audiences?
People ask me if I merely rework the original 24 in India. That would not excite anyone creative.
The basic idea of the plot has to be maintained as per the rights taken, but in our first season, we changed 60 per cent of the story and in the second season, it will be around 70 per cent different.
TV is a writer's medium and I can never be happy merely copying something.