'A belligerent Alok Nath refused to leave.. kept screaming shouting threatening abusing trying to grab me..'
Actress Sandhya Mridul has tweeted her own #MeToo moment with actor Alok Nath.
Vinta Nanda, the woman whose allegations of rape by Alok Nath 19 years ago shocked social media, told the media that she is meeting advisors and will decide on a plan of action.
Nanda outed Alok Nath in a Facebook post on Monday night, detailing not just the harrowing rape but also the years of isolation, depression, trauma and suffering that she endured after.
This is Sandhya Mridul's account of her experience with Alok Nath, reproduced verbatim:
'At the very start of my career I was shooting a telefilm for zee in Kodaikanal. I was the lead. And very excited. Alok Nath was my on screen father and Reema lagoo my mother.
'Alok Nath was very impressed with me and called me 'god's own child' and openly praised me everyday. I was over the moon. I was a huge fan of this wonderful Babuji.. I felt so fortunate happy and confident.
'Till one night after an early pack up. The cast went out for dinner. At dinner he got progressively drunk and started insisting I sit with him and that I belonged to him and other stuff that I don't clearly remember but it made me very nervous and uncomfortable. My co-star realised what was happening and got me out of there.
'We went back to the hotel without dinner. It was late and I was back in my room and the costume dada came to my room to give me my clothes for the next day as I had a very early call time. Few minutes after he left there was a knock on my door.
'I opened the door thinking it was him again ..it was an inebriated Alok Nath I instinctively tried to shut the door but he pushed it and lunged at me, I stepped aside he went flying past me into the room ..
'I fell backwards towards the bathroom door he lunged at me again screaming I want you you're mine .. I dodged again he went into the bathroom and I think I latched the loo door and ran out of my room down the corridor into the lobby. Fortunately my dop was there making a call from the reception ..
'He came back to my room what ensued was traumatic because a belligerent Alok Nath refused to leave.. kept screaming shouting threatening abusing trying to grab me.. but at some point we managed to make him leave.
'The hairdresser was called and made to sleep in my room I was so shaken up.
'In a few hours Ihad scenes with Bauji, in one I had to sit on his lap and cry. I still feel nauseous when i think of it.
'It didn't stop there ... every evening he would drink and every night calls were made to my room. I dreaded the ring.. I had to keep it off the hook most of the times.
'But then he would come calling. It was a catch 22 situation. I had the hairdresser moved in to my room permanently. I was a nervous wreck.
'Few days later I got very sick & was laid up and couldn't shoot. The stress had broken me. He continued to traumatise me with calls.
'And knocks.
'The hairdresser would answer. One day when he landed up at the door and cried and begged to be allowed in to sodas to me to apologise.. I couldn't take it anymore I told her to accompany him in..he pulled a chair next to my bed and howled. Said he was an alcoholic and that he had destroyed everything his family his marriage everything's and I was like his daughter and he respected me and that he was very sorry. He says he had learnt his lesson and that he would go to therapy and change it all..
'I finally broke my silence. I screamed shouted cried and it was done. I believed him. I had to. He left. He got away. I don't know how I shot with him for the remaining days and weeks.
'I'm grateful to my co-actors, my DOP & especially the late Reema lagoo for finally taking him on & protecting me like a mother from then on.
'But it was too late. The damage was done. A very disillusioned, disgraced & unsure me returned home. He went on to return to Bombay and tell people I was difficult and arrogant. Apologies forgotten. He was a popular man. I was a newbie. He laid the foundation others like him built on. All those who heard 'No'. Attitude my biggest crime. The deal breaker.
'Mr Alok Nath. You know this to be true. As do few others. I had to forgive you for myself then and for my sanity but I will never forgive you for what you did with Vinta. Whom I have always respected and loved.
'I stand by you Vinta. What I went through is nothing compared to you. I'm so sorry. More power to you. To us all. I'm certain there are others. I urge you to come forward. 'Your time is up Sir'. #Me too
***
Sona Mohapatra accuses Kailash Kher of sexual misconduct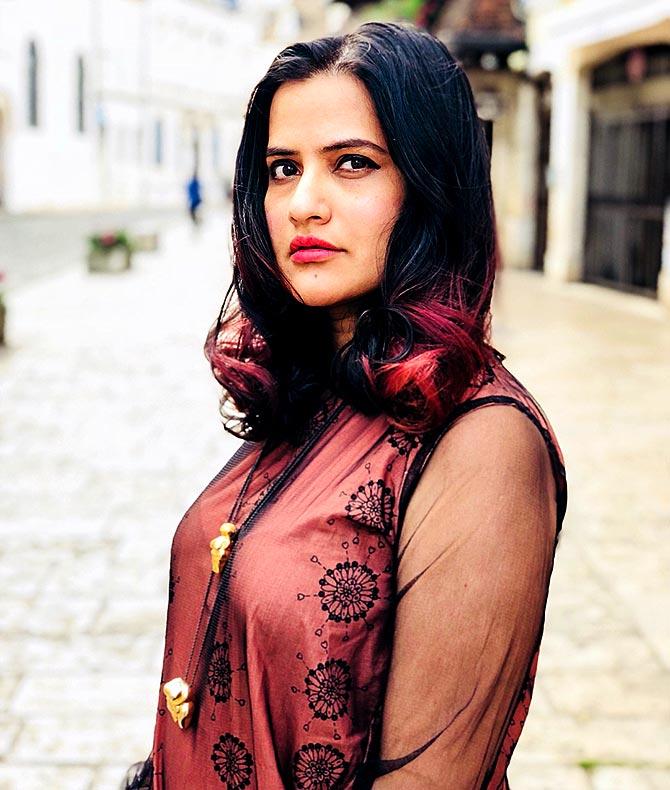 The #MeToo movement continue to rock Bollywood.
Singer Sona Mohapatra has accused fellow singer Kailash Kher of sexual misconduct.
In a series of tweets, Sona narrated incidents in which Kher's behavior towards her was improper. She tweeted that she first met him at a cafe in Mumbai to discuss a concert.
Kher placed his hand on her thigh, complimented her and said he feels so good that a 'musician got you and not an actor', referring to her husband Ram Sampath.
'I met Kailash for coffee in Prithvi Cafe to discuss a forthcoming concert where both our bands were playing & after the usual, a hand on my thigh with lines likes, you're so beautiful, feel so good that a 'musician got you' (Ram) not an actor. I left not soon after,' Sona said.
Mohapatra said Kher continued to make advances when they landed in Dhaka.
'That did not deter Kailash Kher though. On landing in Dhaka & on my way to the venue with the organisers, keeps calling me & when I don't pick up, calls the organisers phone to get through to me & asks me to 'skip' the soundcheck & join him in his room instead to 'catch up', she tweeted.
'The fact that Kailash had sung in my studios & for many projects in which I was the producer & knew me to be as strong as i am or that he had only recently taken a favour from my partner @RamSampathLive to create a personal track for him didn't stop him. #TheHubris of such #men,' she added.
The #MeToo movement started in India after actress Tanushree Dutta alleged that Nana Patekar sexually harassed her on the sets of a film in 2008.
***
Anurag Kashyap steps down as MAMI board member
Anurag Kashyap has stepped down as a board member of the Mumbai Academy of the Moving Image, MAMI.
The 46-year-old director has been a member of the MAMI board ever since it was set up.
Kashyap, who has been accused of shielding director Vikas Bahl in an alleged sexual harassment case, said he would return to MAMI only after clearing his name.
'In the light of the current events, I have decided to step back from my duties as a board member from MAMI until the shadow of doubt of our alleged complicitness in silence and not doing anything about it, is cleared,' he tweeted.
Last year, a woman employee at Phantom Films, which had Bahl as one of the partners alongside Anurag Kashyap, Vikramaditya Motwane and Madhu Mantena, alleged that Bahl behaved inappropriately with her during a trip to Goa in 2015.
In another tweet, Kashyap said that he will keep fighting the 'accusations' that come his way.
'The accused was named and shamed a long time back. For people who don't read the details & only the headlines, I have no response. A lot of women work with me and have been around, I am answerable to them & they stand witness to our actions &our struggle to do the right thing,' he said.
'Let the purging continue .. it's as good a time as any for all of us to introspect, look into ourselves and see how we all have been complicit in so much, with our silence, forced by fear of consequence or by choice,' he added.
The film-maker said he has begun to question himself about the interactions he had with the opposite sex for a while now.
'And my greatest and simplest learning is that the line of consent is not just defined by 'No', most times it's before that 'No' is uttered. And the line of consent depends on the person that owns the consent. It varies from person to person.
'It's our conditioning, even for the most woke people. Most of us are still learning, everyone who claims to know what it means, and I talk about us men, we really don't know. None of us knows. It can't and should not be defined so simply,' Kashyap tweeted.
***
Vikas Bahl sends legal notices to Kashyap, Motwane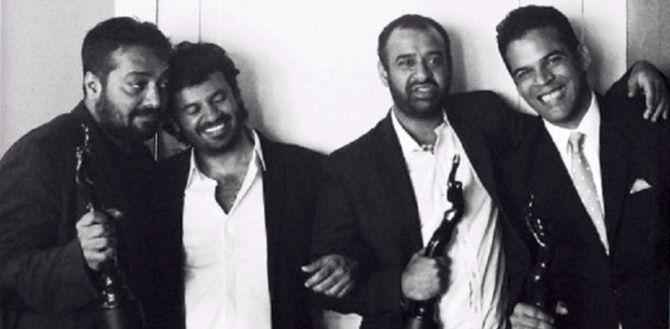 Vikas Bahl has sent legal notices to his former Phantom Films partners Anurag Kashyap and Vikramaditya Motwane, accusing them of defaming him, amid the sexual harassment allegations against the director.
Last year, a woman employee at Phantom Films, which had Bahl as one of the partners alongside Kashyap, Motwane and Madhu Mantena, had alleged that Bahl behaved inappropriately with her during a trip to Goa in 2015.
Before the victim's account went public in a recent Huffpost article, Kashyap and Motwane put out statements and announced that their production house Phantom Films stands dissolved.
The notice, issued through advocate Shamsher Garud of Jayakar and Partners, say the public comment made by Kashyap and Motwane were 'opportunists' and out of 'professional jealousy' with the intent to defame, malign and destroy Bahl's career.
Bahl has 'vehemently' denied all allegations against him.
'It is by design that after having remained silent about the alleged incident and alleged victim for three years, you have now come forward and support the alleged victim. It is imperative to highlight that the alleged victim herself has mentioned that your sudden moral enlightenment is nothing but a hoax and there is a personal agenda behind it,' the notice read.
In the notices, Bahl has asked for an 'unconditional apology' and to withdraw 'contradictory' statements made by Kashyap and Motwane on social media.
Bahl also accused the duo for using the allegations as an opportunity to dissolve Phantom Film and shift the blame to him.
The Queen director said they were anyway discussing the dissolution of Phantom Films for the past few months because of creative and professional differences.
'There have been ongoing discussions between all four directors at Phantom to part ways amicably owing to creative and professional differences. You have falsely portrayed to the media that the reason for parting ways is supposedly the alleged incident of May 2015 which is in fact false and has been done in bad taste and contradictory to your tweet dated October 6, 2018 where you have stated that the dissolution happened amicably,' it read.
Bahl's lawyers have accused Kashyap of bribing another employee at Phantom Films to come up with similar allegations against Bahl.
'This makes us wonder whether the alleged incident of sexual assault also has any authenticity, given that the alleged victim was, in fact, working as your own employee,' the notice said.
The legal notice also mentions that Motwane is said to have initially believed there was no sexual harassment and showed his conversation with the alleged victim to Bahl.
'This was to show that no sexual harassment incident had taken place. Yet, Motwane, after the victim outed him went ahead and issued statements against Bahl,' the notice reads.
Additional inputs: PTI