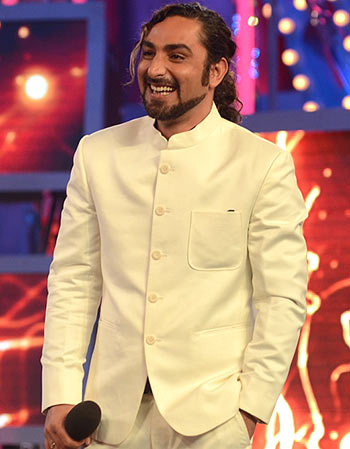 "I get mesmerised by Salman. I've never seen a host who sends food for the contestants every Saturday," Praneet Bhatt talks to Rajul Hegde/Rediff.com about his Bigg Boss 8 stint.
Shakuni of Mahabharata and peacemaker in Bigg Boss Season 8, Praneet Bhatt is the latest contestant to be evicted from the TV reality show.
After 13 weeks inside the Bigg Boss house, he says the eviction "was not a surprise for me. For the past two weeks I was walking on a loose thread and I somehow knew this was going to happen."
He occasionally snapped at people, especially at Gautam Gulati, but says he doesn't regret it.
"Gautam is like my younger brother. If you are close to someone and they do something wrong, as an elder you will point it out and give him your advice. That is what happened between me and Gautam."
Puneet, he said, "is like my elder brother; Pritam is my friend and Karishma is like my sister. I connected with most of the contestants."
The actor wore the same clothes for four days after his entry to the house and admits he didn't bathe for two days.
"It was itchy, but I had to control it through my brain. I washed my underwear, dried it and wore the same one.
"Finally after four days Bigg Boss sent my underwear in an envelope after my request. It was one of the toughest times in the house"
Was he uncomfortable living in an aircraft during the initial days of Bigg Boss?
"The contestants this season are very good at heart. Though the flight was compact, the housemates were in survival mode.
"They were of the opinion that the flight had had a crash landing and we had to help each other. In fact, it was a cosy environment; we motivated each other. It was a good experience."
Praneet bears no grudges against his fellow contestants.
"I entertained the viewers as Praneet Bhatt and not as any character. I am glad that I have come out of the house as a better human being.
"Due to circumstances like shortage of food and sleepless nights, we fought with each other. What people suffer in a lifetime, I have faced in 13 weeks."
An integral part of the P3G gang (Praneet Bhatt, Puneet Issar, Pritam Singh, Gautam Gulati), Praneet appeared to be patient.

"P3G happened in the early days of the show. We connected as we have the same thinking. We had the same opinion about certain issues. We always tried to find constructive solutions for problems. The group was named by people... we were just friends."
He wants Pritam Singh, Puneet Issar or Gautam Gulati to win.
"Puneet has worked very hard. He called everyone bacha and fed them and took care of them like an elder brother. He gave emotional support too when it was required.
"Pritam is a sensible guy and doesn't get influenced by situations. He has a mind of his own and takes a stand when required.
"Gautam is a genuine guy and good at heart," says Praneet.
He says he's "a huge fan" of the show's host, Salman Khan.
"I get mesmerised by him. I've never seen a host who sends food for the contestants every Saturday. We have limited food to eat in the Bigg Boss house. Salman sir was like a god for all of us during that time."
Now that he is out of Bigg Boss, Praneet wants to meet his parents and girlfriend.
"She is from theatre and a better actor than I am. Bolna padtha hai, kya karay," he laughs.