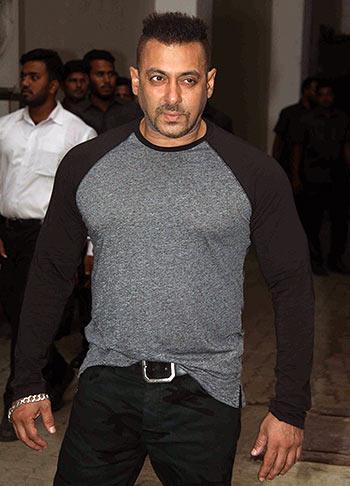 Superstar Salman Khan has landed himself in yet another controversy after he reportedly compared himself with a raped woman when quizzed about the grueling Sultan shoot.
Salman, 50, had to undergo rigorous training for the wrestling drama and in his interview to a group of journalists, he allegedly said that after shooting wrestling scenes, he use to feel like a "raped woman".
"While shooting, during those six hours, there'd be so much of lifting and thrusting on the ground involved. That was tough for me because if I was lifting, I'd have to lift the same 120-kilo guy 10 times for 10 different angles. And likewise, get thrown that many times on the ground. This act is not repeated that many times in the real fights in the ring," said Salman.
He added, "When I used to walk out of the ring, after the shoot, I used to feel like a raped woman. I couldn't walk straight. I would eat and then, head right back to training. That couldn't stop."
Realising what he said wasn't right, Salman added, "I don't think I should have said that."
Salman's comments did not go down well with many, who took to Twitter to express their angst and slam the actor.
Designer-BJP spokesperson Shaina NC asked Salman to apologise for his comments. She tweeted,'Rape is an exercise of power to destruct a woman's self esteem, from what I know of @BeingSalmanKhan he respects #women so he must apologise.'
One Twitter user wrote, 'Wow..@BeingSalmanKhan compared his shooting schedule for #Sultan to him feeling like a raped woman...is he for real?? #ridiculous #epicfail.'
Another added, "I know Salman Khan has fans. But if his female fans are ok with his 'I felt like a raped woman' then I've just lost faith in the world."
'Salman Khan. Just another man who doesn't realize the power of words?' posted a Twiiter user.
A girl wrote, 'How does Salman Khan have fans? I'm very curious to know. And if he continues to have female fans after this then I fear for this world.'
Salman's father Salim Khan turned to Twitter to defend his son's comments: 'Undoubtedly what Salman said is wrong, the simili, example and the context. The intention was not wrong. Nevertheless I apologise on behalf of his family his fans & his friends. Forgiveness is to pardon the unpardonable or it is no virtue at all'.
'To err is human to forgive divine. Today on Intl yoga day lets not run our shops on this mistake,' he added.