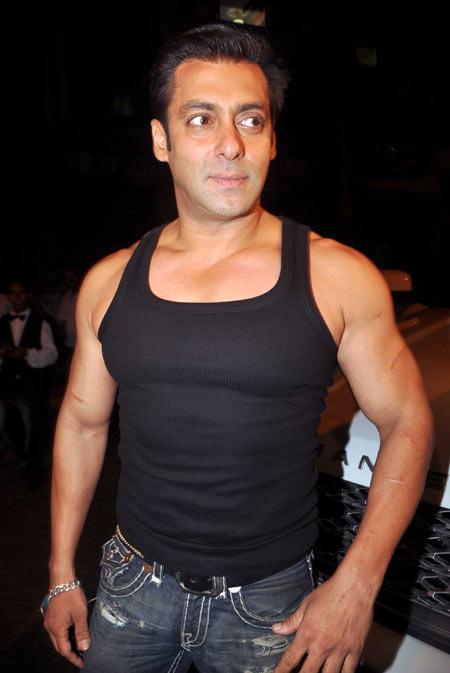 As the sessions court here sentenced Salman Khan to five years in jail in the 2002 hit-and-run case today, many in the film industry expressed sympathy for the 49-year-old actor.

While it is understandable that the actor's friends were disheartened to hear the verdict, a select few took the whole voicing their support thing a bit too far.
Salman's close friend and Sanjay Khan's jewellery designer daughter Farah Khan Ali took the cake in the most bizarrely vocal support:
'No one should be sleeping on the road or footpath. It is dangerous to do that just like it is dangerous to cross tracks.'
'It's like penalising a train driver because someone decided to cross the tracks and got killed in the bargain. #salmankhancase,' she tweeted.
While playback singer Abhijeet Bhattacharya wrote, 'Come out fraternity, support @BeingSalmanKhan boldly not hypocriticly Roads footpath r not meant 4 sleeping, not driver's or alcohol's fault.'
'Roads are meant for cars and dogs not for people sleeping on them.. @BeingSalmanKhan is not at fault at all..@arbaazSkhan@sonakshisinha'
'Suicide is crime so is sleeping on footpath..80% homeles film ppl strugld achievd stardom but never slept on footpath @BeingSalmanKhan,' he added.
Support also poured out from other quarters:

Music composer Wajid Ali, a close friend of the actor, said, "This is a very sad moment. I am shocked at the verdict. Salman bhai is a simple and real man. I hope he will take it in the right spirit.

"It was an accident which can happen with anyone on an unfortunate day. Salman's name has made this case popular. He paid the price of being a celebrity," said Ali, who had composed music for some of Salman's films.

Actress and BJP MP Hema Malini said she was praying that the actor gets a lesser sentence.

"Feeling very sad. Will pray for lesser imprisonment for Salman. My sympathy with Salman and his family," she said.

Actor Shakti Kapoor said he was saddened by the verdict.

"However, a law is a law. This is unfortunate. Salman's family are law-abiding citizens and they have already undergone 13 years of mental torture. His philanthropic work is well known and he is known to help the needy people," he said.
Dia Mirza: He is the man that saved my Mothers life. That I will never forget. #SalmanKhan

Bipasha Basu: @BeingSalmanKhan is the nicest human being in this business. Wish all our Prayers and love help him in this difficult time. Deeply saddened. @BeingSalmanKhan is a man who has always helped d underprivileged!A man who has done so much humanitarian work. Prayers for a fair judgement.

Sonakshi Sinha: Terrible news. Dnt knw wht to say except tht will stand by @BeingSalmanKhan no matter what. Hes a good man and no 1 can tk tht away frm him.

Varun Dhawan: I won't comment on the courts judgement. But salman Bhai has the biggest heart and is the most helpful person in this industry. My prayers are with @BeingSalmanKhan and his family who I know love this country and respect its judiciary.

Alia Bhatt: It hurts when your own are punished, even if they are in the wrong. We love you and are standing by you.

Arjun Kapoor: It doesn't matter what anyone or any court says he doesn't deserve this at any level...will stand by @BeingSalmanKhan no matter what... Cant wrap my head around what's happening, scary how fickle life is, hope n pray he emerges stronger like he has in the past @BeingSalmanKhan.

Riteish Deshmukh‏: Not commenting on courts verdict- but my heart goes out 2 @BeingSalmanKhan: large hearted & 1 of d finest people I hv met in this industry.

Claudia Ciesla: Day dedicated to Salman,entire India is in front of TV awaiting the verdict. The heart is skipping beats, gosh it is 5 years #SalmanVerdict.

Rishi Kapoor: The Kapoors are with the Khans in their difficult time. Time is the biggest healer. God Bless!

Pulkit Samrat: Today I wish he wasn't a superstar. Prejudice.

Subhash Ghai: Salman khan n all of us have to respect court verdict but we all know that salman is excellent as human who can't fight with destiny.

Daisy Shah: The man is kind n has a golden heart n no 1 can change dat. The news r saddening. But I stand by @BeingSalmanKhan no matter what.

Kunal Kohli: Heart broken at the verdict against @BeingSalmanKhan.Prayers & strength to him & his wonderful family.

Nimrat Kaur: Time to be graceful,leave everyone alone. In the end there's only hurt and pain,on either side.May God give strength to all.

With inputs from PTI


Photograph: Pradeep Bandekar