'When I came to Mumbai, I did not know anybody.'
'I met Salman Khan and he told me I would be singing in his film soon.'
'And he lived up to his promise.'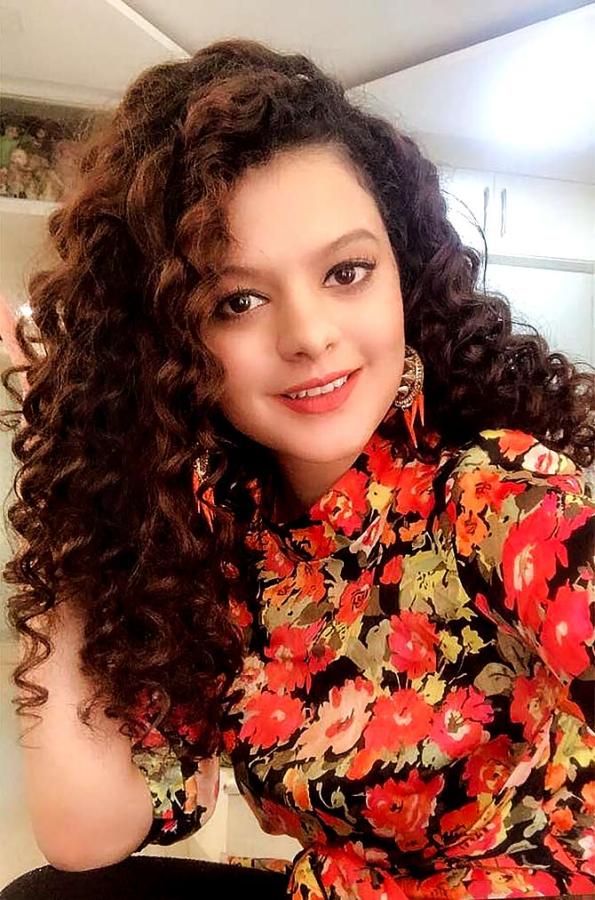 Palak Muchhal, 26, has sung some of Bollywood's biggest hit songs like the title track of Prem Ratan Dhan Paayo and Tum Hi Ho from Aashiqui 2, in her decade-long career.
And she thanks her 'angel' Salman Khan for giving her her big break.
The singer, who recently launched an app, which allows her to interact with fans on a personal level, lists her favourite songs and also sings for us.
She tells Rediff.com Contributor Mohnish Singh, "Whenever a new song comes up, I wonder whether it will be accepted, but every song ends up being a hit."
You have been a part of the industry for a decade. How do you see your journey?
I realised it has been a decade when I got the 'The Favourite Singer of the Decade' award recently.
Yeah, it has been a decade and the journey has been amazing.
I had never thought I would come so far.
I had thought I would sing one or two songs after coming to Mumbai and doing my bit of struggle.
But when I came here, the first person I met was Salman Khan sir. Since then, there was no looking back at all.
I managed to sing so many songs in these fantastic years.
Whenever a new song comes up, I wonder whether it will be accepted, but every song ends up being a hit.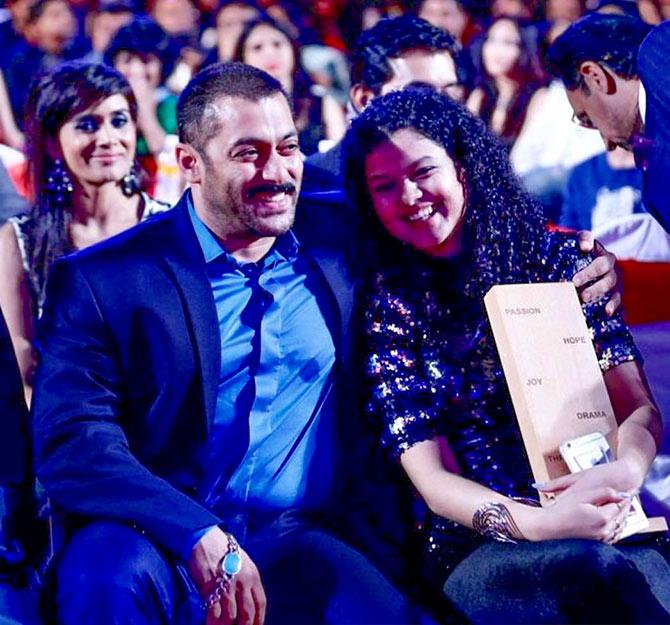 What does Salman Khan mean to you?
There are so many adjectives I can use for him, but my favourite is 'angel'. Also, godfather and mentor.
When I came to Mumbai, I did not know anybody.
I met him and he told me I would be singing in his film soon.
That meant a lot to me.
And he lived up to his promise.
If I have to make any important decision in life, I consider his opinion after my parents.
He has guided me at every step of my life.
He will always tell me what is right and what is wrong.
His contribution in my life is not limited to just him recommending my name for songs, it is beyond that. So, I am really grateful.
How did you meet him?
There is this renowned writer-director Rumi Jaffery who is from Bhopal (Madhya Pradesh), and I knew him from there.
When I came to Mumbai, I met two-three people whom I knew and asked them to let me know if there was any work for me.
On my seventh in the city, Rumi asked me to meet Salman sir at RK Studios.
When I met him, he already knew about my charity work. He asked me to sing something and I sang Lambi Judaai. He said, 'Soon you will be singing in my film.'
I came home and celebrated!
I clearly remember I went to a restaurant with my family to celebrate that statement.
Soon he made me record a song for Veer.
After that, I recorded for Ek Tha Tiger, Jai Ho, Prem Ratan Dhan Payo and many more.
I would have been nowhere had I not got that break.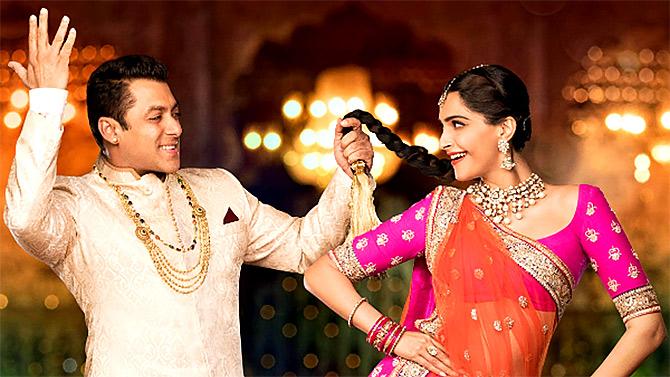 Yesteryear singers were very popular and had huge fan following. Today, the audience knows only a few singers.
That is because we have so many talented people now.
It is not that earlier we did not have talented people, but now it is easier to reach out to people (from the music industry) and send them your voice.
There are talent shows.
A lot of times, one does not get good songs after a song becomes a superhit. It is difficult because there is so much talent out there.
There is no monopoly as such nowadays. If you have a good voice, you will get a chance easily.
Whether you manage to sustain your career after getting your break depends on people's blessings because everyone is talented.
I have really been blessed to have been getting so many songs. It's not that I did not get good songs after Aashiqui 2.
Even today, I record a song or two every day.
What is your take on recreating old, classic songs?
I cannot completely criticise the recreation of old songs because I have also been a part of some.
I think if the recreation is done with the soul of the song intact and if it is not majorly tampered with, then it is a good way to make the younger generation aware of the music we have had.
There are hundreds of old songs which the younger generation has not heard. With recreations, we get to listen to them.
Having said that, no old songs should be spoilt while getting recreated.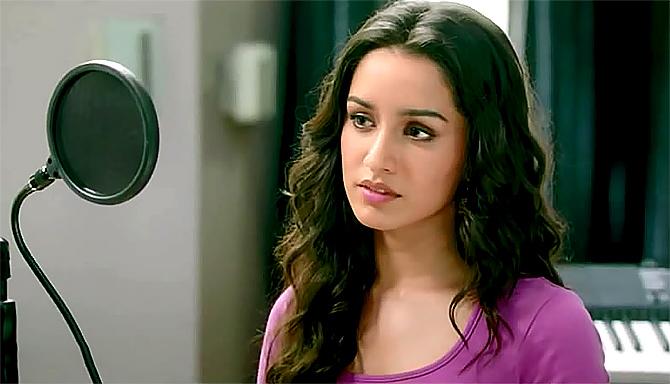 Would you blame lack of creativity for remixes?
No, not at all! I know so many music directors who can come up with original compositions in no time.
I think it is just a phase where people are accepting recreated songs and that is why we are producing them.
There are so many talented people who have amazing original compositions, but they are not getting work.
What are your upcoming songs?
I have already recorded 212 songs; they will be coming up throughout the year.
Are you singing in Salman Khan's Bharat?
(Laughs) Do you think I will answer that?
Which are your favourite songs? Can you share some interesting stories about them?
My favourite song is Kaun Tujhe Yun Pyar Karega from MS Dhoni: The Untold Story.
Director Neeraj Pandey narrated the story (before I sang this song).
Armaan Malik has composed it beautifully and Manoj (Muntashir) sir has written the lyrics as beautifully.
Usually, when I am called to sing a song, I try to get into the character I am singing for. But this is one song where I did not try to be someone else; it was my own expression.
When I fall in love, this is exactly what I will feel about him.
My second favourite song is Chahun Main Ya Na from Aashiqui 2. I got a call from (composer) Jeet Ganguli sir, and this was the first song I recorded for Aashiqui 2.
I was briefed that it would be filmed on a girl who gets the biggest song of her life. I could relate to the character of Aarohi (played by Shraddha Kapoor) because she had the same kind of journey as me.
I remember I cried after singing the song as I really got attached to it.
The third one would be (the title track of) Prem Ratan Dhan Payo.
It is the biggest song of my career so far, in terms of the response I got for it, especially when I perform at concerts abroad. Everyone knows this song.
It was an honour to work with Rajshri Productions and Himesh Reshmmiya sir with whom I have sung the maximum number of songs.
Tu Hi Hai Aashiqui was composed by my brother Palash Muchhal.
It is a very special song for me emotionally because it is composed by my brother. Singing for him was a very, very, emotional experience for me.
The last one would be Tum Hi Ho from Aashiqui 2. It is composed by Mithun sir and written by Irshad Kamilji.
Palak, tell us something about the app you have launched.
It is my official app called the Palak Muchhal app.
I have been getting so much love and support from my fans. Now I have a platform where I can finally give back that love.
It is a medium where I will be connecting to my fans personally.
Usually, I don't get to reply to all my fans on social media as you have to filter a lot. Here, I will direct interact with my fans, possibly meet some of them too.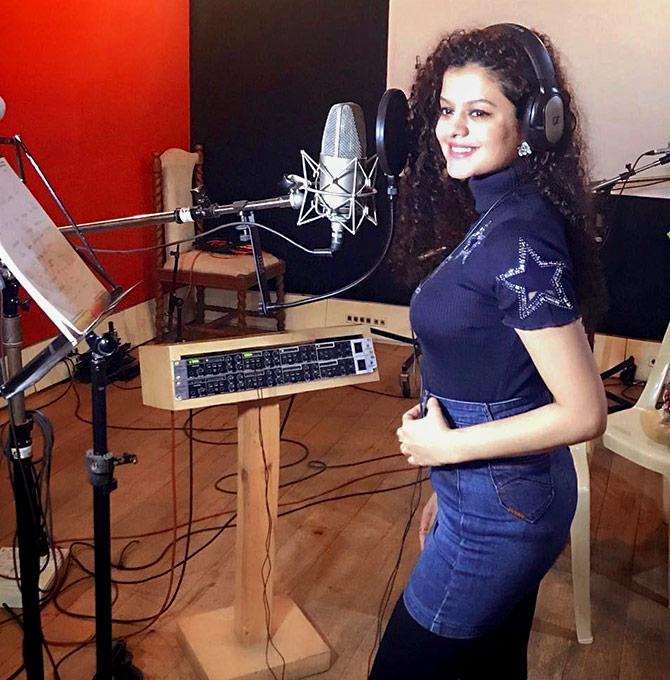 Do you think the social platforms have bridged the gap between a celebrity and fans?
Absolutely. I find it really, really, overwhelming because many a times, I get to know about my releases through my fans.
Whenever a new song comes up, I don't have to wait for the feedback to reach me, I immediately start getting tweets.
So yeah, it (social media platforms) is a part of my life.
When I wake up, the first thing I do is check the notifications and messages that fans send me on social media.
Obviously there are pros and cons, but it has been a blessing for me.
Videos: Mohnish Singh